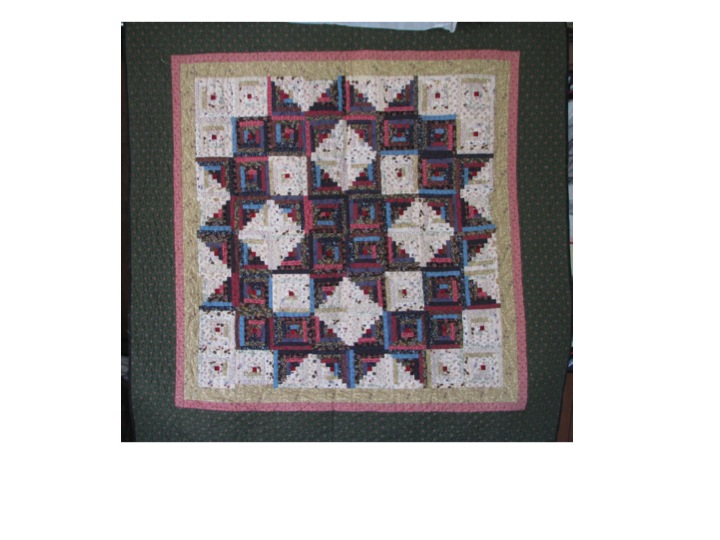 "I paint with fabric," says Joan Brink, a member of the West Michigan Quilters Guild, as she describes how she creates pictures on her quilts by stitching smaller pieces of fabric to a solid fabric base, a method known as appliqueing. Women have used this method for hundreds of years, although historically appliqued quilts were the province of wealthy women who could afford the expensive imported fabrics used for the designs. Today's quilters have access to a variety of fabrics at many price points allowing more people to use the applique technique.
Brink began by creating more traditional quilts, but she's been primarily appliqueing quilts for the past 10-15 years. She often works from a photograph, transferring an image from the picture onto a quilt. She says that she makes a number of decisions as she turns a photograph into a quilt, such as how to impart subtle shadings and tone variations. "You also have to have a big stash of fabric," she laughs.
Brink specializes in creating quilts to commemorate life events. When people ask her to make these quilts as gifts for friends or relatives, Brink spends a lot of time interviewing the gift-giver about the recipient. For one anniversary quilt, she discovered that the couple had lived in many cities throughout their married years, that they'd attended Calvin College, and that they had 3 children. Through applique, she created fabric pictures to represent all of these things, including the Calder for Grand Rapids and the Washington Monument for Washington DC. The completed quilt told the story of their many years together. Brink says that the quilts are very personalized; what she appliques depends on their life experience. "If vacations were very important to them," she says, "I could applique something from each vacation. It's a great way for them to remember the things that matter."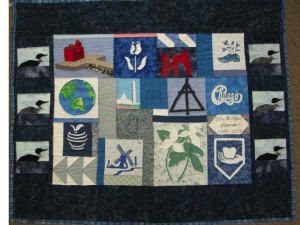 Brink also cares about preserving historical quilts. She currently owns a quilt made by a woman from Ohio, who had 14 grandchildren, one of whom finally sold the quilt to a dealer when she was 92 years old. Brink bought it from that dealer. "It's in exquisite shape," she says, "and beautifully hand-appliqued and hand-quilted." Brinks likes the unique design on the quilt and is in the process of reproducing the pattern so she can create one herself.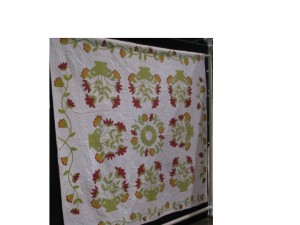 Brink is looking forward to seeing the quilts and listening to lectures on the history and preserving quilts at the American Quilting Society Show & Contest in Grand Rapids later this month. "AQS is such a great opportunity to meet and learn from nationally and internationally known quilters," says Brink. "I have quite an extensive collection of old quilts," she says, "and if I know the history, I'm very careful about documenting it". She's excited to learn more about tools, implements, and techniques at the AQS Show.
The
American Quilt Society Show and Contest takes place in Grand Rapids,
August 22 25, 2012, at DeVos Place. It's expected to draw more than 20,000 visitors, who will be able to view hundreds of beautiful art and traditional quilts quilts on display. Local quilters accepted into the juried quilt contest, which awards over $44,000 in prize money, include West Michigan Guild members Betsy Carlson, Sue Cortese, and Terri Watson. In addition to viewing and winning, quilting enthusiasts are looking forward to the classes, lectures, fabrics, notions, and gadgets at the AQS Show. Check back later this week for more information about the goings-on at the AQS Show and Contest in Grand Rapids.
Read about other West Michigan Quilters in this series: Betsy Carlson,Sue Cortese, Terri Watson, and Colleen Kole.