Among the great nightlife, variety of restaurants, fantastic museums, and friendly people in Grand Rapids, you'll find businesses large and small committed to giving back to the community. 
With a focus on philanthropy, these businesses are part of what makes Grand Rapids so special. Not only are you supporting a local business and having a great time dining or shopping, but your dollars are going further to better communities in Grand Rapids and beyond.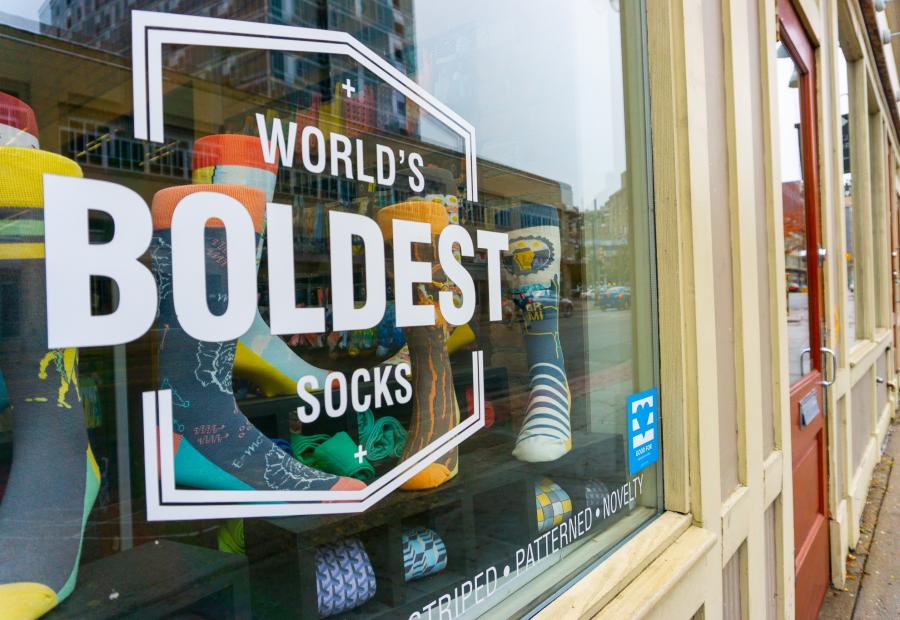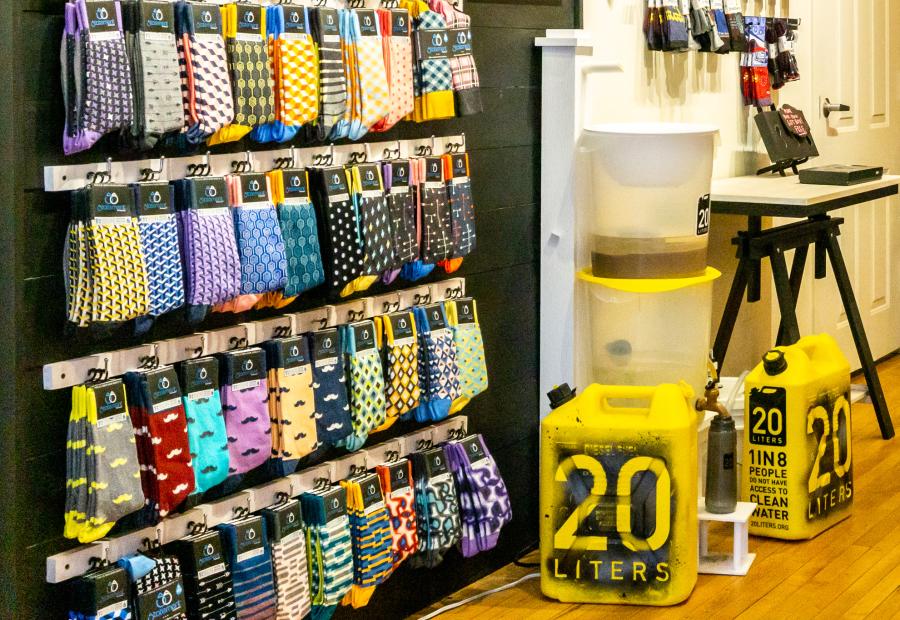 boldSOCKS' sales contribute to local nonprofits, as well as local companies like 20 Liters that are helping communities overseas.
Photo by Brian Craig for Experience Grand Rapids
boldSOCKS
Committed to helping provide 100 days of clean water for every purchase of sockwear, boldSOCKS is making a positive change in Grand Rapids and beyond. Ryan Roff, CEO and co-owner of boldSOCKS, says they see their boldest accomplishment in the feet of the customers. 
"We simply gave [customers] the option to buy socks that make an impact, and they responded. Now, our brand that gives back makes up 80-90% of our sales. We have accomplished connecting with people that want to see better and are no doubt changing the world with each step," Roff says. 
While sales from boldSOCKS' ethically manufactured socks help communities overseas, the company is proud to support Grand Rapids and local organizations as well. "We support local nonprofits like HQ Grand Rapids, Gilda's Club, and the Van Andel Institute by creating custom socks that they use to fundraise, give as gifts, and raise awareness," Roff says. "It's awesome to see our bold socks take on the colors and logos of community organizations that are changing lives."
The company also works with 20 Liters, a local company that uses a water filtration system designed by a West Michigan resident to provide clean water in Africa. "We love working with 20 Liters. Though we could have partnered with a larger water organization, we wanted to be involved and connected here in Grand Rapids by serving on the board and participating in events like filter builds," Roff says.
boldSOCKS encourages its employees to give back by offering opportunities for them to mentor through Affinity Mentoring each week during work hours. Roff says the company hopes to inspire its customers to break the mold and step boldly toward a better tomorrow through their passions. 
"We hope our customers and community take away from our story that it doesn't take a ton of money, a big company, a huge group of people, or a big name to seriously impact lives. It takes one person with an idea and a passion for others. Never underestimate your own power," says Roff.
You can find boldSOCKS quirky or practical designs both in their downtown store and online.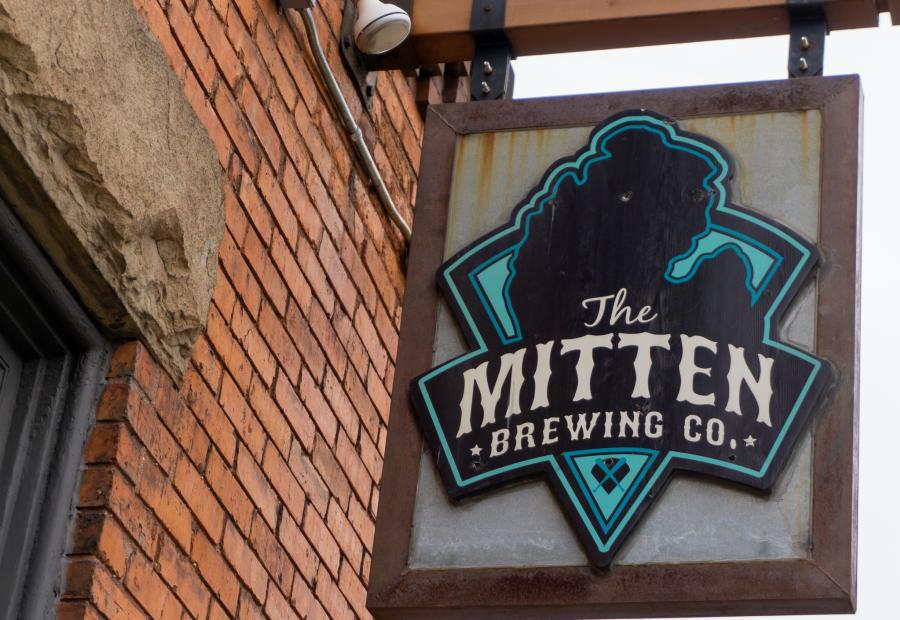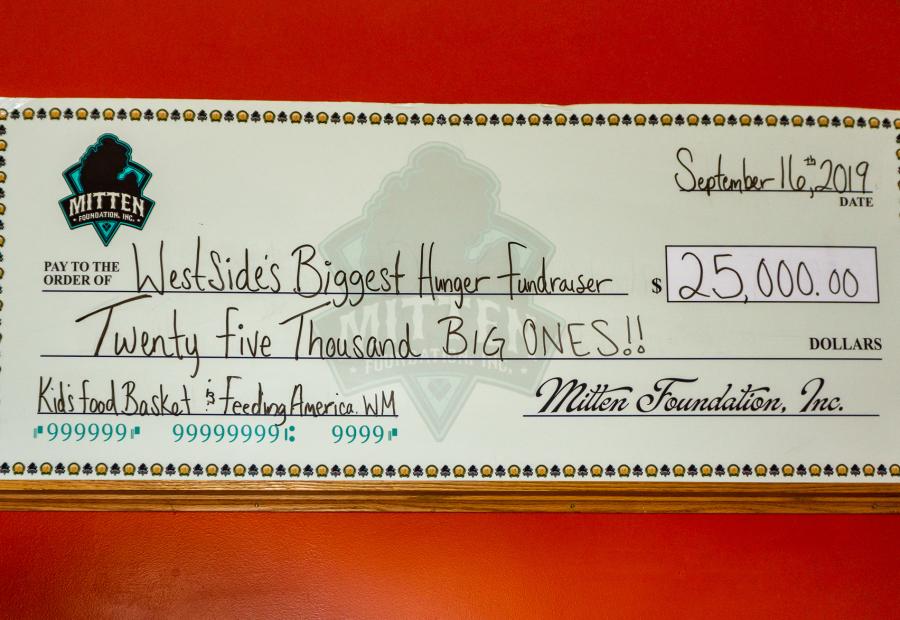 The Mitten Brewing Co. established the Mitten Foundation to continue its efforts to give back to community nonprofits.
Photo by Brian Craig for Experience Grand Rapids
The Mitten Brewing Company
The Mitten Brewing Company opened in 2012 with a goal to be a great community partner for the neighborhood and local nonprofits, besides serving great beer, of course. To meet that goal, The Mitten began donating 50% of its total food sales to a local organization on the last Monday of every month. 
As The Mitten grew, its leadership sought to make an even larger impact. In 2017, The Mitten formed the non-profit Mitten Foundation to do more for the community and to continue to involve the community in giving back.
Dana Mate Dones, Operation Manager and Board President of The Mitten Foundation, says they've seen the impact of their work in neighborhoods where The Mitten Brewing Company exists and also in the craft beer industry. 
"It's becoming more and more apparent that consumers want to spend their money at places that support the same causes they support. If we want to continue to exist in a city with breweries on every corner, we need to step up to the plate with more than just good beer. We need to be a community leader as well," Dones says. "I believe 100 percent that our success is tied to our giving, and I know our peers recognize the secret to our success and that they can do the same thing."
The Mitten makes it easy for the community to participate in its philanthropy. Simply eat at The Mitten Brewing Company on event nights (don't forget your Brewsader® Passport!), participate in events that support its charity partners, or donate directly via the foundation website.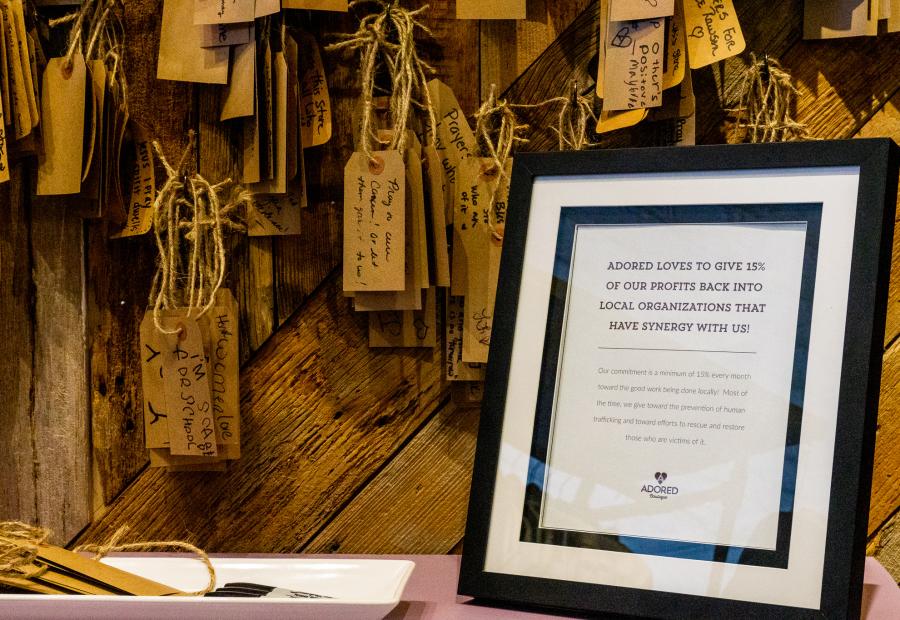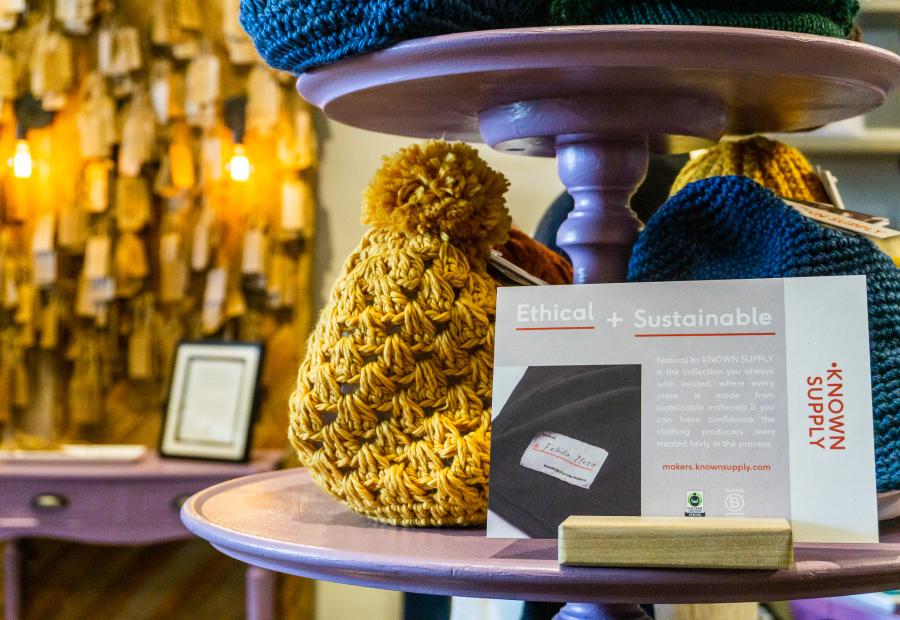 Adored Boutique sells sustainably and ethically manufactured clothes, and commits 15% of profits to causes such as fighting human trafficking.
Photo by Brian Craig for Experience Grand Rapids
Adored Boutique
Giving back to the community while shopping for super cute and ethically manufactured clothes is the type of win-win you can expect at Adored Boutique, located in the Uptown neighborhood.
Emily Smith, owner of Adored Boutique, says in the roughly three years the store has been open, it has contributed more than $20,000 in monetary and product donations to local organizations that are working toward prevention, rescue, and restoration of victims of human trafficking. 
"The financial giving has allowed for small, yet impactful, organizations to maintain their services and expand what they offer our community. The donations of product have contributed to the healing process of victims as they so often have lived never hearing they are beautiful, never receiving a gift out of generosity, and never having something new to call their own. This sometimes is more powerful than the financial giving in my personal opinion," Smith says.  
Customers can get involved beyond simply shopping at Adored Boutique by hosting a "Party with a Purpose" at the boutique. Smith works with the party host to select a date and time for a private, after-hours shopping experience. "We work together to identify a charity that the host has a heart for and wants 15% of the profit from the party to go to," Smith says. "It is always after hours and the attendees have private access to the Adored products. I almost always put new products out so the party attendees can have first dibs and sometimes order special collections just for the night!"  
Between the 15% local profit giving and purchasing fair trade products from around the world, shopping at Adored Boutique transforms lives every day. "We're a local small business, so we rely on our local community to help support us. Similarly, our local outreach organizations rely on Adored to help support them," Smith says. 
Smith's goal for 2020 is to multiply her giving by helping to establish a third safe house for one of the local outreach organizations she partners with.
Purchased made in-store and online count toward Adored's charitable giving.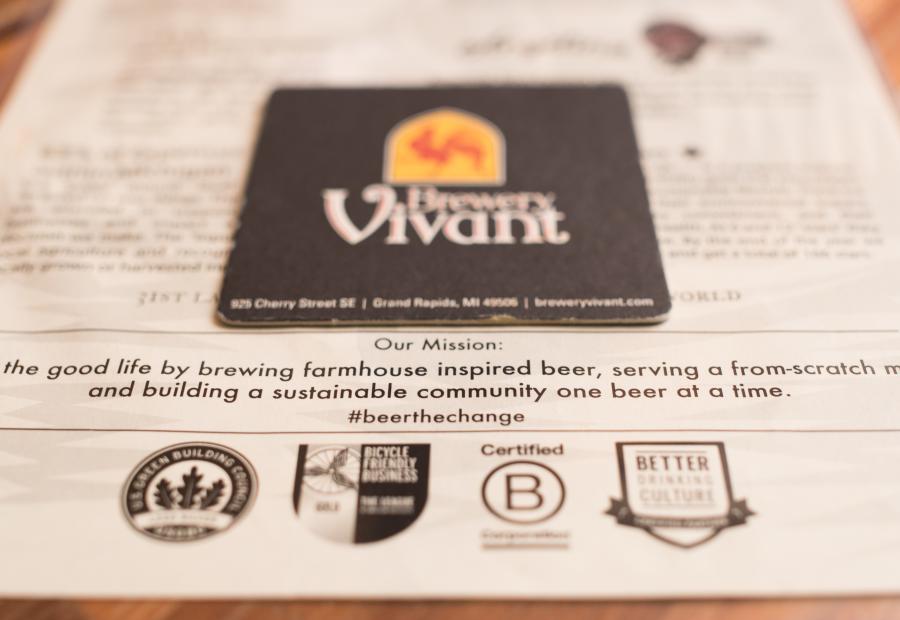 Brewery Vivant is a leader in microbrewery sustainability and commits to donating 1% of sales to neighborhood organizations.
Photo by Experience Grand Rapids (taken by Bree Girard)
Brewery Vivant
Since opening in 2010, Brewery Vivant has had a donation goal attached to either profits or sales. Currently, the goal is to donate 1% of sales, and the brewery is on track to have donated in cash, or in kind, more than $300,000. Vivant has also tracked more than 2,000 hours of volunteer time.
Brewery Vivant co-owner Kris Spaulding says they use the name "Beer the change..." to talk about the giving program. The name is a spin on the classic quote, "Be the change you wish to see in the world." 
"I feel that the business community has a tremendous ability to positively impact the lives of so many, whether that be employees, community members, or others. Focusing on more than just the bottom line creates a path that is more balanced, fulfilling, and truly sustainable than the alternative," she says.
On top of annual giving, Brewery Vivant works with Kids' Food Basket and in 2015 started sponsoring a neighborhood school. Through Kids' Food Basket, Brewery Vivant helps feed around 50-60 kids per year. 
"Food insecurity is such an important challenge for our area, and as a restaurant, we wanted to focus on feeding all community members, not just those that come into our pub for a meal," Spaulding says.
Another aspect of the brewery's charitable giving program is Benefit Nights at the Pub where the brewery invites a local non-profit organization to the pub and shares a percentage of the sales that day with them. Spaulding says these nights are a fun way to involve their staff and guests in their giving efforts without them having to do anything different. Both Brewery Vivant and the Spauldings' newest pub, Broad Leaf Local Beer in Kentwood, host Benefit Nights. 
Check the Brewery Vivant and Broad Leaf Facebook pages for dates and details, and be sure to check in with your Brewsader Passport or app when you visit.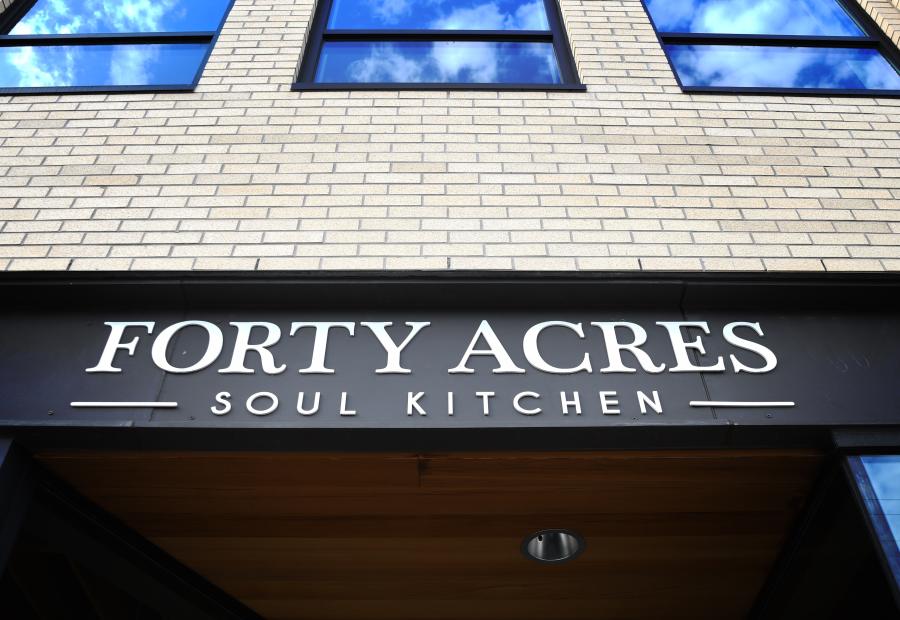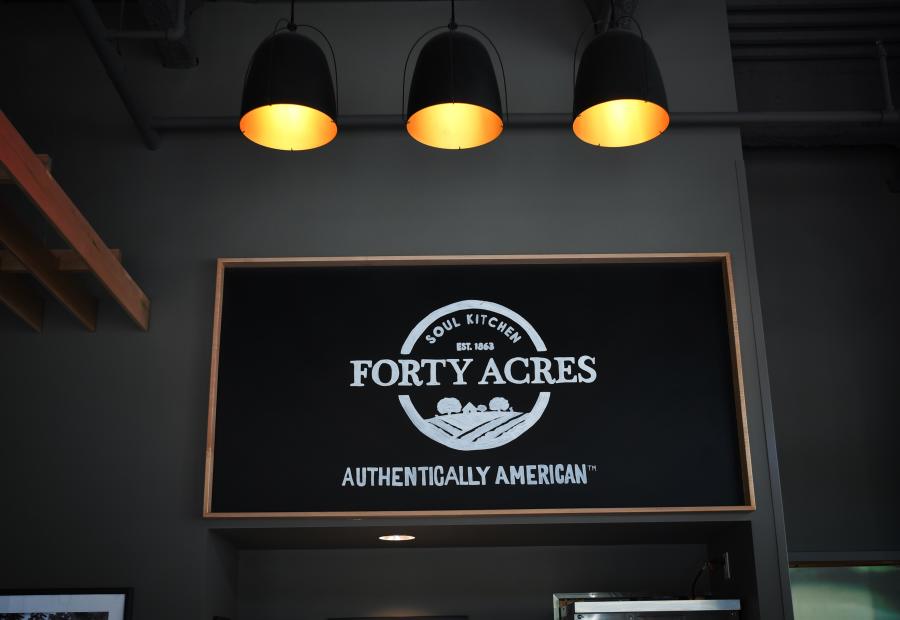 Forty Acres is committed to hiring local residents and supports local non-profit LINC UP.
Photo by Eric Zuniga for Experience Grand Rapids
Forty Acres Soul Kitchen
Feed your stomach and your heart when you dine at Forty Acres Soul Kitchen. Owners Darel Ross and Lewis Williams opened Forty Acres to share the story of Black America with the community, to celebrate this rich culture, and to invite people of all cultures to celebrate with them. 
Forty Acres offers authentic, upscale soul food that will have you coming back for more. 
The restaurant is committed to hiring local residents and supports local non-profit LINC UP, which engages in effective community revitalization through partnerships and collaborations with numerous community-based organizations.  
Thanks to businesses like these, it's easy to positively impact your local community. Make sure to add these businesses to your "must visit" list and know you are helping to make a difference. 
Know of other local businesses making an impact? Tell us about them in the comments!