If you've seen countless people in the last week wandering the streets of Grand Rapids, or anywhere for that matter, looking down at their phones, you can bet they aren't checking their emails.
It's a safe wager that they are attempting to capture a wild Pikachu, Bulbasaur, Snorlax, Pidgey, or even the illustrious Mewtwo, through the new mobile game, Pokémon GO.
If you were born before 1984, here's a quick rundown of what the heck is going on. Pokémon is a Nintendo franchise that launched in the U.S. in 1996 on the original Gameboy. In the game, players act as trainers who travel around the world catching little creatures called Pokémon, and then power them up in order to battle each other for prestige and to "be the very best, like no one ever was." An added challenge was for players to attempt to catch all 151 Pokémon on the original roster.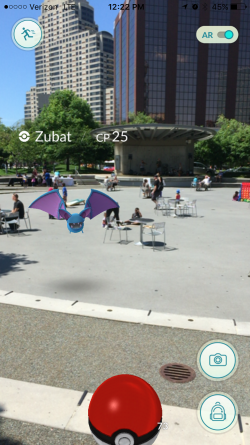 So, what is Pokémon GO? The game is a free-to-download app for Android and Apple iOS devices that uses your phone's GPS and clock to decide which Pokémon appear in the game. Although the goal is still to "catch 'em all," Pokémon GO is an augmented reality game — mixing real-world elements with the game. You can literally try to catch a wild Zubat in your kitchen.
Pokémon GO also includes gyms where you can battle other players' Pokémon and PokéStops, which are real-world locations that act as hubs where players can collect useful items and meet each other.
Like so many other locations around the world, Grand Rapids has seen no shortage of Pokémon GO players.
Jaclyn Ermoyan, a senior advertising and public relations major at Grand Valley State University, first felt the gravity of this new crazy on Saturday, July 9, just days after the game launched. She recalled some 200 people standing around the Rosa Parks Circle area that night.
"There are a lot of Pokéstops at that corner, so people were gathering and talking about the game," Ermoyan said. "The atmosphere was really friendly and safe, as everyone was really excited the app had finally been released and was spreading like wildfire."
Nostalgia is a large reason behind why Ermoyan enjoys Pokémon GO.
"Pokémon has been a big part of growing up for people in my generation. I remember playing the original game, seeing the movies in theaters with my family, and collecting the cards and stuffed animals," Ermoyan said. "I play Pokémon GO because you don't necessarily have to know a lot about the game to play. You don't have to be an avid Pokémon fan to think it's awesome to see a Pikachu in your living room."
While Pokémon GO has many positive benefits for its players, such as building community and providing exercise, a handful of local businesses have even experienced some perks from the game.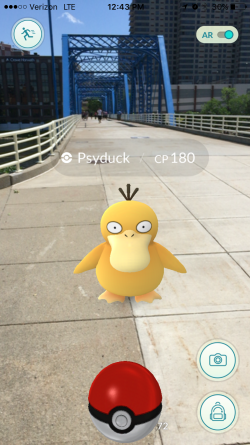 Chris Knape, aka the "Minister of Hopaganda," is the vice president of marketing for BarFly Ventures, the parent company of HopCat, Stella's Lounge, Grand Rapids Brewing Co. and The Waldron Public House. Knape said all of BarFly Ventures' establishments have welcomed players since the game launched in early July, but especially GRBC since it is one of the gyms in Grand Rapids.
One fun fact about Pokémon GO is that gyms and PokéStops are chosen at random, so Knape said his staff members were surprised when they found out GRBC was a gym.
"Most of our employees were curious at first, but then when they started to play the game, it became a fun way for us to engage with guests, and welcome some people who hadn't been in before," Knape said. "While it's anyone's guess whether this will be a short-lived fad or something more, it's been a phenomenon unlike anything we've seen in Grand Rapids since ArtPrize launched."
While GRBC is the only gym in the BarFly Ventures collection, Stella's, HopCat and The Waldron are all PokéStops.
"The Waldron has been setting lures at happy hour and offers team-themed drinks of red, blue and yellow, which the guests have had fun with," Knape said.
FYI: Lures are items players can use at PokéStops to attract oodles of wild Pokémon to a single location, and players are asked toward the beginning of the game to select one of three gym teams to join, which include Team Instinct (yellow), Team Valor (red) or Team Mystic (blue).
From one brewery to another, Levi Knoll, General Manager of The Mitten Brewing Co. (which is also a gym), said he and his staff have had fun watching guests walk throughout their dining rooms looking for Pokémon, which can appear literally anywhere.
"It's fun to see where the Pokémon are hidden," Knoll said. "I know one is hidden in one of our bathrooms, and another by one of the bars. I am excited that a game is getting people outside and exploring areas in Grand Rapids that they might not have been to before."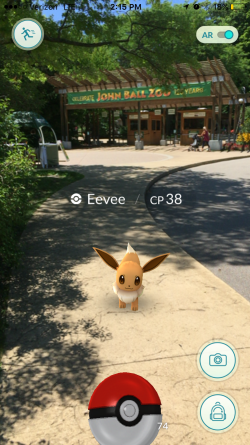 Of course, not all gyms in the Grand Rapids area are breweries. John Ball Zoo, which is celebrating 125 years in Grand Rapids, has multiple gyms and Pokéstops inside the park.
"There have been some people buying memberships so they can come back to the zoo over and over to play it," said Andy McIntyre, John Ball Zoo's Chief Administrative Officer. "I think it shows that people are interested in using mobile technology at places like the zoo. If we can harness that interest, but use it to engage people in the experience of observing and learning about the animals, that could be a powerful tool for education and wildlife conservation."
McIntyre added that one of the biggest concerns at John Ball Zoo in regard to Pokémon GO is that players respect the guest boundaries in the zoo, and that brings up a much larger concern about safety with the game.
While Pokémon GO provides loads of fun, safety and respect should be top priorities among players. Don't run into the middle of the street because there's a level 1,000 Golduck. The Gyarados in the Grand River isn't worth jumping in after and there's a good chance you'll find that rare Mew on property elsewhere that isn't private. It's important to have fun, but it's even more important for players to stay safe, and respect the areas and properties where Pokémon are hiding so everyone can fully enjoy the gaming experience.
If you're on the hunt for Pokémon GO bragging rights, some other gyms in the Grand Rapids area include: The Blue Bridge, Douglas Park, Fish Ladder Park, Frederik Meijer Gardens & Sculpture Park, the 6th Street Bridge, the Belknap mural, and multiple area college campuses, such as Calvin College, Grand Rapids Community College, Grand Valley State University, and Aquinas College.
Whether you're new to the game, or have been playing since Pokémon GO launched, here are a few helpful tips while playing: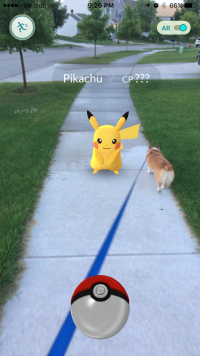 Pikachu can be chosen as your first Pokémon. In the beginning of the game when you're asked to catch your first Pokémon, and you're surrounded by Charmander, Bulbasaur and Squirtle, walk away from them. After you walk about 100 feet away, they'll reappear in your new area. Ignore them like this four or five times, and then when they reappear, Pikachu will also be one of your options.
Pokéstops refresh approximately every five minutes, so visit them often for items and 50-100 XP.
Each paw print on the Pokémon tracker represents about a 100-meter distance.
Walking is your best bet to hatch eggs. If you're traveling faster than between 12-15 mph, you're probably not going to make any progress. I've personally tried a bike and driving in my car to little or no avail.
Turning off AR, which can be done when you encounter a Pokémon, will save battery life (although it does remove one of the largest novelties of the game).
There's a new update that was released July 13 that fixes some of the annoying bugs present at launch.
Factors like the weather and time of day will affect what types of Pokémon you encounter.
You'll need to travel outside your area in order to complete your Pokédex.
The above are just a few tips I've found helpful in my quest to be the very best. If you have any game tips, or know of any gyms in Grand Rapids that we missed, let us know in the comments below.