ArtPrize® changed the landscape of the art scene in Grand Rapids when it became the world's largest open, independently organized international art competition in 2008.
Each fall, artists and art enthusiasts alike joined the conversation about art and why it matters, all while artists competed for more than $500,000 in prizes.
Now, the creative minds behind ArtPrize are changing the art landscape of the city once again September 7-October 27 with Project 1: Crossed Lines the first in a series that will focus on large-scale, public art exhibitions in and around downtown Grand Rapids. Each "Project" year will have its own theme. This year's theme focuses on belonging.
Check out this previous blog to find out more about the five talented local and international artists whose work will be on full display, and read on to learn more about the events, educational programs, and engaging performances you can experience during Project 1.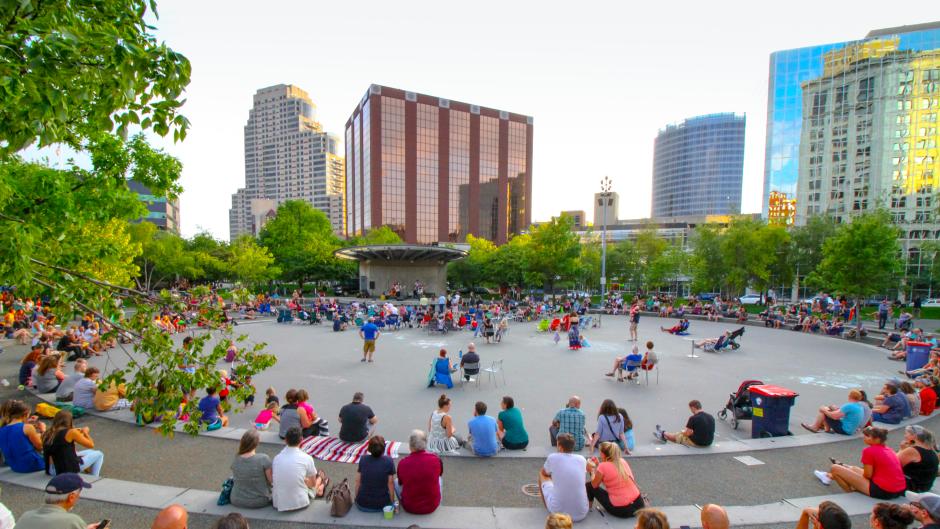 Project 1 kicks off with a ribbon cutting and performances at Rosa Parks Circle.
Photo Credit: Paul Jendrasiak for Experience Grand Rapids
---
Saturday, September 7 — Project 1 Crossed Lines Opening Celebration
Project 1 kicks off with a daylong celebration featuring free performances by local and international talent, artist panels, and community events happening across Grand Rapids.
Downtown Celebration
12-2 PM, Rosa Parks Circle 
Project 1 officially kicks off during the Downtown Celebration event at Rosa Parks Circle with a ribbon-cutting and performance by BANDALOOP — a "sky dancing" ensemble that utilizes climbing technology to shatter the concept of the traditional dance floor with performances in aerial arenas, like the sides of tall buildings. 
The opening celebration will also include performances by the Grand Rapids Ballet, Grand Valley State University music and dance students, appearances by Grand Rapids' Mayor Rosalynn Bliss and ArtPrize officials, and more. 
After the performances, stick around to hear artist Rafael Lozano-Hemmer dive deeper into Project 1 during a conversation with Alice Gray Stites, Chief Curator of 21c Museum Hotels.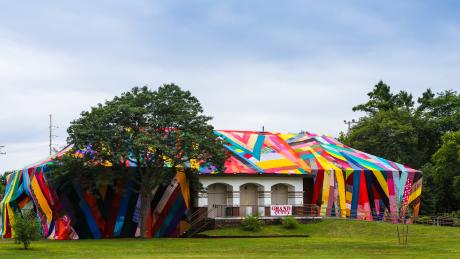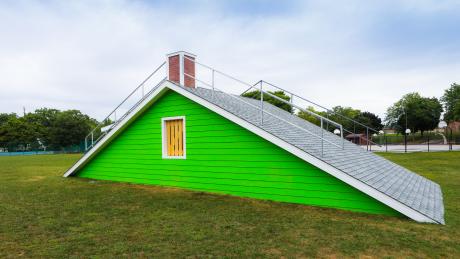 Head to MLK Park for conversations with Project 1 Artists, performances, and other family activities.
Photo Credit: Kaleidoscopic by Amanda Browder - MLK Park (left); The Oracle of the Soulmates by Heather Hart - MLK Park (right)
---
MLK Park Community Celebration
2-5 PM, Martin Luther King Jr. Park
From Rosa Parks Circle, head to the Southtown neighborhood of Grand Rapids to Martin Luther King Jr. Park (MLK Park) to hear a performance by cellist Jordan Hamilton, who creates sonic landscapes through experimental hip-hop, folk, soul, and classical music.
During this community celebration, you can also enjoy other local performances and a conversation with Project 1 artists Heather Hart and Amanda Browder alongside Nicole Caruth, an independent curator and writer. The discussion will wrap with a hip hop set by Grand Rapids Hip Hop MC, Lady Ace Boogie.
Other community organizations, like Artists Creating Together, John Ball Zoo, and more will be in attendance to provide family activities throughout the afternoon. 
Disability Drag Show
Wealthy Theatre, 7PM (Currently Sold Out); Sunday September 8, 6PM Encore Performance
Local organizations DisArt and Beauty Beyond Drag Productions, along with UK organization Culture Device, partnered to bring to Project 1 London's Drag Syndrome — a group of drag kings and queens with Down Syndrome. This will mark the first U.S. performance by the award-winning group. Their performance on Saturday is sold out, but tickets are still available for their Encore Performance on Sunday at the Wealthy Theatre.
Tanglefoot Opening Celebration, featuring Grand Rapids Soul Club
7PM-12 AM, Tanglefoot
This final part of the Opening Celebration will take place at Project 1's West Side location at Tanglefoot and will feature the installation Critical Infrastructure by Paul Amenta and Ted Lott. This work will be used as a stage and performance area Thursday-Sunday throughout Project 1.
At 5PM Amenta and Lott will participate in a conversation with collaborators Chris Smit and Jill Vyn of DisArt, as well as independent curator Dan Cameron. The evening will wrap up with a performance by GR Soul Club, starting at 9:30PM.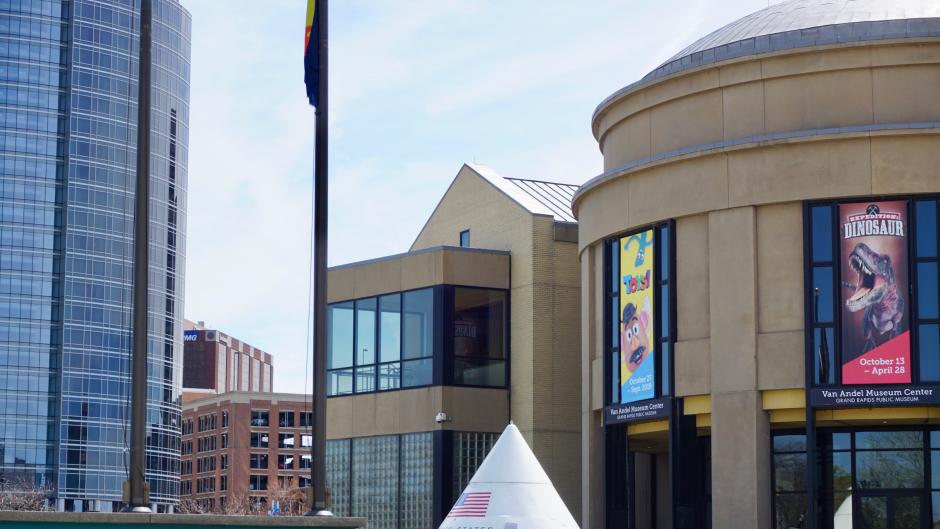 An art installation by Grand Rapids Public Schools' fourth-grade students will be located on the Grand Rapids Public Museum's lawn throughout Project 1.
Photo Credit: Brian Craig for Experience Grand Rapids
---
Flexible Fence
Grand Rapids Public Museum
Flexible Fence is a collaborative art installation including the work of all fourth-grade students across the Grand Rapids Public Schools district that will be available to view on the lawn of the Grand Rapids Public Museum throughout Project 1. 
The large public sculpture will be a six-foot-tall wooden fence, curving into a loop with two intersecting open circles. 
The fence is meant to reflect ideas of land use and ownership while the curved line changes the traditional function of property division to create an open space, a space to enter, and an inaccessible space. It will be covered in a patchwork pattern of students' drawings on fabric that represents visual stories about community inclusion.
Saturday, September 14
WestSide StreetFair
12-6 PM, on Broadway Avenue between Bridge Street and First Street
The whole family can enjoy an exploration of music, arts, education, and community during the WestSide StreetFair, which will take place across the Stockbridge Business District. 
This event is designed to showcase the businesses and nonprofits housed in the West Side neighborhood, which include John Ball Zoo, Experience Live Art, Artists Creating Together, the Grand Rapids Public Museum, The Comedy Project, Gilda's Club Grand Rapids, and more.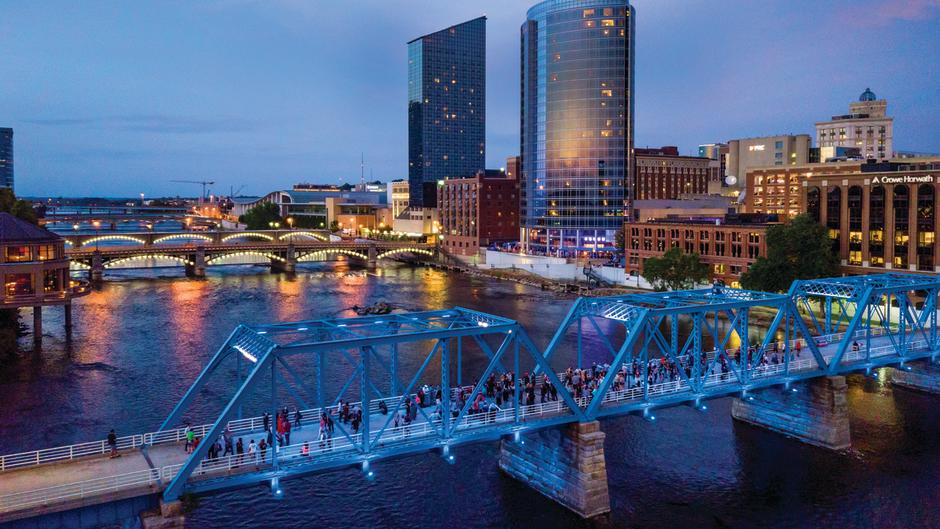 Musicians will take over artist Rafael Lozano-Hemmer's "Voice Bridge" Project 1 installation for a performance on September 14.
Photo Credit: Experience Grand Rapids
---
Blue Bridge Amplified
8-10 PM, The Blue Bridge 
Founders Brewing Company is presenting an evening of light, sound, and community on Grand Rapids' iconic Blue Bridge during a performance by electronic beat-maker and headliner, Dan Deacon, and other local artists. 
The musicians will take over artist Rafael Lozano-Hemmer's Voice Bridge installation for the performance by utilizing the bridge's sound system and more than 400 lights.
Saturday, September 21
Pedal Project 1
8:30 AM, begins at Rosa Parks Circle
Adventure through Grand Rapids on a guided bike ride suited for all ages and levels that will visit all three Project 1 locations. Registration will take place from 8:30-9:30 AM followed by stretching and yoga activities from 9:30-10 AM before the bike ride officially begins at 10 AM.
The stop at Martin Luther King Jr. Park will include a visit to the Grand Rapids African American Arts and Music Festival. The festival takes place from 9 AM-11 PM on September 21 and explores the cultural heritage of Grand Rapids and beyond.
Saturday, September 28
DisArt Presents Voices at Tanglefoot
12-10 PM, Tanglefoot Industrial Campus
DisArt, along with multiple collaborators, will provide an immersive, interactive multimedia project displayed throughout the Tanglefoot industrial campus. Voices at Tanglefoot will visually present stories of alienation and belonging from the disabled community as well as visitors to the site.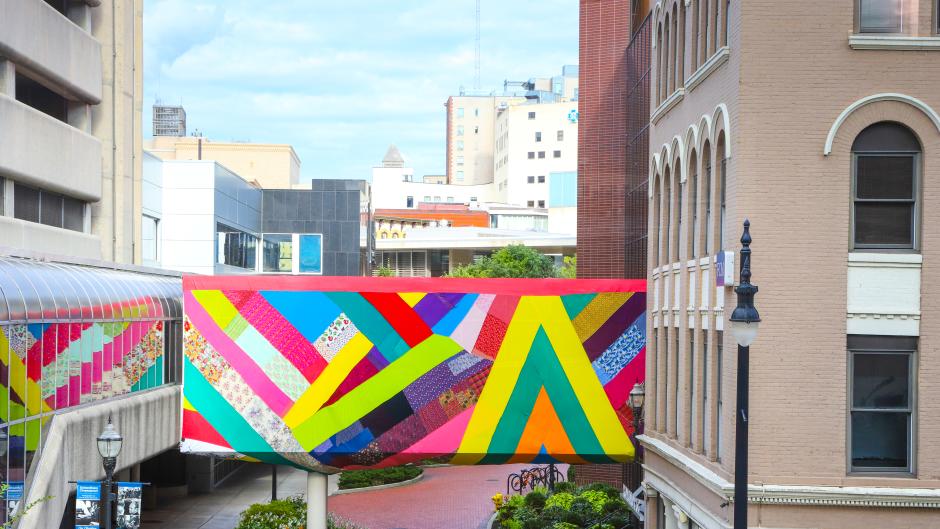 Amanda Browder's work, Kaleidoscopic, appears at each of the Project 1 sites.
Photo Credit: Kaleidoscopic by Amanda Browder - Campau Skywalk
---
Additional Programs and Events
As mentioned previously, Amenta and Lott's installation Critical Infrastructure at Tanglefoot will be the site of programming Thursday-Sunday each week of Project 1. Keep checking the events page for the latest set of performances.
DeVos Place Convention Center will host the exhibition Shades of Blackness, featuring works from African American arts from across the US and will run September 6-October 4.
Shades of Blackness is offered in conjunction with the Grand Rapids African American Arts and Music Festival on September 21. The festival takes place at MLK Park and will have food, games, art, and lots of music. The evening concludes with a performance by Raheem DeVaughn.
Culture Pass GR
Since many of these events take place at and around some of Grand Rapids' most sought-after attractions, Culture Pass GR can help you expand your Project 1 experience and save you money. With Culture Pass GR, you'll receive free admission for three days to Grand Rapids attractions, like John Ball Zoo, the Gerald R. Ford Presidential Museum, Grand Rapids African American Museum and Archives, Grand Rapids Public Museum, and more. The pass will also give you access to exclusive discounts to even more attractions.
For questions about accessibility or to request accommodations to help you fully participate in Project 1, contact ArtPrize at events@artprize.org. Their team may require up to 72 hours to provide specific services, like ASL interpretations.
Which Project 1 art installations or events are you looking the most forward to experiencing? Let us know in the comments below!
Header image: Kaleidoscopic by Amanda Browder - Campau Skywalk
Project 1 is the next evolution of ArtPrize and the first in a series of citywide, community-oriented public art commissions to take place between biennial ArtPrize competitions. From Sept 7–Oct. 27, 2019, the Project 1 exhibition will occupy three outdoor spaces in Grand Rapids, Michigan and will feature temporary public artworks by five artists. The seven week run will be punctuated by a series of events, volunteer opportunities, educational programs and performances. The ArtPrize organization receives generous support from many local organizations.
Never miss a post!
Subscribe to the Insider Experience blog.