After 10 years of the annual art competition, ArtPrize® will now move to a biennial competition. This means the next ArtPrize competition will take place in Grand Rapids in 2020: September 16-October 4, 2020 to be exact.
Grand Rapids will still be "home" to a renowned art experience in 2019 and it will still be the work of the creative minds behind ArtPrize.
What is Project 1?
Grand Rapids is preparing for Project 1, the first in a series that will focus on large-scale public art exhibits both right downtown and beyond the city's downtown boundaries. This will alternate with the traditional ArtPrize competition, meaning the second installment of the Project series, Project 2, will take place in the fall of 2021.
For the last ten years, ArtPrize has featured art from thousands of artists in a public competition. This year, Project 1 by ArtPrize introduces a commissioned exhibition that dives deeper into the carefully curated work of five local and international artists.
Project 1 will run from September 7 to October 27, 2019. Visitors can expect plenty of events, educational programs, and performances happening throughout Grand Rapids, as part of Project 1's immersive art experiences.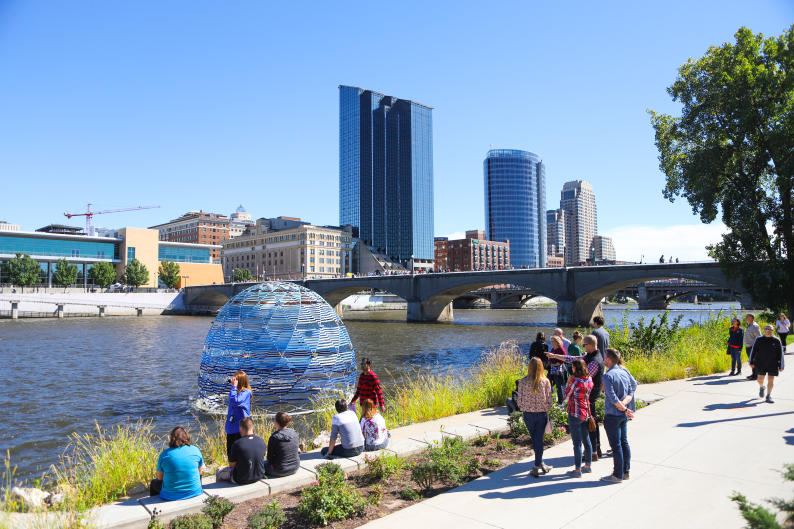 In 2019, ArtPrize's Project 1 introduces commissioned art exhibitions, to alternate with the traditional ArtPrize competition. Think large-scale installations like SLO Architecture's Harvest Dome 3.0, which was a part of ArtPrize 10.
Photo Credit: Experience Grand Rapids
---
How were Project 1 artists chosen?
Project 1 artists were determined by ArtPrize Artistic Director, Kevin Buis, and a Curatorial Advisory Committee, consisting of:
Joseph Becherer, former Chief Curator and Vice President of Frederik Meijer Gardens & Sculpture Park and now Director of the Snite Museum of Art at the University of Notre Dame

Dan Cameron, Independent Curator

Nicole J. Caruth, Independent Curator and Writer

Alice Gray Stites, Chief Curator and Museum Director of 21c Museum Hotels

Larry Ossei-Mensah, Senior Curator Museum of Contemporary Art Detroit

Rebecca Carbin, Independent Curator and founder of I Heart Your Work Art Futures and ART + PUBLIC UnLtd
"We chose these artists not just because of the way they create objects, but the way that they use public art to question and alter the physical and social spaces that we inhabit," said Buist. "The ways we move through a city and whether we feel like we belong are a result of design decisions as well as policy decisions. To better understand cities, we look to artists."
What type of artwork will be on display at Project 1?
Project 1 artists will explore the theme "Crossed Lines," as they build conversations around the literal and figurative lines that are drawn within society.
Project 1 artwork will include urban inventions and community-oriented projects.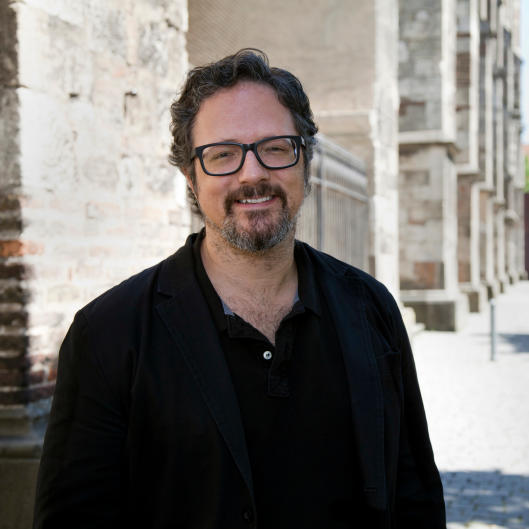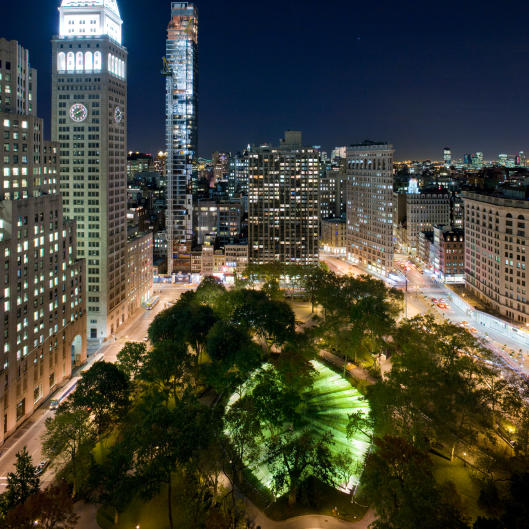 Rafael Lozano-Hemmer, a Mexican-Canadian artist, develops interactive installations that live at the intersection of architecture and performance art.
Photo Credit: (Left) Rafael Lozano-Hemmer. Photo courtesy of the artist; supplied by ArtPrize. (Right) Pulse Park, Relational Architecture 14 by Rafael Lozano-Hemmer. Photo by James Ewig; supplied by ArtPrize.
---
What artists will be featured at this year's Project 1?
Interactive Installation
Artist: Rafael Lozano-Hemmer
Rafael Lozano-Hemmer is a Mexican-Canadian artist with a solo exhibition at arguably the most important art fair in the world, the Venice Biennale, on his list of accomplishments.
He is creating a new, site-specific piece for Project 1.
His installations often use light, sound, water vapor, and audience interaction to explore ways that technology and architecture can create human interaction.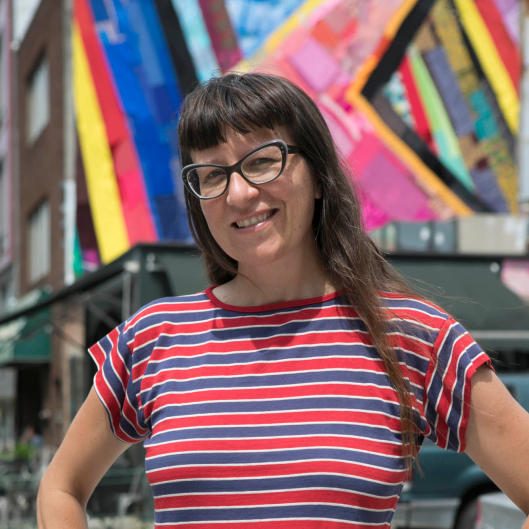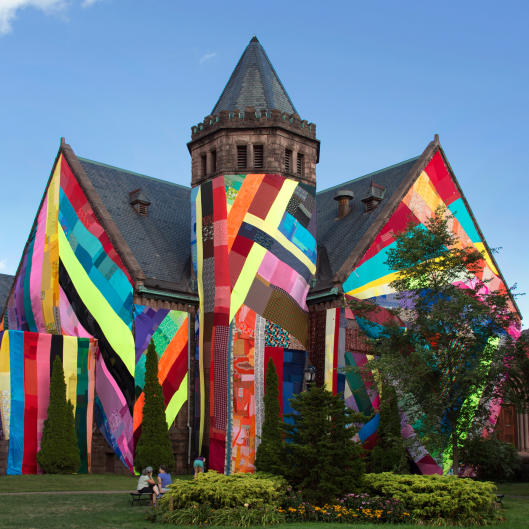 Amanda Browder, a Brooklyn-based artist, produces large-scale fabric installations for building exteriors and other public sites.
Photo Credit: (Left) Amanda Brower. Photos courtesy of the artist; supplied by ArtPrize. (Right) Spectral Locus by Amanda Browder. Photo by Tom Loonan; supplied by ArtPrize.
---
Large-scale Fabric Installations for Building Exteriors
Artist: Amanda Browder
Amanda Browder, a Brooklyn-based artist, is known for wrapping buildings in fabric, and she's seeking Grand Rapidians' help in both donation of fabric and stitching immense striped textile pieces with her this spring and summer. Collecting stories along the way, she'll then wrap multiple buildings and structures at various sites with the resulting textiles for Project 1.
If you would like to donate fabric, send your fabric remnants and bolts to ArtPrize at 41 Sheldon Blvd SE, Grand Rapids, MI 49503, or stop by Monday-Friday, 9 AM-4 PM. The types of fabric needed are colorful, non-stretchy fabrics in opaque materials such as cotton, rayon and velvet, as well as threads of all kinds.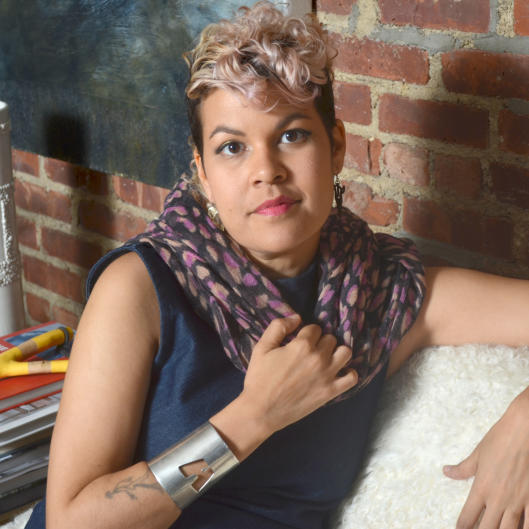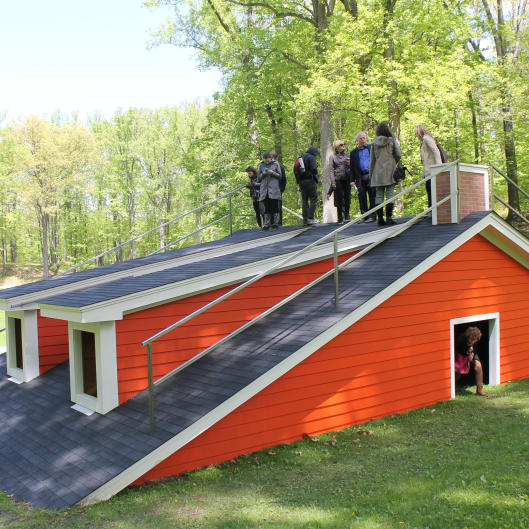 Heather Hart, also based in Brooklyn, is an interdisciplinary artist exploring the power in thresholds.
Photo Credit: (Left) Heather Hart. Photo courtesy of the artist; supplied by ArtPrize. (Right) Oracle of Lacuna by Heather Hart. Photo courtesy of the artist; supplied by ArtPrize.
---
Submerged Rooftops
Artist: Heather Hart
Yes, you read that right: submerged rooftops, complete with shingles and dormer windows. The piece of art will also be used as a performance space for Project 1 events.
Heather Hart is another Brooklyn-based artist, and much of her work explores questions of power, dominant narratives, and regional histories.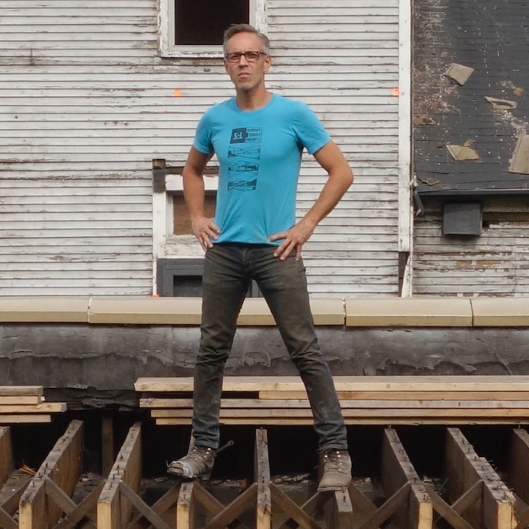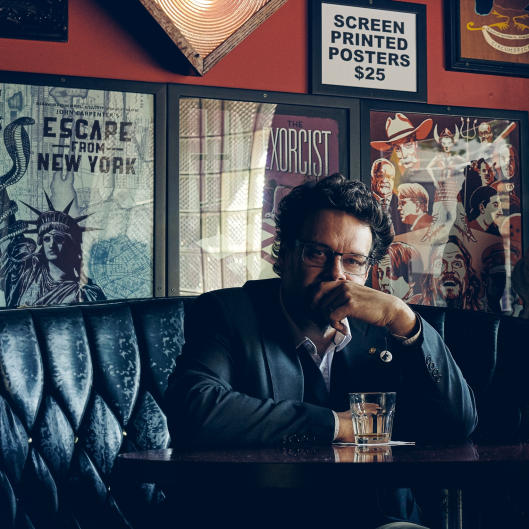 Paul Amenda, local artist and curator, and architect Ted Lott will create an architectural intervention open to the community and activated by accessible performances and events
Photo Credit: Photo Credit: (Left) Paul Amenta. Photo courtesy of the artist; supplied by ArtPrize. (Right) Ted Lott. Photo courtesy of the artist; supplied by ArtPrize.
---
Architectural Intervention
Artists: Paul Amenta, Ted Lott
Local artist and curator Paul Amenta, and architect Ted Lott, are focusing their work on creating a space open and fully accessible to the public. The two artists are also working with a disability arts organization, DisArt.
Similar to Hart's work of art, Amenta and Lott's piece will also host performances and events throughout Project 1.
The team is working to create an accessible experience that uses ADA design specifications as an inspiration. They've worked together before—at both the UNTITLED Art Fair in Miami and right here in Grand Rapids in 2016 for ArtPrize 8.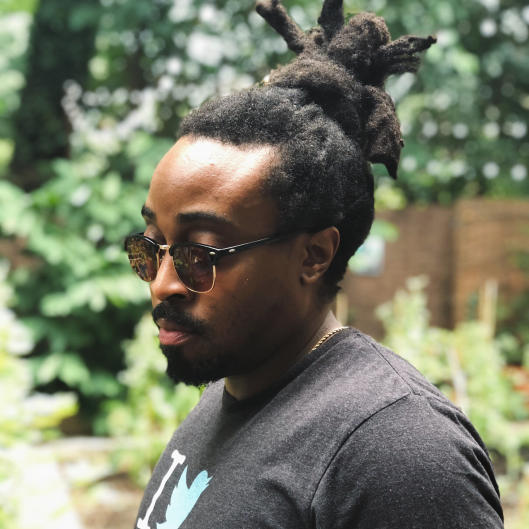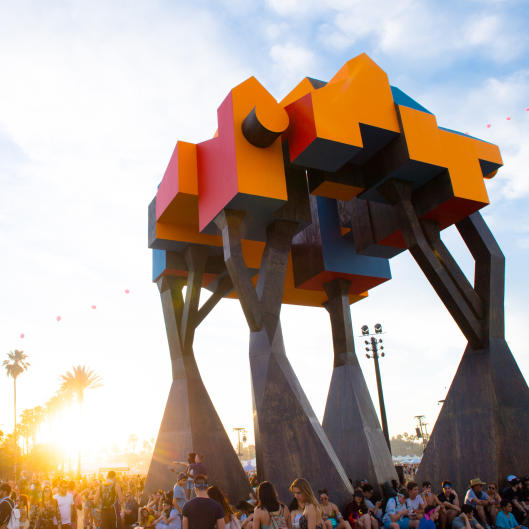 Olalekan Jeyifous is a Nigerian born, Brooklyn-based artist and architect whose work explores the past and potential futures of urban environments.
Photo Credit: (Left) Olalekan Jeyifous. Photo courtesy of the artist; supplied by ArtPrize. (Right) Crown Ether by Olalekan Jeyifous. Photo by Andrew Jorgenson; supplied by ArtPrize.
---
Monumental Sculpture
Artist: Olalekan Jeyifous
This Nigerian-born, Brooklyn-based artist will be creating a monumental sculpture for Project 1 that engages with topics of housing discrimination and equity issues in urban areas. Olalekan Jeyifous often uses installation, drawing, and design to create public artworks that explore conversations about our urban environments, surveillance, and protest movements.
Keep an eye out for more information on Project 1 events, further details on art exhibits, and additional art educational opportunities by visiting the Project 1 page.
Header image: Harvest Dome 3.0 (detail) by SLO Architecture. ArtPrize 2018
Never miss a post!
Subscribe to the Insider Experience blog.