ArtPrize®, the world's largest international art competition, has shifted to a biennial event to make way for a new series of citywide art commissions. The first series, dubbed Project 1: Crossed Lines, will focus on large-scale public art exhibits. 
During Project 1, visitors can expect to see unique pieces from all sorts of material, including shingles and textiles, interactive light, sound, architectural installation, and drawings from local and international artists.
The theme of the commission-based art event is built in its name; Crossed Lines refers to crossing the dividing lines of Grand Rapids. It hopes the works of art will help visitors investigate how art can help make cities places where we all belong.
Martin Luther King Jr Park (MLK Park), Tanglefoot, and downtown Grand Rapids are the three recently-announced locations that will house Project 1 art installations, sculptures, public events, performances, urban interventions, and community-oriented projects, all of which will address the concept of belonging.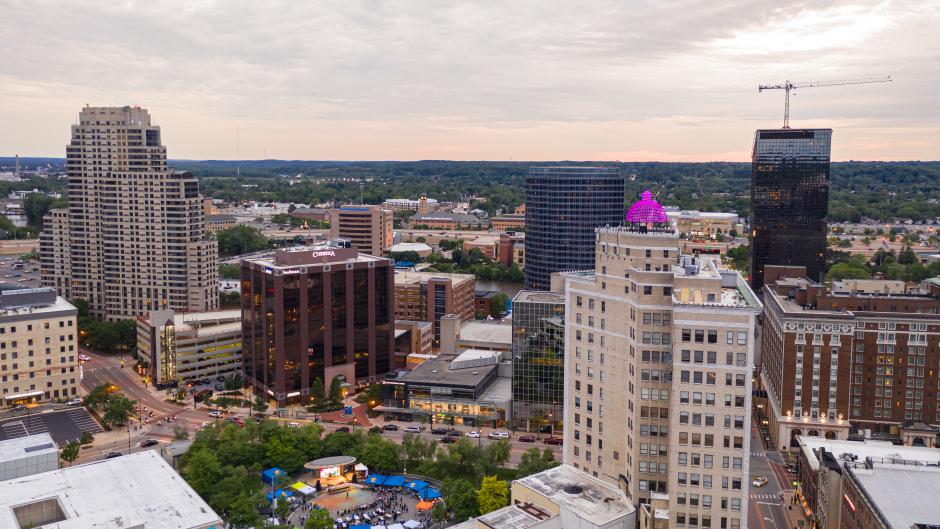 Downtown Grand Rapids is one of three main Project 1 locations.
Photo Credit: Experience Grand Rapids
---
Deciding Project 1 Locations
Kevin Buist, Artist Director of ArtPrize, explained that each location was carefully chosen and resembles the theme and purpose of Crossed Lines, which is to reflect the complex conditions of Grand Rapids and highlight the socioeconomic and community concerns about access and boundaries.
Downtown
The team chose downtown as a location based on the behavioral patterns and geographical recognition associated with ArtPrize. "Over the years, we've recognized that people associate ArtPrize with Downtown, so it made sense to keep one of the locations at a frequent hotspot," Buist said.
Martin Luther King Jr. Park
Organizers were looking at park spaces as a venue option. After having several discussions with park managers and city associations, Buist and the team found that MLK Park was a perfect option for two key reasons. 
First, the park sits in the city's third ward, an area that historically has been outside of the traditional three-mile radius in downtown for ArtPrize venues. Second, there had been ongoing discussions between residents and city leaders for MLK Park to incorporate more art activity. "It was a natural fit that ended up serving the community in a greater way," said Buist. 
Tanglefoot 
Tanglefoot is a building in Grand Rapids' West Side. The historic warehouse was chosen based on its unique outdoor space, which will hold Amenta and Lott's Project 1 creation.
Each Project 1 location is in one of the three wards, or electoral districts, in Grand Rapids. "Making sure the world-class installations of Project 1 are in all three city wards is an important and thoughtful approach to engage and invite the world to experience our diverse community," said City Manager Mark Washington, who serves on the ArtPrize Board of Directors.
Artist Details 
Check out the artist profiles below for more information on their artwork and where to find it.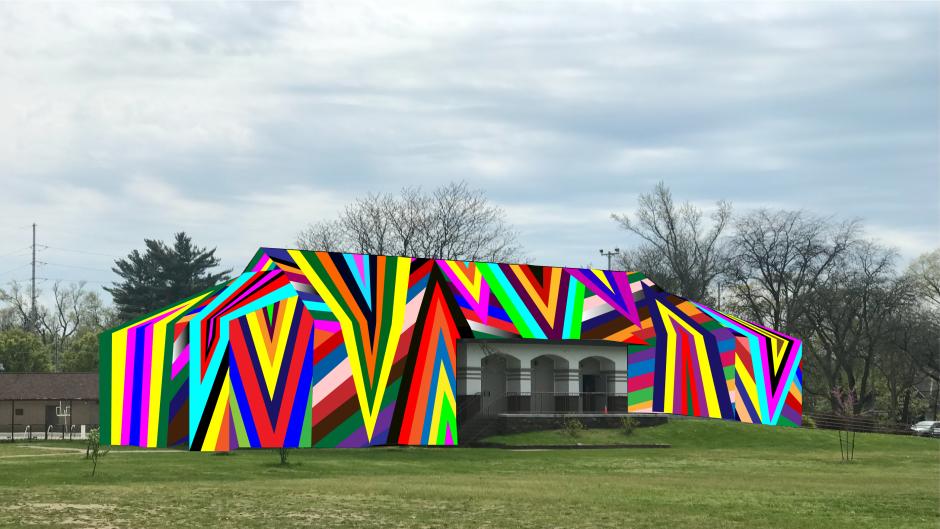 Amanda Browder's rendering of Kaleidoscopic will be installed over the community center at MLK park.
Photo Credit: Amanda Browder, courtesy of ArtPrize
---
Amanda Browder, Brooklyn, NY
Martin Luther King Jr. Park, Downtown, and Tanglefoot 
Browder's work centers on large-scale fabric installations for building exteriors and other public sites. She will present Kaleidoscopic, a series of large-scale fabric installations created for Project 1. Her work for Project 1 has involved the Grand Rapids community; Browder and ArtPrize have hosted sewing days, where volunteers work alongside Browder to sew the large fabrics that will drape the buildings.
One installation will be draped over the exterior of a community center building in MLK Park. She will also have installations throughout skywalks downtown and covering the facade of a building at the Tanglefoot site.
Heather Hart, Brooklyn, NY
Martin Luther King Jr. Park and Downtown
Hart will present a sculptural diptych, titled The Oracle of the Soulmates, in MLK Park and downtown in Rosa Parks Circle. The twin sculptures will have the appearance of independent rooftops removed from their houses and dropped from the sky to live autonomous lives in a new context.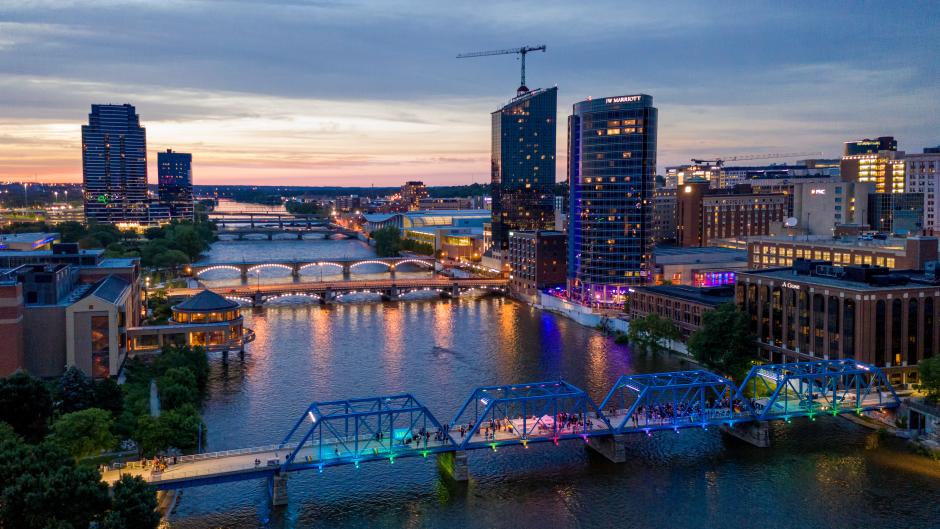 The Blue Bridge will be the site for Rafael Lozano-Hemmer's installation: Voice Bridge.
Photo Credit: Experience Grand Rapids
---
Rafael Lozano-Hemmer, Montreal, Canada
Downtown
Lozano-Hemmer develops interactive installations that live at the intersection of architecture and performance art. Lozano-Hemmer will present a new site-specific installation for Project 1, titled Voice Bridge. This interactive experience will be at Grand Rapids' iconic Blue Bridge. 
Lozano-Hemmer will install speakers on the handrails and 400 lights that will shine on the footpath of the bridge. The intensity of each light will be automatically controlled by the voice recording of participants who speak into intercoms at each end of the bridge.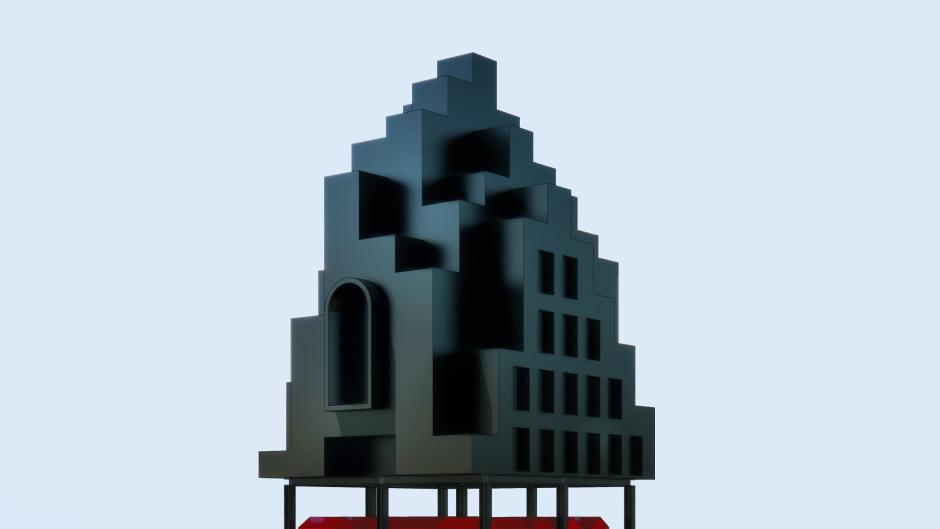 Olalekan Jeyifous' work, The Boom and the Bust, will be a large-scale sculpture located downtown.
Photo Credit: Olalekan Jeyifous, courtesy of ArtPrize
---
Olalekan Jeyifous, Brooklyn, NY,
Downtown 
Jeyifous will present a piece that is one part sculpture, one part architectural folly. Titled The Boom and the Bust, this abstracted multi-story building form will be horizontally bisected by a steel truss enclosure containing small homes. The work will be installed downtown at the corner of Monroe Avenue and Louis Street, near Rosa Parks Circle.
Paul Amenta and Ted Lott, Grand Rapids, MI
Tanglefoot 
Amenta and Lott will present Critical Infrastructure — a site-specific architectural intervention at the landmark Tanglefoot building. 
In collaboration with DisArt, an arts and culture organization that focuses on creating public art events that cultivate a "society that enjoys the full and equitable participation of all people," the intervention will build an environment that addresses issues of accessibility in both form and function. 
Project 1: Crossed Lines will run from September 7 through October 27, 2019. The exhibition will offer several events, volunteer opportunities, and educational programs to connect with the artists' works throughout the seven-week event.
Stay tuned for more updates from Experience Grand Rapids and ArtPrize. For more information, check out the Project 1 page and the previous blog about Project 1.
Project 1 is the next evolution of ArtPrize and the first in a series of citywide, community-oriented public art commissions to take place between biennial ArtPrize competitions. From Sept 7–Oct. 27, 2019, the Project 1 exhibition will occupy three outdoor spaces in Grand Rapids, Michigan and will feature temporary public artworks by five artists. The seven week run will be punctuated by a series of events, volunteer opportunities, educational programs and performances. The ArtPrize organization receives generous support from many local organizations.
Never miss a post!
Subscribe to the Insider Experience blog.