Let's consider a few likely scenarios. It's a lovely Sunday morning and you're strolling around Downtown Grand Rapids. You're headed to work and want to surprise your co-workers. You just finished up a fabulous dinner but saved a little room for dessert. What would complete all three occasions? Doughnuts!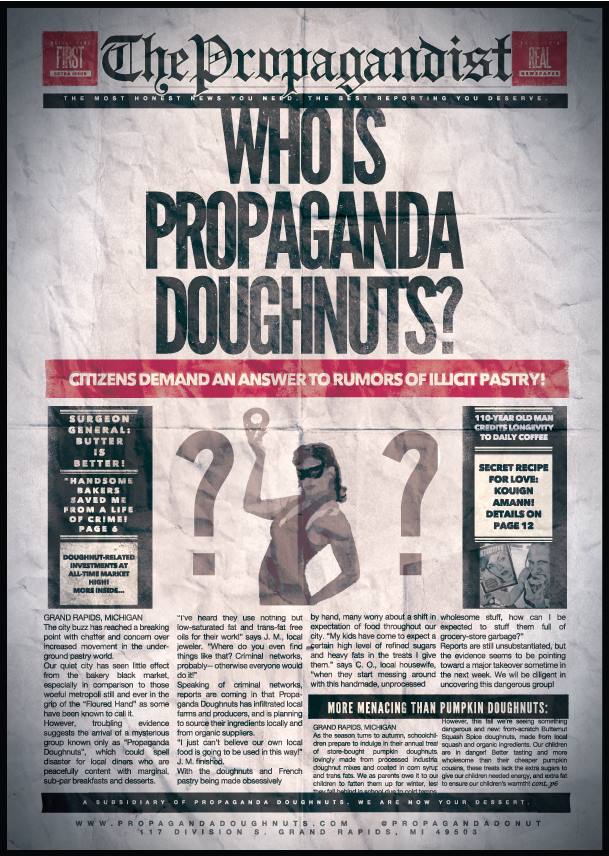 Read all about it!
Lucky for us, Torrence R. OHaire of The Starving Artist and Full Moon Supper Club, recently opened Propaganda Doughnuts at 117A South Division Street. The doughnuts are hand crafted, Chef inspired, and completely from scratch. For the sake of this doughnut newsflash I embarked on some serious taste testing, so trust me, these pastries are divine. They're not made from a mix (unlike your typical doughnut) and seasonal ingredients inspire and adorn them. Lets celebrate, there's a gourmet doughnut source in Grand Rapids!
Torrence O'Haire, owner of Propaganda Doughnuts, enjoying a doughnut and coffee.
Propaganda Doughnuts is located on one of Grand Rapids' main cross streets in a big, old, recently renovated building with a sign flashing its name, The Harris Building. They're mysterious, channeling a playful, curious spy theme (think typewriters, riddles and jewels).
The bakery is open the usual morning hours plus weekend late nights, so you can soak up beer with doughnuts. Torrence says the customer base is diverse and far reaching since doughnuts are appealing to most folks, at various times in the day. Post date night dessert and an early office-bound rush are both popular.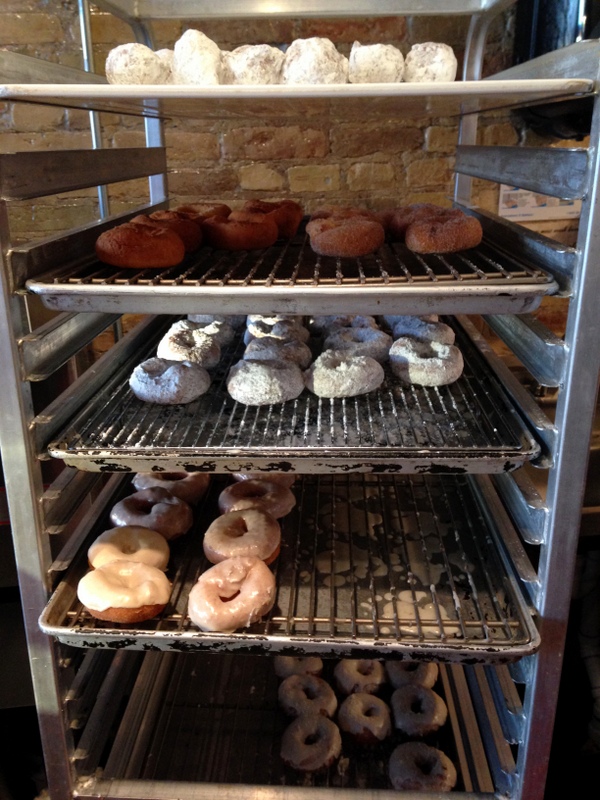 Doughnuts waiting to be sold. Propaganda Doughnuts is open each morning (closed Tuesday) until they sell out.
The doughnut selections change daily. You'll always find the usual suspects - plain, powdered and cinnamon sugar. The rest of the rotating bill is carefully composed by Torrence with balance in mind. On the day I visited Propaganda, the menu featured the following:
BOURBON BETTY [brown butter, bourbon, almond]
CHARLIE BROWN [chocolate-peanut butter ganache]
GOLDEN LUCY [honey-lemon-ginger]
MR. BEAN [coffee-cardamom]
There's also a daily gluten-free option, currently CALAS, a rice fritter popular in New Orleans-based Creole cuisine. I recommend grabbing a friend, ordering a few donuts, and going halfsies.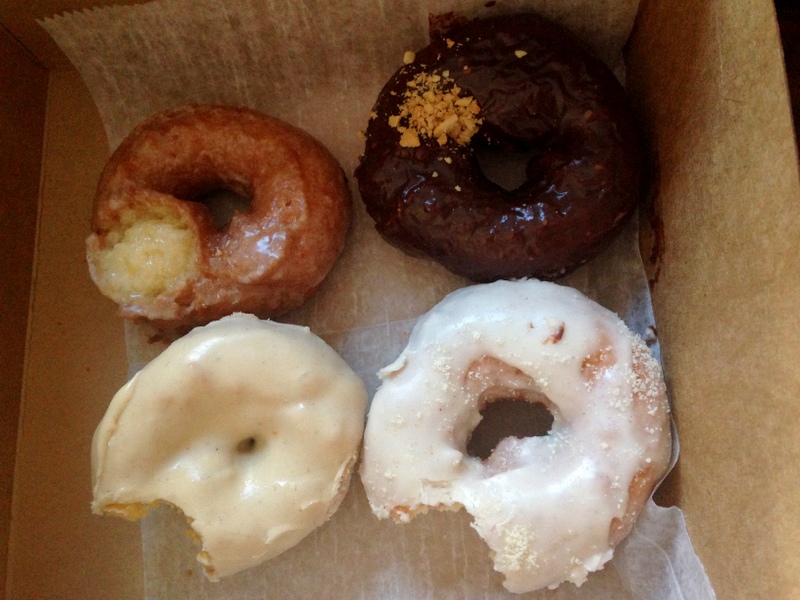 It was hard to get these doughnuts home without taking a bite.
Propaganda has a signature dark chocolate-absinthe doughnut: THE CAPRICORN. A popular local watering hole, Harmony Brewing Company, teamed up with Torrence to brew a Capricorn Stout, inspired by the doughnut. It was very popular last fall, and they're brewing another batch. In the spirit of delicious collaboration, Grand Rapids Brewing Company features a bread pudding made with Propaganda doughnuts and Propaganda makes cinnamon buns with GRBCs spent grain. Tasty partnerships, indeed.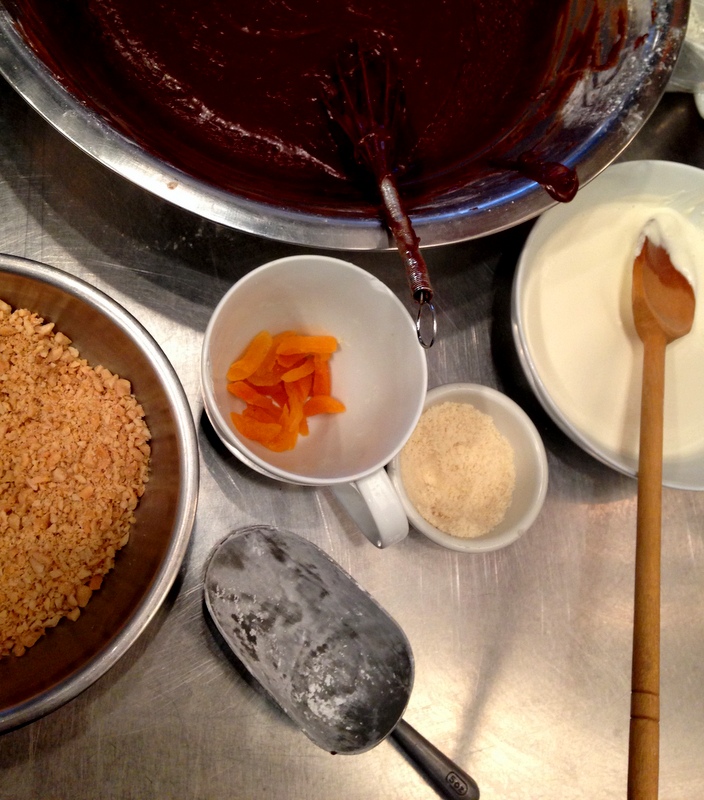 Doughnut ingredients including chocolate ganache, peanuts, and dried apricot.
Doughnuts can be found around town, in limited quantities. Rowster Coffee gets a daily delivery that pairs beautifully with their perfectly brewed coffee. Loves Ice Cream at the Downtown Market also gets doughnuts daily, and they proceed to create tantalizing ice cream treats. Its not a surprise Torrence chose those two establishments to sell his doughnuts. All three businesses have a commitment to their craft (doughnuts, ice cream, coffee), passionate food artisans at the helm, and a dedication to high quality ingredients.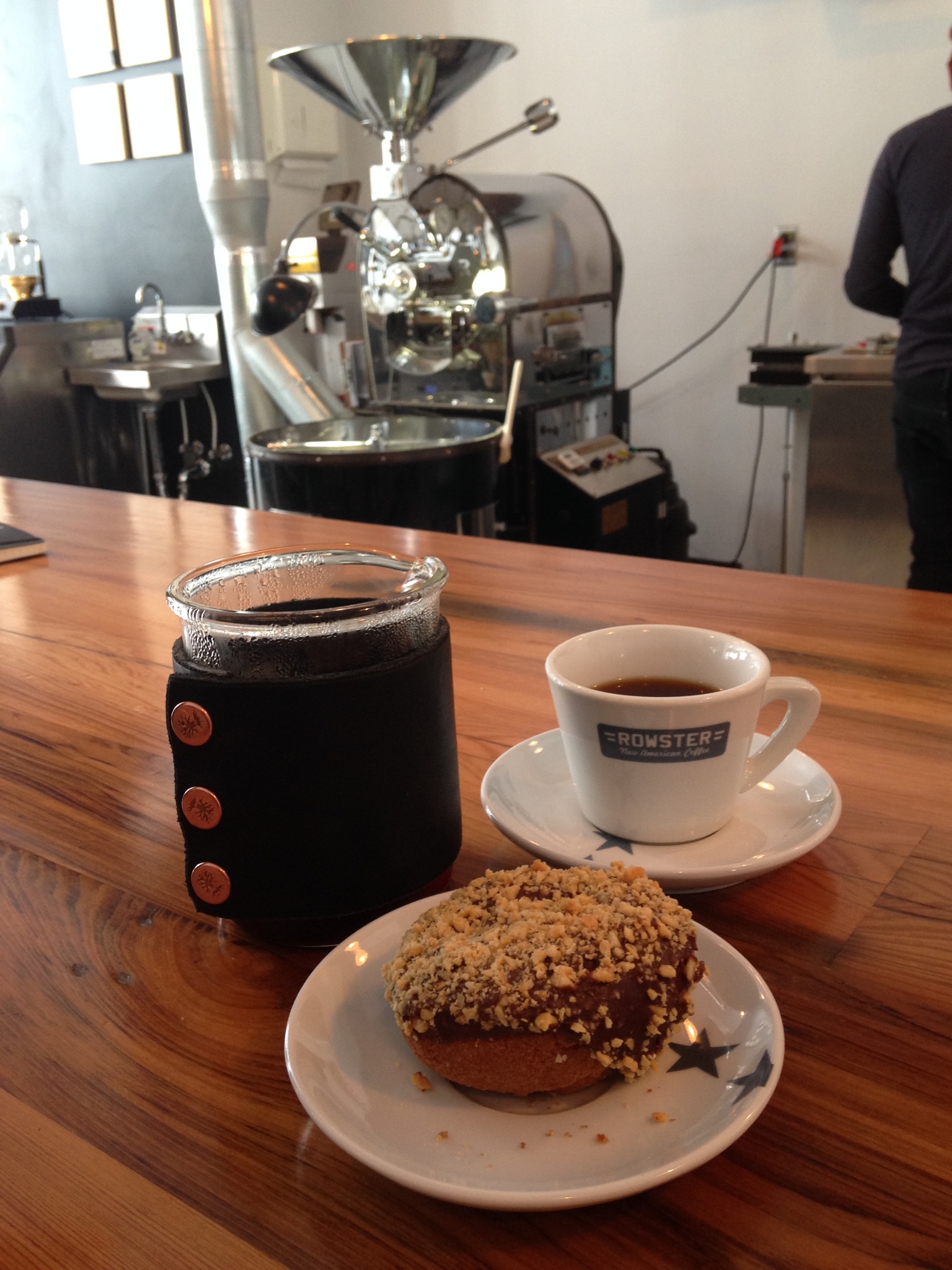 A Propaganda Doughnut at Rowster Coffee.
Surely you want a doughnut by now. In the meantime, for daily temptation, follow their Facebook page here. When you're embarking on your doughnut quest, check out The Local Epicurean a couple doors down. And keep your eyes peeled for Torrence's next venture, a ramen shop next door to Propaganda, called The Bandit Queen, opening late Spring. Most of all, enjoy and appreciate a gourmet doughnut: its a special treat.
Propaganda Doughnuts 117A S. Division
Mon: 8:00 am - 12:00 pm Wed: 8:00 am - 12:00 pm (beginning in February) Thu: 8:00 am - 12:00 pm Fri - Sat: 8:00 am - 12:00 pm, 8:00 pm - 12:00 am Sun: 8:00 am - 12:00 pm
Twitter @propagandadonut propagandadoughnuts.com