"I go to see it as an art show," says Terri Watson of the national American Quilters Society Show and Contest, whose next event will be held at the DeVos Center in downtown Grand Rapids from August 22 - 25. More than 20,000 visitors from around the country are expected to attend. In addition to the contest and prize money (over $44,000!), the AQS Show hosts classes, and includes special events like an afternoon of fashion and tea at the Grand Rapids Public Museum. The AQS Show brings a new element to the growing art scene in Grand Rapids, which in the past five years has added the Grand Rapids Art Museum and Art Prize, where accepted artists have the chance to win $560,00 in prizes, and winners are chosen by the voting viewers and professional jurors.
Watson, a Member of the West Michigan Quilters Guild, says that part of the reason she enjoys the national quilt shows is the range of spectacular quilts on display. "There's usually something I can take away and adapt," she says. The tagline on her blog, Threadtales, is Ancora Imparo, "which means I'm still learning. There's always something new to learn if you want to," says Watson.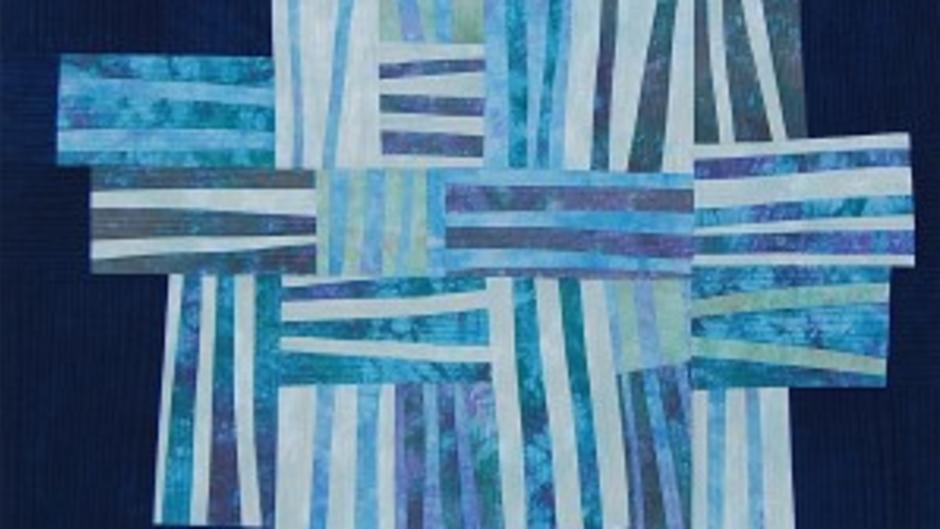 Quilt on display at the American Quilters Society Show (AQS).
Photo Credit: Experience Grand Rapids
---
Quilting is about color, depth, texture, and history, says Watson. "Historically, quilting was one of the few things women could do that was both practical and creative," she says." Sometimes all we have to remember a particular woman is the quilt she made." Women continue to quilt today, she thinks, because its something they do for themselves. "It's a quiet time. It's very meditative."
Although Watson now runs a successful quilting business, Quiltworks in Grandville, MI, she didn't grow up quilting; she was originally a cross-stitcher. One day, years ago, she was in a fabric store looking for a cross-stitch pattern and saw the quilting section. "I left with a beginner quilting book and some fabric, she says, and decided I was going to make a quilt."
These days, you can usually find Watson in her quilting studio, a colorful and cozy creative space, where the walls are covered in quilts and the hum of her longarm quilting machine provides the background music. "It's a happy place for me," she says.
Watson hand-quilted for years, and still does occasionally, but running Quiltworks allows her to focus on her favorite part of the process: the actual quilting. For the novice, let me explain--when we think of a quilt, we think of the beautiful end product. But there are 3 basic parts to a quilt:
The Top: Quilters piece the top, or design the fabric pattern you see on the top of a quilt.
The Batting: This is the fluffy material in the middle--the thickness of the batting decides the thickness of the overall quilt.
The Backing: A solid colored fabric that we see as the back or bottom of the quilt.
These three pieces of a quilt sandwich are sewn together in the process that's actually called quilting, which is the service Watson provides for others. The pattern the thread creates can be simple or complex, depending on the quilt tops pattern. (See the intricate quilting pattern on one of Watsons quilts, below.)
It's so neat to go to a quilt show and see your quilt hanging there. It's a phenomenal feeling.
Watson explains that quilting is a very utilitarian job--the quilting ensures that the layers don't shift or bag--but that her work also adds another layer of design. "I get a lot of beautiful quilt tops in, but when I'm done quilting them they have a life they didn't have before. Quilting gives it the depth and texture that makes it a quilt," she says.
When Watson decided to leave her former job as a high school library supervisor, she'd already been quilting for a couple of decades. "I investigated the business of quilting for others and the different kids of machines for about six months," she says. She then spent six more months going through yards and yards of muslin and practicing on her own quilts. "As a quilter-for-hire, you're basically taking someone else's project, that they've put a lot of time and money into, and punching a couple hundred holes in it!" she says. "I wanted to be very confident that I could do it right."
You'll get the chance to see some of Watson's work at the upcoming juried AQS Show and Contest in Grand Rapids. Three of her clients' quilts were accepted, as well as one she did entirely on her own (the whole sandwich). "It's so neat to go to a quilt show and see your quilt hanging there," she says. "It's a phenomenal feeling."