There's no doubt that Grand Rapids is known for its award-winning craft beer.
While many cities across the United States have burgeoning beer scenes, Grand Rapids has been voted "Beer City, USA" and in 2019 was named one of the 15 best beer cities in the world by CNN. 
What helps Grand Rapids stand out is a diverse selection of some very excellent brews, which the city celebrates during Beer Month GR, taking place February 15 - March 15.
The Grand Rapids area is also home to over 40 breweries, all of which are producing a variety of award-winning beer, year-round. 
Here are just a few of the breweries that make West Michigan a stand-out place for beer.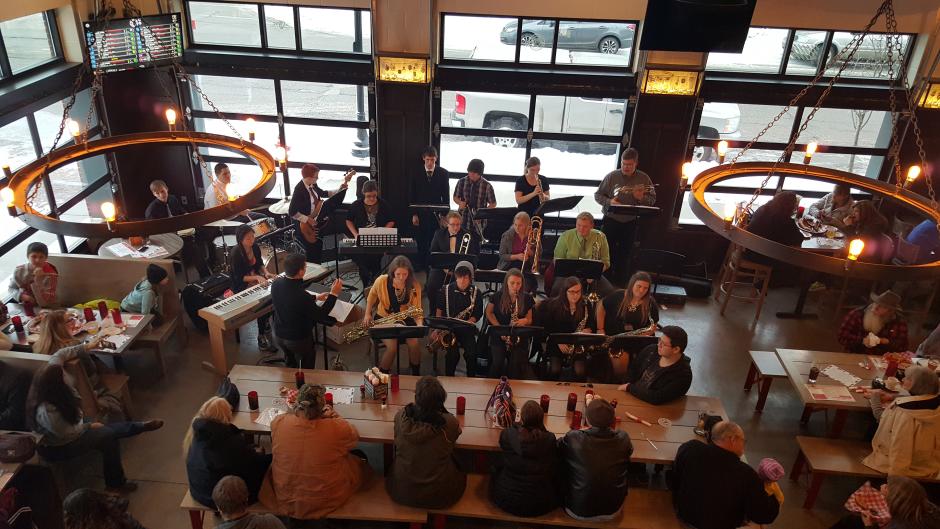 People At Brewery Watching Live Music
Photo Credit: Cedar Spring Brewing Company
---
Cedar Springs Brewing Co.'s Kusterer Original Weißbier
Start with the Kusterer line of beers at Cedar Springs Brewing Co., which shines a light on the extremely bright history of beer in Grand Rapids.
Cedar Springs' line of classic German lagers pays tribute to Christoph Kusterer, a German immigrant who was one of the most powerful men in early Grand Rapids history and who paved the way for early Grand Rapids brewers. 
Multiple Kusterer beers have won awards, including the Original Weißbier, which won a Great American Beer Festival medal for German Wheat Beer in 2016 and a 2017 London World Beer Award. Cedar Springs announced a Grand Rapids tasting room, also named Kusterer. It's expected to open sometime in 2020 on the West Side.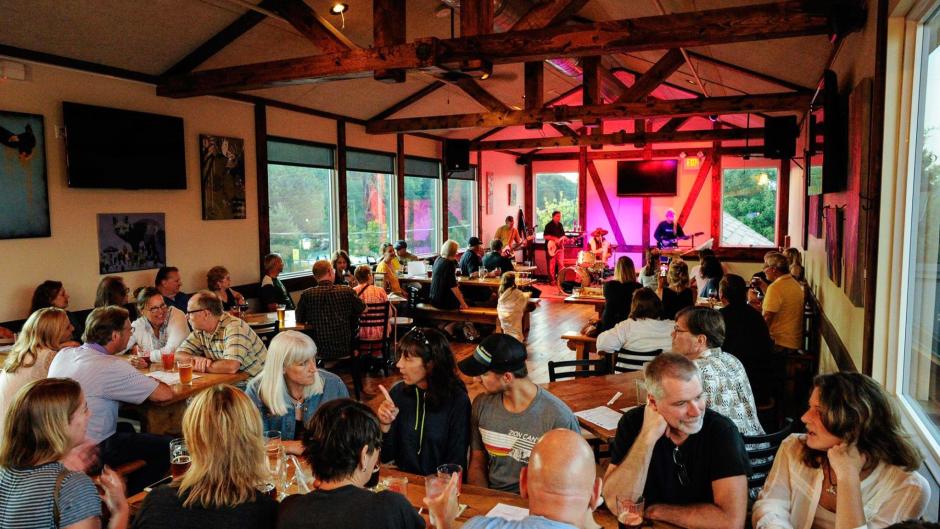 Did You Know: Rockford Brewing Co. is also known as a live music and artist venue.
Photo Credit: Rockford Brewing Company
---
Rockford Brewing Co.'s Sheehan's Stout
A few years ago, Rockford Brewing Co. was named Best Small Brewpub and Small Brewpub Brewer of the Year at the Great American Beer Festival in Denver.
The award was due in part to the brewery's medals awarded to its Sheehan's Stout and Rogue River Brown.
Sheehan's Stout is a perfect winter warmer as a classic Irish stout. A beer that has been on tap since the brewery's launch, it's been spot on for the style since its first release and is worth at least a few sips on a visit to Grand Rapids.
New Holland's Dragon's Milk
New Holland Brewing is one of West Michigan's original craft breweries, helping build what has turned into one of the finest beer regions in the U.S. 
The brewery opened in 1997 in Holland before making its way into Grand Rapids with the Knickerbocker - which helped kick off a beer revolution on the West Side. 
Dragon's Milk is an incredible example of bourbon barrel-aged imperial stout, and that's before acknowledging it's aged for just three months. The stout is available year-round and nearly nationwide. 
In recent years, New Holland Brewing has had fun experimenting with a variety of spinoffs, like Dragon's Milk Reserve: Oatmeal Cookie.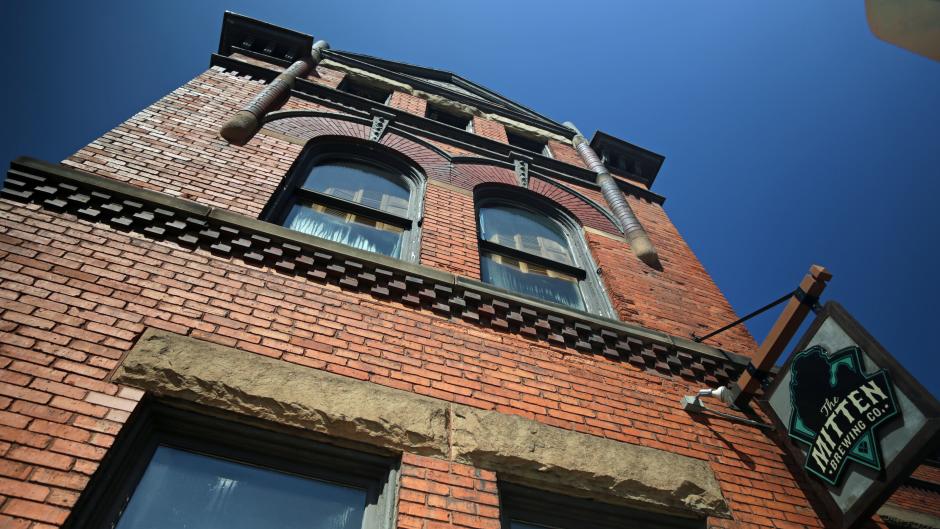 Fact: The Mitten Brewing Co.'s building used to be "home" to the historic Engine House No. 9!
Photo Credit: Experience Grand Rapids
---
Mitten Brewing Co.'s Triple Crown Brown
West Michigan is home to a load of excellent brown ales, ranging from Rockford's Rogue River Brown to Thornapple Brewing Co.'s award-winning My Brown Eyed Girl.
The Mitten Brewing Co.'s brown ale, Triple Crown Brown, represents an even more underappreciated style, English-style Mild Ale, for which it brought home a silver medal from the 2016 World Beer Cup. Similarly, the Mitten's West Coast Swing Amber won a Great American Beer Festival gold medal in 2018.
At 4.2 percent ABV, Triple Crown Brown is a light beer but packs a good amount of nuttiness and caramel.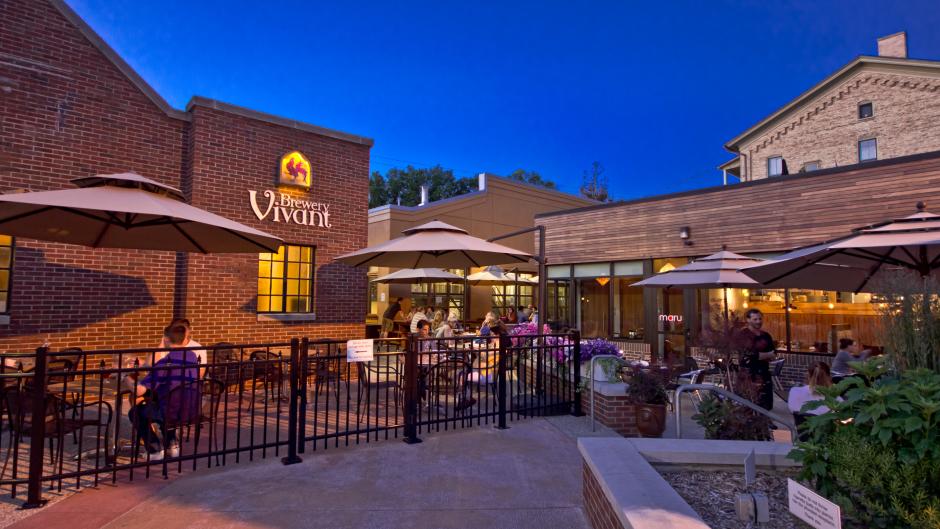 Brewery Vivant is known for its Belgian and French style brews, as well as its location in what was once a funeral home.
Photo Credit: Experience Grand Rapids
---
Brewery Vivant's Plein De Vie series
Brewery Vivant helped expand Grand Rapidians' palates when it opened in 2010 making Belgian- and French-inspired beers. It helps to get acquainted first with the Farm Hand, one of the finest examples of American farmhouse ales.
The Cherry Street brewery has always experimented with wood-aged beers but has seriously ramped up its efforts in the past two years.
The barrel-aged sour ale Angelina, one of its Plein De Vie series beers, took home a bronze medal at the 2016 Great American Beer Fest.
Brewery Vivant's Plein De Vie series beers aren't always available at its pub, but there's a good chance another tasty wood-aged beer will be.
Also, don't forget about Founders Brewing Co.'s yearly KBS release. New in 2020, the brewery is featuring the award-winning imperial coffee chocolate stout year-round. Keep an eye out for Founders' 2020 KBS starting in February.
Looking for breweries to add to your Brewsader® Passport or for the best brew in your neighborhood? Start your search at the Beer City, USA page.
Don't miss a post!
Sign-up for the Insider Experience blog