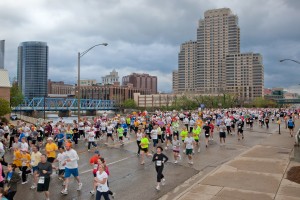 Fifth Third River Bank Run
Get Your Run On in Grand Rapids this April:
Whether you're a serious athlete or youre looking for a fun family activity, Grand Rapids offers plenty of opportunities to lace up your running shoes. These are all great tune-ups for Mays River Bank Run!
The Grand Rapids Running Club hosts a 5/3 River Bank Run Mentor Group every Saturday in April. These events are intended to mentor new runners training for their first 25K River Bank Run. Veteran runners are also welcome. Runs start at John Ball Park. April 4, 11, 18 & 25.
The Striders Classic 10 Mile and 5K each feature out-and-back courses, aid stations and gifts for winners in 16 age groups. Nearby Osgood Brewing opens early to serve runners and volunteers. April 11.
The Mountaineer Pi Run/Walk gives you a delectable reward for crossing the finish line: a slice of pie! April 18.
The Gazelle Girl Half Marathon & 5K is a woman-only event celebrating Title IX and encouraging female health, fitness and relationships. The half marathon is capped at 2,000 participants, so register early! April 19.
The Calvin College 5K Spring Classic & Family Fun Run includes a 5K run/walk for adults and a fun run for kids age 3-9 (distances range from 100 yards to a half-mile). The course runs through Calvin's scenic, relatively flat campus. April 25.
The Hurt the Dirt Trail Race includes runs of varying distance at Luton Park, a 100% flowing, dirt single-track through hardwood forest and meadow. The race is already capped except for a few slots in the full marathon. April 25.
Rivertown Races is a half marathon and 5K event starting and finishing in beautiful Millennium Park. Participants will travel over roads, paved trails and bridges while enjoying the parks rolling terrain, wetlands and lakes. April 25.