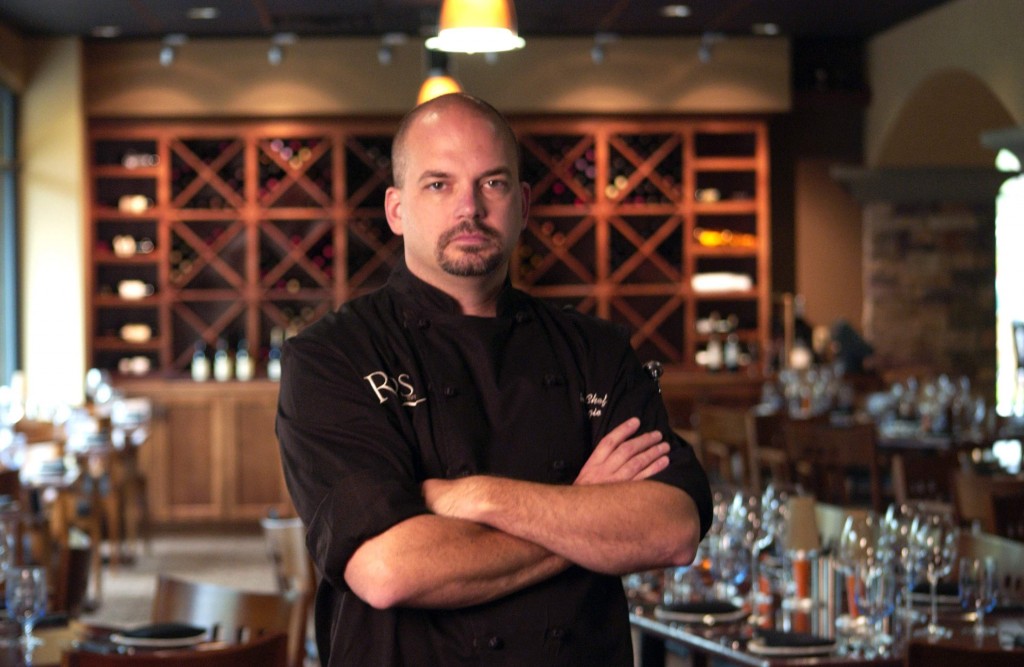 Glenn Forgie, Executive Chef at Reds on the River
If you were looking for Reds on the River Executive Chef Glenn Forgie years ago, you wouldn't have found him in a kitchen. Instead, he was busy cultivating banking clients in Tucson, AZ. Although he enjoyed his work in the business industry, Forgie didn't feel like thats what he was made for. "When I was about 30, he says, it dawned on me. You've got a short life. Do what you love."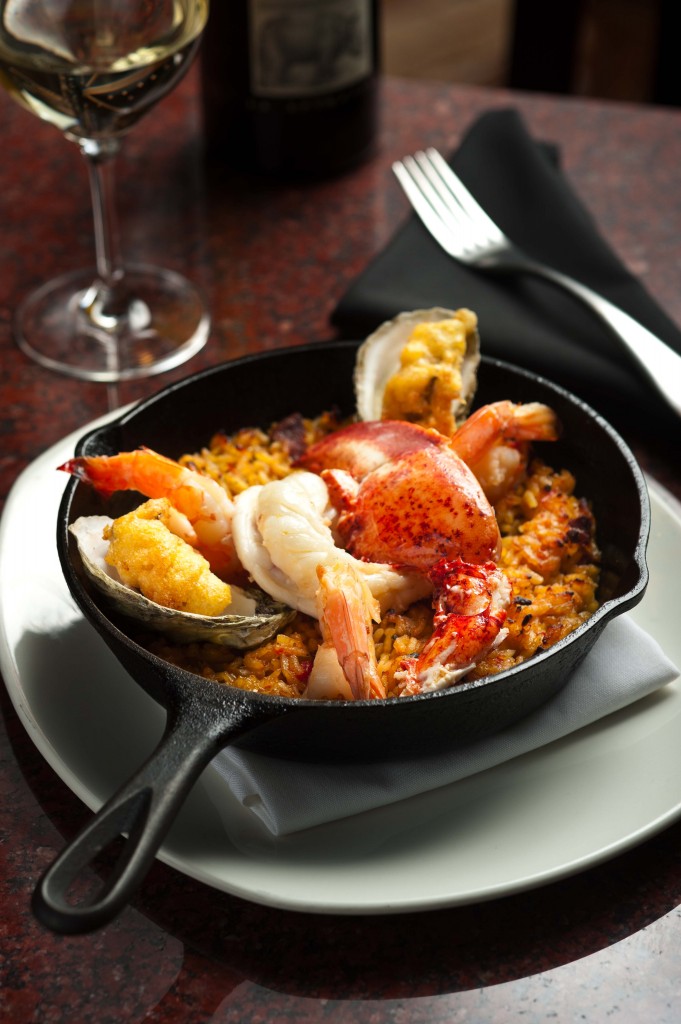 Reds on the River paella
What Forgie loved was cooking. He credits his mom with nurturing that interest, as well as for fueling his affinity for trying different things and learning about other cultures.
"She was my biggest influence," he says. "She always wanted us to try new foods." His library at home, filled with books about cooking, history, and culture, is a testament to the depth her influence. "I'm a curious cat," says Forgie. "A lot of chefs are. We get bored if we're not doing something to develop ourselves."
When Forgie realized that he wanted to develop his cooking skills, he jettisoned his banking attire and headed to the California School of Culinary Arts in Pasadena, CA. Add training at L'Orangerie and The Parisienne Room in Los Angeles, CA, Culinary Arts Certification from Le Cordon Bleu, and a passion for creating delicious food from scratch, and he was destined to have the stellar career he does today.
It wasn't long after Forgie returned to West Michigan that he joined the team at Reds on the River; in 2011 he was voted Chef of the Year by Grand Rapids Magazine. Not bad for a curious cat following his dream.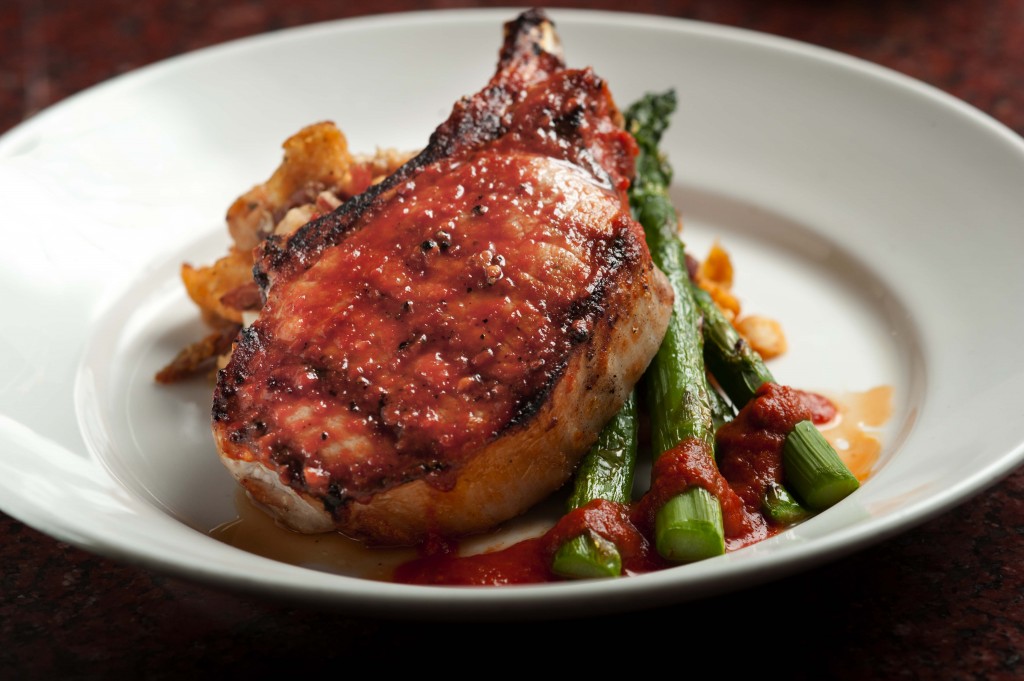 Reds on the River pork chop
One of the many reasons Forgie enjoys cooking is that he loves using his senses. "That's all you do in the kitchen: hear, smell, taste, stir," he says. "It's very tactile." In addition, he says that being a chef allows him to hone the skill set he developed at his other jobs (which included a stint teaching skydiving). "I love working with people, teaching, and working with my hands," he explains. "I need something that is quick and dynamic. I don't know what else I would do!"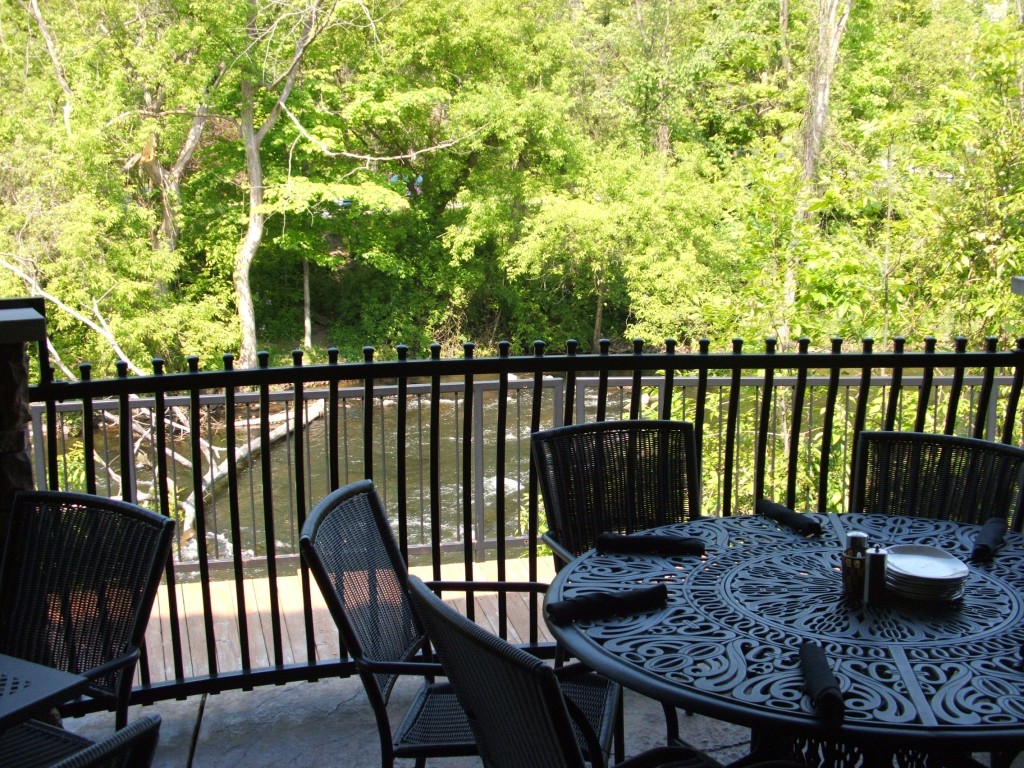 The Deck at Reds on the River in the Summertime
One of the things Forgie does as Executive Chef at Reds on the River is to use local products as often as possible. But Forgie is also passionate about variety. He wants guests to be able to experience something they haven't before. "I like to bring European influence into Midwestern cuisine," he says.
Thats exactly what he'll be doing during Grand Rapids Cool Brews. Hot Eats. promotion, which runs from February 18 March 2, 2013. Forgie worked with Jeff Sheehan, one of the owners of Rockford Brewing Company, to plan for Cool Brews. Hot Eats. Sheehan has been crafting a soon-to-debut brew, which you'll find on tap at Reds on the River during Cool Brews. Hot Eats. In anticipation of its launch, Forgie decided to use RBCs new beer as inspiration for his Cool Brews. Hot Eats. food special.
Because the new RBC beer is a kind of French farmhouse ale, Forgie says he's bringing a French countryside attitude into the special he's creating for Cool Brews. Hot Eats. "We're coming up with a local casserole," says Forgie, "like a white bean stew, probably with pheasant and sausage we make from a local hog."
He says he'll begin the process by making stock from the beer wort (created during the mashing process at the brewery) and poaching the peasant or cooking the beans in it. Forgie's excited about his new creation and for RBC to debut their new beer. "Jeff's really talented," he says, "and I feel really good about what they're doing."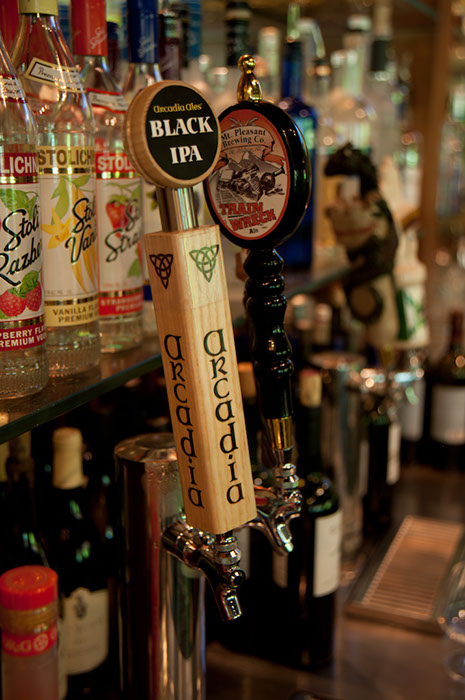 Taps at Reds on the River
If you think of Reds on the River as a wine-themed restaurant, you're partially correct. That was the original idea when they opened in August of 2006. But Forgie says it wasn't long before they put in taps and began focusing on local brews in addition to great wine. "There are people coming to Grand Rapids from all over the world to try our beers," he says. "We want to have those beers here."
You can give the beer a try, along with Forgies special French creation, beginning next Monday (Feb. 18) during Cool Brews. Hot Eats. Forgie encourages guests to visit Rockford for the Reds on the River experience any time of year. "You're going to have marvelous food and marvelous service in a beautiful restaurant," he says. "We have one of the best ambiances in the city."