Whether you're planning a special Mother's Day gift, want to treat your wedding party or just need some pampering, Grand Rapids offers a variety of spa experiences to choose from. From therapeutic massages to cutting-edge beauty treatments, these spa's menus feature something for everyone:
A day spa experience in the heart of downtown Grand Rapids.
Located inside the luxurious and hip JW Marriott, The Spa offers a luxurious setting and a full menu of services including body treatments, facials, massages, nail care and waxing, and specialty men's services. A menu of signature treatments includes the rejuvenating Jet Lag Cure, which includes your choice of two treatments to either energize you or help you relax after a long day of travel, and The Spa also offers seasonal treatments including several wine-themed "vinotherapy" options. The treatment rooms are tranquil and luxurious, including double rooms that allow couples or friends to enjoy services simultaneously. A serene relaxation room offers clients a peaceful place to relax before, after or between treatments, and spa visitors also enjoy complimentary use of the swanky JW Marriott fitness and pool areas on the day of their treatment.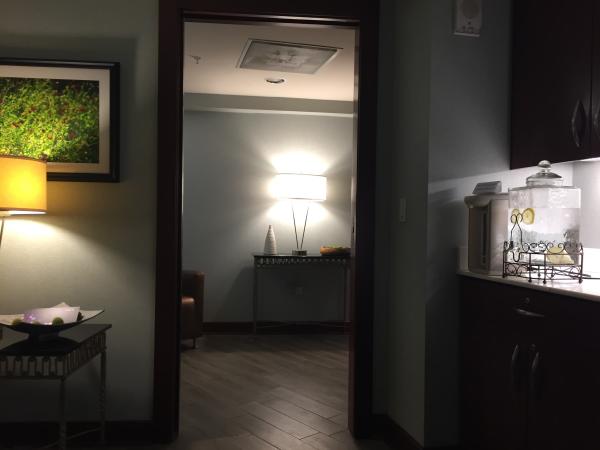 An accessible medical spa offering a full range of beauty services 
At BodyBrite Spa, located at 1144 E Paris Ave SE in Grand Rapids, the focus is on cutting-edge treatments that brighten, rejuvenate, and deliver a more youthful appearance from head to toe. State-of-the-art technology like IPL (Intense Pulsed Light) can be used to both rejuvenate the skin by stimulating collagen and elastin production to reduce wrinkles, sagging and fine lines, and deliver a less painful, more effective method of hair removal. Tooth whitening, vacuum microdermabrasion, and oxygen facials are among the other services offered at BodyBrite, in a pristine environment by knowledgeable estheticians..and at surprisingly affordable prices. Watch a video of a BodyBrite microdermabrasion and oxygen facial service below! 
Get ready for that big event with an assortment of beauty and body treatments in a luxurious setting. 
Located at 1514 Wealthy St. SE in Eastown, Apsara Spa offers a full menu offering the expected facials, nails, and body treatments, but takes those staples to the next level. For example, Apsara offers nine different pedicure options, including the unisex "Jack Black" pedi and the vegan "Mint Melon Mojito." Hair removal, brow, and eyelash treatment options are also extensive, including threading, Brazilian waxing, lash extensions, and tints. Indulge in one of nine specialty facials, including the Wine and Chocolate Facial.