Jenna Arcidiacono, owner and chef at Amore Trattoria Italiano serves locally-sourced, authentic Italian food in an atmosphere so homey you'll swear you were at her mother-in-law's home in Milan, Italy. Tempt your taste buds with their mouthwatering specials, like her remarkable hand-rolled pop rock truffles, during Restaurant Week in Grand Rapids, August 10 - August 21, 2016. We talked to Arcidiacono about her restaurant, her passion, and what you can expect at Amore during Restaurant Week.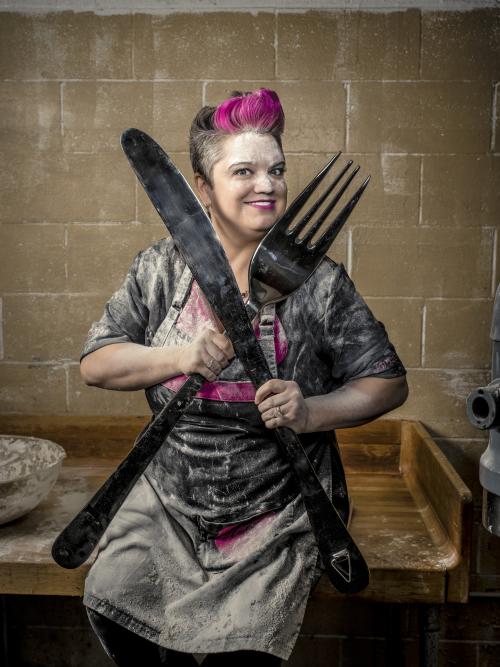 What do you love most about being a chef?
It depends on the day! I really appreciate the creativity involved and being able to travel to learn new things, bring them back to the restaurant, and put a Michigan twist on them based on what produce and protein I can source here locally. I take people to Italy with me twice a year, which gives me the opportunity to learn even more from different parts of the country. Everyday I learn something that I didn't know before and I love constantly learning. I've found that the most simple things usually taste the best—it's just really good ingredients, put together simply.
Was there a moment when you knew you wanted to be a chef instead of something else?
Yes, definitely. When I was living in San Francisco, I got a job as a receptionist at a new website company. I couldn't stand it. I thought, "This is terrible!" I'm a people person and people would only come in every once in a while. They gave me data entry to do the rest of the time. I thought, "This is not what I want to do. I love working with food and I love working with people." That was my moment. It was when I realized I couldn't see myself doing anything but being in the food industry. Later, when I lived in Italy, I knew that I want to make food for people. Someone recently told me, "I'm so glad your love language is feeding people." I thought "Hey, I like that. That is my love language." It makes me happy to make other people happy by feeding them.
How dinner is made at your home? Who shops for the ingredients? Who cooks? Do you plan the meals ahead of time?
I do most of the shopping and cooking for eating at home. We definitely don't pre-plan our meals! We'd rather be spontaneous and eat what sounds good that night. We usually don't get home until 11 pm so we have something light, like beans (lentils, garbanzos, black beans) or grains (quinoa, bulgur, barley). Or, we have a salad with lemon, olive oil and sea salt or make coleslaw with rice wine vinegar and cilantro. We like to order to go from our favorite local spots, too! Our once-a-week (at least!) favorites are Pho Soc Trang, Thai Chef, Donkey, Sheeshco Grill, and TerraGR.
What do you think sets Amore apart and makes it special as a restaurant?
At Amore, you know who the owner is. We're always present. We want our customers, our friends, and our family to feel special when they walk into the restaurant. We appreciate that they're there. We want to make sure that they're enjoying themselves and smiling and having a good time. Not many chefs come onto the floor anymore but I'm out there as often as I can be. We want you to come in and feel like family.
What kind of ambiance can diners expect at Amore?
We have photos of our family, new and old, on the wall, so as soon as you walk in Amore starts to tell a story. By looking at the walls, you understand that it's a family business. It's casual and comfortable. It's an older building that we're remodeling a little bit. We're putting in a patio and giving it a facelift, but not making it fancy. A lot of people wonder if they're supposed to dress up. You can, but you don't have to. You can come in after work and feel comfortable too. It's kind of like coming home.
When you decide what you're going to serve at Amore, what are one or two factors you always take into consideration?
I want to please everyone, so I always make sure I have something for people who like meat, people who are gluten-free, and people who are vegetarian, for example. There are so many allergies and other food issues right now. We just printed a new gluten-free and vegan menu because I want to make sure that everyone can come and have a really nice meal. I don't want anyone to feel left out.
What type of food can diners expect during Restaurant Week?
I really like to focus on the local ingredients that are out at that time. I have a gluten-free option for every course, too. There are a couple of things that I do every year that I only serve during Restauarnt Week and people look forward to those as well as the newer offerings. One is Lasagna Bianca, a white lasagna that I make with lamb from S&S Lamb, béchamel cheese, Marsala wine, and porcini mushrooms. I also make pop rock truffles, which are super fun. It's what I call the "party in your mouth" truffle.
Are you doing beer or wine pairings during Restaurant Week?
Yes, we always have an all-Italian selection of wine pairings available and we'll have a beer pairing as well.
What else should people know about Restaurant Week at Amore?
I think that, for all of us in the industry, Restaurant Week is great. We feel like we're showcasing some of our cool stuff and I believe it brings out new people that maybe haven't tried Amore yet, because Restaurant Week is such a great deal.
During Restaurant Week at Amore, we offer five courses for $28. The 5-course menu includes an appetizer, a soup, salad, an entrée, and dessert. Even if it's not your first time, it's fun to try so many different items for $28.
How would you describe the Grand Rapids' food scene and how does Amore fit into it?
I grew up in Grand Rapids and, for me, it's slowly started to become a really cool food scene. We have so many options now. It's a more of a diverse group of people who live here now, so they're searching for more fun and interesting options or options that make them feel at home. Amore has been here for six years and I want to make sure that we're always relevant. I don't want to fall into a place where we're always the same, so I change my menu every season and continue to add things that I learn during my travels. I always incorporate local ingredients and like to have fun, new options for people when they come back to eat.