Grand Rapids Restaurant Week is almost here! Whether you're looking for a twist on a favorite traditional recipe or a new and creative dish, FireRock Grill has something for you. Chef John Taylor creates his menu with their customers in mind and strives to provide options for guests with all kinds of food preferences. The fact that some meals finish cooking over 500° volcanic rocks at the table adds to the FireRock Grill experience! We talked to Chef John about what you can expect at FireRock Grill during Restaurant Week, August 10 - August 21, 2016, when you can try a 3-course meal for $28 per person.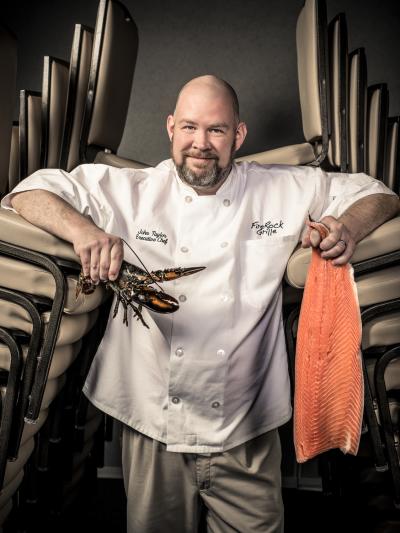 Executive Chef John Taylor, FireRock Grille
What do you love most about being a chef?
I love having the ability to be creative at work and doing new things on a daily basis. I don't walk in and stare at computers or piles of paper - I get to work with my hands every day. I get to figure out what the next new dish is going to be. I get to ask "What's the thing that's going to get me excited about using something in a way that I haven't before?"
Was there a moment when you knew you wanted to be a chef instead of something else?
I grew up in Grandville with parents who liked very traditional food. When I moved out of my parent's house, I moved in with a buddy who's parents worked weird hours, so he and his sister did a lot of the cooking. I tried all sorts of things that my parents would never eat. Every weekend we would collect $15-20 from our friends, figure out what we were going to make, and the two of us would hang out with friends, relax and cook all weekend long. My friend mentioned that we had a really good culinary school here in Grand Rapids and told me I should check it out if I was interested.
How dinner is made at your home? Who shops for the ingredients? Who cooks? Do you plan the meals ahead of time?
I'm very rarely ever home for dinner; I'm at the restaurant. On a daily basis, my wife does most of the cooking for herself and our 5-year-old daughter, Lily. I usually warm things up when I get home. I still enjoy cooking on my days off but with as busy as I am with work, I don't get into too many gigantic projects at home. For holidays, I'll put on a big meal for friends and family. I do have a smoker at home that I'm playing with. My neighbor gave us some salmon that he caught and I have it in the fridge getting ready for the smoker this week.
What do you think sets FireRock apart and makes it special as a restaurant?
I think it's a fun interactive experience. We use 500° volcanic rocks that, once they're heated, will hold a temperature from 350° north for 20-25 without a heat source. We send some meals out to the table that actually finish cooking on the volcanic rocks. When you were little, your mom always told you not to play with your food. I'm not your mom — I encourage you to play with your food! Customers like that they can finish their steak or yellow fin tuna to their liking; they can play around until it's exactly their personal taste. In addition, we have certain dishes that the members and guests really love, a few pre-dated me and the majority I brought with me, things like lobster mac & cheese and other upscale comfort food. I spent some time in Maryland and we do a fun play with shrimp & grits. I enjoy taking some of the things I've learned working in different places around the county and bringing them back here to share with people in the area where I grew up.
What kind of ambiance can diners expect at FireRock?
Fun and lively. We're constantly doing different events and the entire dining room faces west over the 18th fairway of our golf course. Each and every night diners are treated to amazing sunset, we have a patio, fire pits outside, and casual seating with couches and lounge chairs where guests can relax and enjoy the nice weather. Some of our food is more casual, some is more upscale, and we also but also do fun things with food, like our chicken wings. We try to be welcoming and have something we can offer to everyone. We do lots of live music, we're doing a beer fest later this summer with local breweries, we have wine dinners – we keep it lively.
When you decide what you're going to serve at FireRock, what are one or two factors you always take into consideration?
I take into consideration that not everyone views food the way I do. By that, I mean that I don't offer only things that I might like. Instead, I write the menu in a way that doesn't exclude anyone. We try to have vegetarian items, seafood items, and the best cut of steak for people who like steak. It means taking the time to construct the menu in a way that when a large group comes in, there's something for everyone. I look at everything thinking, "Who does this type of dish appeal to?"
What type of food can diners expect during Restaurant Week?
I like finding fun ingredients that are local and introducing people to interesting new things, so we're going to play around and feature some fun recipes. Green Spirit Farms is an organic vertical farm in New Buffalo, MI that grows beautiful, fresh basil that we'll be featuring in several dishes.
We're also making a Moroccan lamb sausage recipe using handcrafted artisan sausage from Corridor Sausage in Detroit. The sausage has nice spices and ground up figs in it – the spice level isn't heat, it's flavor – and we're going to drizzle a balsamic glaze over it to balance it with a little bit of sweetness. I think we'll serve it with broccolini and roasted potatoes, something that's not too heavy and very nice for summer.
For a fun play on crispy chicken wings, we'll be using lemon basil with lots of garlic and Parmesan. They're a lighter, less spicy crispy chicken wing appetizer. We'll also be using Green Spirit Farms' basil in a strawberry basil shortcake dessert. We'll use the basil to spike the whipped cream on top.
Are you doing beer or wine pairings during Restaurant Week?
We can always suggest beer or wine pairings, but may offer something special during Restaurant Week.
What else should people know about Restaurant Week at FireRock?
It's all about discovery. I think Restaurant Week is a great way to get out and try some restaurants you might not have tried before. I encourage people to get outside of their comfort zone, whether it's geographical or the style of food, and take advantage of the great price point to try things they might not other wise try. They might come out and say, "That was amazing. I'd never thought I'd like something like that!"
How would you describe the Grand Rapids' food scene and how does FireRock fit into it?
Evolution. When I moved to the east coast in 2005, Grand Rapids was still an extremely conservative dining town. Over time, my mom kept sending me articles about all of these new restaurants opening up here and, as someone who's really into food, it was cuisine I was interested in. From really nice restaurants, like Grove, to the food trucks in Grand Rapids, the city has embraced a lot of new foods and it's very encouraging. As chefs and brewers, it gives us lot more freedom: I can try fun new dishes, like the lobster mac and cheese. Another recipe we're going to introduce is a really neat play on a Vietnamese soup called Pho. We're going to use a Vietnamese lemongrass chicken sausage from Corridor Sausage with chilis and cilantro. It will be a very bright, flavorful dish for summertime. It's great to able to find fun, new ingredients like that and have the confidence that there's market for that it Grand Rapids.