It's time to head to West Michigan and warm a restaurant seat while soaking up the waning summer, because Restaurant Week Grand Rapids is happening Wednesday, August 13 to Sunday, August 24. If you're curious, we covered the Restaurant Week need-to-know details on the blog here. Restaurant Week menus (hot off the presses!) and information for each participating restaurant can be viewed at RestaurantWeekGR.com. Now, let's turn to Grand Rapids City Twist for dining inspiration.

GR City Twist is an interactive tool for exploring Grand Rapids, with a wheel that you twist to find experiences that fit your interests and passions. There are 18 different personalities to select - from Thrill Seeker to Treasure Hunter to Fresh Foodie. Create your own list of personality-based activities and attractions and spin the wheel at GRCityTwist.com.

Restaurant Week isn't just about a delicious meal. It's about getting out on the town and enjoying the local dining scene. Make it a total experience, based on your interests, with one of the following itineraries.
Outdoor Explorer You can't resist the call of the wild - and you're ready to run, bike, paddle, swim, fish and golf your way around West Michigan.
Combine your Restaurant Week meal with an active outing. Grand Rapids has bike paths, streams, golf courses, hiking trails, and even a Great Lake nearby.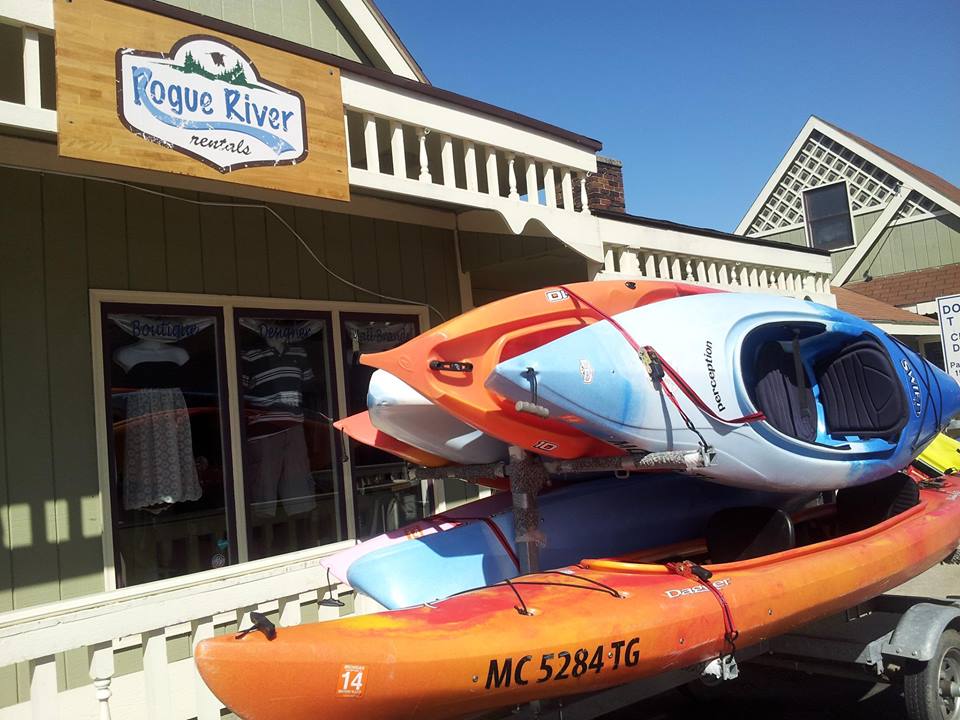 Photo Courtesy of Rogue River Rentals
Head fifteen miles North of Grand Rapids to Rockford, an idyllic small town built around a lively dam on the Rogue River. Throw your line down alongside the dedicated anglers that fish at the dam daily. Rent a kayak from Rogue River Rentals and spend two or four hours paddling downstream. Stroll along the peaceful White Pine Trail, a rail trail that runs right through downtown Rockford. After your activity, take up a well-earned seat at Reds on the River, a fine-dining destination that overlooks the Rogue River will ample outdoor seating. Indulge with your choice of three courses, perhaps Mushroom Gratan, Bacon-Wrapped Rabbit, and Chocolate Mousse.
Or if you'd rather spent the afternoon on the green, head to Thousand Oaks Golf Course in Northeast Grand Rapids. Play a round and then dine at the on-site restaurant, the Acorn Grille at Thousand Oaks where Restaurant Week menu options feature in-season tomatoes, steak, flatbreads and berry-centric desserts.
Art Enthusiast You love art in all its forms and are always open to expressions of creative energy, whether it's in a museum gallery or on a corner sidewalk.
The Grand Rapids Art Museum is a haven for art lovers. Enjoy browsing the galleries and exhibits, especially Michigan Modern: Design that Shaped America, showing until August 24. The exhibit explores how Michigan designers revolutionized the look of American office and home furniture, forming the foundation for modern American design. The museum is free Tuesdays and Thursday evenings and features frequent drop-in tours, live music events, family activities, and workshops.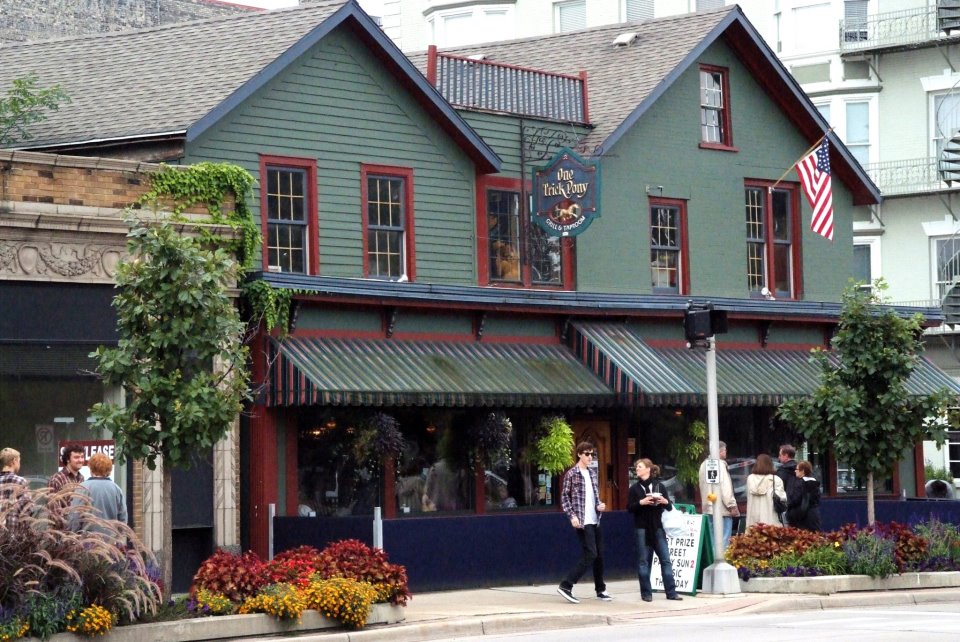 Photo Courtesy of One Trick Pony
After an afternoon of art, dine at One Trick Pony where the menu will please raw foodists (Chilled Carrot Coriander Soup) and indulgers (Pork Belly Mac and Cheese Pizza) alike. Check the website for live music, a frequent occurrence at One Trick Pony that adds even more energy and excitement to Grand Rapids' oldest commercial building. Or perhaps your taste buds are looking to travel across the pond, to Spain perhaps? San Chez, a tapas bistro and cafe, features small plates and creative fare. For Restaurant Week, they're featuring a 2 for $28 menu with Garlic and Almond Gazpacho to start, followed by large plates featuring mussels or flank steak, and a Spanish custard for dessert.
An art-and-culinary-filled experience will surely please your senses.
Local Gems You want to experience travel destinations like a native - so you want to know where all the locals shop, dine and hang out.
Explore one of Grand Rapids most popular urban neighborhoods: East Hills. The Cherry Street business corridor features great shopping and some of the city's best restaurants. And yes, it is packed with locals night after night.
Stock up on loose leaf tea and sip a house-made chai tea at Global Infusion. Wander next door to Clothing Matters to try on sustainable apparel, most of it Michigan-made. Taste locally made speciality food products, wine, and beer at Under the Vines. Visit the trend-setting Blacklamb boutique for a fashionable collection of accessories and gifts. Browse the art at Richard App Gallery. Sip a Belgian-inspired beer at Brewery Vivant.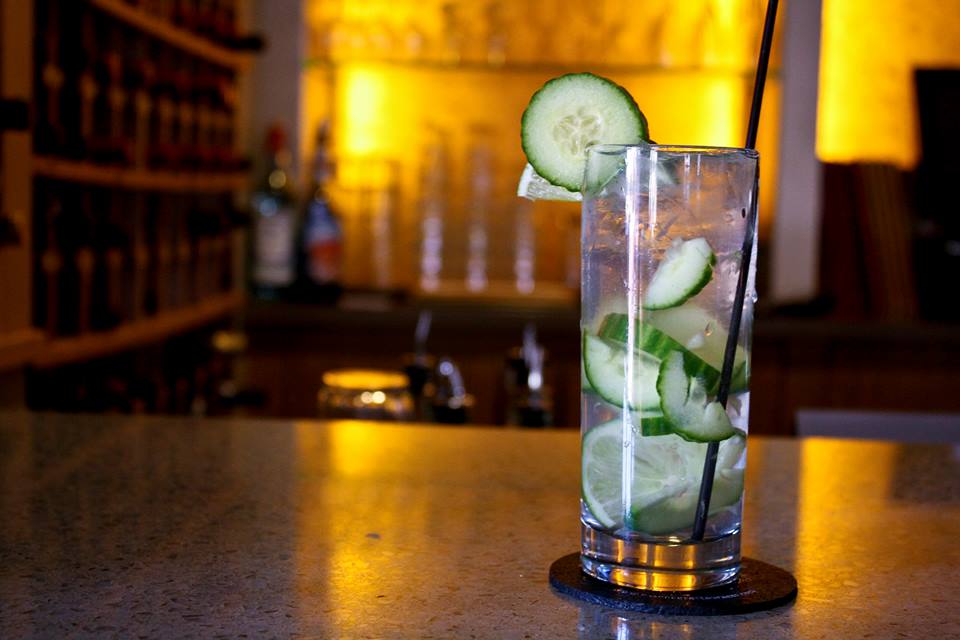 Cucumber Cooler Cocktail at Grove
Once you've enjoyed the neighborhood, enjoy a top-notch Restaurant Week meal at Grove. Choose three courses from Grove's full and ever-changing menu. Add wine and snacks (Sweet Corn Hush Puppies!) as you please. Grove was awarded Restaurant of the Year two years in a row by Grand Rapids Magazine and is a perennial favorite for its creative, conscientious cuisine. The cocktails are also worth a mention and certainly a sip.
If you somehow managed to save room for dessert, enjoy a scoop at Furniture City Creamery, a new gourmet ice cream shop across the street.
Craft Beer Lover You're caught up in the authenticity, excitement and camaraderie of the craft beer community. Or you just love great-tasting beer!
Well, my friend, you are in Beer City USA, so why not tip back a pint. It's a great idea to combine your Restaurant Week noshing with local beer as it enhances the food and the experience.
Start your outing at Founders with an expertly-brewed pint. If you can time it correctly, attend one of Founders new beer education courses taking place on Tuesday nights. Or take a Tuesday (5:30PM) or Saturday (11:15AM, 11:45AM) tour of the brewery. Once you've worked up an appetite, head to another beer destination for dinner.
Photo Courtesy of GRBC
Hopcat, an award-winning brewpub with a huge selection of beers on tap and in bottles, offers a 2 for $28 menu featuring pub-food designed to pair well with beer. Share a first course, BeerBar Cheese perhaps, followed by a selection of sandwiches or pasta, and lastly a dessert to share. Or perhaps Grand Rapids Brewing Company, where you can drink organic beer surrounded by reclaimed wood and GR history, is more your style. GRBC has a locally-sourced summery Restaurant Week Menu where you'll find fresh dishes such as Watermelon Salad, Grilled Marinated Shrimp with Farro and Heirloom Tomatoes, and a Panzanella with berries and chocolate.
Cheers!