Lisa and Gianni Licari opened their Northeast side restaurant, Licari's Sicilian Pizza Kitchen, in 2012 to a bit of fanfare. The couple's venture was featured on The Food Network's "3 Days to Open with Bobby Flay," moving the Licari's original deadline up by six week. Because they only had about three weeks from the time the first interior walls were constructed to opening night, they hired contractors to work around the clock to get ready for the opening – and the show. 
Licari's met the deadline, opened successfully, and several years later they have a devoted following of customers who appreciate their use of the highest quality ingredients and their commitment to authentic, traditional Sicilian fare. Although Licari's has several chefs and line cooks, they don't employ an executive chef that designs meals because family recipes, handed down through the generations, comprise the entire menu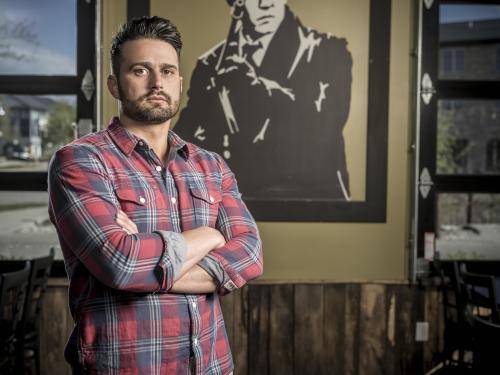 Kyle Moblo, General Manager at Licari's Sicilian Pizza Kitchen
General Manager Kyle Moblo handles the daily operations for Licari's. "He's the kind of person that everybody just loves," says Lisa Licari "His personality is fantastic!" Moblo came to Licari's with years of industry experience and has given the Licaris, who've been running the business for four years now, and who have three children 7-years old and under, a bit of freedom to balance family life and owning the restaurant. 
We talked to Lisa Licari about her restaurant, their vision, and what you can expect at Licari's August 10 - August 21, 2016, when you can try a 3-course meal for $28 per person.
What are the things you love most about owning Licaris?
I love is seeing my husband thrive doing work he's passionate about. We both work full time at Licari's and, aside from seeing him happy and living his dream, I love being able to say that we've done this for ourselves. We put in a lot of our own blood sweat and tears. Here are a few things I love: being able to serve people our family dishes, taking pride in the high quality ingredients that we use, being able to control our quality because we're small, that it's our own business, and for our children to see what it takes in the real world to work hard and succeed in life.
Was there a moment when you knew you wanted to own this restaurant rather than to pursue something else?
When my husband was in pharmaceutical sales and I was a hairstylist, he kept pitching me the idea of opening a restaurant. Even though I had a huge passion for food, the reality of owning a restaurant seemed overwhelming. Gianni was looking for locations and one day he took me to this particular location and it just felt right. It was then that I thought, "We're young. Let's do it!" There was no stopping from there. He was full steam ahead. I wrote a letter to the Food Network because they were looking for participants for a new show with Bobby Flay. They wanted to work with people opening a brick and mortar food business with no experience – and that was us. We got a call within 24-hours and had to open within 3 weeks! Our kids were 2- and 3-years-old at the time. We paid contractors extra to work around the clock so we would be ready when Bobby Flay arrived.
How dinner is made at your home? Who shops for the ingredients? Who cooks? Do you plan the meals ahead of time?
I do because Gianni's not here for dinner that often. I do all of the grocery shopping and meal planning. One or two nights a week I'm at the restaurant so, if he's here, he takes care of it. But I don't cook Italian at home anymore! We get takeout from the restaurant about once a week and I cook Mexican, Asian, grill meats, whatever. Our kids have a pretty good palate.

What do you think sets Licari's apart and makes it special as a restaurant?
I think the number one thing is the quality of our food. We buy and purchase the highest quality meats, produce, and cheese. All of our cheese is imported. Your fresh grated Parmesan cheese at Licari's is the real deal! It's a chunk that's chiseled from a wheel of Parmesan imported from Italy that's been aged for 2 years. Other things that set us apart are that we're able to charge reasonable prices for such high quality and our wonderful, small, family atmosphere. I like to think that when customers walk in they feel a sense of comfort, like they're hanging out with a friend. We also pride ourselves on not having a microwave in our restaurant and not using frozen products. Everything we serve is fresh and cooked from scratch.
What kind of ambiance can diners expect at Licari's?
I think we're very warm, welcoming, and homey. We use soft lighting and have kind of a modern-yet-historic feel with European accents, like a little taste of the Old World.
When you decide what you're going to serve at Licari's, what are one or two factors you always take into consideration?
We ask ourselves, "Is it straying too far from Sicilian? Is it something that every other Italian restaurant offers?" We prefer stand out and be different. As a true Sicilian restaurant, we highlight dishes that set us apart as Sicilian – things like peasant food, rustic vegetables, and choppy rustic pastas. You won't see chicken in our pasta dishes, because Sicilians serve protein separately, on the side.
We're hoping to open another location with a bigger kitchen in the next two years so we can showcase more traditional Sicilian seafoods and meats.
What type of food can diners expect during Restaurant Week?
We'll have a salad, probably a seafood-type of appetizer that includes calamari, a risotto, a pasta, a pizza, and the desserts. We're going to do a decadent savory desert and a lighter desert with cheese and berries.
Are you doing beer or wine pairings during Restaurant Week?
Yes, we'll make suggestions for beer and wine pairings. We have lots of wine and 5 tap handles so, for beer, we'll make recommendations based on what's on tap at the time
What else should people know about Restaurant Week at Licari's?
I think Restaurant Week at Licari's is a good way for people who haven't been here before to come in, see what we're all about, and try different things that we don't normally offer. They can get their feet wet and hopefully we'll entice them to come back and try our standard menu—we'll have a new menu coming out just before Restaurant Week begins. As a whole, I think it's a great way for people to get out and explore local venues, support the city and what we have to offer, and to support the culinary scene around Grand Rapids.  
How would you describe the Grand Rapids' food scene and how does Licari's fit into it?
We have some amazingly good restaurants and the beer scene is incredibly indulgent, with great breweries opening all the time. When people come from larger cities, I think they're surprised by what we have to offer both downtown and in the surrounding areas. The Knapp's Corner area is booming, Eastown has some quality establishments, as does the Cherry Street area with places like Grove and Greenwell.
I think Grand Rapids truly is a culinary city. The American dream is alive and well in here; there are so many people taking chances, going all-in, and running their own food businesses. People are becoming more aware of quality and are really supporting restaurants that focus on using local, organic, homegrown foods that are cooked in a kitchen for you from scratch.