LINC Up Soul Food Cafe dishes up reasonably priced, southern-style comfort food, with a healthy twist. The comfortable cafe serves fried okra, bbq rib tips, shrimp and grits, and plenty more. No matter what they choose, patrons can count on a delicious meal served with hospitality. We spoke with Soul Food Cafe's, General Manager, Chef, and all-around go-to-guy, Lewis Williams about the restaurant and what guests can expect during Restaurant Week.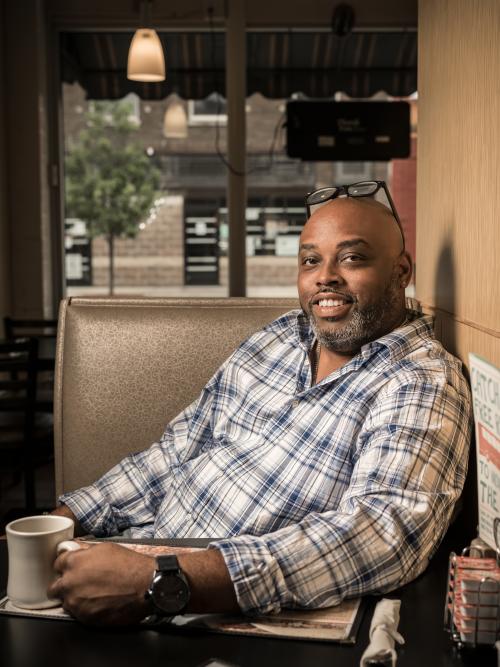 Lewis Williams, General Manager and Chef at Soul Food Cafe
What do you love most about being a chef?
Creativity. I like being able to be creative in the food process and see the smiles on peoples face when they like something we make. I might be serving my interpretation on something they've had forever or bringing back something they haven't seen for years.
Was there a moment when you knew you wanted to be a chef instead of something else?
I've been in the restaurant business my whole life. Early on, I gravitated to the front of the house but I've worked with so many amazing people that I wanted to learn it all. I didn't ever want to pigeonhole myself. I wanted to learn everything about the food business that I possibly could, so I could do anything in this business. I also like working with people. Food is universal - I like it when we all work together so we can put out a good product that people will enjoy.
How dinner is made at your home? Who shops for the ingredients? Who cooks? Do you plan the meals ahead of time?
I do a little bit of everything. I love restaurants, so sometimes I eat out but I love to cook, it relaxes me. I do a little bit of the gourmet stuff at home with fresh ingredients and lots of sauces. Or, sometimes, my kitchen at home is like a lab: I experiment with new things, then take that idea to work to see what I can do with it.
What do you think sets Soul Food Cafe apart and makes it special as a restaurant? 
I think it's the fact that we do soul food and you don't see that type of cuisine a lot in this area. We're committed to doing the soul food thing – we go all the way in with dishes like smothered pork chops and collard greens.
We're very well known in this community and we want people from other communities to venture out and see what we're all about. Soul Food Cafe has a lot of good components—it's affordable, the food is great, and the service is wonderful.
What kind of ambiance can diners expect at Soul Food Cafe?
Soul Food Cafe is a very community-driven environment; we have a lot of regulars. We have a bright and airy, comfortable, cafe style.  We don't want to be a special occasion restaurant—we want you to be comfortable here. We want you to crave our food whether you come in a couple of times a month or every day.  Serving breakfast also opens us up to more diversity in our clientele.
When you decide what you're going to serve at Soul Food Cafe, what are one or two factors you always take into consideration?
Cost is one. I always ask, "Can I make a dish, and interpret it on the plate, so that the average person, no matter their income level, can enjoy themselves, be comfortable and feel like there's something familiar to the dish?" I also think about whether it feels comforting. Is it familiar? That's what I'm looking for, something like your grandmother or mother made that brings you back to that time. We want to touch on that and we want you to have an all-around great experience.
What type of food can diners expect during Restaurant Week?
Catfish is a traditional southern fish, so I'm going to do a Creole Catfish dish with collard greens and cheesy grits. We're going to make a Louisiana creole sauce to serve with it. I'm very excited about the combination of those flavors! We're also going to do an interpretation of our chicken and waffles with brown sugar butter. During Restaurant Week, guests will get a salad, an entrée, and a dessert for $28. The dessert will also be something homemade and traditionally southern, like a sweet potato pie or banana pudding.
Note: Soul Food Cafe doesn't currently serve beer or wine, so they won't have pairings.
What else should people know about Restaurant Week?
I think sometimes people might be intimidated by Restaurant Week. I don't know if everyone realizes they can eat at a lot of different types of restaurants for a nominal cost. I want to get the word out that this is a great experience for everyone; it's a great time to get out to the city and see what's going on. Food brings people together and I give homage to other restaurants in town—this is a time everyone can try them. You never know what you might like!
How would you describe the Grand Rapids' food scene and how does Soul Food Cafe fit into it?
I think it's becoming more and more eclectic in Grand Rapids. We see more people venturing out to try different cuisines. I think Grand Rapids is ready for a Soul Food Cafe! People know more about what soul food is – things like the cooking channel and Paula Deen have helped people become more educated. We're also in a time now where there are more dietary considerations, like people eating gluten-free. So people may never have had a fried green tomato before, but they're willing to try it now because of dietary concerns.