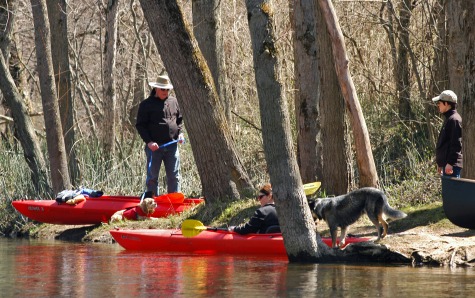 A group of paddlers gets ready to launch for spring float down the Rogue River above Rockford. Photo Credit: Howard Meyerson
The quiet beauty of the Rogue River and the water quality issues along its length will be showcased in June during a three-day paddling event called Rogue River Expedition 2014.
Approximately 100 canoers and kayakers are expected to make the scenic journey. The river meanders by farm fields and through remote-feeling forests en route from Newaygo County headwaters down through Sparta and Rockford, eventually reaching the Grand River.
Paddlers can register for the June 19-21 expedition online. Participants can sign-up for a 2-day journey or parts of the route. A $75 expedition fee for both days covers shuttles, camping, lunches, breakfast and refreshments. One-day trips cost $45.
"It's a beautiful river and when you are on it, it doesn't seem like you are close to an urban area," said Nichol DeMol, one of the expedition coordinators with Schrem's, West Michigan Trout Unlimited, a local chapter of the national organization that works to conserve cold water resources. "We're looking to bring more attention to the river, to teach the public about the storm water and water quality issues. It's a good opportunity for people to get outdoors and enjoy our natural resources."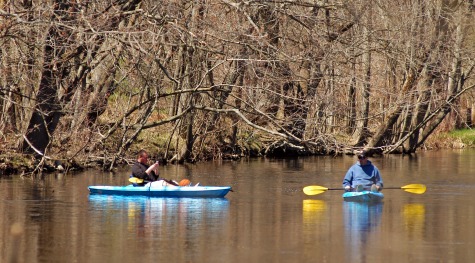 Many of the river's waters are relaxed and easy for paddlers. Photo credit: Howard Meyerson
The Rogue River was adopted by Trout Unlimited in 2010 as a Home River project. The Arlington, Virginia based nonprofit made the Rogue one of its national priorities. DeMol, a biologist, was hired to coordinate conservation efforts.
Nearly 90 miles of the river and its tributaries are protected under Michigan's Natural Rivers Act, which limits certain development. It is a popular trout stream, also fabled for its steelhead runs, but development along its banks has resulted in warmer water temperatures, sedimentation and other issues, each of which is bad for trout and steelhead.
The three-day event kicks off with an opening ceremony June 19 at Howard Christensen Nature Center (HCNC), 16160 Red Pine Drive. Those attending can enjoy a land tour of the Newaygo County headwaters. An evening owl-walk is planned, led by nature center staff.
Paddlers will get on the river early June 20, launching at Rogers Park in Sparta. Expedition planners say the upstream-most segments are too shallow to paddle. A shuttle will be provided around an obstacle-filled segment below Sparta.
"Where we will put in is narrow and not deep, but it's doable even for people who haven't paddled before," said Mark Fitzpatrick, director for Ada Parks and a planning committee member. "There may be a lot of challenges (that first day) navigating around the debris (logs) in the river. But it's not a race. And, we still have some work ahead to clear some of the sections."
Expedition members will finish their first day paddling at Camp Rockford, a Boy Scout camp, where those spending the night can pitch tents. Participants are also invited to camp at HCNC the night before.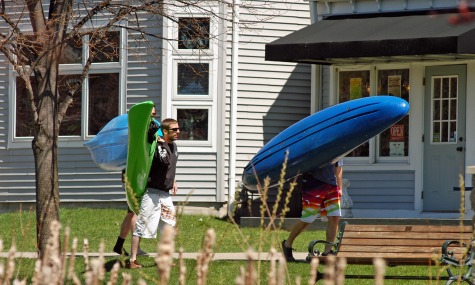 Paddlers make an easy portage around a small dam in the colorful town of Rockford. Photo Credit: Howard Meyerson
Evening festivities after paddling are planned in Rockford. Paddlers will be shuttled from Camp Rockford into town. An expedition dinner and live music are planned at Rockford Brewing Company. The ale house will donate $1 from every beer to the expedition. Any revenues remaining after the expedition will be donated to the Schrem's TU chapter for further conservation work.
Day 3, the second day on the river, begins early with breakfast, but has a late start. Once on the river, paddlers will make their way to Rockford for lunch at Richardson-Sowerby Park, a meal provided by The Corner Bar. The stop includes a visit to the Rockford Farm Market and a presentation by the Rockford Historical Society. Then, it's back on the river, down a swifter section, an exciting float to the confluence of the Rogue and Grand rivers.
The Rogue River Expedition grew out of the 2010 Grand River Expedition where paddlers from across Michigan explored more than 250 miles over 12 days. That expedition is held once every decade to bring attention the Grand River watershed.
"After that (2010) event, those organizers thought it would be good to paddle each of the Grand Rivers five sub-watersheds, doing one every other year," DeMol said. "This expedition builds on that and is a good way to highlight the Home River project and to feature the Rogue River."
For more information, including a registration form, maps, and itineraries, visit http://www.swmtu.org/rogueriverexpedition.
-Outdoors writer and photographer Howard Meyerson can be found online at howardmeyerson.com.