If you want to experience a city, one of the best ways to do that is by walking its streets. It's a much easier way to take in the sights and sounds normally missed when in the confines of a vehicle. However, if you really want to get to know a city and its community, there's no better way than to run a race there. Here are some of the best races in Grand Rapids this summer.
May
Fifth Third River Bank Run
Saturday, May 13
In its 40th year, the Fifth Third River Bank Run is the nation's largest 25K road race. The 25K isn't the only distance this race covers. There's also a 10K and 5K, making it the perfect race for runners of all experience levels. Among all three distances, over 15,000 runners from around the world attend. The 5K route is a beautiful 3.1 mile jaunt right through the heart of downtown.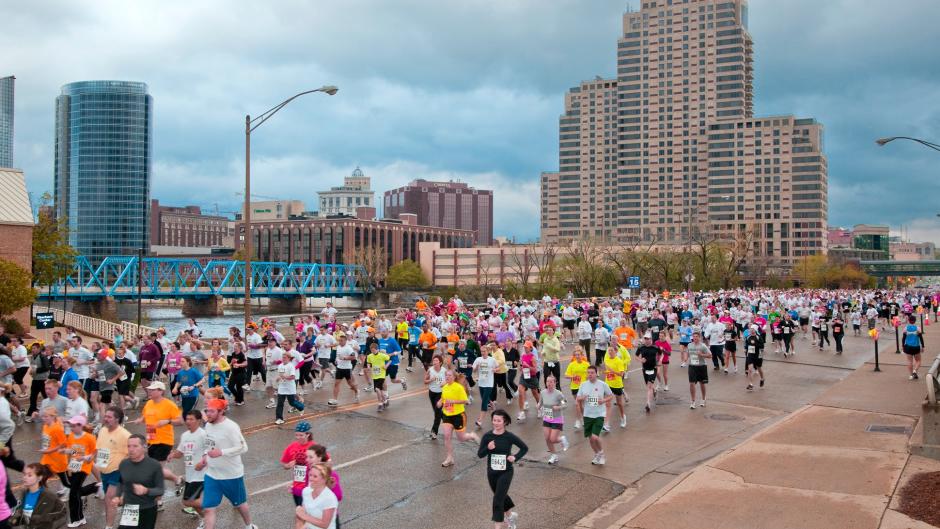 Crowd Participating in The Fifth Third River Bank Run in Grand Rapids
Photo Credit: Experience Grand Rapids
---
One in Five Marathon Relay
Saturday, May 27
Despite the word "marathon" in this race's name, you don't have to be a marathoner to participate. The One in Five Marathon Relay's name comes from the statistic one in five American adults is currently battling a mental health condition. This mental health awareness race is a relay, so teams of five will complete a full marathon distance together. The first four runners complete a 5-mile loop while the last runner takes on a 6.2 mile route. There is also a community walk for people that don't want to participate in the relay.
June
The Hard Cider Run
Saturday, June 3
The Hard Cider Run once again returns to Sietsema Orchards, located less than 20 minutes away from Downtown Grand Rapids. This is a fun 5K that twists and winds throughout Sietsema's property. At the finish line, all racers get a medal and complimentary hard cider in their new commemorative glass. If you really want to add to the experience, there's also the Hungry Donut Apple Challenge. At each mile marker there will be a donut to scarf down before running off to the next donut stop. Eat all three donuts by the time you make it to the finish line and you'll earn an additional medal!
The Super Run
Saturday, June 3
Beautiful Riverside Park in Grand Rapids will play host to The Super Run this year. The 5K race is a superhero-based event that partners with nonprofit organizations to raise funds and awareness for various causes. Everyone that participates is invited to wear a superhero costume and join in on the festivities. All finishers get a superhero cape and a medal.
Huntington Reeds Lake Run
Saturday, June 24
This year is the 39th annual Huntington Reeds Lake Run, a 5K/10K in East Grand Rapids. While the 10K goes around the edges of Reeds Lake, the 5K runs through the beautiful neighborhood of East Grand Rapids. The Huntington Reeds Lake Run is one of the few races in the area that allows dogs on the course, so if you have a furry, four-legged friend, be sure to bring them along. New to the race this year is a packet pick-up party the night before, Friday, June 23. There will be food trucks, live music, and activities for kids.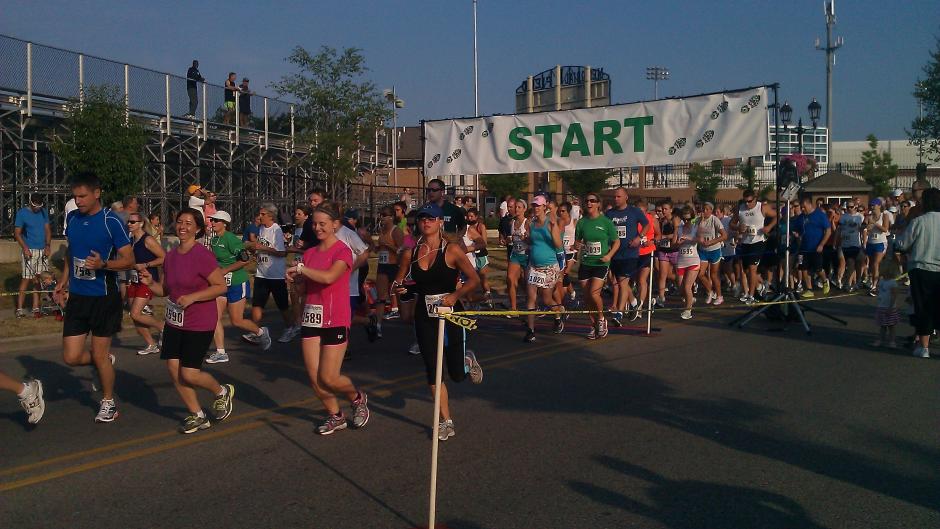 Huntington Reeds Lake Run
Photo Credit: East Grand Rapids Parks and Recreation Department
---
Insane Inflatable 5K
Saturday, June 24
If you're looking to dip your toes into the water of 5K racing, there's no better way than to take on the Insane Inflatable 5K. This isn't a normal 5K road race because this one has inflatable obstacles along the way. So, instead of running 3.1 miles straight, there are obstacles you must conquer that are sure to break up the monotony of a regular race. Obstacles include wall climbs, mazes, a "mattress" run, and more.
July
Cookie 5K
Saturday, June 29
The Cookie 5K is exactly what it sounds like: A run/walk with fresh cookies at the finish line! People of all ages are invited to run with Team Orphans in support of Bethany Christian Services through Robinette's Apple Haus in Grand Rapids. Robinette's is one of the area's most popular orchards, so this is a great "quick" way to get in a tour! Every dollar raised or paid to the race goes towards Bethany Christian Services' adoption agency.
Color Run
Saturday, July 29
There is a reason the Color Run is named the "happiest 5K on the planet." This race through Downtown Grand Rapids includes Color Zones, where runners zoom through kaleidoscopes of colored powder. New this year to the Color Run is a foam zone and Dream Wall. If you're looking for a race that feels more like a colorful party, the Color Run is the race for you.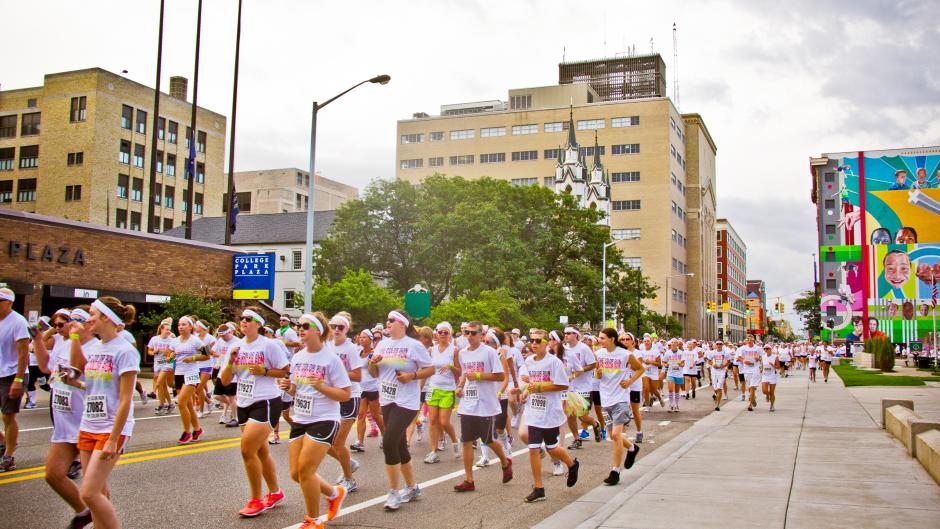 Runners During the Color Run in Grand Rapids
Photo Credit: EXGR
---
August
Race to the Beer Crawl
Sunday, August 6
If you're familiar with Grand Rapids, then you know we're called Beer City, USA for a reason. Now you can experience the beer scene while running in the Race to the Beer Crawl 5K, the fourth in a series of beer-themed 5Ks. This definitely isn't your average race. Along the way, runners will hit five breweries for five delicious beers over the course of 3.1 miles. Don't worry, you do not have to run and drink the entire way. You can sign up as someone that wants to run and drink the beer, race without drinking, or crawl the route while enjoying the beer.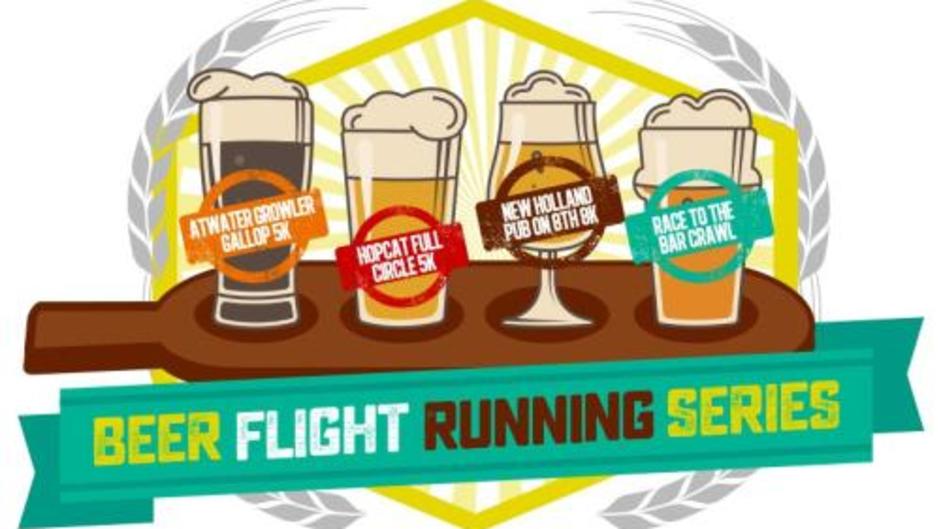 Race to the Beer Crawl 5K
Photo Credit: Trivium Racing
---
Grand Rapids Mud Run
Sunday, August 26
The Grand Rapids Mud Run is the perfect blend of mud and fun. The 5K course includes 15 – 20 obstacles like mud pits, cargo crawls, a 60-foot mud slide, and more. This is an event the whole family can participate in. With every 5K registration, runners receive a free Kids Mini Mud entry. The Kids Mini Mud is a 1.5-mile loop that includes the best (and muddiest) parts of the regular course.
Looking for a place to train? Check out our page of area parks and trails that are perfectly-suited to increasing your heart rate.
Never Miss a Post!
Sign up for the Insider Experience blog.