When the Madera family, owners of the Latino specialty food store Burton Meat Farms, opened Mi Casa Restaurante at 334 Burton St SW this past March, they designed it with the typical Dominican Republic home in mind. From the handmade wooden tabletops and hospitality to the Dominican-style rooftop and upbeat music, when you're at Mi Casa (which means "my home" in Spanish), you feel as though you're being warmly welcomed into someone's home.
That 'someone' is Chef Julissa Diaz, who prepares an authentically Latin American, primarily Dominican Republic, menu based on the traditional foods and spices of the DR. We talked to her about the type of food she serves and what you can expect at Mi Casa Restaurante during Restaurant Week GR.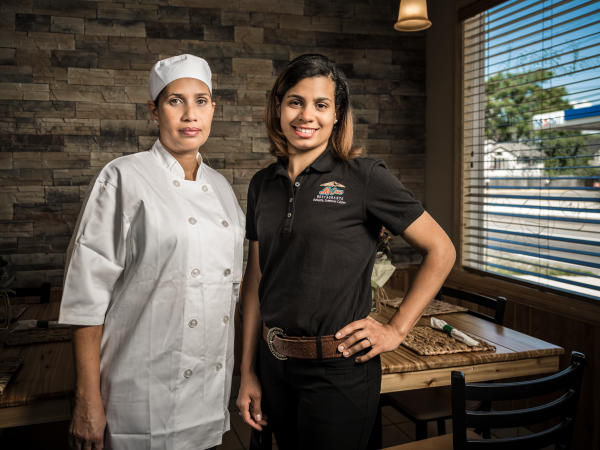 Chef Julissa Diaz and owner/manager Rosi Vialet 
What do you love most about being a chef?
I love the preparation and the presentation. I focus on making sure each dish that's ordered is to the customers' liking. In addition, I always want the presentation to be as good as it should be. I love serving a meal that is as authentic and pleasing to the palate as it is aesthetically.
Was there a moment when you knew you wanted to be a chef instead of something else? 
I've been cooking since I was 12 years old and I've always had a love for it. In the past 15 years, I've combined my passion for cooking with a focus on perfection, so that I could create delicious food that's also beautiful.
How dinner is made at your home? Who shops for the ingredients? Who cooks? Do you plan the meals ahead of time?
I do. I cook the food and prepare it – there are no set hours for me to cook! To me, it's about passion. I equate my passion to cook as being similar to being a good doctor: you must have the passion.
What do you think sets Mi Casa apart and makes it special as a restaurant?
I think it's the flavor of the food along with the authentic feel of our restaurant. For us, it's about personalized customer service and creating the right experience for our guests.
What kind of ambiance can diners expect at Mi Casa?
When people come in, they say they've never seen anything like this around here. In addition to the food that comes out of the kitchen, everything has a Dominican feel.
When you decide what you're going to serve at Mi Casa, what are one or two factors you always take into consideration?
The first thing is that all of the ingredients I use are fresh. The second is that we have the proper mixture of ingredients. And the third, because we're a Latin restaurant, is that I want it to be authentic enough so that when Dominican customers come in, they appreciate the authenticity.
What type of food can diners expect during Restaurant Week? 
One of our features will be El Sancocho, which is a traditional stew with different kinds of meats, typically beef, pork, or chicken, as well as Dominican spices and other ingredients.
We're also going to offer mini Mofongos. The base of a mofongo is a green plantain, mixed with butter, salt, and other ingredients. We usually serve it with pork, but it can also be served with shrimp, steak, or chicken.
One of the desserts we'll be offering is flan, with the traditional egg white base with cinnamon, vanilla, evaporated milk and condensed milk. But I also have a special caramel topping that I serve over the top of the flan with raisins!
Mi Casa doesn't currently serve wine or beer but is hoping to offer it in the next year.
What else should people know about Restaurant Week at Mi Casa?
I'm working on a menu that will allow groups of 10 or more to order 10 different dishes to share family style. I'm hoping to begin featuring it during Restaurant Week. For large groups, it will be another option in addition to ordering 3 courses for $28.
It's our way of encouraging people to try all of the authentic dishes we serve here.
Also, please make reservations for Restaurant Week, especially if you have a large group!
How would you describe the Grand Rapids' food scene and how does Mi Casa fit into it?
I think that Grand Rapids has a good variety and diversity of restaurants. Mi Casa is a very authentic Latin American restaurant with a Dominican feel. If you're from the DR or you've visited or vacationed there, when you come in and try our dishes, I hope you recognize this as the authentic food you had there. My goal is to help the entire Grand Rapids community get to know authentic Dominican and Latin American cuisines.