One of my favorite parts of the Christmas season? Seeing all the houses and yards decked out with twinkly lights and colorful displays. Crank up holiday tunes on the radio (WTRV-FM 100.5).The River is playing all Christmas music, all the time right now), pile the kids or some friends in the car, and go on a light cruise: it's a traditional and FREE holiday activity that somehow never gets old. And in a year like this one when the snow is slow to show up (come on, white stuff!) all those lights really make the holiday season feel more official.
But it's not always easy to know where to go to see the best lights, since news of great displays tends to spread by word of mouth. Fortunately, GRKids.com has a fantastic tool to help: an interactive map that will help you find all the best holiday lights.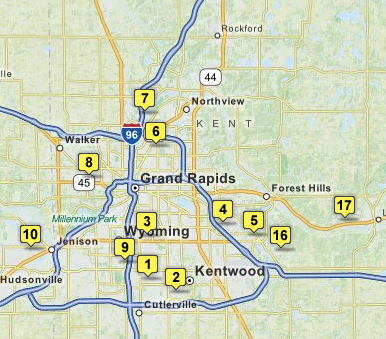 The post also lists specific intersections and neighborhoods that are known for their lights.Check it out, and if you've got suggestions of your own, leave them in the comments!
Never miss a post!
Subscribe to the Insider Experience blog.