The greater Grand Rapids area offers a wide range of accessible, fun outings for families seeking sensory-friendly experiences. With some help from our partners at DisArt, we found several activities taking place throughout the year. Take a look!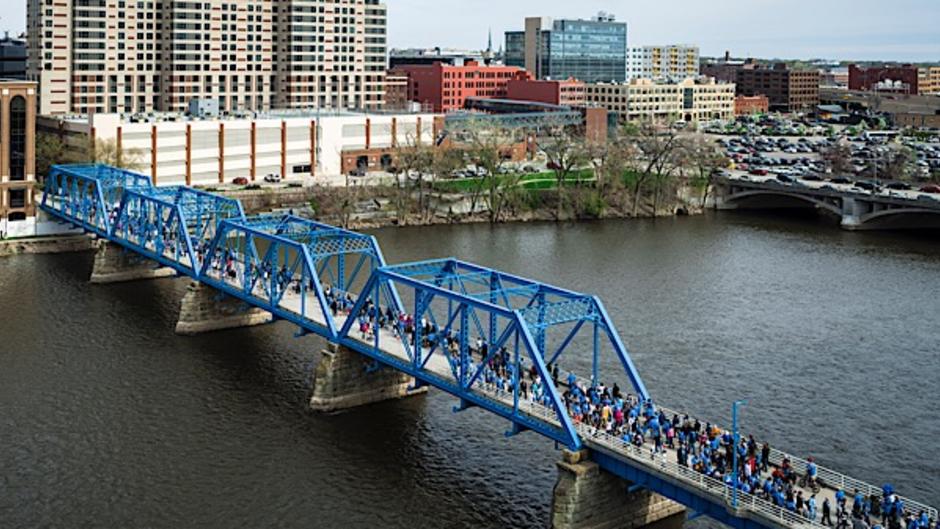 Participate in a community event.
---
Bridge Walk for Autism and Free Sensory-Friendly Museum Night
Wednesday, April 26, 2017, marks the date Hope Network and the Grand Rapids Public Museum will celebrate Autism Awareness Month. These organizations have combined efforts to create a sensory-friendly event that will begin with a bridge walk at 5PM (starting at the Blue Bridge in downtown Grand Rapids). A special, free Grand Rapids Public Museum event will immediately follow the walk. Participants can expect adapted sound and lighting, as well as low-sensory interpretations of current exhibits at the museum. Registration is required and is limited to 700 registrants.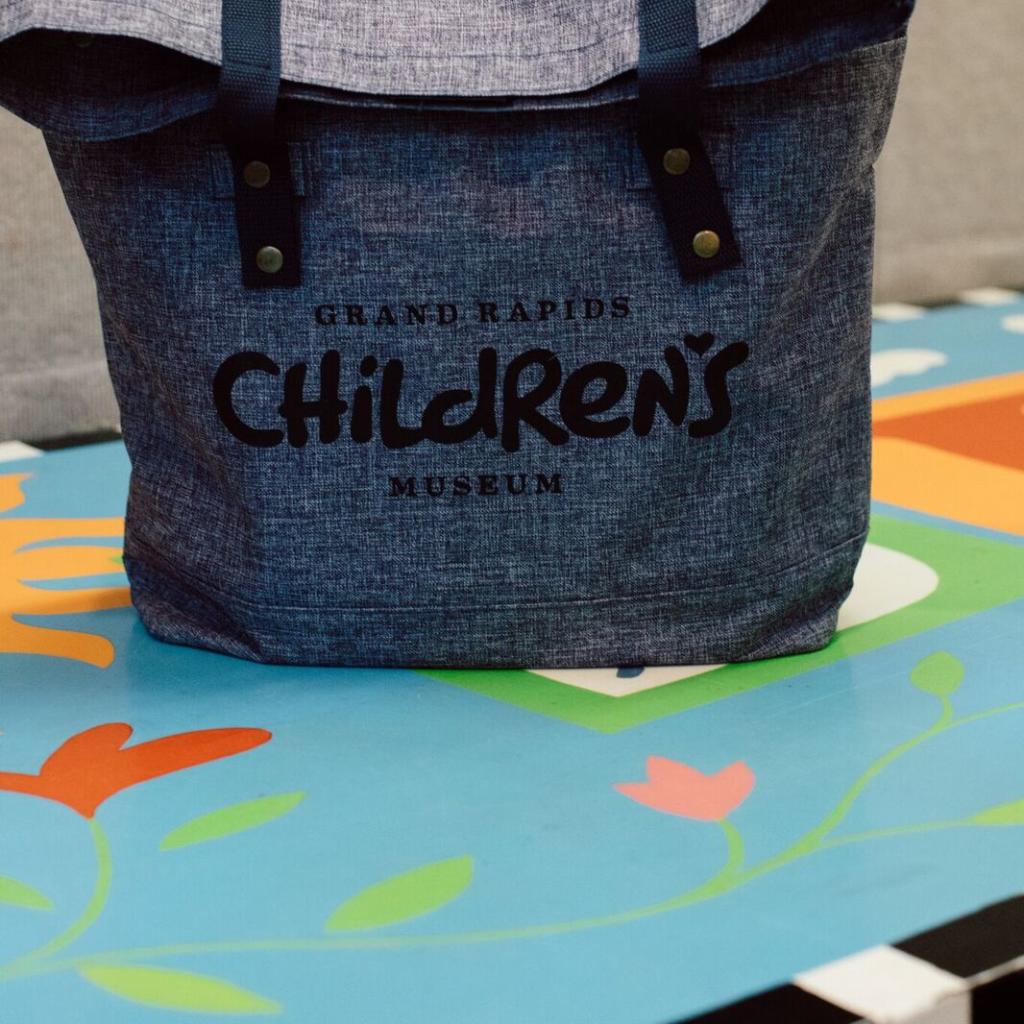 Find resources and planned programming.
Photo Credit: Experience Grand Rapids
---
Grand Rapids Children's Museum
The Grand Rapids Children's Museum (GRCM) received an award from the Autism Alliance of Michigan for its efforts to make the museum as accessible as possible. All of the museum staff has gone through an autism training program with the Autism Alliance of Michigan. Exhibits are designed to accommodate all abilities and developmental levels. Even the paint color pallet was selected using expert recommendations.
Additionally, visitors to the GRCM can check out sensory tool kits from the front desk (at no charge) that include noise reduction headphones, weighted vests and suspenders, tangle bracelets, and a museum social story for anyone needing the extra sensory support.
Visitors concerned about large crowds can consult the GRCM website for up-to-date information on field trips. This information is listed on the front page of the website to make it easier to plan to come at times when there are fewer field trips.  
Finally, Connor's Friends is held twice a year. These evenings are specifically for families affected by autism. This is a free event, though you do need to register. During the evening events, lights are dimmed, additional sensory activities are added to the floor, a music therapist is on site, and valet parking is provided. Upcoming 2017 Connor's Friends events are scheduled for June 7 and November 8.
Artists Creating Together
Artists Creating Together (ACT) is an organization that provides art programming to learners of all ages with disabilities. From classes to open studio to community appreciation days, ACT has something going on all year long. Here's a look at what is coming up in 2017:
The Spring Break Art Camp for youth: Walk to the Beat of Your Own Drum combines music, literacy, and art. It is open to students ages 10 – 15 with disabilities, as well as their friends, siblings, and peers of all abilities. April 4 – 6 from 9:30AM – 12PM.
On the second Wednesday of each month, you're invited to drop in for Youth Open Studio time. Set aside for visitors age 5 – 15, this open studio time gives visitors access to a wide variety of art supplies. Guess can do guided projects with step-by-step instructions, create paintings, drawings, collages, weavings, sculptures, and more! The cost is $10 per person and sessions run from 4PM - 5:30PM at the ACT Studio. 
Artists Creating Together has more programming in the works for upcoming months as well. Visit its website for updated information on its Summer Art of Gardening Program for youth and 16+ adults, and its annual Open House/Open Art Studio on August 9th.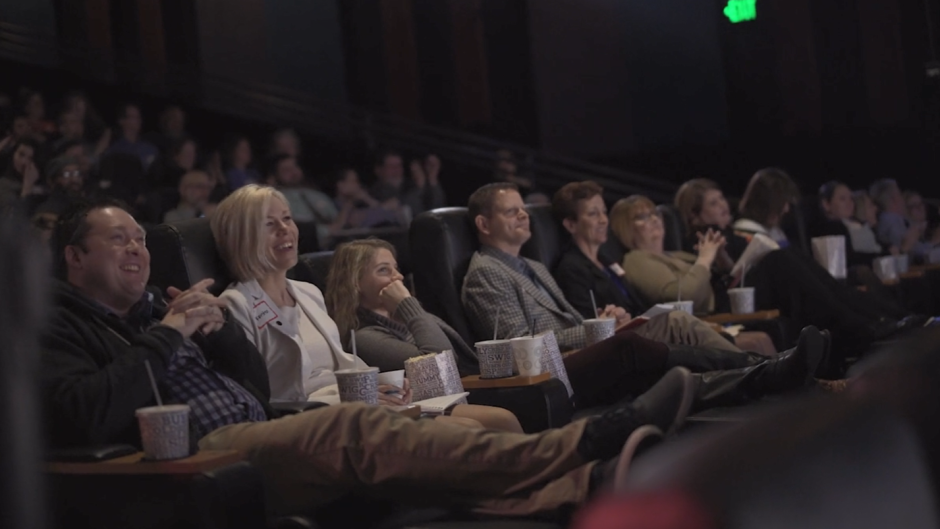 Watch a sensory-friendly film.
Photo Credit: Celebration! Cinemas
---
Sensory-Friendly Showtimes at Celebration! Cinemas
Now you can watch a movie without hearing "shhhh!"
Both North and South Celebration! Cinema locations participate in the Sensory-Friendly Showtimes in partnership with Hope Network. During these early morning matinees, the lights are brought up and the sound is lowered. Talking is allowed. Additionally, movies are in 2D and shown with open captions. All shows are at 10:30AM and follow the schedule below (subject to change):
April 8  The Boss Baby

April 25  Smurfs: The Lost Village

June 10  Captain Underpants

June 24  Cars 3

July 8  Despicable Me 3
What other sensory-friendly activities does your family like to do in the Grand Rapids area? Let us know in the comments or connect with us on our Facebook or Twitter pages.
Never miss a post!
Sign-up for the Insider Experience blog.