Mark your calendar for Gilda's Club of Grand Rapids fifth annual LaughFest, which takes place from March 5 15, 2015. While LaughFest conjures images of funny men and women doing stand-up and improv comedy, the festival also includes film, authors, stage and musical acts, workshops, community showcases, family friendly events, and much, much more. There really is something for everyone at this one-of-a-kind 10-day festival that celebrates laughter for the health of it and supports the free cancer and grief programming offered by Gilda's Club of Grand Rapids.
We caught up with Wendy Wigger, President of Gilda's Club Grand Rapids, to give you the inside scoop on what you can expect at this year's LaughFest.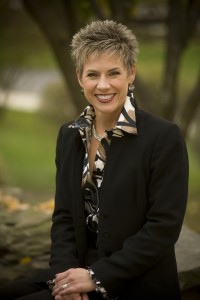 Wendy Wigger, President of Gilda's Club Grand Rapids
Q: In addition to the great comedians performing at LaughFest, you also have other seriously funny stuff. Can you tell us a little bit about some of the other LaughFest events?
A: Sure, we do have many other events. There are a lot of comedy festivals, but we're the nation's only laughter festival and we purposely try to program activities about all things seriously funny.
One of those events is our FUNderwear Run. This is its second year and it was just incredible to see the number of people that came out last year. How many times can you wear underwear outside of your clothes and run around Grand Rapids without getting into trouble? Officially, it's a 5K race people race and some people came out dressed in their finery, but people came out with their pets as well. It was amazing to see a boxer in boxers! People can form teams or just come out and have a really good time.
We also have The Hundred Dresses [a play performed by the GR Civic Theatre Traveling Troupe], which will be a fun and entertaining event for families.
Smuggling Humor into the Poetry Reading is another fun event. People might not think of poetry in a laughter festival, but we try to purposefully program our festival so theres something for everyone. If it makes you smile or laugh, it could very well be part of LaughFest.
Q: LaughFest has several family friendly events. What should potential show-goers know about these awesome events?
A: The Super Saturday Kids Zone is like an indoor carnival on steroids. Thanks to our family-friendly sponsor, Meijer, its a low price event with a plethora of things for kids and parents to do. There are indoor inflatables, interactive games, and kids can win prizes. With Meijer as our overarching sponsor, what you get back in terms of food and fun is fantastic. You won't find a better time for that type of a price anywhere!
In the evening we transform that space for The Saturday Night Teen Zone, geared for teens and tweens. We have some inflatables and interactive activities, but there's also a live DJ and some dancing.
We also have the Recess Monkey concert, which is an activity geared more for your 8-years and under set. Recess Monkey describes themselves as high-energy group with 30 years experience in the classroom between all of them. They're an indie rock band, and it's a chance for music, movement, and getting the kids actively involved. Kids will really able to have some interactive fun!
Q: Can you tell me about the free Teen Zine workshops you're holding in Grand Rapids and Holland?
A: This is the first time we're doing this particular Teen Zine program. We're introducing this workshop for those 12 and older and it's really fun for us, too. How do you express humor, fun, and laughter in a more artistic way? Thats going to be the focus of this particular 90-minute workshop. It's kind of like storytelling with comic storyboarding and graphic design, and it's a great opportunity to interact with an illustrator and designer.
Q: You have several other free events on tap, like People and Pets and the Seriously Funny Family Adventure Challenge, which sound like they'll be lots of fun. Can you tell us how people can get involved and what they can expect at those events?
A: What's really cool about LaughFest is that we'll have over 275 free and ticketed events. Out of those 275-plus events, over 70% of them are free to the community. I like to say that if you cant find something that speaks to you in the ten days of the festival, you haven't looked hard enough! We try to frame out the festival so there is something for everyone.
At People and Pets, we have all kinds of fun contests, like costumes, pet look-alike, and best trick. What's more funny than your pet? My dog makes me laugh on a daily basis! We also have a photo booth and other activities. Its one of those events that draws people who are passionate about their pets or who are coming to interact and have a great time.
The Seriously Funny Family Adventure Challenge is another incredible free event. Its almost like the Amazing Race but it's not necessarily a challenge for those who are seriously fit - it's meant to be seriously fun. People can form teams of 2 or 4 and although its a free event, we do encourage people to pre-register. The race includes a variety of different time challenges: in past years, we've had people figure out the clues to a location and do a rubber chicken toss or other interactive activity. Sometimes people come in costumes. Last year we had a family that all came dressed in pink with t-shirts that said something like, "My wife kicked breast cancer and we're in it with her." Whether it's for something serous or just for fun, we've had a great response.
That is an event for families but people often ask us, 'How young is too young for kids?' Because you're moving about in downtown Grand Rapids area, we generally say that if your kids are pretty mobile (from age 10 and up) or if you're pushing them in a stroller, that probably works. Its a tougher event with a toddler because you're moving around the city.
Q: Of course, you also have dozens of comedians performing, including Sinbad, George Lopez and Wanda Sykes. How do you attract so many great acts to be a part of LaughFest?
A: LaughFest is in its fifth year. What's been exciting is how the city and the whole West Michigan area have embraced the festival and, I think, in part, that's why we have the level of talent we do. As a festival, were bringing talent in and they're choosing to spend one of their 365 days with us. Performers tell us that West Michigan is warm and welcoming from the moment they land in the airport to the minute they're brought into the community. When you have the kind of positive experiences that this community provides, it gives the comics a reason to want to come back. Last year we had Jim Gaffigan perform and he commented that he didn't think a festival like this could happen just anywhere; that there was something really special about the West Michigan area. I couldn't agree more.
Q: You also have a wide variety of acts. Can you tell us more about that?
A: We try to bring something for everyone. LaughFest features different kinds of humor at different price points. Not everyone who attends LaughFest laughs at the same thing, but we all laugh. That's why we have the LaughFest guide it tells people what's family friendly, what's clean adult humor, what's Rated R, and what's for mature audiences. We try to guide people so they can have the best experience possible.
Q: I love that you have a Preview Show and several Comedy Showcases that feature more than one stand-up comic. Can you explain what people can expect at these shows?
What's so cool about the showcases is that you get to see multiple talents in one experience. We have the Clean Showcases, Best of Midwest Showcase, and the National Standup Showcases, as well as our Community Showcase events. The fun thing is that when you have a group of comedians, there will typically be somebody whose humor resonates with you. What so great about some of these showcases is that you see some well-established comedians as well as others who might be less-known but continue to evolve in their performance and art. For example, Michael Kosta is hosting this year's Signature Event, featuring Jim Breuer, Kathleen Madigan, Sinbad, and Justin Willman. He was our 2011 Stand-Up Comedy Competition winner. So the showcases give you a chance to see several people in one show and, later on, you'll remember and say, "Hey, where did I see this person?"
Q: Can you explain a little more about the Community Showcase?
A: Community Showcases are free for participants and attendees, which is unique to LaughFest. We screen folks and put them into different categories, but don't charge a fee for them to participate or to see them perform. And people come to perform at the free community showcases from all over. This year, we have folks from amateurs to professionals, and everything in between coming from as far as the states of WA, CA, TX, and FL. They're coming to Grand Rapids to be part of the festival and they're not paid! To us, thats so much what this festival is about: providing that community experience.
Q: LaughFest has set a world record for fun events several times in the past. Can we expect another fun world-record attempt this year?
A: Yes! For four years we've attempted to set a world record and we will be attempting to set another world record at this year's LaughFest. On Thursday, March 5, the kick-off of the festival, people will start gathering near Rosa Parks Circle area at around 5:00. We haven't announced what the record is that were going after yet, but we will soon.
We promise people that it will be a fun family time and hope as many people as possible will show up and hopefully help us secure a fifth world record. One year, we had a family that traveled from Canada to participate in the world record setting because their child had heard about it and wanted to be part of the world record experience. They traveled all the way to Grand Rapids to be a part of that kick off event!
Q: It seems like lots of visitors travel for LaughFest. Do you know how many people come from around the world?
One of the things that's been exciting about LaughFest is that it's been incredible in terms of attendance. We've had over 50,000 attendees come out for the event each year. Last year, we had folks from 593 zip codes and 35 states as well as Canada and the United Kingdom, and those are just the people we were able to identify through ticket purchases or our survey.
When we talk about LaughFest being good for you and for a good cause, part of Gilda's Club Grand Rapids desire with the festival is to bring a little of what happens in our clubhouse into the community. Something wonderful happens when you bring a community together to laugh and experience a fun time together. For us to see people traveling from so far to participate in the festival is amazing.
Q: Are you offering Fast Passes for free events this year?
A: Yes. A Fast Pass is an opportunity to guarantee yourself a seat at a free event. When you see an event marked as a Fast Pass event, if you have a Fast Pass in hand and are at that event at least 15 minutes prior to the start time, you will be guaranteed a seat. Fourteen minutes prior to the show time, walk-ups will be allowed in as well. We always keep a percentage of seats for walk-ups but as long as you arrive at least 15 minutes before the show starts, a Fast Pass makes sure you get your seat. The Fast Passes are free but we do suggest a High Five donation ($5). [Note: Fast Passes are available at LaughFest Central, at the Grand Rapids Art Museum.]
Q: Can you tell us more about the High Five campaign?
A: When you donate $5 through the High Five campaign, your $5 stays in the community. It supports our programming for children's cancer, grief, and in-school emotional health programs. Theres a cost to providing that programming but the fundraising aspect of LaughFest, including High Five, helps us keep the programming free to the public.
We're grateful that Amway Corporation has put up this community challenge. [Amway has pledged to match the first $25,000 of High Five donations.] We hope to raise at least that $5,000 so we can receive the full match to continue to support and keep that programming free. We're optimistic that the community will respond to the challenge!
Q: Although LaughFest is a super fun event, the reason behind it is very serious. Can you talk about how LaughFest benefits Gilda's Club Grand Rapids?
A: I look at LaughFest as being an awareness festival. It allows us to tell our story, to tell of Gilda Radner, our namesake, who dealt with cancer herself. She talked in her book about losing her funny and, through her own personal journey, she reminded those dealing with cancer and life's other tough stuff that it's okay to laugh.
Our desire is to help share the gift of laugher with everyone. Part of the way we do that is by providing free cancer and grief support to anyone: children, adults, family, and friends who are on a cancer or grief journey of any kind. The proceeds from the festival help us deliver those free programs.
LaughFest is unique to Gilda's Club Grand Rapids. Its a festival that was created here, organically, and is delivered here. Its truly only possible because of the support of our many sponsor and partners, as well as over 1,000 volunteers that make this happen. We're instrumental in delivering the festival, but wouldn't happen without this community's embrace.
Q: How can people find out more about Laughfest events?
A: The full festival schedule can be found on the LaughFest website, and you can pick up our Official LaughFest Guide, which includes a lot of extra information,at LaughFest Central, located in the Grand Rapids Art Museum.