Snowshoeing has been around for almost as long as civilizations have interacted with deep snow. Historians believe snowshoeing traces its roots back 6,000 years to Central Asia and were necessities for survival during the harsh winter season.
Thankfully, our everyday West Michigan survival doesn't rest on trekking through deep snow to hunt and gather, leaving us plenty of time to play in the in snow when we're graced with some fresh powder.
Want to take up a new hobby but don't know where to start? Or are you looking for new trails in the Grand Rapids area? Here are a few tips to help you get going.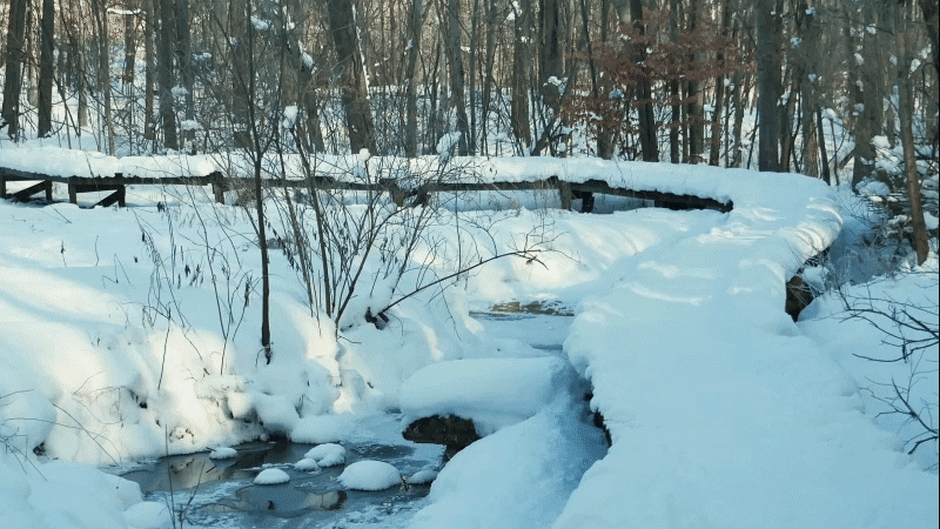 Snowshoeing is a beloved West Michigan winter pastime.
Photo Credit: Experience Grand Rapids
---
Where to Get Snowshoes
First things first, you're going to need some snowshoes. For the best options on rentals, head over to Bill and Paul's Sporthaus. A 24-hour rental will run you $17. For those ready to commit to their own pair of snowshoes, it also has a wide selection for purchasing.
If you're interested in purchasing but need something more budget-friendly, check out a resale shop like Switchback Gear Exchange and Play It Again Sports. There's no guarantee that you'll find what you're looking for and it certainly won't be as high-tech or modern as the new versions, but snowshoeing is an ancient tradition. You don't need high tech plastics or stainless steel lugs to keep your weight evenly distributed on top of the snow. Snowshoes that look like old, wooden tennis racquets are plenty serviceable for a casual afternoon of winter hiking.
A brief note on snowshoeing etiquette: many snowshoeing trails overlap with cross country skiing trails. If you come across a groomed trail, try to stay off the groomed area. Leave it for the skiers - they need it. Also, try to avoid stepping in and ruining the hard fought tracks cross country skiers work to establish (they look like twin ruts through the snow). This keeps everyone playing well together and makes you ready to hit the trails.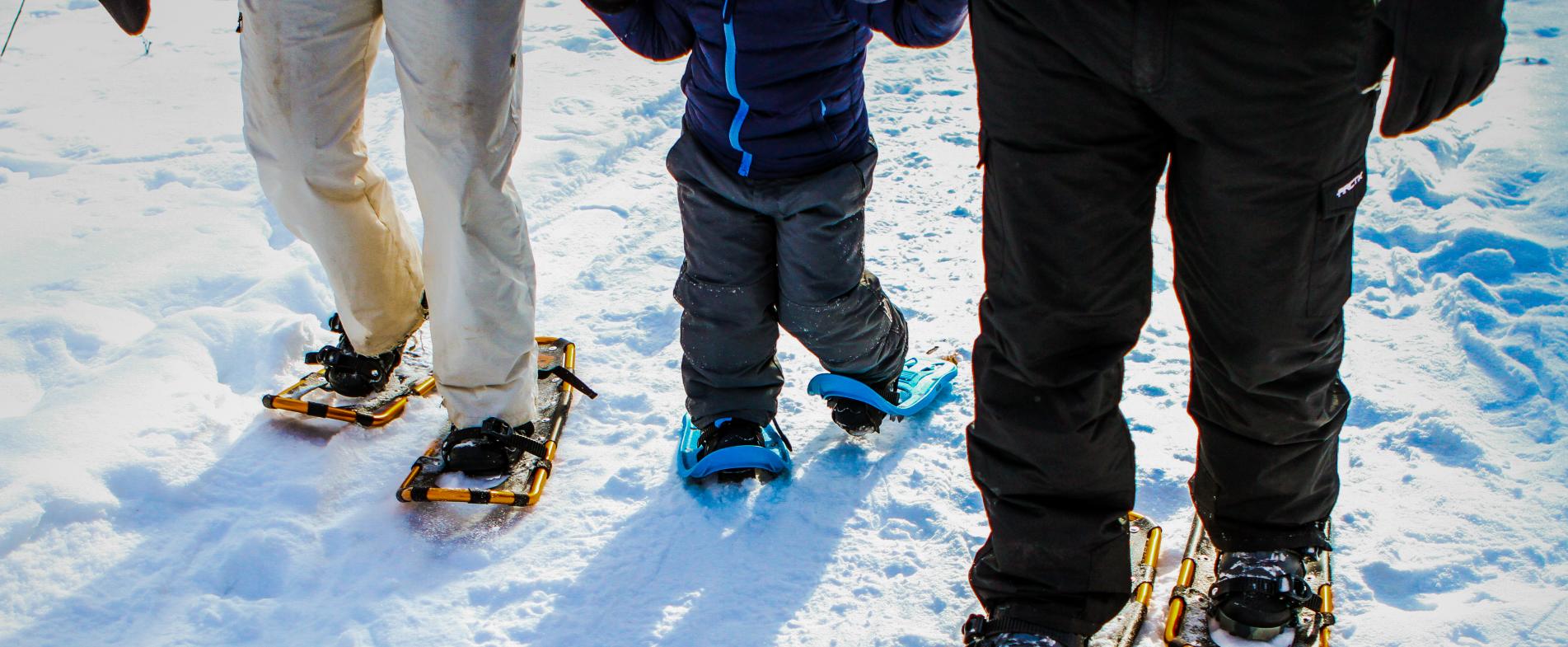 Snowshoes
Photo Credit: Experience Grand Rapids
Snowshoeing Trails
Blandford Nature Center
Set aside in the late 40s and officially established in 1968, Blandford Nature Center is equal parts education and recreation center. Its programming doesn't come to a halt as the weather gets frostier, but you're more likely to find its expansive 264 acres put to good use by snowshoers in the winter months. If you didn't make it to Bill and Paul's Sporthaus, Blandford runs a snowshoe rental program onsite. The visitor center provides maps and trail guides that allow you to customize your trekking routes. For those looking for date night ideas, Blandford even hosts Snowshoe with Your Sweetie, a candlelit, outdoor excursion just in time for Valentine's Day.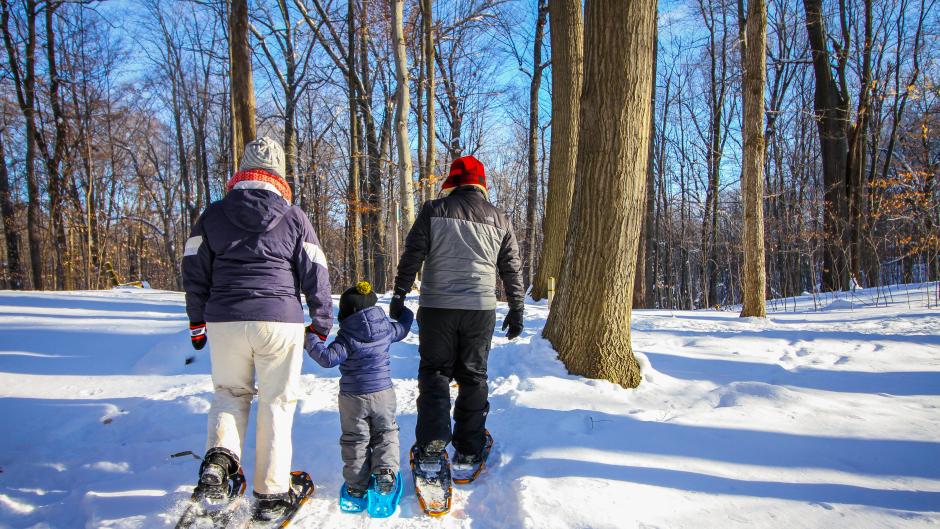 Hitting the trails at Blandford Nature Center.
Photo Credit: Experience Grand Rapids
---
Frederik Meijer Millennium Park Trails
Adjacent to Grand Rapids' thriving West Side, Millenium Park in winter is a snowshoeing gem. It features 14,000 acres of explorable land including six miles of frontage on the Grand River. Winter parking is available at the Butterworth Street and O'Brien Road trailhead as well as an offseason lot on the east side of Maynard Avenue. The 18 miles of paved trails aren't plowed, so they're perfect for trekking excursions for the cold weather steeds. While the trails are ungroomed, make sure to stay respectful of cross country ski tracks.
Cannonsburg Ski Area
Cannonsburg Ski Area is a winter sports mecca for the Grand Rapids area, featuring nine miles of color-coded, interconnected trails that loop around the traditional ski runs. Visitors can rent downhill skis onsite but not snowshoes, so make sure to procure them before heading over. It's not uncommon to see cross country skiers, trail runners, and fat-bikers in full pursuit of their own snowbound activities. Share the trails, and everybody will have a great time.
Ludington State Park
With its food, brewery, nightlife scene, Grand Rapids is a great base for a range of outdoor recreation activities and snowshoeing is no different. If you're looking for a day trip outside of the Grand Rapids area, Ludington State Park is worth the hour and forty-five minute commute. With over 20 miles of pristine trails, vistas of a frozen Lake Michigan, Au Sable Lighthouse, and sand dunes, we guarantee you'll have a great time at this winter wonderland. After a good snowfall, the mix of deciduous and evergreens are cloaked in a heavy, crystalline robes of white, so exploring the backwoods trails feels like stepping through a Narnian landscape.
Ludington State Park has a myriad of snow activities to choose from, including guided snowshoeing tours to snowshoe-making classes. If you're enamored by the area, book one of the Department of Natural Resource's mini cabins for the weekend. At just over $30 per night, the mini cabins boast a surprisingly effective heater, small fridge, microwave, and two bunk beds (with one queen bunk). They're the perfect way to cozily end a long day of winter exploring. As it is a state park, be prepared for the $9 drive-in fee unless you have a recreation passport on your Michigan license plate.
Provin Trails Park
The deep set pines and more than a mile of interconnected trails at Provin Park are perfect for an afternoon escapade. The center dune makes for a compelling winter challenge - both huffing up it and navigating the sometimes ungainly snowshoes on the quick trot down. Near immediate access to the surrounding area means a post-hike burger and brew aren't hard to track down.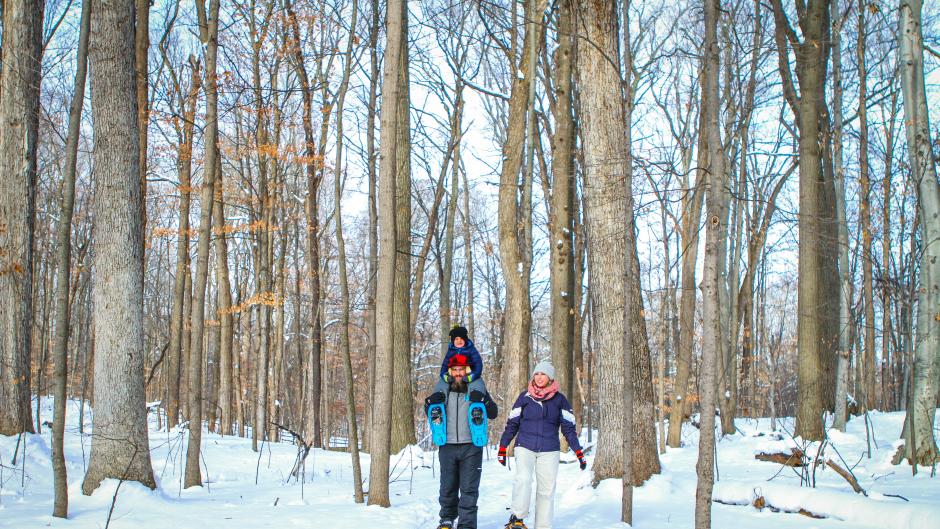 Family snowshoeing through the woods
Photo Credit: Experience Grand Rapids
---
Never miss a post!
Subscribe to the Insider Experience blog.