The local craft beer scene has put Grand Rapids on the international map as a destination for all things rich in hops, malt and yeast. In turn, consumers have become enthusiasts who demand more from what they drink. The city's specialty coffee culture is in sync with this trend, and is transforming their industry to embrace and enhance a movement that isn't far behind — one that starts with a little green bean.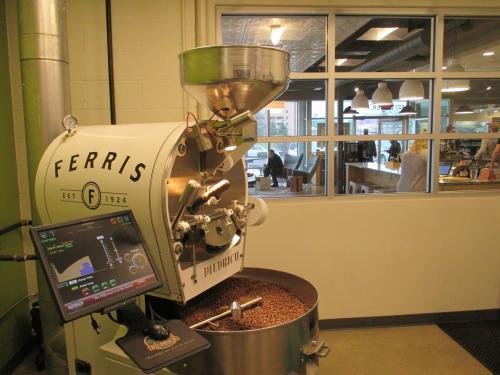 For those who are ready to ditch their mass-produced a.m. java in exchange for experiencing coffee enlightenment, start at Ferris Coffee & Nut Co. Mark VanTongeren, Director of Marketing & Business Development at Ferris Coffee by day, and craft beer homebrewer by night, warmly welcomes aficionados and novices alike. "Our philosophy is all about being inclusive and trying to make coffee approachable. We want to meet people where they are in their journey in a very approachable fashion."
AJ Willett, Ferris Coffee's Head Trainer, emphasizes, "Our job is to take care of the customer first and foremost." For someone who may still prefer a little cream and sugar in their coffee, Ferris Coffee does not endorse coffee snobs or alienating anyone for their taste preferences. On the contrary, their baristas look for humble opportunities with dedicated personal service to elevate a guest's experience and ultimately their coffee sophistication.
They start with an attention to detail, monitoring the raw materials all the way to the farm level. Similar to breweries being intentional about where they source their ingredients, specialty roasters go straight to the country of origin for their coffee beans. Ferris Coffee has personal, face-to-face relationships with their producers all over the globe. Sometimes, they might only be able to acquire a couple scarce 150 lb. bags of exclusive seasonal coffee beans at a time — and that's buying out an entire lot. In order to maintain a premium level of quality in their coffee, they ensure it's cared for from the moment it's grown abroad to when it's brewed to order in their shop.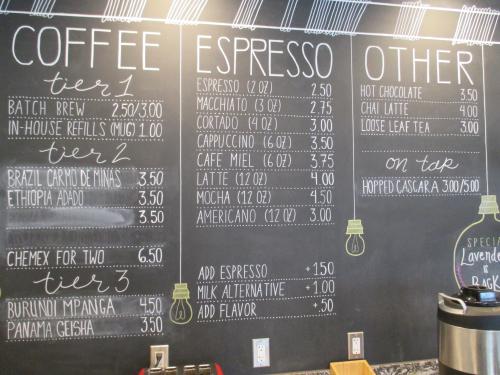 Madcap Coffee, perhaps Grand Rapids' most recognized specialty coffee café located in the epicenter of downtown, puts equal care and attention into their craft. Since established in 2008, they've worked to recognize coffee as a cultural story to share rather than treat it as an exploited commodity.
While visiting Madcap's roastery facility, in the Uptown neighborhood, Andrew Grassmick, Director of Sales, praised the training, skill and technique of their of roasters and baristas. "We try to treat coffee in such a way that expresses itself in the best way possible," he said.
Their passion shows. Naomi and Ron, with two of Madcap's most trusted palates, "dial in" the day's roast — daily. The intense ritual-like process of tasting flights of their own coffee, each roast with an A/B testing method, provides constant feedback to help them hone in on its most optimum characteristics to ensure they're providing the best possible version of their products.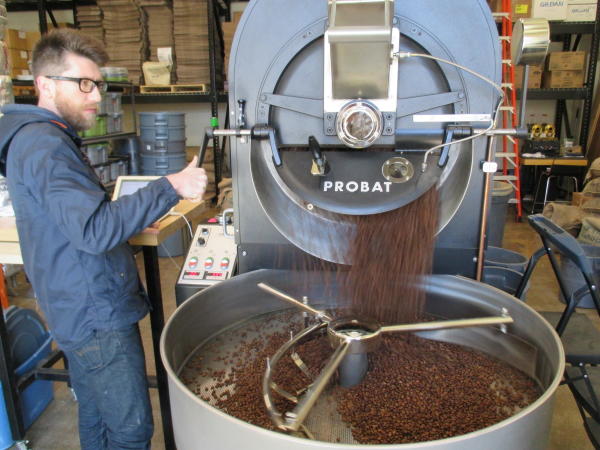 Beyond the respect each industry has for their respective raw materials, the flavor profile parallels between specialty coffee and craft beer lend themselves to enthusiasts crossing over from either direction. Coffees from Central and South America tend to be a smooth gateway. Madcap's 616 house blend from Columbia and Costa Rica is a fine example. For the more adventurous, hop to Ethiopian coffees — the IPAs of the coffee world, for their bright, acidic and floral notes. And, for the stout lover, full-bodied Indonesian sumatra coffee with its smooth, sometimes thick, mouthfeel pairs well.
Coffee has become a favorable ingredient added to craft beer. Both Madcap and Ferris Coffee have contributed to some notable collaborations.
At the annual Uppers and Downers Festival of Coffee Beers in Chicago, which pairs specialty coffee roasters with brewers, Madcap partnered with Brewery Vivant on Melo Angst, a 9.5% amber, Belgian-style strong ale with Caturra and Castillo coffee from Columbia. At the festival, they've also partnered with Virtue Cider, in Fennville, MI and Angry Orchard, of NY on a Bourbon Barrel-aged Cascara Cider — a 9.5% bittersweet cider aged in bourbon barrels then cold steeped with organic cascara, which is the dried pulped skin of the coffee bean's fruit profiled cherry exterior. Madcap likens themselves to Vivant as their brewery equivalent because of their dedication to flavor nuances. When visiting Vivant, look for them to occasionally add Madcap's coffee to a barrel-aged project or limited-release firkin.
As a supporting member of the Michigan Brewers Guild, Ferris Coffee also knows beer. Locally, they've collaborated with Grand Rapids Brewing Co., HopCat, and Founders Brewing Co. Ferris Coffee is surprisingly modest when sharing that their coffee is used in Founders' Sumatra Mountain Brown, Pale Joe, baby label-loving Breakfast Stout and drumroll, please… KBS. And, relatively new in their industry, Ferris Coffee is experimenting in their roastery by aging their coffee for 2-6 weeks in bourbon and wine barrels, having fun enhancing their coffee to new levels.
When it's not purchased from a fast food drive-thru's $1 menu or served scalding hot to mask what should otherwise be a balanced bouquet of flavorful nuances, coffee is special. It should be more than a casual a.m. habit. VanTongeren sums it nicely, "Like craft beer, albeit a sober alternative, it's a relational beverage that that's enjoyed over purposeful conversation. It's about the relationships coffee builds."
To achieve a better buzz, follow @ferriscoffee and @madcapcoffee on social media. Stay tuned for news about Ferris Coffee's special June release of Ethiopian Misty Valley (available through summer) and their forthcoming second location in the Michigan Trust Building, which will also serve sourced craft beer and wine. Madcap's second café, connected to their roastery on Fulton St E, is set to open in 2016, which will include an intimate look behind the scenes at their roastery operations.
For additional resources and education, seek out the following:
EB Coffee & Pub, Michigan's first coffee shop and brewery, with four mainstay beers and four rotating specialty beers all brewed on site
 

Ferris Coffee's Home Brewing 101 class for an intro into brewing better coffee at home, part of their professional coffee development education program,

The Foundry

  

Siciliano's Market for coffee, homebrewing supplies and reliable professional guidance

Schuil Coffee Co., Michigan's first specialty coffee roaster, for trusted coffee from their Shoppe, including the dark roasted coffee EB Coffee & Pub uses in their beer, No X in Espresso
 
Roast Magazine's

all-original breaking news and feature stories website,

dailycoffeenews.com
 
- Guest blogger Jason Ley is a Certified Beer Server, with his palate-in-training to become a Certified Cicerone®. When Ley isn't lusting after his next DIPA-filled snifter, he's playing his drums, experimenting in the kitchen or planning his next travel adventure with his wife to explore the unfamiliar. Follow what moves him at jasonley.com and @jasonley.