When I asked my three boys- who've seen the butterflies bloom at Meijer Gardens every year of their life - to tell me their favorite part of the exhibit, I heard two answers:
"When they land on you!" (This response was unanimous, even though I asked all three boys separately.)
"Watching the butterflies come out of the chrysalis."
I must admit that I agree. Few things are cooler than watching an exquisite Tiger Longwing alight on your arm as you stroll through the tropical warmth of the conservatory. My children were also very quick to point out that you can't touch the butterflies. (Meijer Gardens Staff, rejoice! The kids hear you.) If you are lucky enough to have one of these beauties land on your arm, shoulder, or head, the staff will direct you to the blowers and gently shoo the arthropod back into the air.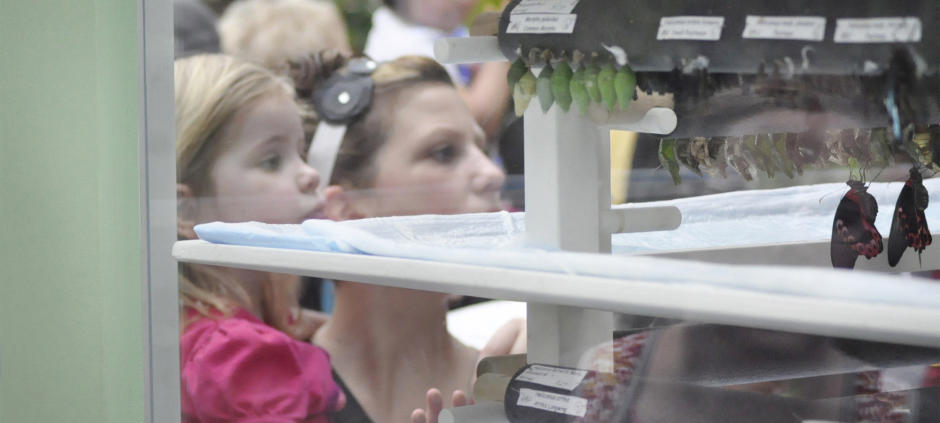 Butterflies are Blooming at the Frederik Meijer Gardens & Sculpture Park.
Photo Credit: Frederik Meijer Gardens & Sculpture Park
---
As for watching a butterfly emerge from a chrysalis, it's all about timing. In the 12+ years we've been visiting this exhibit, we've only witnessed this amazing event a few times. But the fact that this miracle happens year in and year out--unassisted by technology and humans and all our progress--is nothing short of pure wonder.
The entire exhibit, which runs from March 1 - April 30, is a tropical dream. As you enter the colorful, Caribbean-warm conservatory, you'll notice that its even brighter than usual, filled with the reds, blues, yellows and oranges of the butterflies. Meijer Gardens receives more than 800 chrysalises each week and, over the course of the exhibit, visitors will walk among over 6,000 butterflies.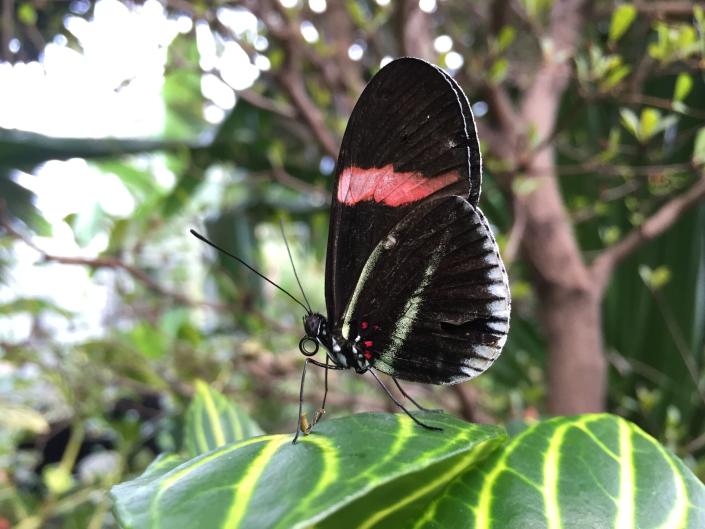 A butterfly perches on a leaf in the Tropical Conservatory at Frederik Meijer Gardens & Sculpture Park.
Photo Credit: Matthew Makowski
---
In addition to the sheer beauty of Butterflies are Blooming, Meijer Gardens provides visitors with plenty of learning opportunities. Near the Butterfly Bungalow, the glass enclosure where the chrysalises are displayed, is an interesting interactive panel. It provides butterfly facts for inquisitive visitors and asks questions like, How long do butterflies live? (The answer: Old age is about 2 weeks for a butterfly.)
Kids can continue the learning, and fun, in the Lena Meijer Children's Garden where they'll find caterpillar and chrysalis costumes, a butterfly maze, and a butterfly puzzle table among other activities.
If you're pressed for time during the day, don't miss your chance to see the exhibit during the evening on Flashlight Tuesdays. Every Tuesday night Meijer Gardens stays open until 9:00. Visitors are encouraged to bring a flashlight and spy butterflies sleeping on the tropical foliage (you'll see moths flying around, too, wide awake). It's a perfect way to spend a long day this Spring Break.
For more information on the Butterflies are Blooming exhibit, ticket prices and Meijer Gardens hours, visit www.MeijerGardens.com or call 616.957.1580.