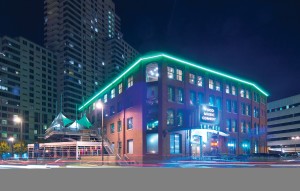 Whether you're in town for a few nights or every night, you can find something to do, eat, or listen to at the B.O.B.
This Big Old Building, built in 1903 as a grocery warehouse, is now home to a brewery and 7 other venues, from J Bar (Judson's), an upscale steakhouse to Crush, an energy-filled nightclub for the young at heart.
Here's a guide to what the B.O.B offers and when:
For dinner on Mondays or Tuesdays, the B.O.B has three open restaurants to choose from:
Bobarino's: Part sports-bar, part wood-fired pizza place, this is my kids pick at the B.O.B, but it's fun without the kids, too. This is the only part of the B.O.B that's open for lunch--it's a great way to check out the B.O.B. if you're just in Grand Rapids for the day. Bobarino's is the only restaurant in the B.O.B thats open for dinner every night of the week.
J-Bar: When you're entertaining clients, good friends, or simply in the mood for great steak paired with an equally good wine, head to J-Bar. With its classic steakhouse ambiance, J-Bar (which I still call by its former name, Judson's) is a can't miss. Open Monday - Saturday, 5 - close.
Gilly's: You'll enjoy the atmosphere in this beautiful bar, as well as its delicious seafood features. (No worries if you prefer more traditional fare--they also serve classic bar food). Gilly's also a good place to chill out listening to jazz on Thursday nights. Open Monday - Saturday, 4 - close.
On Wednesday nights, things heat up with the addition of the Monkey Bar, a hip lounge with Asian-focused menu. Try the tuna tempura. It's open Wednesday Friday from 4 or 5 - close.
On Thursday, the B.O.B. adds a comedy club and nightclub to the mix:
Crush: If you're looking for a fun, loud, downtown club atmosphere, Crush is the spot. Bring your coolest self. Open Thursday - Saturday, 9 - close.
Dr. Grins: Laugh the night away with local and national talent at this fun GR comedy club. This week, you can catch Ryan Hamilton, one of Rolling Stones five comics to watch. (Tickets $5 Thursday; $10 Friday; $15 Saturday.
If you're the late-night type, don't miss Eve on Fridays and Saturdays:
Eve: At this contemporary nightspot you can dance the night away or just sip a cocktail and enjoy the scene. Open Friday and Saturday 11-close.