Spring Break beckons us with the promise of enjoying a little extra time with our families. That's pretty easy to accomplish when we fly elsewhere and we don't have day-to-day chores to distract us. But my family doesn't travel every year--sometimes we stay right here in Grand Rapids. One trick we've discovered to ensure our Staycation To Do list is filled with fun: we ditch our usual routine and behave as though were on vacation. Putting fun on the calendar is essential to enjoying Spring Break at home. Here are three ideas for families embracing the Staycation this year:
1. Nature Day. There's no shortage of places in Grand Rapids for kids and grown-ups to run, kick balls, ride bikes, and hike trails. Dedicate a day (or several) to exploring a local park you've never seen before. One of my favorites to visit with kids is Provin Park Trails, near Robinette's Orchards. It's wooded, very sandy, and there are lots of fallen trees for kids to climb on. Afterwards, you can treat everyone to a doughnut and drink at Robinette's. Instant vacation!
If spending a day getting back-to-nature sounds good, here are a few other spots I recommend:
Fallasburg Park. Fallasburg has more open fields (less woodsy). It's an absolutely lovely place to spend a morning or afternoon with your kids. Pack a picnic basket and enjoy sandwiches and treats at one of the many picnic tables. Take a ball for the kids to kick while you relax (or join them, for a little Spring Break exercise). This park also has a playground, which adds a little bonus fun at the end of the day.
Townsend Park. Townsend Park is another favorite destination when I want to let my kids play on a playground, throw or kick balls, and have fun getting wet in the creek. The creek is optional, of course, but fair warning: its tough to keep kids away. Just north of Townsend Park is Pickerel Lake, which has a nice trail if you're up for a hike around the lake.
Blandford Nature Center. With its miles of trails and indoor exhibits, Blandford makes it easy to feel like you're an explorer far away from home.
Family hiking in the forest at Aman Park.
Photo Credit: Experience Grand Rapids
---
2. Beach Day. Forget making a 20+ hour drive south or purchasing expensive airfare. West Michigan has beautiful beaches of its own. One of my favorite spots at this time of year is Grand Haven, where you'll find the Grand Haven State Park beach significantly less crowded than in July. Even on a cool day, sitting on the beach with a book and watching kids gleefully dig in the sand can be pure bliss. Many of the shops are open, so you can spend part of the day in the sand and part in the town. For a special Spring Break treat you can end the day with ice cream or dinner on the town.
Other great beach excursions for this time of year:
Pentwater. If you're willing to drive a bit farther, Pentwater is a charming town an hour and fifteen minutes north of Grand Rapids. Like Grand Haven, some of the stores are open and you'll find lots of space for your family at Charles Mears State Park beach. End the day with pizza at the Boathouse Restaurant or a burger at the Brown Bear. Vacation, indeed.
Saugatuck. If its shopping you're after, with some art galleries mixed in, and a side of beach, Saugatuck is the destination for you. A little less than an hour south of Grand Rapids. Saugatuck is an easy Spring Break day trip. Explore the clothing, jewelry, and home decor shops, and check out the fantastic galleries. When you're ready for the great outdoors, head for the beautiful dunes at Saugatuck Dunes State Park. They're worth the trek.
Tunnel Park in Holland, MI. There's something majestic about walking from a parking lot, through a tunnel, and emerging at the top of a dune that overlooks Lake Michigan. Kids of all ages love to run down the dune, pell-mell, in anticipation of the fun. Pack a picnic for this trip, and until April 30 you can even bring your pet (on a leash).
3. Celebrate the Arts Day. When we vacation in a new city, we check out the travel websites and guides and decide which museums to visit. At home, it's easier to put off a museum visit until "someday." Make Spring Break your someday. The Grand Rapids Public Museum has several exhibits running now, including Facing Mars (which runs until May 6) and ChairMania (opening March 31). Kids still love to ride the Carousel, which was manufactured in 1928. ($1 per ride) Admission to the GRPM is $3 for kids 3-17; $8 for adults; $7 for seniors. The Facing Mars exhibit costs an additional $4 each and includes the Our Bodies in Space planetarium show.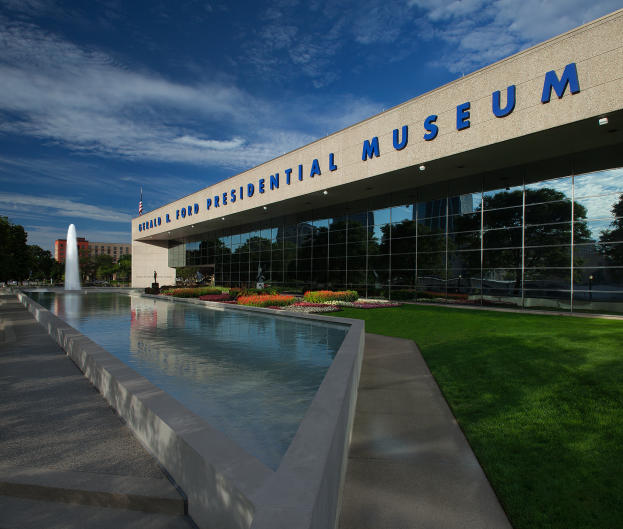 The Gerald R. Ford Presidential Museum offers lots to explore – both inside and outside.
Photo Credit: Gerald R. Ford Presidential Museum
---
Other Grand Rapids Museums to explore during your Staycation:
Grand Rapids Art Museum. Current exhibits at the GRAM include the works of American artist Robert Rauschenberg and Grand Rapids resident Michael Pfleghaar. Kids and parents can also participate in the All-Day-With-Arts programming during Spring Break.
Gerald R. Ford Presidential Museum. I wasn't sure what my kids would think of this museum, but it was a winner. One of my sons stood for a long time in front of the display of President Ford's old football uniforms. He's still spouting off facts he read there. My older son had a good time checking out the 1970s gallery and laughing at the eight-track tapes. There's a little something for everyone here.
Grand Rapids Children's Museum. No list of places to visit in Grand Rapids on Spring Break would be complete without this noteworthy local favorite. In addition to their permanent exhibits, the GRCM has several temporary exhibits. Right now, kids can play Dentist in the Open Wide exhibit, beat a drum that sounds like a whale in the Just Playin' Around exhibit, and try their hand at a tree stump shape sorter in Izzys World of Shapes. Click here to check their calendar of events for the week of April 3. The Children's Museum is closed Mondays, and admission is only $1.50 per person on Thursday evenings from 5:00 8:00.
If you're looking for Grand Rapids day camps for kids during Spring Break, check here.