While no one can predict exactly what this winter will look like, I think that we're all going to need an extra dose of cold weather clothing. As we embrace being outside to dine, enjoy entertainment, or sip on a cup of coffee we're still going to want to be dressed for the occasion.
With the cold weather settling in and winter gear becoming part of our daily wardrobe, making sure you have plenty of toasty options is key. Thankfully, many local stores are stocked and ready to help! 
Here is a list of a few of my favorite shops (in no particular order) where you can find clothing and winter woolies as you head outside. All of these stores have curated, thoughtful collections of cozy to keep you snug on the chilliest of days.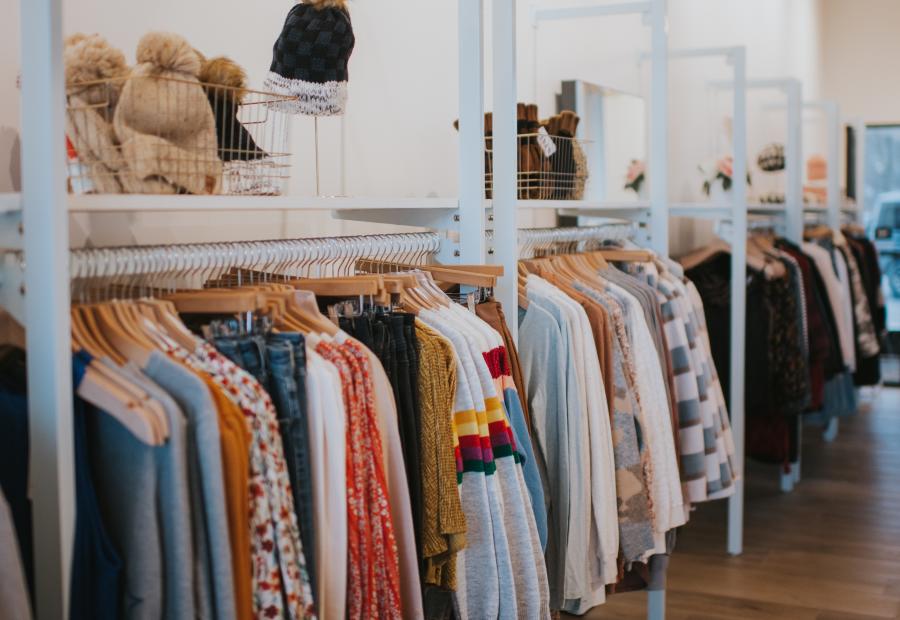 Gina's Boutique is filled with stylish items to keep your look on-point every season.
Photo by Ashley Wierenga for Experience Grand Rapids
Gina's Boutique
Gina's has around since 2005, so they know a thing about Michigan winters and what we need in our closets to survive them in style. They're my go-to for statement pieces for that holiday event. While gatherings might look different this year, I still grabbed a dash of fancy from her online store (like this sequin duster that is now one of my favorite pieces). Even if it's just you and your family celebrating at home or it's layered under a warm winter coat, there's nothing like having a bit of shine to make it a party this holiday and all winter long!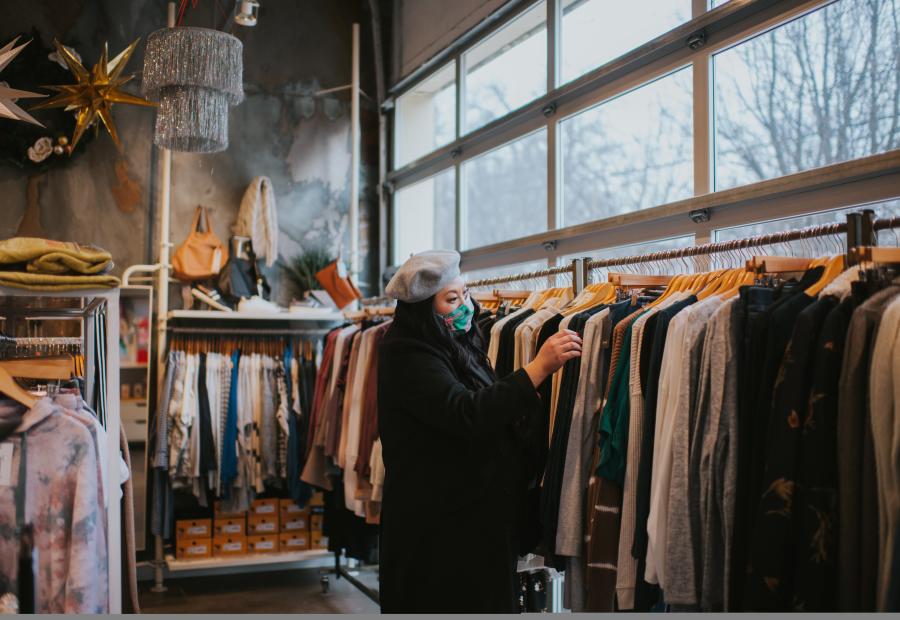 Local shops, like Lee & Birch, are filled with fantastic winter wear to keep you looking fashionable all season long.
Photo by Ashley Wierenga for Experience Grand Rapids
Lee & Birch
Two vital winter essentials can always be found at Lee & Birch: warm boots and cozy sweaters. Boots take a beating here in West Michigan, so I typically grab a new pair each year. They always have a great selection to choose from to ensure you look stylish while you're enjoying a craft beverage near a fire. Onto the cozy sweaters, which they always have in healthy supply, from dusters to live in while working from home to slouchy cardigans for running errands like grabbing takeout, they're a one-stop sweater shop. 
Shop Counting House
I can always "count" on Shop Counting House to have the best selection of hats. From the iconic felt flat brim ones to must-have beanies, they always have cold weather treasures. The best part? While you're there picking up accessories, you can grab a chunky blanket or festive plaid throw to take with you on any outdoor adventures.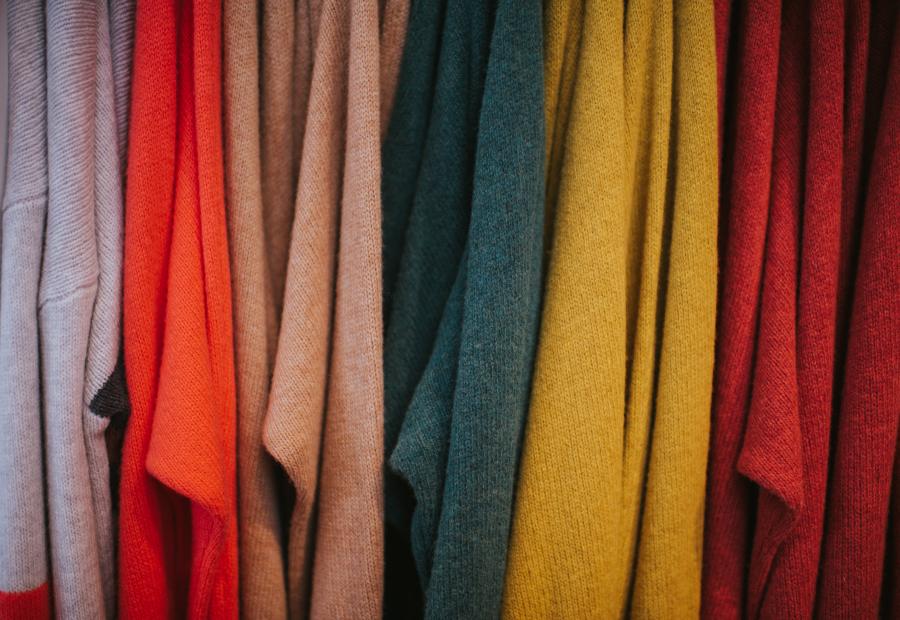 A nice pop of color during sweater-weather season can help you feel merry and bright.
Photo by Ashley Wierenga for Experience Grand Rapids
jb and me
jb and me called Holland home for years, but much to Grand Rapidians' delight, found a second home in the Breton Village Shopping Center. Make sure to add them to your cold weather shopping list as their store is full of casual options including hoodies you can dress up or dress down, two-piece lounging sets, and non-fussy tops you can throw on with jeans for dinner in a private enclosed dome or outdoor space. To finish your look, they have a specific section on their website called Scarves and Cozies!
Woosah
A few of my favorite adventuring shirts came from Woosah on Wealthy Street. The owner's iconic designs help create the most unique items. Everything in the store is practical, fun, and warm so it's the perfect attire for a winter hike or cozying up by a fire. It's nice to be soaking in the outdoors and seeing the brand's namesake proudly displayed on your clothing. After this year, I think we could all use a little 'woosah' in our life and in our closets.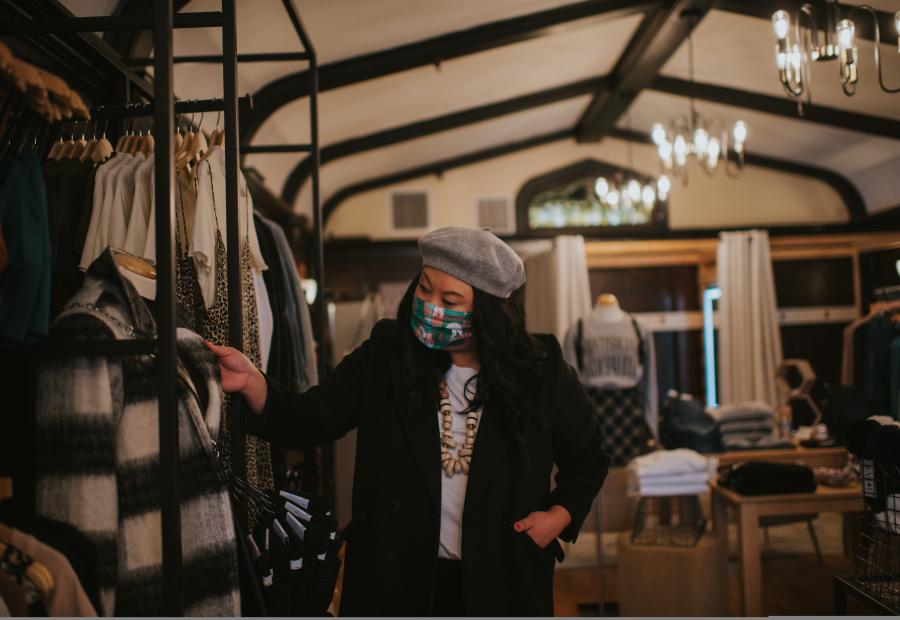 Find on-trend winter coats and other fashion-forward winter wear at Basic Bee.
Photo by Ashley Wierenga for Experience Grand Rapids
Basic Bee
This boutique is making waves with their cutting edge, on-trend selections. They carry brands you can't get anywhere else in Grand Rapids, which is a breath of fresh air to the local shopping scene. Their strength for warm winter clothing? Coats and jackets. We all know that no winter outing in Michigan is complete without a fabulous coat, and Basic Bee is here to the rescue. There are many options to choose from, but this structured plaid beauty was the winner in my book. Add a pom beanie and comfy mittens and you're ready for any outdoor activity. 
Beyond by Bill and Paul's
If you have plans to hit the slopes (or snuggle in at the lodge with a good book) this winter, Beyond will be an important stop for you. A new concept from the seasoned outdoor experts at Bill and Paul's Sporthaus, the store carries all of the outdoor brands you know and love for winter sports and beyond. You can tell they focused on selecting high quality pieces that are both practical, yet fashion forward to make sure even the most daring explorers are ready for any adventure, even if that's just enjoying a heated patio.
I hope this list helps as you create your winter wardrobe. Before heading to a big box store for the new sweaters or a heavy duty winter jacket you're searching for, think local and shop small businesses within your community (find even more local shops on Experience Grand Rapids' shopping page). Bundle up and bring on the snow! 
invalid widget [plugins_common_blog_subscription] []