Summer is a great time to get outside and see what Grand Rapids has to offer. Just when you think you've done it all, the city opens your eyes to some great summer activities that might not have made it onto your radar yet.
Whether you're looking for a family-friendly activity, or looking for a night out with friends, there's something new for everyone to discover in Grand Rapids.
We asked Experience Grand Rapids' social media followers for some of Grand Rapids' hidden gems. Here is what people had to say: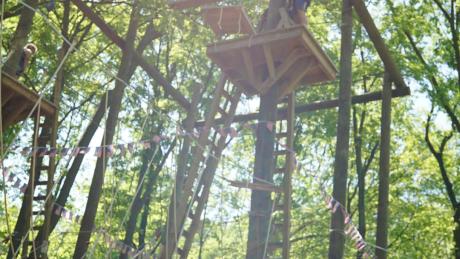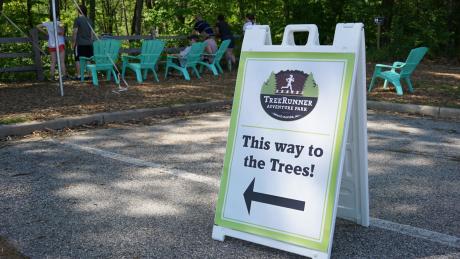 Pro Tip: Book your climbing experience at TreeRunner Adventure Park in advance, as time slots tend to book quickly.
Photo Credit: Experience Grand Rapids
---
TreeRunner Grand Rapids Adventure Park
TreeRunner Grand Rapids Adventure Park in Grand Rapids isn't really hidden, you just have to look up! Located behind Celebration Cinema North, TreeRunner is an aerial adventure park featuring seven rope courses with a variety of difficulty levels and obstacles including zip lines, cargo net walks, earthquake bridges, and 40 ft. auto-rappel jumps on the expert courses.
Visit by yourself or make a reservation with a group for some forest therapy and good old-fashioned exercise.
Want to really light up your weekend? Check out Glow Nights every Friday and Saturday night from 5:30 to 10 PM. The fan-favorite activity includes LED lights throughout the trees to enhance your climbing experience. Reservations are recommended for Glow Nights.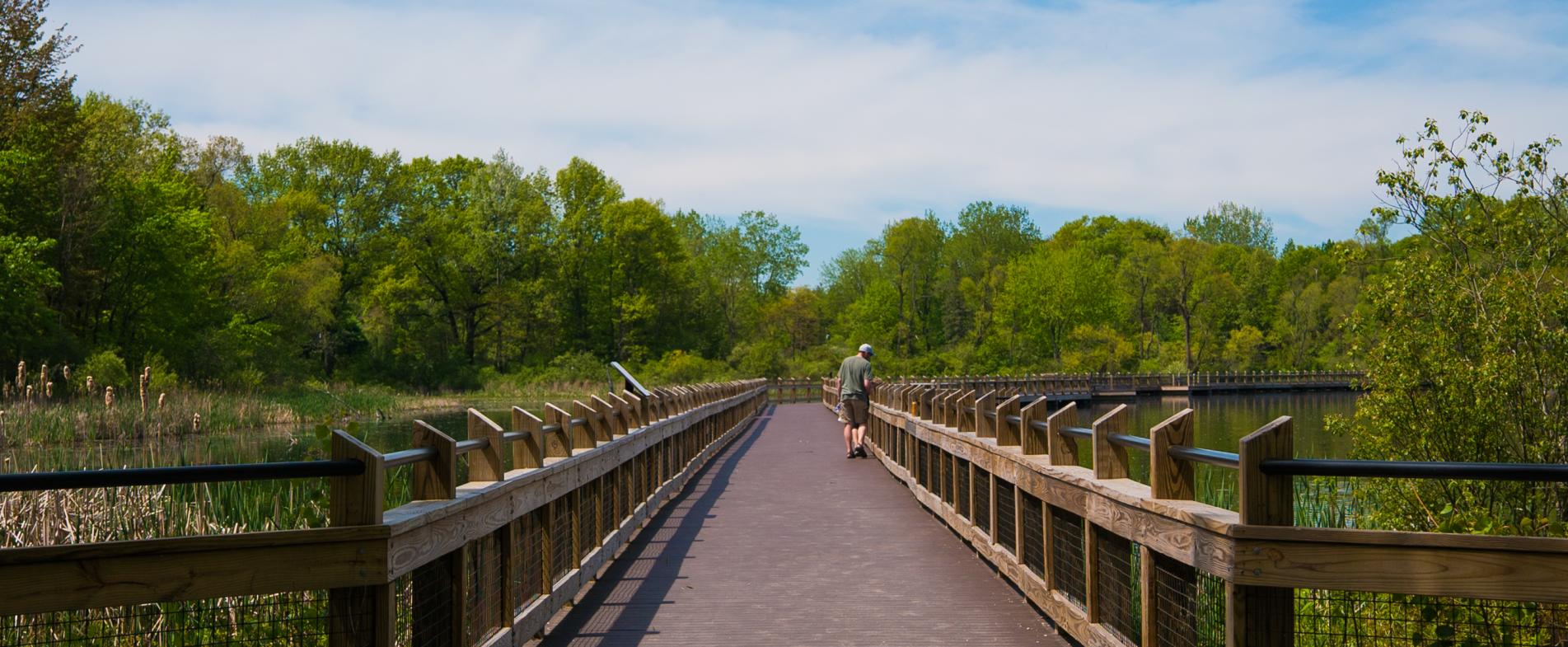 Pickerel Lake Park is located in Rockford, just north of Grand Rapids.
Photo Credit: Experience Grand Rapids
Pickerel Lake Park
Also known as the Fred Meijer Nature Preserve, Pickerel Lake Park is a great spot for fishing and wildlife observation. The park is famous for its 800 ft. floating boardwalk that crosses part of the nearly 80-acre lake and offers a picturesque mix of natural areas to explore along a branching network of trails.
With nearly two miles of trails around the lake, it's a great destination for anyone looking to take a break from busy and experience unique wetlands, sandy woods, and rolling forest hills and valleys.
GR Paddling
Getting out on the water is always a great time, but what if you don't have a way to get out there? Have no fear, GR Paddling has got you covered.
This full-service paddling company will bring its canoes and kayaks to your home, hotel, or workplace to take you to one of the five rivers or six lakes of your choosing!
The excursions range from three-to-10-miles and take anywhere from one-to-four hours depending on which route you choose. This family-friendly excursion is suitable for all experience levels, even those entirely new to the sport!
For those looking for a bit more time in the great outdoors, GR Paddling offers Paddle & Dine and Paddle & Picnic options that provide a paddling adventure with restaurants along the way.
Rates vary depending on which route you choose and number of passengers.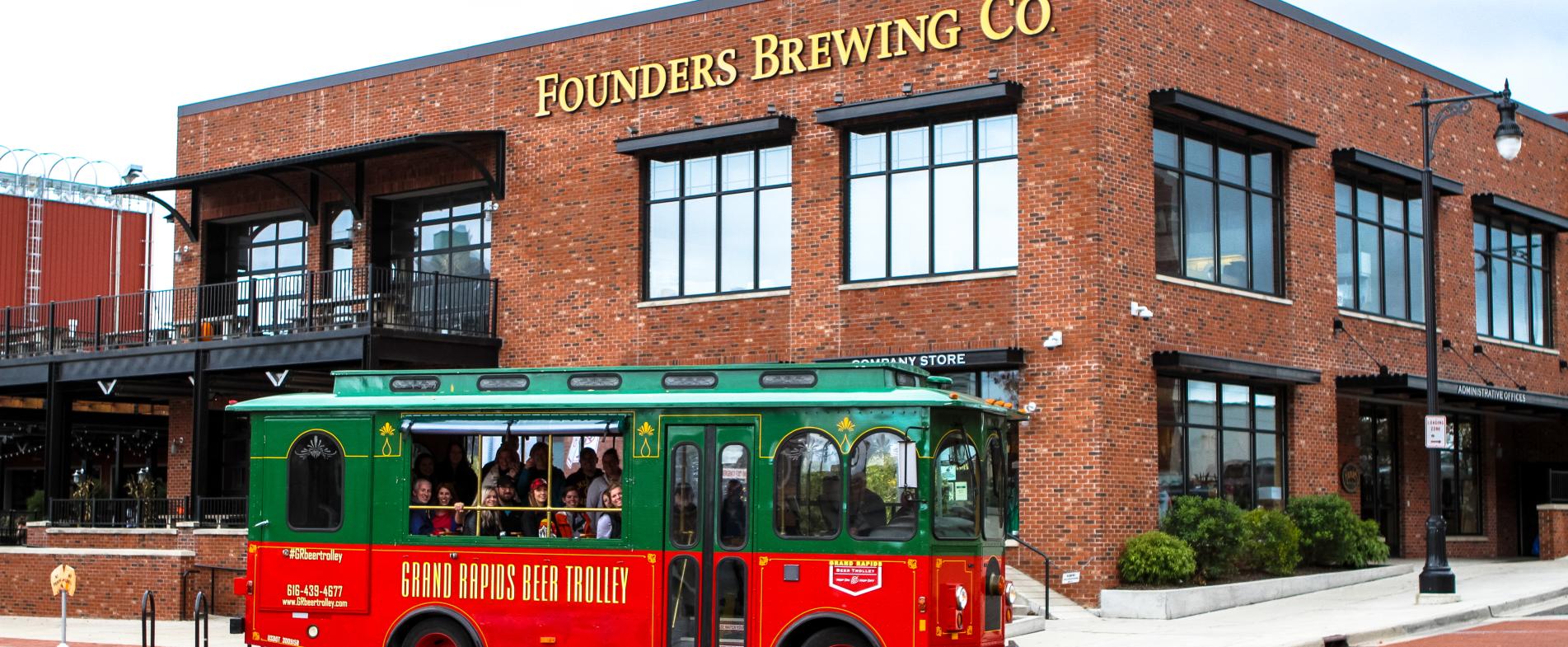 Grand Rapids Beer Trolley offers numerous packages to apply to a variety of groups and occasions.
Photo Credit: Photographer Paul Jendrasiak
Grand Rapids Beer Trolley & GRtuks
Another option when looking to experience some fresh air is to head out for a tour on the Grand Rapids Beer Trolley! In its second summer of operation, the trolley offers everything from monthly Hop On Hop Off tours ($20/person), BYOB tours ($35/person), and custom group outings (pricing varies) perfect for a large group that's looking to explore Beer City.
Remember to plan in advance as tickets sell out quickly.
As of this summer, Grand Rapids Beer Trolley is now offering GRtuks to accommodate up to six-passengers for beer, wine, coffee, and hard cider tours around Grand Rapids. Tuks are three-wheeled electric vehicles that are common forms of transportation in Europe and Asia.
GRtuks can be rented for $250 for two hours, $350 for three hours, or $450 for four hours. The Grand Rapids Beer Trolley and GRtuks is a great way to enjoy the summer weather with friends without worrying about driving or parking.
Sidebar
Nestled on Ottawa Avenue, Sidebar is an intimate craft cocktail hideout with seating for 18. Sidebar offers a variety of classic and modern cocktails that change seasonally so there is always something new to discover. 
Staffed with knowledgeable bartenders, comfortable seating, and a turntable, Sidebar's atmosphere is perfect for a quiet conversation with a lifelong friend or a fellow craft cocktail enthusiast.
Visit Sidebar Monday to Thursday from 4 PM to 11 PM; Friday and Saturday from 4 PM to Midnight; and Sunday from 4 PM to 10 PM.
No matter how much you think you know about Grand Rapids, there is always more to discover and explore.
What's your favorite hidden gem in Grand Rapids? Let us know in the comments.
Never miss a post!
Subscribe to the Insider Experience blog.