While Grand Rapids visitors and residents have always embraced the great outdoors, this summer, as we deal with COVID-19, people are particularly interested in getting outside. Fortunately, the Grand Rapids area has plenty of spaces where we can enjoy getting some fresh air while maintaining social distancing. 
You can expect a few changes at public areas, with the goal of keeping people healthy and safe. As you look for ways to get active in the great outdoors, here are a few suggestions for public spaces where you can safely enjoy activities like hiking, biking, paddleboarding, and more.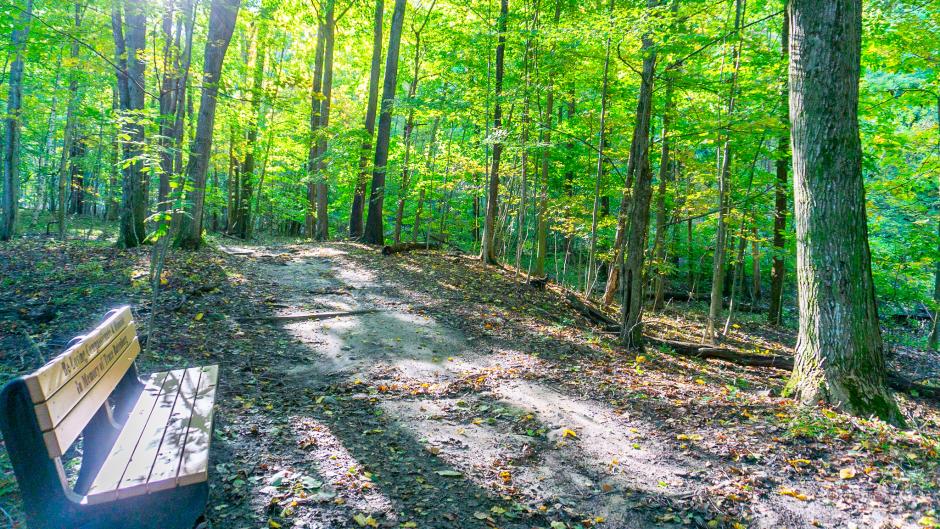 Enjoy 4 miles of trails, the Children's Garden, Nature Nook Playscape, and the Farm all at Blandford Nature Center.
Photo Credit: Brian Craig for Experience Grand Rapids
---
Blandford Nature Center
For me, visiting Blandford Nature Center has always been a wonderfully tranquil experience. It's located just a half-mile north of Grand Rapids' flourishing West Side Neighborhood and, with 264 acres of woods, streams and meadows and 11 trails, totaling 4 miles, it's a wonderful place to meander.  
When my kids were young, they loved to tour the Visitor and Wildlife Education Center to learn about the animals, then walk the trails with me. These days, I like to hike the well-maintained trails for exercise, fresh air, and to find perspective as we navigate a world with COVID-19.
Although visitors can expect some changes, in addition to the trails, the Farm is open, as are the Children's Garden and Nature Nook playscape. As always, you can walk the trails at any time but the Visitor and Wildlife Education Center has slightly reduced hours. It's currently open from 10 AM – 3 PM, Monday – Saturday. Admission is $3 per person (ages 3 and up) and free for members. 
Blandford Nature Center is also offering outdoor yoga in the Highlands this summer. Take your mat, a beach towel to lay beneath it, and join the fun. You can read more about the classes and pre-register (it's required) on the Blandford Nature Center website.
Health and safety changes visitors can expect due to the pandemic:
All staff members undergo a health screening prior to coming to work at Blandford Nature Center.
The number of visitors inside the center is limited to 10 people, so you may have a wait to enter.
Visitors are being asked to stand 6 ft apart from others while they wait.
Visitors and staff members are required to wear a mask inside. Masks are optional outdoors as long as social distancing is possible.
There are hand sanitizing stations in the Visitor's Center lobby.
Blandford Nature Center asks potential guests to postpone a visit if they're feeling ill.
Blandford Nature Center will not be offering summer camps for 2020.
The Heritage Village buildings, some of which date to 1853, are closed, although visitors can still walk by and view them from the outside.
Blandford Nature Center is not currently taking reservations for their unique, spacious rental spaces but please check their website for up-to-date information.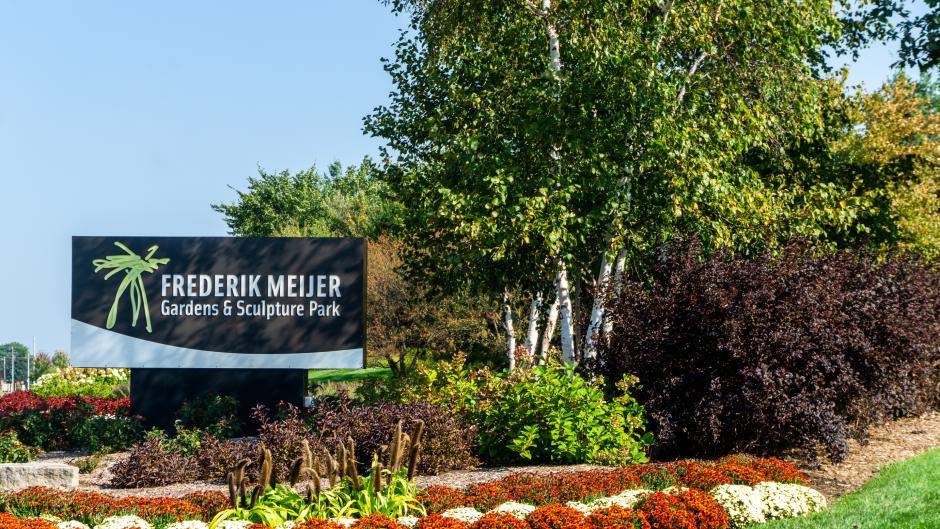 Social distancing won't be hard at Meijer Gardens' expansive outdoor sculpture park, but be sure to wear your mask indoors.
Photo Credit: Brian Craig for Experience Grand Rapids
---
Frederik Meijer Gardens & Sculpture Park
World-class Frederik Meijer Gardens & Sculpture Park has 158 outdoor acres, including 3.7 miles of walking trails for guests to explore, which are wonderful anytime but feel particularly roomy when we're all trying to stay six feet apart. While many things remain the same, the park has made some changes in response to the COVID-19 pandemic. 
"The main thing that guests will notice that's different is the entry procedure," says John VanderHaagen, Director of Communications for Meijer Gardens. 
In addition to clearly marking waiting spots that are six feet apart (which they've done wherever there's an opportunity for a queue), they've reduced the number of admission desks from six to three, allowing for more space between each one. They've also added plexiglass dividers as a further precaution. "Things change by the day and we're staying current," he explains. "We're doing everything we can to provide the best and safest guest experience possible. 
Indoors at Meijer Gardens, visitors can enjoy an arid garden, carnivorous plant house, an inviting tropical garden (my personal favorite), and rotating sculpture exhibits, all of which are currently open to the public.
Outside, you'll find sculptures integrated throughout its numerous horticulture exhibits, which include Michigan's Farm Garden, featuring a three-quarter scale replica of Lena (Rader) Meijer's childhood home; the tranquility and beauty of the Richard & Helen DeVos Japanese Garden; and much more. 
No matter how many times we go each year, my family loves seeing The American Horse and I, especially, love a scenic walk through the Japanese Gardens. If you have younger children, the five-acre Children's Garden is always a joyful place to explore.
Meijer Gardens is currently open every day of the week. Monday through Saturday, the park hours are 9 AM – 5 PM, except for Tuesday, when it closes at 9 PM. On Sundays, the park is open from 11 AM – 5 PM. The Taste of the Gardens Café, featuring a colorful Dale Chihuly glass ceiling sculpture, is also open, currently with a limited menu, limited capacity, and limited hours. The tram is also running with limited capacity. You can find the tram schedule here.
Health and safety changes visitors can expect due to the pandemic:
More clearly marked entrance and exit points.
Physical reminders of 6-foot spacing.
Reduction in the number of admission desks from six to three.
Plexiglass dividers at the admission desks.
Reduced capacity in the café and gift shop. 
Hand sanitizing stations throughout the park.
Visitors are encouraged to wash their hands frequently.
A mask is required inside the main building for visitors who are over the age of 2 and medically able to wear one, as well as outside if social distancing isn't possible. 
Water fountains (and bottle refill stations) are currently turned off. Guests are welcome to bring their own water bottles or other non-alcoholic beverages.
Currently, the Snell Gallery, Log Cabin, and Hoffman Family Auditorium are closed. For the most current information regarding enhanced safety procedures and a map showing areas that are temporarily closed, visit MeijerGardens.org/COVID.
The Summer Concert Series is cancelled for 2020.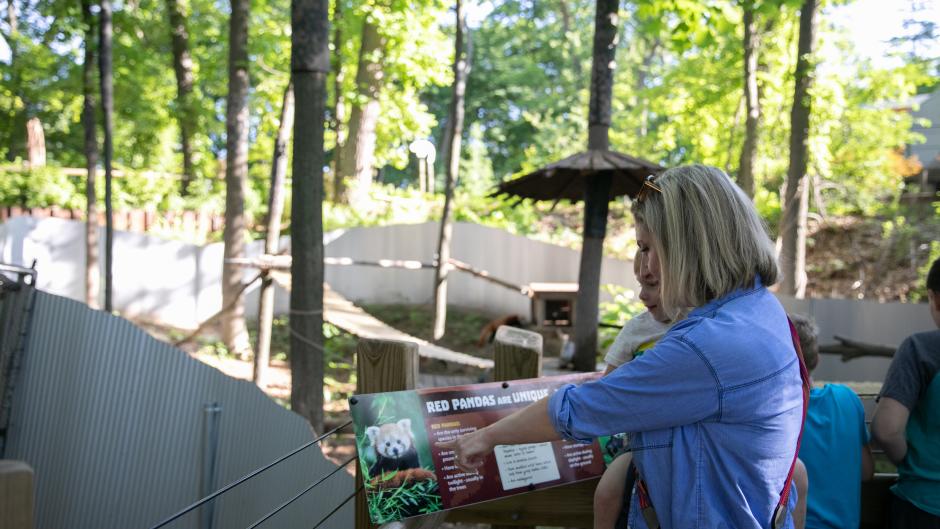 John Ball Zoo is now selling tickets online, and guests are encouraged to buy theirs in advance.
Photo Credit: Experience Grand Rapids
---
John Ball Zoo
Just two miles from downtown and home to more than 1,800 animals, John Ball Zoo is a wonderful setting to enjoy time outdoors. It's the kind of place where you can laugh at the chimpanzees playing in the Mokomboso Valley Chimpanzee Exhibit, and then walk a few steps and feel the powerful roar of the lions. 
I love watching the penguins dive in the aquarium and river otters swim in the North America exhibit—there's something about seeing them that always feels playful. With tigers, Grizzly bears, pumas, bobcats, the Idema Forest Realm, a petting zoo, and so much more, it's a wonderful environment to explore and learn. The sky trail ropes course and camel rides are also open. 
The zoo has established a new system for entrance tickets. "For the first time, we're selling tickets online," explains Mike Lomonaco, Chief Community Engagement Officer for the Zoo. You purchase a ticket for a particular entrance time, which helps the zoo manage the number of visitors in the zoo at one time. Once you enter, there's no limit on how long you can stay. "We're limiting capacity and we track when people come in and leave the zoo, so we can maintain that limited capacity." 
You can still purchase a ticket at the zoo entrance, but they may be sold out for the time you arrive, which means you'll have to wait. On the weekends, especially, online tickets have been selling out for much of the day. "We strongly encourage folks to go online to buy a reserved ticket, because that guarantees you have a spot to get into the zoo," says Lomonaco.
"We've also built a number of hand washing stations and installed a number of hand sanitizing stations throughout the zoo. Our goal was to spread them out throughout the zoo, so guests don't have to go too far without having the opportunity to wash or sanitize their hands," Lomonaco says. There are 24 new stations in all.
Health and safety changes visitors can expect due to the pandemic:
The zoo is limiting the number of visitors admitted, as well as the number of visitors in enclosed areas, at any given time.
Tickets for all guests must be purchased for a specific time slot. Online purchasing is strongly recommended.
All staff members are wearing masks.
Visitors who are medically able are required to wear a mask as they enter the zoo and in enclosed spaces like the gift shop and aquarium, as well as throughout the zoo whenever social distancing is not possible.
Hand sanitizing and hand washing stations have been set up throughout the zoo.
Visitors are asked to maintain a physical distance of 6 feet from other guests while they enjoy the zoo.
You'll see fun zoo-related signage reminding guests of the importance of social distancing, wearing masks, and cleaning their hands. 
The zoo is currently encouraging guests not to use cash for transactions.
The funicular and zip line are currently closed.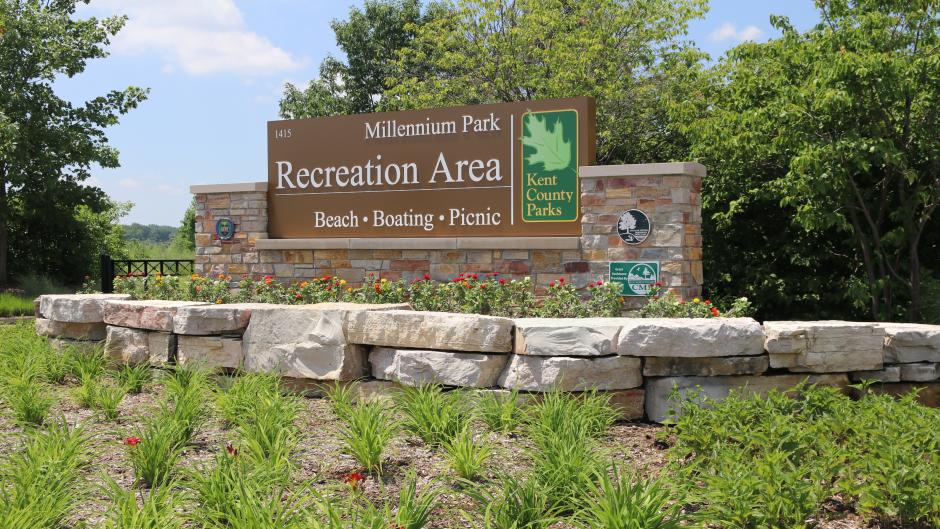 From the splash pad, beach, and trails to the pavilions and various boats for rent, there's no shortage of activities at Millennium Park.
Photo Credit: Experience Grand Rapids
---
Millennium Park
Millennium Park's 1,500 acres, with six miles of Grand River frontage, are located just southwest of downtown Grand Rapids and offer plenty of opportunity for socially distanced outdoor recreation.
Whether you'd like to relax at a man-made beach, entertain your kids, or get some exercise, this popular outdoor destination has you covered. Park features and amenities include a sandy swimming beach, beach house, a splashpad with more than a dozen sprayers, buckets, splashers and other fun water features, picnic facilities, play areas, and nearly 20 miles of paved trails for cycling, walking, running and in-line skating. In addition, visitors can rent kayaks, paddleboats, canoes, and rowboats at the DeVos Family Boathouse.
The park's Open Shelters and Grant Pavilion are available to reserve and rent for the summer of 2020.
Health and safety changes visitors can expect due to the pandemic:
Visitors are asked to space 6 feet apart on the nearly 7-acre beach.
Only 50 people are allowed in the splashpad at one time.
All employees are wearing masks.
In addition to Millennium Park, you can walk, swim and play at many other Kent County Parks. And our beautiful Lake Michigan shoreline beaches are a short drive away. The Grand Rapids area is also home to a number of hiking trails and biking trails, including the fairly level White Pine Trail, which stretches 93.5 miles, beginning in Comstock Park, about 12 minutes north of downtown Grand Rapids, and follows an old Penn Central railroad line north. The trail is paved for about 20 miles north from Comstock Park to Sand Lake, passing through the quaint town of Rockford along the way. If you ride, be sure to stop for ice cream at Custard by the Dam or a cold beer at Rockford Brewing.
These are just a few of the many outdoor recreation options in the Grand Rapids area. Be sure to leave us a comment with your favorite places to get outside while social distancing.