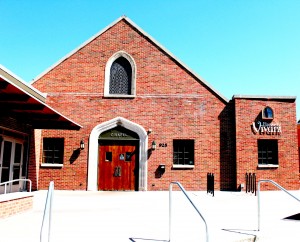 Picture this: You and yours amble into a cozy, dark pub and order a little something to quiet your growling stomachs. Before long, you're enjoying a cold Farm Hand beer and chatting with the others who share your long, rectangular table. Just when things the discussion gets interesting, your goat cheese and grilled asparagus sandwich arrives. Perfection!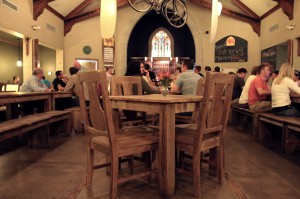 If this is your kind of scene, head over to Brewery Vivant in the East Hills neighborhood of Grand Rapids. There, you'll find people who care about the environment, their neighborhood, their employees, their customers, good food and good beer.
Jason and Kris Spaulding spent almost 5 years writing their business plan for Brewery Vivant, and opened their doors in 2010, just 9 days before the birth of their first child. Although both their son and their brewery are growing, the Spauldings' focus isn't on expansion. "This is more of a lifestyle we enjoy," says Jason Spaulding. "We want to do good things in our neighborhood, be profitable, and be good to our employees."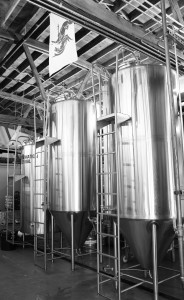 The business also reflects the couple's commitment to sustainability, a strength Kris Spaulding brought to the table from her business background. For example, although they've recently doubled their capacity to brew, they didn't have to expand their space. They thought about growth from the beginning and planned well. "We reverse engineered our brewery to fit the footprint," says Spaulding.
They also put a lot of thought into the beer. Inspired by the artistic freedom found in French and Belgium-style beers, they use yeast strains that come directly from Belgium and France. "We have a lot of subtle flavors in our beer," says Spaulding. "Some are peppery, some sour, some citrusy. These are flavors you don't find in traditional American beers."
Spaulding explains that in the old days just about every French family farm had a brewery, since beer was safer to drink than water. Each farmhand received a ration of beer and the farms with more popular beers started attracting attention. The breweries had fairly rustic conditions, which created the rustic, sour flavors that became synonymous with farmhouse-style beers. Farm Hand Ale is brewed in this tradition. Classic American beers, on the other hand--pure pilsners--have the opposite goal: they want to remove the rustic, sour flavor.
Beyond brewing great beer, Brewery Vivant also strives for excellence on the table. Choosing local sources for ingredients whenever possible, Brewery Vivant makes fresh food from scratch. Their specialty is pairing the beers they brew with the food they make: just ask your server or the bartender for a suggestion.
This is a perfect time to check them out. Grand Rapids was named Beer City USA 2012, one of the Top 25 Best Beer Cities in the World, and July is Michigan Craft Beer Month. If you're lucky, you'll visit Brewery Vivant while they're offering one of their wood-aged sour beers. They only make a limited amount of these and they go fast. "Our most popular," says Spaulding, "is whatever's new!"
Read other posts in this Craft Beer series: Beer City Pale Ale, Founders Brewing Company, Beer City USA 2012