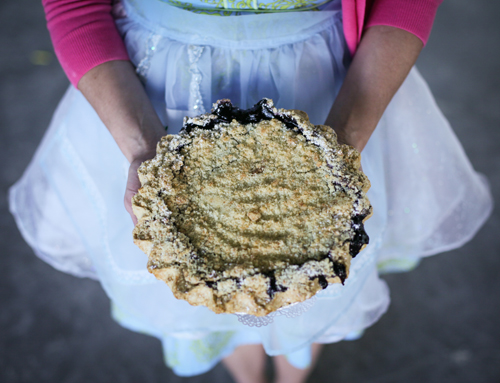 I'm frequently asked, "Where'd you learn to cook?" I'm tempted to say I spent a year in a tiny Parisian kitchen working through a stack of French cookbooks or was the star student at a prestigious culinary school or that I toiled away in a restaurant kitchen getting barked at and chopping onions. Nope. I grew up with a mother who loved to cook and a grandmother who lived next door and was always in the kitchen, enjoying herself. The love of cooking and eating became part of me.
This warm Spring weather, hatching into Summer, sends my mind back to the farm where I spent my first eighteen years. Around this time of year, I started checking my grandmother's cherry tree. The tree was conveniently located off a small staircase that led to their front door, so if I climbed up the side railings I could lean over and examine the flowers, buds, unripe fruit, and eventually, the bright red sour cherries.
As soon as they were ripe, we'd begin picking them by the basket full. I'd still be balanced precariously over the railing with one hand holding on and one hand picking cherries. My grandmother and I would run the cherries through an old-fashioned hand-cranked pitter in the sunroom. Now for the best part: we'd bake cherry pies, and of course freeze the extra fruit to use throughout the year.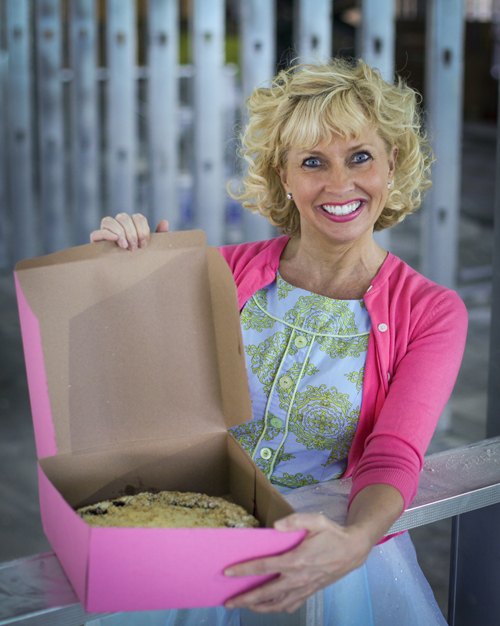 Let me introduce you to Linda Hundt, proprietor of Sweetie-Licious Bakery, one of the Downtown Market's newest tenants. She built a business on the foundation of stories like mine: memories that center on food, family, and love.
Linda Hundt, owner of Sweetie-Licious bakery, gathered up family recipes, nostalgia, and a talent for baking gained through coming of age in a family of home cooks preparing meals from scratch daily as an expression of love and art.
She took all that goodness and created a bakery that is so cute you want to pinch its cheeks, if only that was possible. The bakery is located in DeWitt, Michigan, about fifteen miles outside of Lansing. Good news, Grand Rapids: Linda and her team are opening their second location at the Downtown Market.
I'm temped to write on and on about Linda's positive energy and sunny disposition, but you've seen her photo and hopefully it conveys her spirit. From my experience, Linda is usually wearing an adorable dress, carrying a pie, and smiling.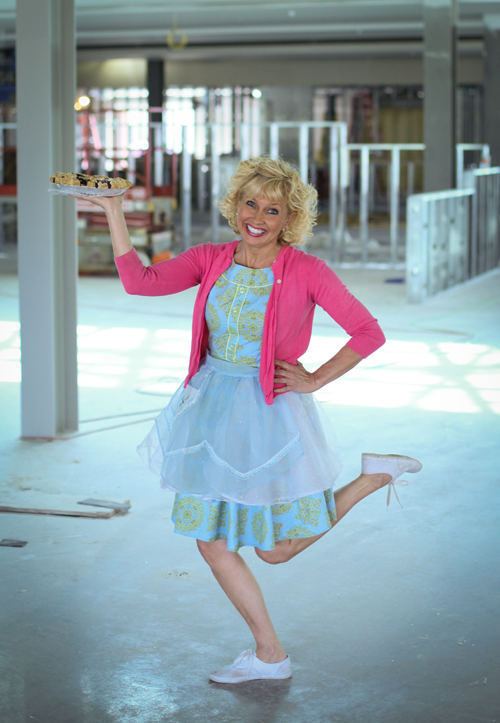 However, it wasn't always that way. Linda graduated from Michigan State University with a degree in elementary education. She considered culinary school but as was the norm a few decades ago, her mother steered her towards a career that would be conducive to raising a family.
Several years later, her husbands business went under, teaching jobs weren't available, and Linda began a career in politics that she maintained for fifteen years. Linda was depressed and uninspired and felt she was not living a purposeful life. "It got to the point with my depression that I had to sink or swim and I wasn't going to sink."
In 2002 Linda began baking pies fulltime and soon thereafter opened her bakery that she always refers to as "the cutest little pie shop in the world." She realized as a child that food and love are linked and she and her staff, clad in pink aprons and big smiles, love everyone who walks through the door.
Sweetie-Licious opening at the Downtown Market means we'll finally have a destination for pie in Grand Rapids. I don't still live next door to my grandmother and her cherry tree, but a good old fashioned slice of cherry pie will remind me of my roots in a form of edible nostalgia.
We're lucky to have Sweetie-Licious opening in Grand Rapids, led by an entrepreneur seeking a purposeful life and to spread love one pie at a time. In the meantime, while the cherries are ripening and were anticipating the Downtown Market opening later this summer, give Linda's Cherry Cherry Crisp recipe a try.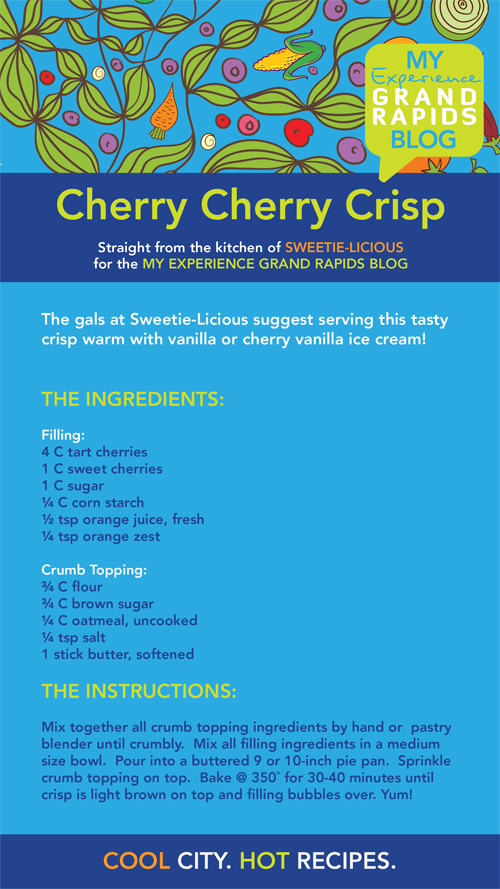 Guest Blogger Molly Clauhs grew up in Pennsylvania, studied Hotel Administration at Cornell University in Upstate New York, and then moved to Michigan to plant some roots, open a food truck, and get involved in the burgeoning food movement. She currently coordinates the leasing process for the Downtown Market Grand Rapids, where she works with small food businesses affording her an inside look at the foodie Mecca opening Summer 2013.
The Downtown Market features an outdoor farmers market, teaching kitchens, rooftop greenhouses, banquet and meeting space, full-service restaurants, office space, and a market hall featuring 24 permanent, year round food businesses to offer a main street shopping experience. Mollys blog series introduces you to the businesses that will be making the Downtown Market home and coming together to create an unparalleled destination for shopping and dining.
-Photos of Linda Hundt at Sweetie-Licious Bakery courtesy ofDavid Tilley, Downtown Market GR