When the snow piles up and the winter woods grow quiet, there is no better time to get out on snowshoes. Designed to keep hikers from sinking deep, and let them walk at an easy pace, snowshoes can open up a winter landscape filled with natural wonder.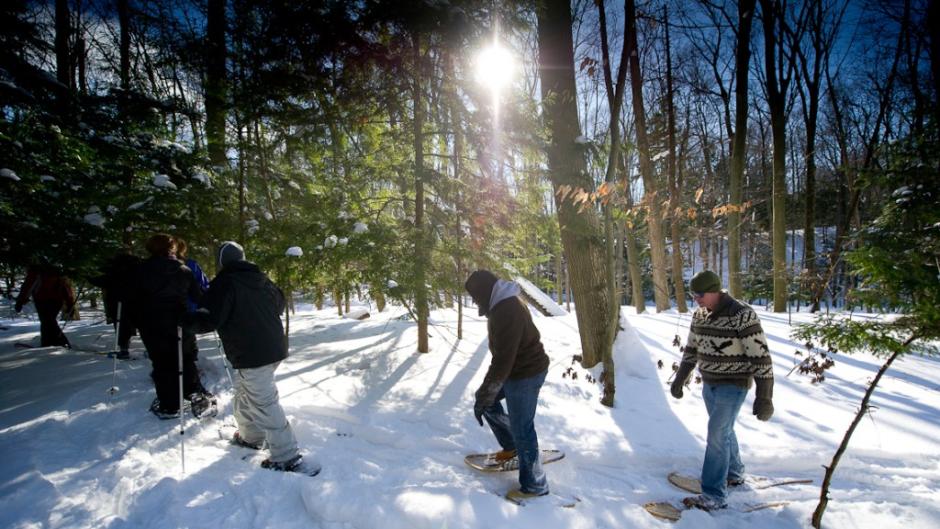 A group enjoys a guided snowshoe hike at P.J. Hoffmaster State Park where wooden snowshoes can be rented.
Photo Credit: Dave Kenyon, Michigan DNR
---
"We've seen where animals bed down and a few weeks ago we saw a snowy owl," says Elizabeth Brockwell-Tillman, interpreter at the Gillette Nature Center located at P.J. Hoffmaster State Park in Muskegon. "The park is one of a few places near Grand Rapids where guided snowshoe hikes and/or snowshoe rentals are offered."
"We usually go off the beaten path and cover two to three miles, but we go slow enough to cater to everyone," Tillman said. "We'll walk the entire base of Mt. Baldy and into a really pretty hemlock grove where sound is really buffered and often we see wildlife. We encourage people to bring snacks and hot chocolate, but we also have it waiting for them when we get back."
Several guided hikes are planned this winter at the 1,200 acre, park in the forested sand dunes along Lake Michigan. Snowshoes rent for $5 a pair and need to be reserved in advance. The park has 50 pairs available. Hikers who have their own are welcome on the hikes for no charge.
Approximately 4 million Americans went snowshoeing during the 2012/2013 winter season, according to a 2013 report by the Outdoor Industry Association, a national trade group. That number had been climbing steadily. Snowshoe Magazine reported that year that the number out snowshoeing surpassed the number cross-country skiing.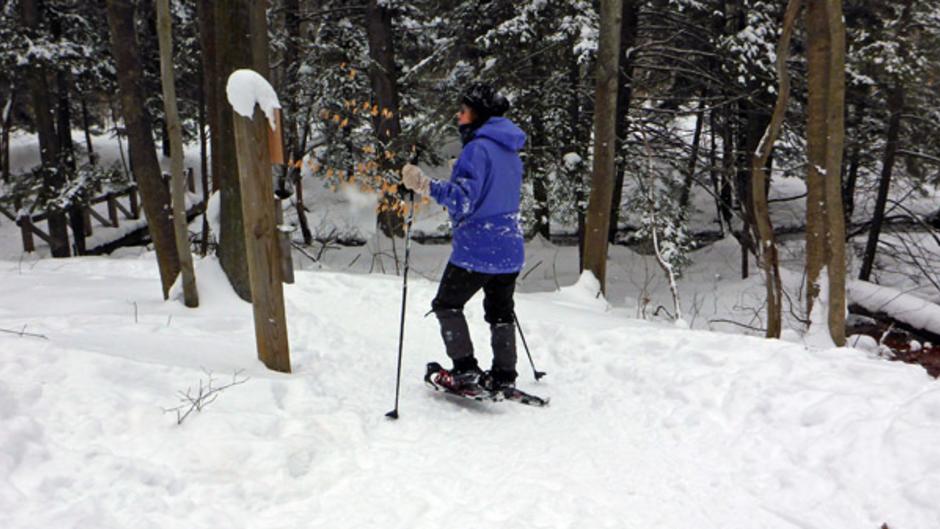 Snowshoe Trails
Photo Credit: Howard Meyerson
---
Snowshoeing's popularity has grown because of its simplicity. Strap them on and walk. It's just that easy. Hikers can wander on or off trail, through thick woods or thin and along intimate winter streams.
"We've seen its popularity grow. We had to purchase more snowshoes this year," said Kristen Hintz, interpreter for Ottawa County Parks.
The county offers snowshoe rentals at two of its parks. Pigeon Creek Park, at 12524 Stanton Street in West Olive, has 1.5 miles of snowshoe trail, 10- miles of groomed cross-country ski trail, and a warming shelter with food and beverages. Snowshoers are required to stay on the snowshoeing trail.
Hemlock Crossing, the county's snowshoeing hub, at 8115 West Olive Road, West Olive, has six miles of marked but un-groomed trails which are shared by snowshoers and cross-country skiers. The Nature Center there is comfy place to warm up by the fireplace. It has snowshoe rentals, hot drinks and snacks, and offers a huge picture window bird-observation area.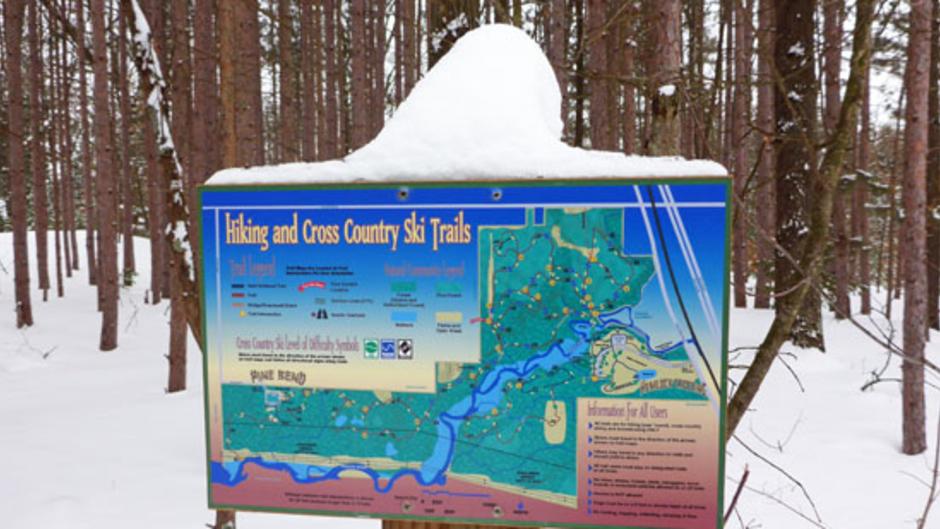 The trail system at Hemlock Crossing Park is well marked. Snowshoers and cross-country skiers share six miles of ungroomed trail, but snowshoers can readily go off-trail and explore.
Photo Credit: Howard Meyerson
---
Hemlock Crossing has a variety of terrain from flat along the river to hilly, Hintz said. "People can go where they want. There are small loops with hills and others that are nice and easy. They can also bring their dogs as long as they are on a leash."
Hemlock Crossing rents snowshoes for adults as well as young children. They can be rented for self-guided hikes through the 239-acre park. A two-hour rental costs $6. Advance reservations are needed for the guided hikes, but not to rent to walk the trails.
Guided snowshoe hikes are being offered this year for the first time. Two are planned at other Ottawa County Park properties: from 2 p.m. to 4 p.m. February 7 at Macatawa Greenspace, and 2 p.m. to 4 p.m. February 28 at Pine Bend.
Another popular area for snowshoeing is the trail system offered by the Muskegon Winter Sports Complexat 462 North Scenic Drive, Muskegon. There are three loops from easy to expert, leading hikers up through the woods, or out to Lake Michigan. Daily snowshoe rentals are $8 a pair.
And for those who want to try snowshoeing closer to home, at any Kent County park or city park, snowshoes can be rented right in town from Bill and Paul's Sporthaus, at 1200 East Paris Avenue Southeast. The store rents them for one day, three days, or by the week. Details can be found at billandpauls.com.
Never miss a post!
Subscribe to the Insider Experience blog.