Students at Kent Innovation High, a project-based learning high school located on the campus of the Kent Intermediate School District, took their learning to the street. Literally.  This year, sophomores in the KIH American Studies class taught by Mike Kaechele created an interactive Grand Rapids Civil Rights Tour. With twelve stops and corresponding student-read podcasts, the historical tour takes participants around Grand Rapids providing insight into the city's history.
Kaechele said he felt many thought the Civil Rights Movement was something that happened "down south" and wanted his students to learn about events in their hometown and compare it to the national Civil Rights Movement. With that goal in mind, the collaborative project was born.
Students researched a variety of events before choosing the featured twelve. Kaechele stated an integral part of the project was working with Tim Gleisner, head of Special Collections at the Grand Rapids Public Library who helped find relevant articles and books for the students to study.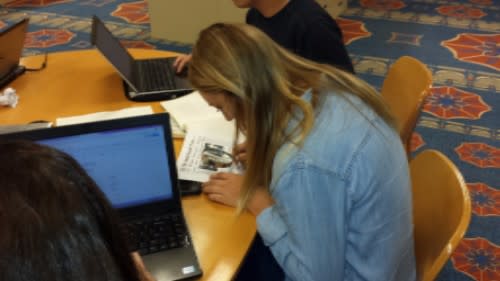 Students Researching Civil Rights History at Grand Rapids Public Library
Once research was completed, the students began to map the tour and create the podcasts to go along with the physical locations. The tour starts near the location of Robert W. Claytor, Grand Rapids Urban League co-founder and the first black doctor on staff at Saint Mary's and Butterworth hospitals practice. His wife Helen was the first black YMCA president and a notable figure in the local civil rights scene as well.
Other events and locations featured on the tour include the Lyman Parks statue commemorating Grand Rapids' first African American mayor and discussion of the Grand Rapids race riots in 1967.
"Working on this project taught me there was a lot more happening in Grand Rapids during the civil rights movements than I thought," said Kyle Brown, KIH student, and Grandville High School sophomore.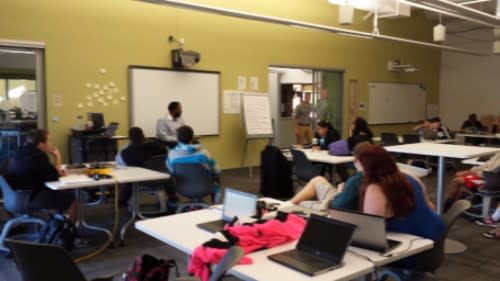 Students Listening to Cle Jackson, President of Grand Rapids NAACP
Encompassing nearly 15 miles, Kaechele recommends driving or cycling when taking in the full tour.  With beautiful fall weather ahead and so many locations to choose from, another option is to download a podcast, pick a location, take a walk and learn more about Grand Rapids' role in the civil rights movement.
"I didn't realize so many civil rights events happened in Grand Rapids," said Douglas Gale, KIH student, and East Grand Rapids sophomore. "Taking this tour gives people a deeper understanding of the specific event and Grand Rapids history."
With the success of the project, Kaechele said he expects to run it again with new students to expand and improve.
"Completing a project like the Grand Rapids Civil Rights tour demonstrates students can do real, historical work today and tell the stories of our community," Kaechele said. "Experiences such as these prepare students for the rigors of college and careers after high school."
Take a listen, take the tour and take in some Grand Rapids civil rights history.