The fun started even before we were inside the Grand Rapids Public Museum.
We easily parked in the museum parking ramp and were greeted by a trail of stenciled Dino prints. Our kids, ages 6 and 9, knew exactly what to do: Follow those prints!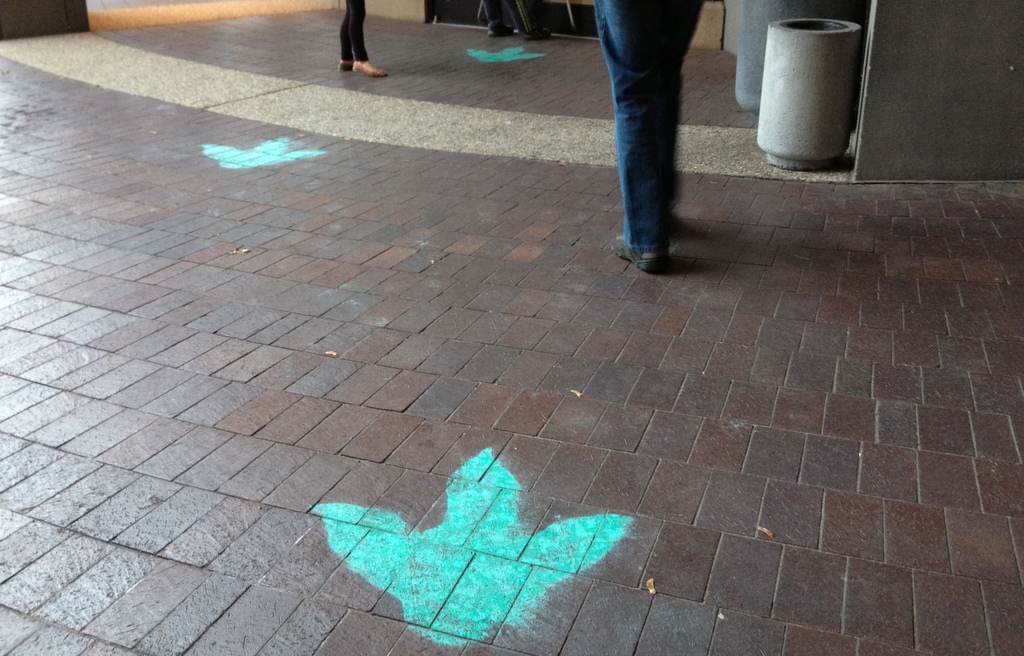 We landed at the museum a few minutes before it opened at 9am and our attention was immediately drawn to the gigantic Apatosaurus on the museum's front lawn.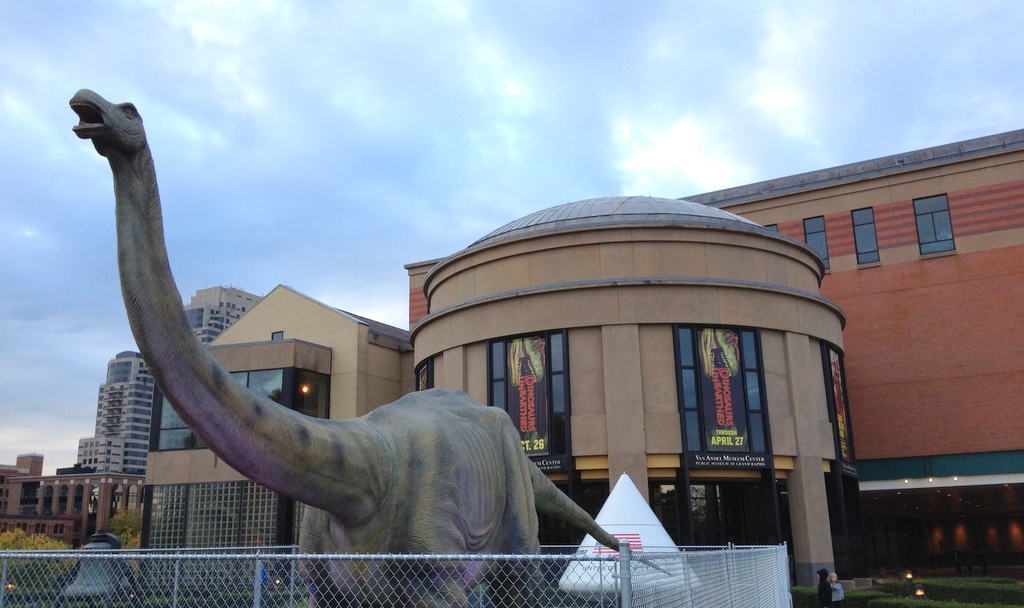 At first I thought it was a Brontosaurus, but when I mentioned this to my son, he told me that Brontosauruses weren't real. The Dinosaurs Unearthed display backed him up. Apparently, Brontosaurus was actually an Apatosaurus with a Camarasaurus skull incorrectly attached to the skeleton.
I soon learned that this exhibit was all about presenting the most up-to-date findings about dinosaurs. Who knew that some dinosaurs were furry or had feathers?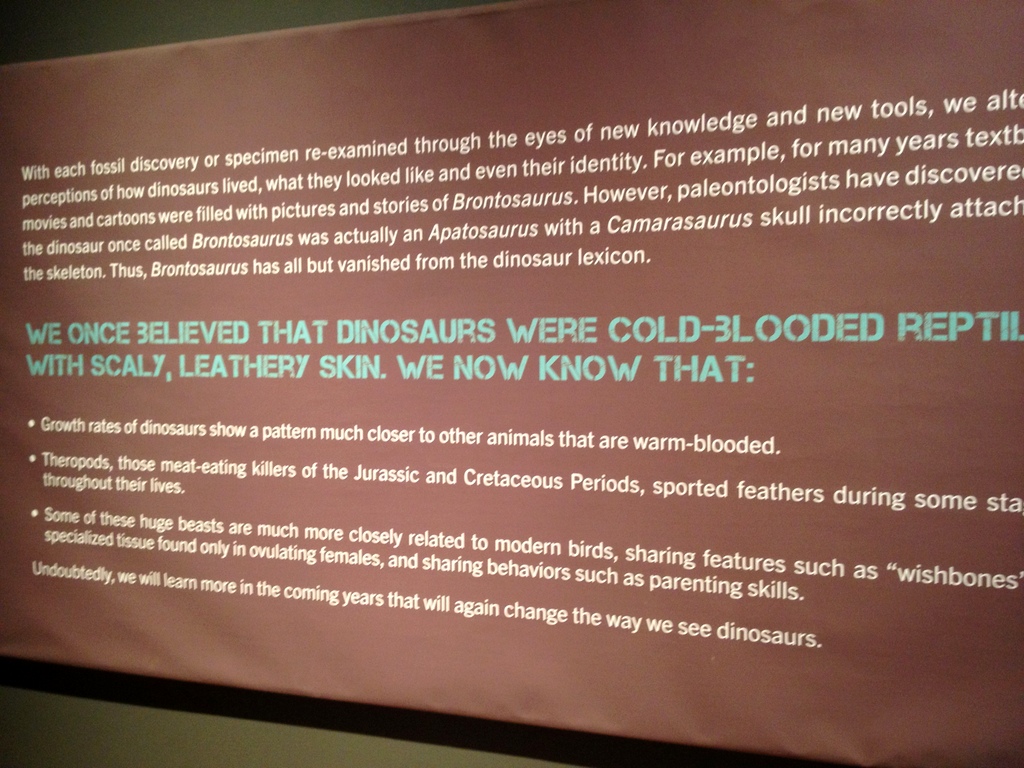 I laughed when a dinosaur moved its head and roared near my son. He jumped about five feet.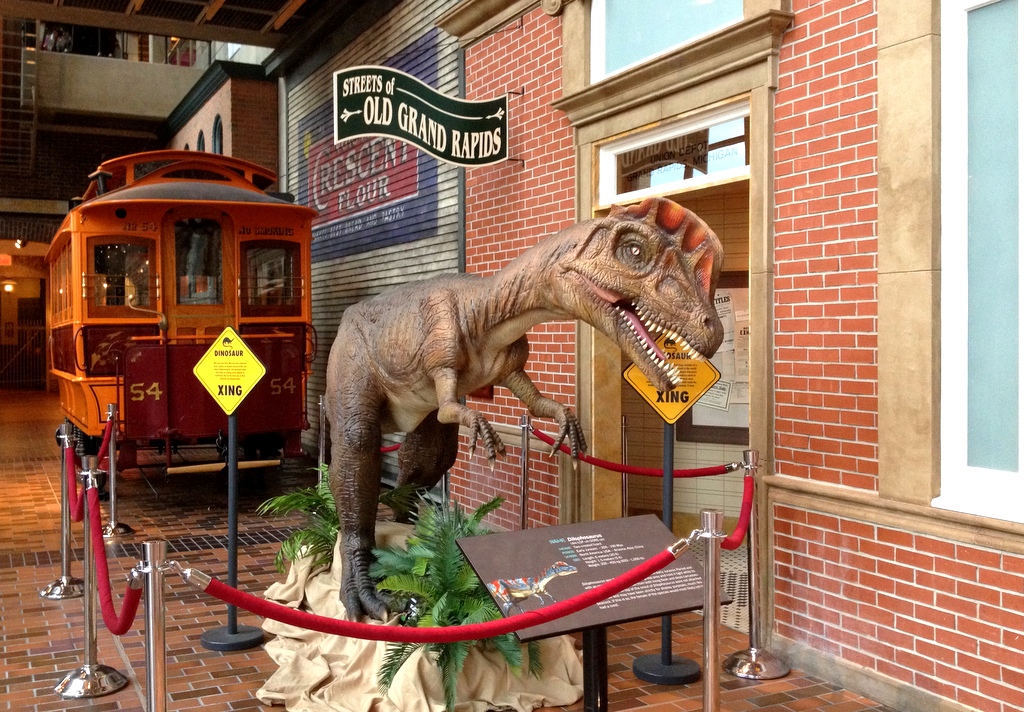 The dinosaurs are animatronics, programmed to move and sound as scientists believe they would have done.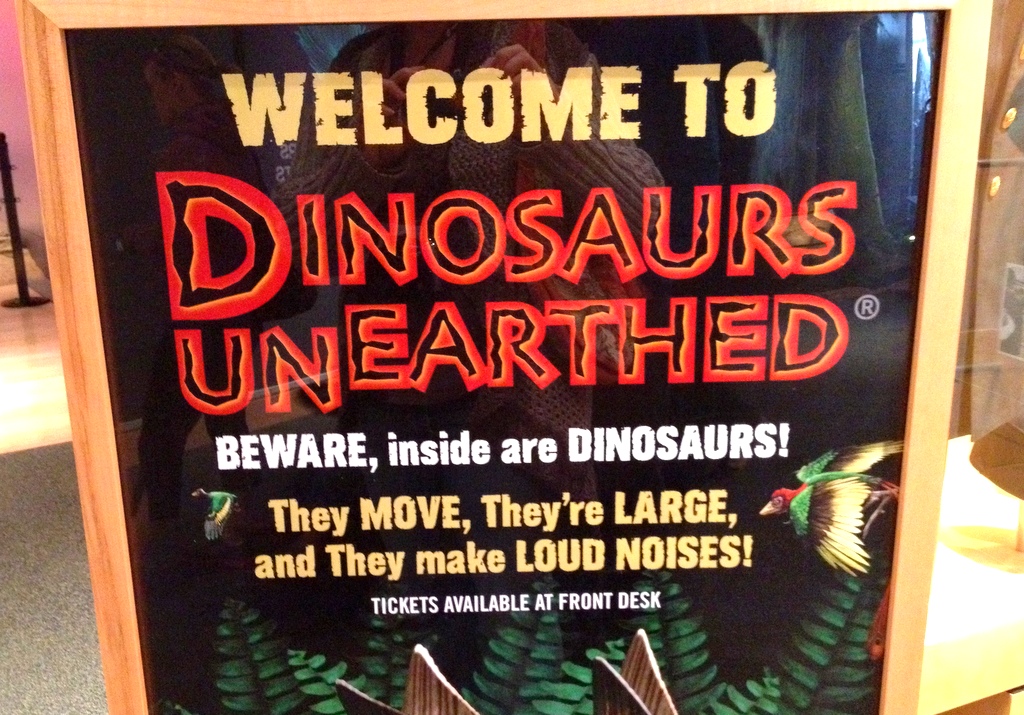 Stepping into the exhibit hall is an experience itself. The dimly lit room is filled with dinosaurs of all shapes and sizes. Lighting highlights different aspects of dinosaurs, large and small.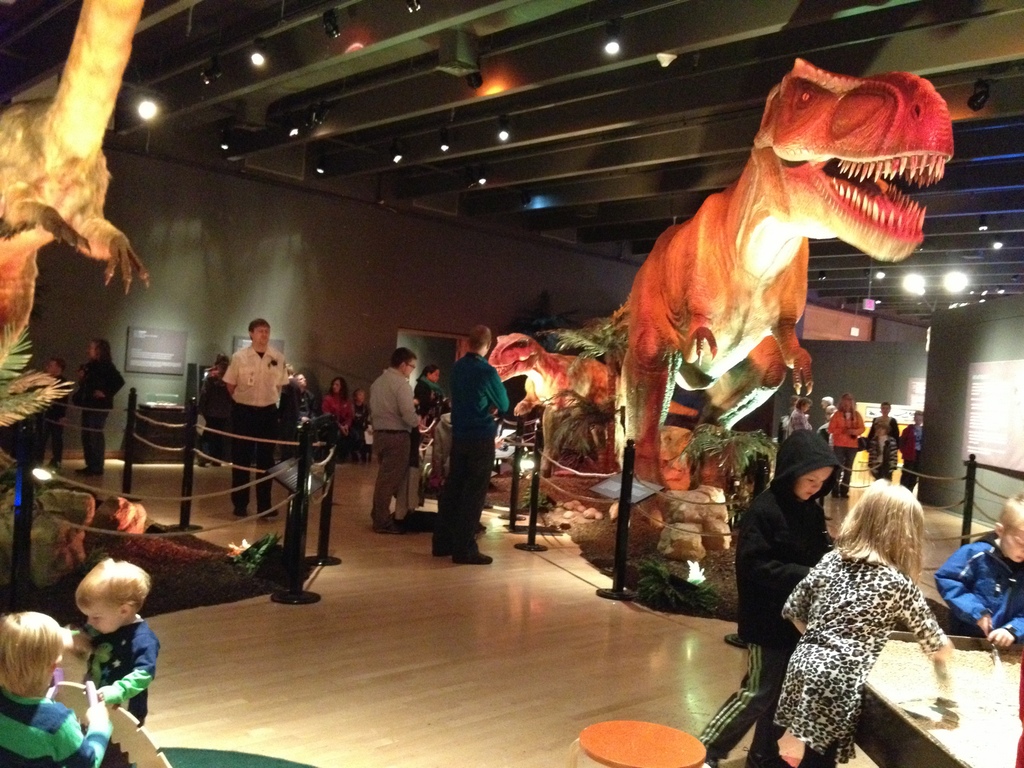 A path leads visitors through the exhibit, which is full of interactive stations and informative signs.
When we were near the T-Rex, I asked my son if this dinosaur was a carnivore or a herbivore. A chorus of kids around me chimed in with their own answer: carnivore!
If you're a T-rex lover, don't miss the fun photo opp.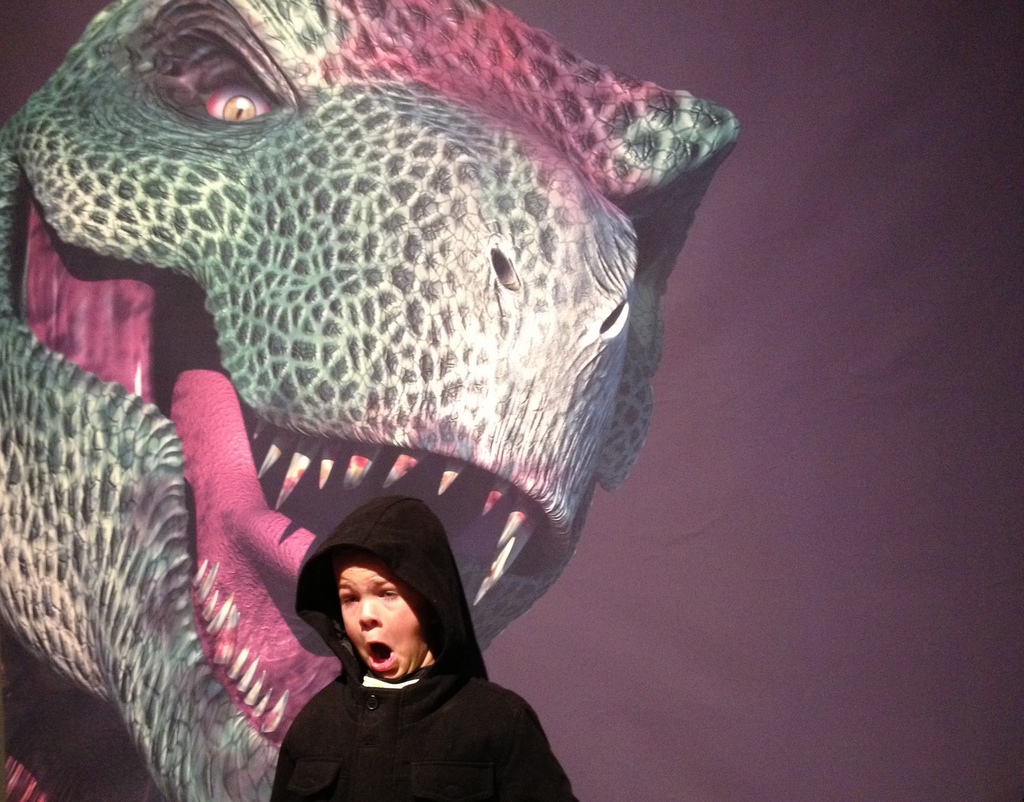 My daughter wanted to stay all day at the stegosaurus. Pushing different buttons made different parts of the dinosaur move.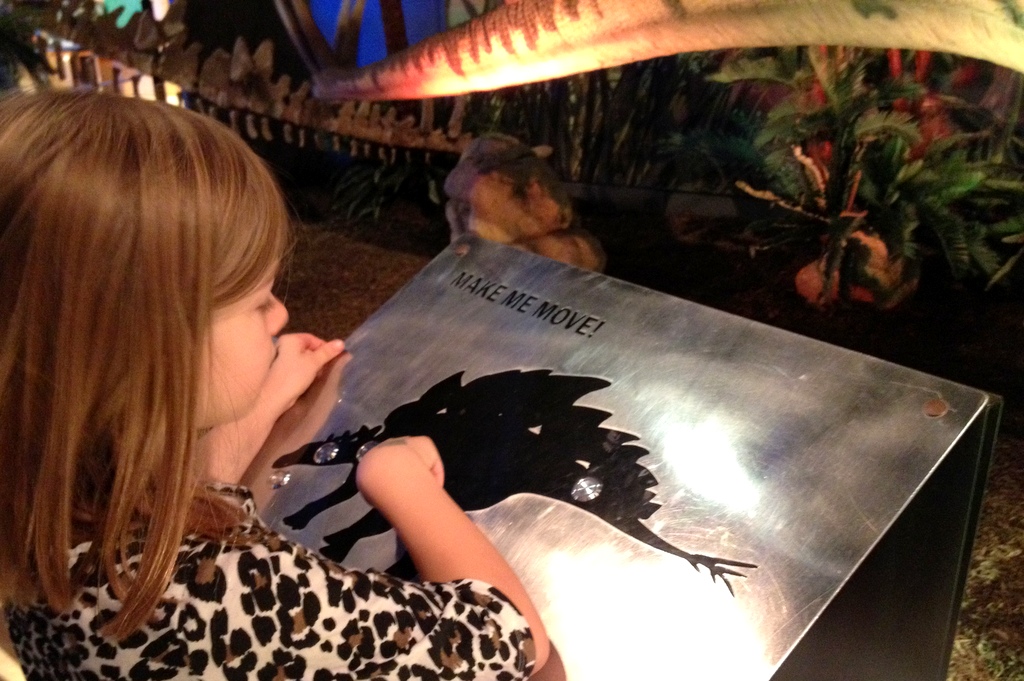 My kids especially love the iPads stationed throughout. Aiming an iPad at a target triggered an interactive dinosaur experience that kids of all ages could get into. For smaller kids it is helpful to have an adult hold the iPad so the child can tap the screen.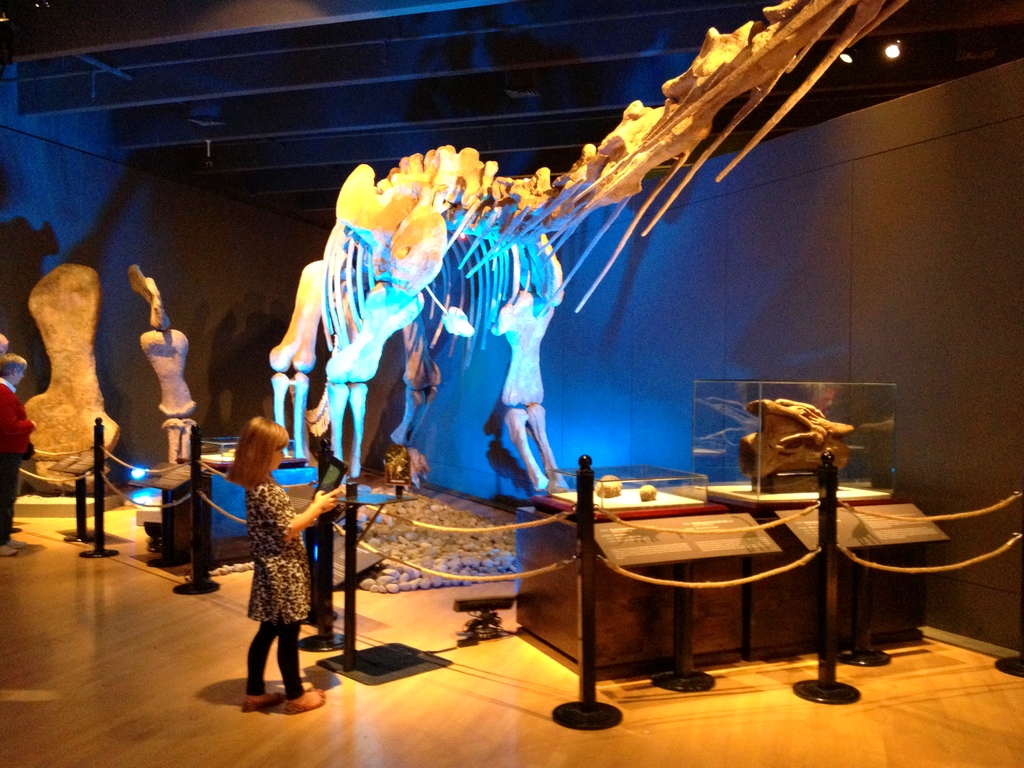 Everywhere we turned, there was something new to do or look at.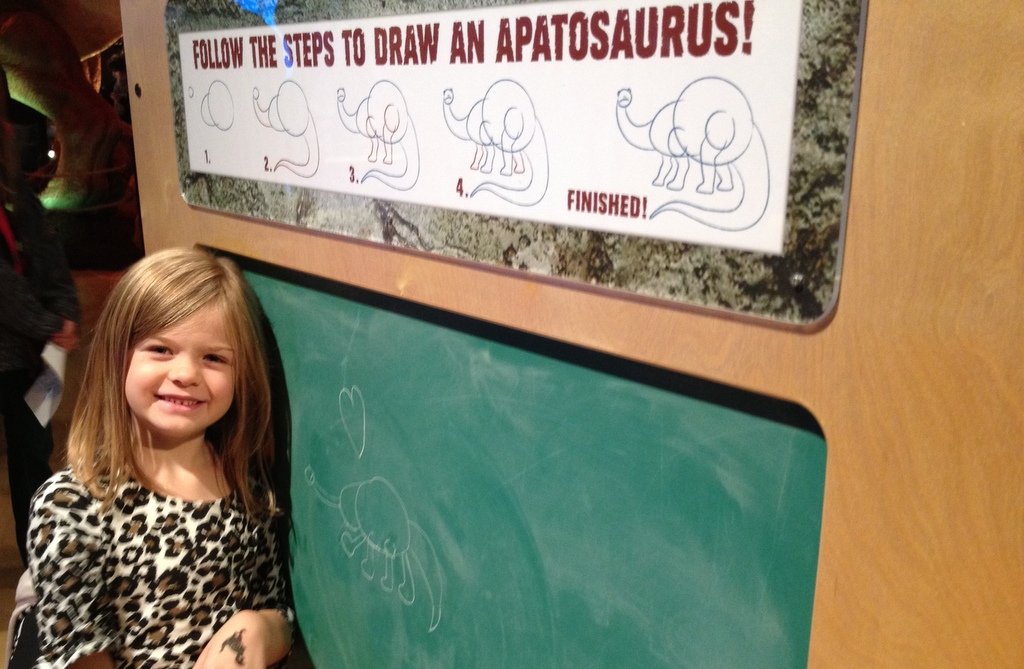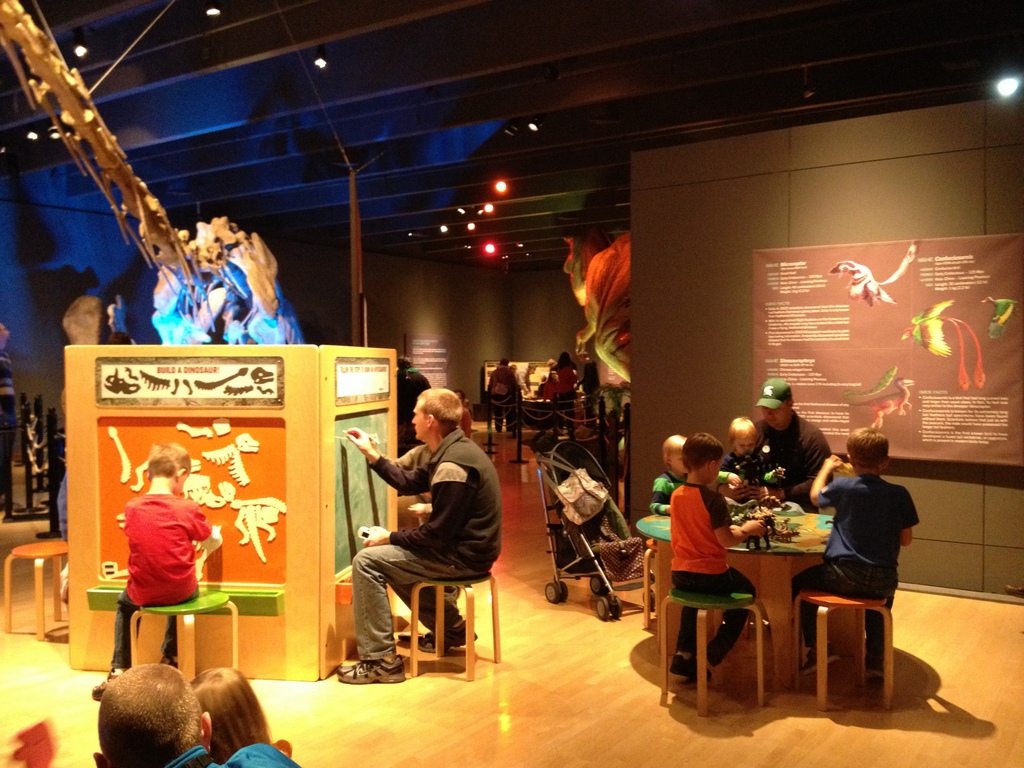 There is even an area where kids can do an archaeology dig!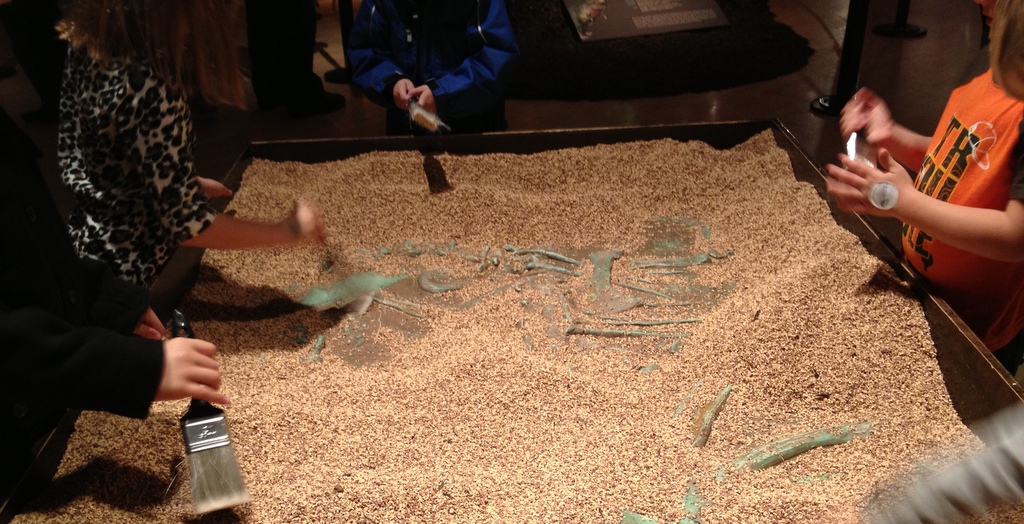 Our three year-old daughter decided to stay at home with grandma for this trip because she thinks dinosaurs are scary. I was interested to see how other kids in this age group would handle the exhibit. On our visit, I saw kids of all ages having a great time. The dinosaurs can be loud, so use your best judgment for kids ages 2-5.
We stayed at the exhibit for two hours with our six and nine year old, although I think we could've easily spent another hour if our schedule would've allowed.
The exhibit is stroller-friendly and very hands-on, so if your child is interested in dinosaurs, this is the place for you!
Exhibit Details
Running now through April 27, 2014.
Ticket Prices
Adult - $12 Senior - $11 Child (age 3-18) - $7 Member Adult / Senior - $2 Member Child (0-18) - FREE
Dino Late Nights: The Grand Rapids Public Museumwill be open late (to 8 p.m.) during the following times with special MEAL DEALS in the Museum Cafe:
November 4-6 January 20-24 February 17-21 March 17-21 April 7-11
Meal Deals include: Kids - Dinosaur shaped chicken nuggets with fruit, goldfish crackers and a beverage for $4.95 | Adults - pasta with cream sauce, Caesar salad, breadstick and a beverage for $6.95