It's that mouthwatering time of year again. This year's Restaurant Week Grand Rapids (RWGR) kicks off August 8 and runs through August 19. Peruse the menus of 75+ participating restaurants and make plans to Taste the City with specially priced lunches and dinners.
With so many restaurants and multiple course dining options, you'll have plenty of chances to savor meals with fresh, local ingredients.
Plus, when you dine at participating RWGR locations, you'll help fund the Restaurant Week Grand Rapids Scholarship – an endowed scholarship fund at the Grand Rapids Community College Secchia Institute for Culinary Education. The scholarship has provided more than $143,000 to students to date. For every RWGR meal sold at participating locations, $1 will be given to the RWGR Scholarship.
Let's get started:
Many restaurants are offering special pairings in addition to meal options. Divani is offering wine pairings to complement their Chef's Choice menu options.
Photo Credit: Divani
---
Choose Your RWGR Dining Option:
This year's RWGR will offer three dining options, including one new option:
Grab a Craft Beverage During RWGR
Chefs at several local breweries, a distillery and one cider producer are crafting amazing meals to accompany their beverages. Below are just a sampling of participating locations:
Atwater Brewing
If you head to Atwater Brewing, check out the sweet and spicy sriracha glazed bone-in wings appetizer; it's a perfect marriage between sweet and spicy.
Or, try Atwater Brewing's Seared Salmon option for the Chef's Choice dinner. This main dish is beautifully served on a bed of chard with roasted asparagus, carrots, and crispy potato wedges.
Vander Mill - Grand Rapids
At Vander Mill - Grand Rapids, you can enjoy a Chef's Choice dinner that includes three-courses plus cider pairings for $35 per person. You'll have a tough time choosing between the various entree options, including the Linguini and Clams with white wine and chili flakes, or the Pan-Seared Chicken Breast served with artichokes and potatoes. Top off your meal with a sweet dessert like Grape Pie or Peach Cobbler.
Long Road Distillery
For Long Road's two course dinner for $25, you can enjoy a first course of Shrimp and Chorizo served with carrot puree, pumpkin seeds (pepitas), and queso fresco, followed by a second course of flash-fried potatoes, lemon aioli, tomato sauce and calamari. And of course, don't forget to pair it with one of their artisanal cocktails from their regular menu.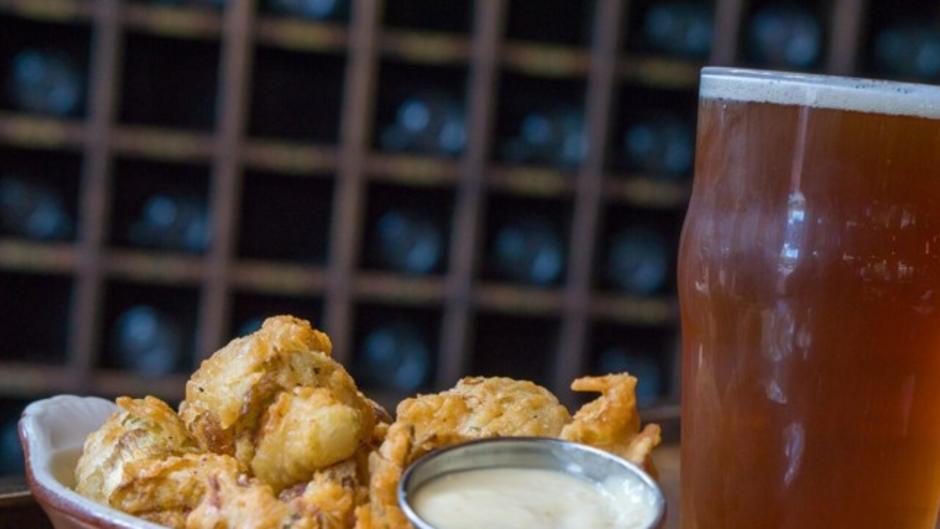 If you have a restricted diet, there are lots of options for you during RWGR, like these vegetarian fried artichokes from Grand Rapids Brewing Company.
Photo Credit: Grand Rapids Brewing Company
---
Vegan, Vegetarian, Gluten-Free and Nut-Free Menus
RWGR also has a variety of menu options that dietary restrictions, including nut-free, gluten-free, vegetarian, and vegan. Here are some ideas:
Breweries Around Town
Local hot spots including Grand Rapids Brewing Co., TwoGuys Brewing, and HopCat are all offering nut-free menus as well as vegetarian menus. If you're looking for vegan offerings, check out New Holland Brewing - The Knickerbocker's vegan scramble.
New Hotel Mertens
If you enjoy French fare, check out New Hotel Mertens, which also has one of the coolest looking historic bars downtown, not to mention their newly-opened rooftop bar, Haute. The RWGR lunch menu includes a tasty Vegetable Tartine prepared with grilled market vegetables served on a lightly charred baguette with balsamic mayonnaise.
SpeakEZ Lounge
SpeakEZ Lounge's Chef's Choice Dinner features couple of vegan appetizer options along with an amazing Moussaka Tagine entrée, made with smoked eggplant, roasted tomato sauce, chickpeas, and lemon for just $30 per person.
Divani
Divani is featuring a vegetarian/vegan option for each of the three courses offered for their Chef's Choice menu. For $39, you can enjoy their Lemon & Honey Panna Cotta and their Equites Ensalada of roasted corn, greens, house-made queso with a cilantro & cholula hot sauce. Both of these items are vegetarian and gluten free. Their third course consists of a vegan Thai Curry Stirfry consisting of seasonal vegetables and rice noodles in a coconut curry sauce. Pair each course with wine for $18.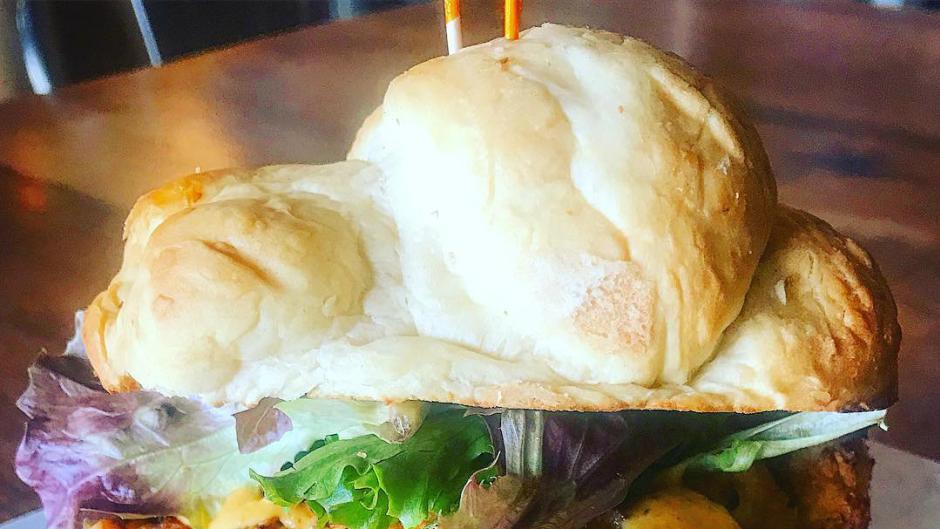 Thornapple's crispy chicken sandwich is featured on their RWGR lunch menu -- and it's part of their two courses for $15 special.
Photo Credit: Thornapple Brewing
---
Just Outside of Grand Rapids
There are dozens of fantastic participating restaurants downtown but also many in nearby communities. This handy map features all the locations so you can search by area. Here are just a few ideas to consider:
Ada & Lowell
A little less than half an hour east of downtown Grand Rapids are the quaint downtowns of Ada and Lowell – both fun locations to stroll and shop and then try a RWGR location afterwards. In Ada, you might try The Ada Pour House Gastropub (dinner) and if you're in Lowell, consider Big Boiler Brewing (lunch and dinner), and Flat River Grill (lunch).
Caledonia
Just southeast of Grand Rapids you'll find FireRock Grille in Caledonia. FireRock Grille's dinner menu includes an intriguing Summer Squash Soup made with pistachios and sunflower seed pesto.
Cascade
Both Thornapple Brewing and Cork Wine & Grill in Cascade have fun RWGR menus, including Thornapple Brewing's Famous Giant Pretzel and Beer Cheese and Cork's inspired Shrimp Fusilli, sautéed with heirloom cherry tomatoes, asparagus, artichokes & mushrooms in a roasted garlic white wine sauce, topped with feta, and served over fusilli noodles. Vintage Prime and Seafood (which is located within Cork Wine & Grille) is offering a Chef's Choice option, including Scottish Salmon Cakes featuring lemon chive aioli topped with caviar and a 12-ounce prime ribeye. NoCo Provisions will also offer a three course Chef's Choice menu, including some a la carte options like Duck and Waffles and house-smoked beef Short Rib Sandwich.
Comstock Park
Just north of Grand Rapids lies Comstock Park, which is home to Elk Brewing - Comstock Park and Amore. Elk Brewing will offer beer-battered Fried Okra and an all Angus beef burger topped with fixings, while Amore will be offering five courses for $29 (more on that below!).
Rockford
Head 30 minutes north of Grand Rapids and you'll find the quaint community of Rockford, which is home to the Rockford Riverside Grille. This year for RWGR, Rockford Riverside Grille will offer a tasty Peach Salad with Smoked BBQ Pull Pork. Yum!
East Grand Rapids
A bit closer to downtown in East Grand Rapids, Olive's Restaurant and Bar, Houlihan's, Rose's on Reed's Lake, and Carolina LowCountry Kitchen are serving RWGR menus. The latter is a fairly recent newcomer, getting rave reviews for its low country style fare. For RWGR, check out their Oysters Rockefeller appetizer and Low County Boil entrée, with Wild Gulf Shrimp, clams, mussels, crawfish, Andouille sausage, corn, redskin potatoes, and onion, all tossed in delicious garlic butter.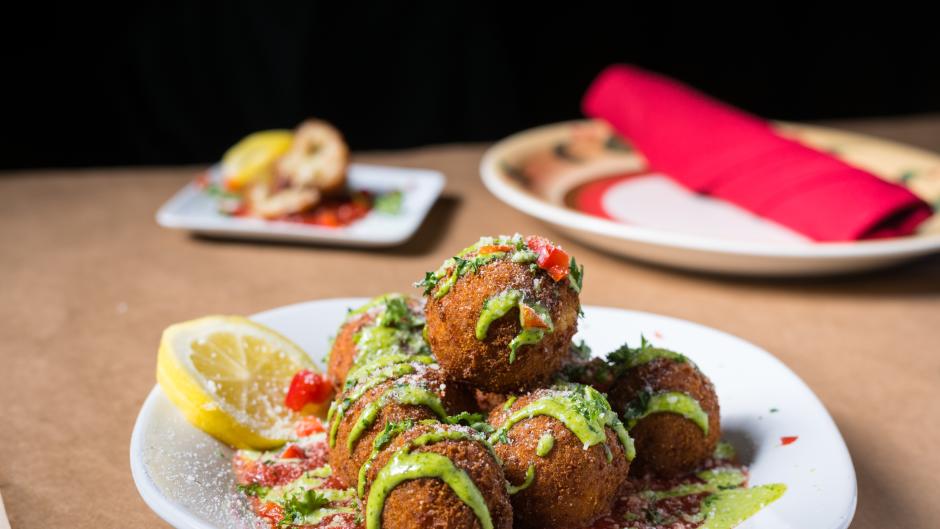 Amore has one of the largest Restaurant Week GR selections by offering a five-course meal.
Photo Credit: Experience Grand Rapids
---
Farm to Fork Menus
Fans of fresh, local fare will be thrilled to see 26 participating restaurants serving farm-to-fork menus during RWGR. Some ideas to excite your tastebuds include:
Amore
You can always count on Chef Jenna Arcidiacono at Amore to serve mouthwatering freshness and her RWGR menu is no different. Amore is offering a five-course meal for $29 per person and will have a gluten-free, vegan, and vegetarian choice for each course. You can make the evening even more special by choosing a wine pairing for an additional $15.
Butcher's Union
Butcher's Union is offering a two-course, farm-to-fork dinner that includes a unique and tasty Watermelon Salad appetizer and a Smoked Pork Ribs entrée served with wheat ale jus and seasonal vegetables.
Zoko 822
Among Zoko 822's tasty RWGR offerings is the farm-to-fork Croquetas de Jamon fritters made with Jamon Serrano and served with aioli, and the Pollo Basquaise, or braised chicken thigh served with chicken tomato stew and arugula.
With more than 75 participating RWGR restaurants, it's the perfect time to try new restaurants and explore the city at an affordable price.
Let us know in the comments where you're planning to dine during Restaurant Week GR 2018. We'll see you there!