When you enter the funky wooden exterior of Chez Olga in Eastown, you're met with a bright, cozy family-friendly interior with tantalizing smells. Olga Benoit grew up cooking in Haiti before coming to the U.S. She worked here for 14-15 years before she decided to pursue doing what she loved best by opening Chez Olga.
We talked to Olga about her restaurant, and its unique cuisine.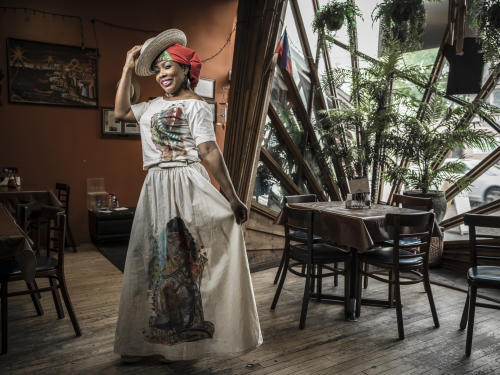 What do you love most about being a chef?
I love providing service and making people happy. As a chef, you expect feedback. When I see how customers react to my cooking, it makes me like to do what I do best.
Was there a moment when you knew you wanted to be a chef instead of something else?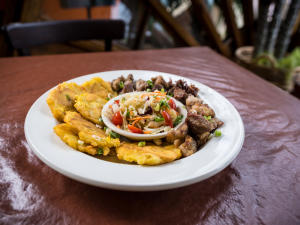 Since I arrived in the US [from Haiti], I was always volunteering and cooking food at church and school and for events. I was working and tired of driving 45 minutes from my house to work everyday. I felt like whatever I was doing was not working for me. I felt like, if I could try to come up with this business, I would be more happy.
I started cooking and taking pictures of the food and posting them on MySpace. I was just cooking at home and people starting asking where the restaurant was. A guy called me from north of Chicago. He was having 300 people at his wedding and asked me to cook for it. I said, "No, I'm not a chef, I'm just using my parent's recipes and posting pictures online." But he hired me to cook all the food for the weekend for 300 people. He had a licensed kitchen in the church, so he bought the food and I cooked. I still have those pictures and that video.
He called me a chef, so everybody asked me where they could get more food or how they could get me to cater for them. I thought, "This is what I want to do, I want to open a restaurant." I had no money, no credit at all! I started buying stuff at garage sales and stocking it up in my basement. We opened July 9, 2010—last month, it was 6 years ago.
How dinner is made at your home? Who shops for the ingredients? Who cooks? Do you plan the meals ahead of time?
My daughter works here with me. She's the manager and helps with everything. We eat what we make here.
What do you think sets Chez Olga apart and makes it special as a restaurant?
If you haven't experienced Chez Olga, I'd say you're really missing out. Just last night, four people rode their bicycles and stopped here for food. They liked it so much that they said, "We apologize that we didn't find you before!" That's what makes me want to do the best everyday. When someone says, "That's so good, I'm blown away by it," it makes me feel like I want to be better every day. We're also very friendly, we love what we're doing, and we love our customers. We've had relationships with customers for all six years we've been open. We know what to cook for them as soon as they walk in the door.
What kind of ambiance can diners expect at Chez Olga?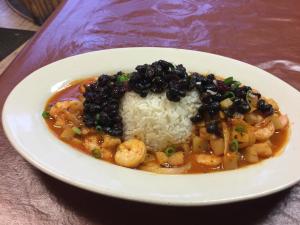 You walk in and feel like you're somewhere else. We don't have air conditioning, so it's warm in the summer. But there's also heat in the food, you can have spicy food here, by choice. When people when they come here they feel like they're not even in Grand Rapids. It's not fancy but it's warm and small. You can see the smiles on all the customers' faces.
When you decide what you're going to serve at Chez Olga, what are one or two factors you always take into consideration?
We like to get our customers involved in our changing menu. We make food and ask customers to taste it and tell us what they like better.
I'm from the Caribbean but our food is a mix of Creole and Caribbean, because even though Haiti is part of Caribbean, I'm Creole. We have things like fried plantain sandwiches, with a choice of beef or chicken or avocado. We expect you to come here to try something different and unique. If you want to explore new foods for yourself, something different, Chez Olga is the right place.
What type of food can diners expect at Chez Olga?
We start with appetizer. A popular one is fried plantain with spicy coleslaw. Then customers can choose form a soup or salad. For the main course we'll have lots of fish, vegetable, and chicken choices. You might want to try our goat ragu with mushrooms, onions, and a Creole sauce. You can have it with tilapia or shrimp instead of goat meat, if you prefer.
Chez Olga doesn't serve beer or wine but you're welcome to bring your own.
How would you describe the Grand Rapids' food scene how does Chez Olga fit into it?
Every five days it seems like a restaurant is opening in Grand Rapids; it's all about food. Grand Rapids is a place where people can find all kinds of unique foods.
Welcome families to come enjoy it. We're all about family, we know each customer, and if you come in to try us, you won't regret it. I'm waiting to cook for you.