Bright Autumn leaves, jack-o-lanterns, and mums are giving way to one of the best days of the year: Thanksgiving. Last year, I wrote about a locally-sourced from scratch Thanksgiving. Your cornucopia can be entirely sourced from West Michigan; from the turkey, to root vegetables, to apple pie. This year, we look to a few local culinary experts to inspire our Turkey day spread. Read on for three recipes perfect for the upcoming holiday and perhaps look back at last year's post for my Cran-Apple Sauce and Creamed Onions recipes.
Butternut Squash Caponata from Kangaroo Kitchen & Catering Chef Roman is known for his excellent catering services and bright, visually appealing, flavorful cuisine. On Roman's Thanksgiving table you won't find marshmallow-topped sweet potatoes, but you will find this, a seasonal, salty-sweet caponata. This cooked vegetable salad can be served in a polenta cup. To make it more akin to the classic, add diced grilled eggplant. Amp up the polenta with sun-dried tomatoes, chopped herbs, or blue cheese. Good thing we can count on Roman, an Aussie, to do Thanksgiving a little differently.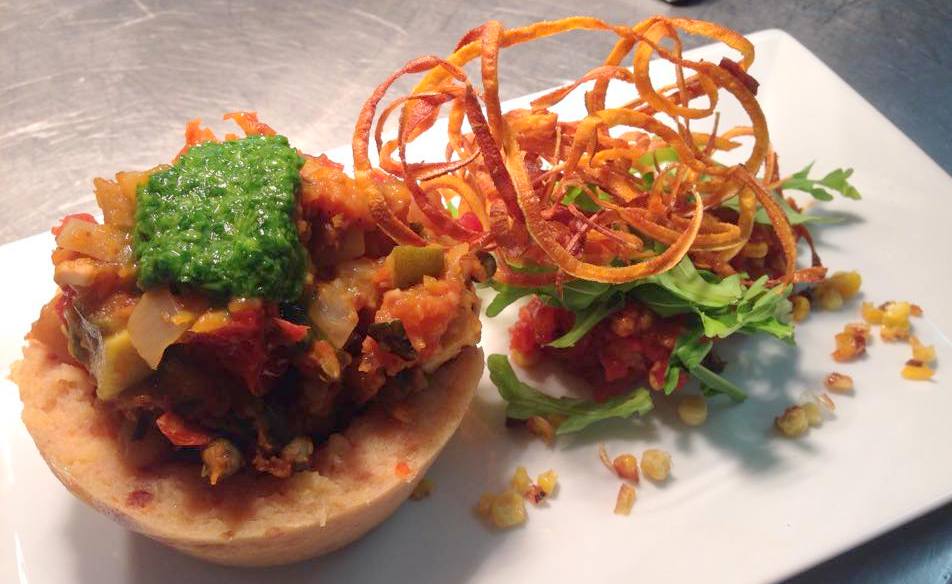 Butternut Squash Caponata

serves 6

1 butternut squash, peeled, seeded and cubed 1 med. onion, cut into 1/2 inch cubes 1 large fennel bulb, cut into 1/2 inch size pieces 2 garlic cloves, chopped 4 Tablespoons raisins 1/2 cup green olives 6 large tomatoes, diced 4 Tablespoons capers Extra virgin olive oil 2 Tablespoons balsamic vinegar 1/4 bunch, chopped parsley a touch of maple syrup

Put the raisins and vinegar in a small bowl and set aside.

Toss the butternut squash in olive oil and season with salt and pepper. Bake in a 400 degree oven for about 20 minutes or until soft. Heat oil in large saute pan, add onions and cook until soft, 3-5 minutes. Then add the fennel and garlic and cook until everything turns nice and golden, 5-7 minutes.

Then add the maple syrup, the vinegar, the raisins, the squash cubes, and a little salt and pepper seasoning to the mix. Reduce heat to medium and cook for a couple of minutes, stirring until the squash is all mixed in with the other ingredients. Then stir in the tomatoes, olives, and capers. Turn the heat down to low and cook uncovered until thick. The vegetables should be soft but not mushy. Add extra maple syrup and/or vinegar and salt and pepper to taste.

To make the polenta shell - cook polenta as per package instructions, then scoop soft polenta into a muffin pan. Make a well in the center of each muffin with a ladle. Allow to cool and solidify, and then turn out. Fill with caponata, and garnish with pesto or chopped herbs.
Stuffed Turkey Tenders from the Downtown Market Not everyone wants to prepare a 30-pound bird on Thanksgiving. This recipe from Chef Jacob of the Downtown Market's culinary education program, combines fall flavors with juicy cuts of turkey. The turkey roulade features a nutritious bed of swiss chard (the chard shown here was grown in the Market's greenhouse!) and white beans. If you're looking for more inspiration from the Downtown Market, check out the variety of holiday-themed classes they're offering, such as Thanksgiving Remix.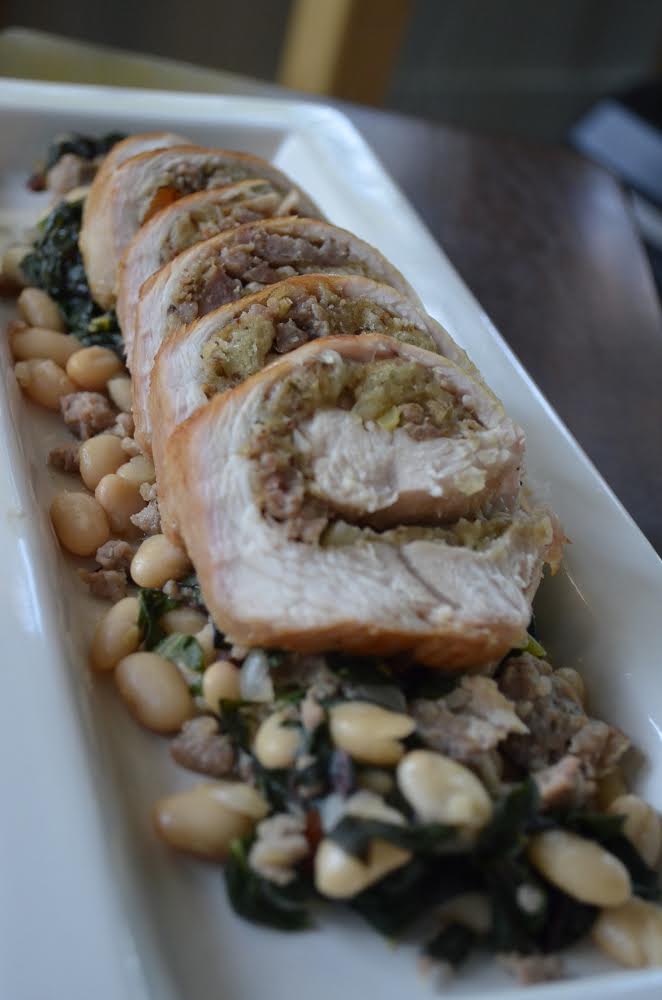 Stuffed Turkey Tenders
1 turkey tender or 1/2 turkey breast, 1/2 pound mild Italian sausage, 1 small onion, diced 1 rib celery, diced fresh bread crumbs 1 can great northern beans, drained and rinsed 1 bunch swiss chard, stems removed and sliced thin 1/2 cup chicken stock salt and pepper to taste

Place turkey breast or tender on cutting board and butterfly open by slicing parallel to the cutting board, about 1/2 inch thick. Continue to cut until almost through the meat. Open the meat like a book and repeat, starting in the center, working in the same direction as before. Season both sides of meat with salt and pepper.

In a large skillet, brown sausage with onion and celery until meat is cooked through. Remove 1/4 cup and set aside. Add bread crumbs and stock to remaining sausage mixture and simmer until all moisture is absorbed by the bread crumbs. Set aside to cool.

Once cooled, spread a 1/4 inch think later of stuffing over turkey meat and roll tightly. Secure with twine or skewers.

In a clean pan with 2 tablespoons vegetable oil over medium high heat, sear turkey on all sides and place in 375 degree oven until thermometer reads 165 degrees. Remove from oven and cover with tin foil to rest.

Return sausage cooking pan to heat with reserved sausage mixture. Add beans and swiss chard. Add small amount of stock if needed. Cook, covered until greens are wilted.

Slice turkey into 1/2 inch slices and serve on a bed of the beans and chard.
Apple Cheddar Pie from The Cakabakery The Cakabakery makes Grand Rapidians a little weak in the knees with their beautiful and creative (think pumpkin spiced latte cookies) baked goods.They're currently taking orders for Thanksgiving pies. But if you're inspired to do the baking yourself, try out this Cakabakery recipe for apple pie with a savory twist: cheddar cheese. This pie is especially delicious if you pick the apples yourself. And fresh whipped cream doesn't hurt, either.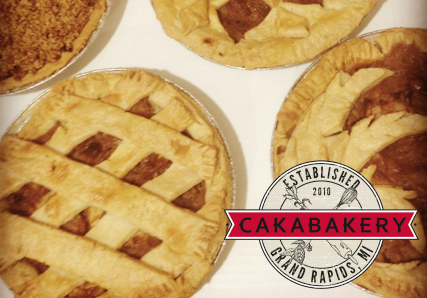 Apple Cheddar Pie
Crust: 12.5 oz flour, teaspoon salt, 3 oz shortening, 4 oz cold unsalted butter, 1 large egg, 2 teaspoons white vinegar, 1 Tablespoon cold water, 1 Tablespoon cold vodka, 1 Tablespoon sugar, 4 oz grated mature cheddar cheese

Filling: 4 oz brown sugar, 1-2 teaspoons lemon juice, 1 teaspoons cinnamon, pinch of salt, pinch of nutmeg, 1 Tablespoon flour, 6 granny smith apples peeled and cored, and sliced thinly oz unsalted butter

To make the crust: Combine flour and salt in large bowl. Cut the shortening and butter into small chunks and add to the flour mixture. Using a pastry blender or two knives in criss-crossing motion, blend the butter and shortening into the flour mixture until it resembles damp sand, with a few pea-sized pieces of butter and shortening remain. Cut in cheese until incorporated. Using a fork or whisk, beat egg with vinegar, water and vodka, Slowly pour the egg mixture over the flour, stirring only until the mixture is moist. Divide into two balls, wrap and plastic and chill for a minimum of 30 minutes.

Roll out crust on lightly floured surface until about 1/8 thick, place in pie pan using the rolling pin if needed. Repair any cracks with floured finger tips. Crimp the edge with fingers or fork tines.

To make the filling: Preheat oven to 425, mix sugar, lemon juice, cinnamon, salt, nutmeg and flour together. Place the apples in medium bowl, pour mixture over them and toss gently to coat evenly.

Assemble the pie: Pour apples into prepared crust and dot with butter. Add second crust to top and crimp edges or make lattice strips over the top. Bake for 10 min

Lower oven temp to 350 and continue to bake for 35-40 min or until crust is golden brown. Cool on wire rack for 1 hour.
We wish you all a delicious and fun-filled Thanksgiving. What will you be cooking this year?