When your grandmother's grandmother made quilts, she probably used fabric from chicken feed bags. But the quilting industry has come a long way since the 1800s, and today's quilters have myriad fabric options and lots of artistic choices.
Betsy Carlson, President of the West Michigan Quilters Guild, loves to discover what she can do with that fabric. Carlson believes she was created to create: sewing and quilting are her medium. Her desire to sew began as a young girl, but her mother told her she'd have to wait until junior high to learn. When Carlson was 16, she ordered a kit from a magazine and made her first quilt. She's been sewing something ever since.
Carlson says today's quilters can be artists, and they draw inspiration from many sources. "We love color and we love texture," she says. "We want to touch things. Some quilters create their own designs while others prefer traditional quilting patterns. Some machine cut their fabric; others use a rotary cutter. Either way, no quilt is the same. These aren't your granny's quilts," she says.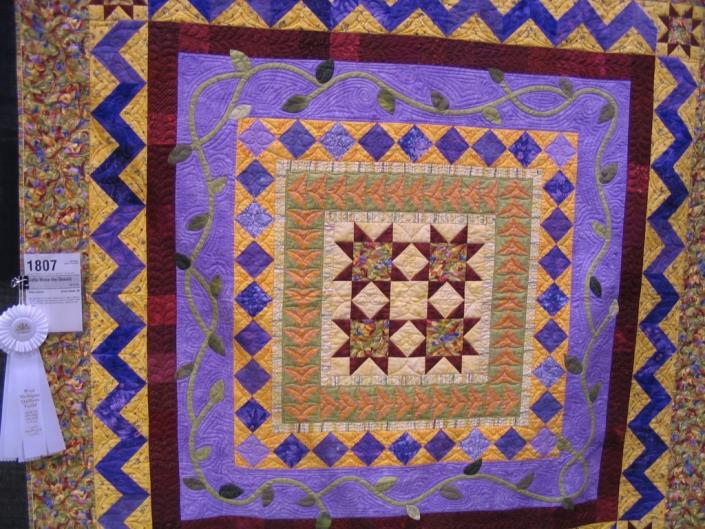 One of Betsy Carlson's award- winning quilts on display at the American Quilting Society Show.
Photo Credit: American Quilting Society (AQS)
---
Earlier this afternoon she was at a class with instructor Bonnie Browning, who writes, speaks, teaches and judges quilting. Among the quilting techniques she teaches is the Zentangle method, which encourages quilters to find beauty in shapes and then use them repetitively in their quilts. Outside during a break, Carlson noticed grass that hadn't been trimmed since winter. "When you look at the curved ends of the grass you can see patterns," she explains. A quilting friend of hers found inspiration in the lines of the roof, windows, and sidewalks of the greenhouse at Frederik Meijer Gardens. "There are patterns all around that we can use in quilting. I even find them in the floor of cathedrals when we travel to Europe!"
On August 22-25 you can see hundreds of these exquisite pieces of art at the American Quilt Society Show and Contest at the DeVos Center in downtown Grand Rapids. Expected to draw crowds of up to 20,000 people from around the country, AQS hosts a quilt contest that awards over $44,000 in prize money, offers classes for quilters, and includes special events like an afternoon of fashion and tea at the Grand Rapids Public Museum.
The Grand Rapids art scene has seen explosive growth in the past few years. The Grand Rapids Art Museum opened in 2007 and since its inaugural year in 2009 ArtPrize has drawn more than half a million visitors to the city to revel in the unique creations of the artists. The American Quilt Society Show and Contest adds another element to the artistic vibe in Grand Rapids.
Betsy Carlson is eagerly anticipating the excitement and energy of the American Quilt Society Show. "It's amazing what people can create with fiber as their medium instead of paint or clay," she says. "You can add so much texture with fabric. People are going to be wowed by what they see."