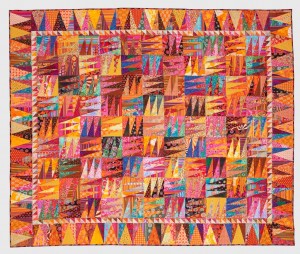 quilt by Jan Lewis, member West Michigan Quilters Guild
Its like being in a candy store! says Jan Lewis, local quilter and member of the West Michigan Quilters Guild, about the plethora of vendors wares shes looking forward to seeing at the American Quilt Society (AQS) Show and Contest. Shes not alone. In just a few days, over 15,000 art and quilting devotees are expected to check out the beautiful quilts, classes, lectures, fabrics, notions, and gadgets at the AQS Show, which runs August 22-25 at DeVos Hall in Grand Rapids. More than $44,000 in prize money will be awarded at the juried show.
Lewis began quilting about 30 years ago when she took a class at a quilt shop just a couple of blocks from her former home in New Orleans. She remembers her instructor as a dyed-in-the-wool old-time quilter who insisted that real quilts were handmade, so Lewis first quilt--which graced her bed for several years--was completely stitched by hand, including the backing. Although she didn't grow up quilting, her mother taught her to sew as a child and she won a ribbon in the local county fair around the age of 8. My mother never made a quilt, but my maternal grandmother, as it turns out, was also a quilter, says Lewis, so I guess you could say its in the genes.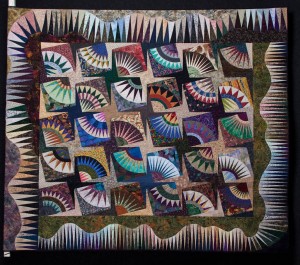 quilt by Jan Lewis, West Michigan Quilters Guild
Lewis favorite part of quilting is piecing the top, and she primarily uses published geometric patterns, but occasionally designs her own, most often when shes inspired by the natural beauty of flowers. Her quilt based on a photograph of bleeding heart flowers hung in the AQS Show in Nashville in 2007.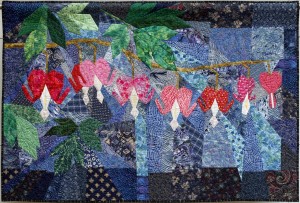 Bleeding Heart quilt by Jan Lewis West Michigan Quilters Guild
This year, you can see one of Lewis quilts, called Hot Flash, at the AQS Show in Grand Rapids. Its so-named because of its colors--bright orange, yellow, and hot pink--which Lewis loves. The quilt was inspired by fabric I bought that's designed by Kaffee Fassett,she says and the pattern was published in one of his very first quilting books. Its going to go on my bed after it hangs in the show. Lewis made the top and had professional longarm quilter, and fellow West Michigan Quilters Guild member, Terri Watson quilt it. Two other quilts quilted by Watson will also be in the show, as will one Watson did entirely by herself.
Click the names to read more articles in this series on West Michigan Quilters: Betsy Carlson, Sue Cortese, Terri Watson, Colleen Kole, and Joan Brink. Click here for details on the AQS Show in Grand Rapids.