Just because autumn is approaching and the summer heat will soon break, doesn't mean festival season is over. Grand Rapids has plenty of festivals and events to attend as summer draws to an end.
Here's a look at a few festivals to add to your schedule during late summer and fall:
Breakaway Music Festival
When: August 23 – 24
Where: Belknap Park 
The Breakaway Music Festival returns to Grand Rapids this summer. Breakaway Music Festival is an all-ages, two-day mix of hip hop, pop, and electronic dance music. Since Breakaway began a few years ago, more than 65,000 people have attended, making it the fastest-growing multi-city festival in the U.S.
Friday, August 23's lineup includes: Kaskade, Louis the Child, Troyboi, Herobust, Wax Motif, and more.
Saturday, August 24's lineup includes: Wiz Khalifa, Big Gigantic, Blackbear, Bryce Vine, Kid Quill, Mersiv, Emogee, and more.
A general admission ticket includes access to the Main Stage, Silent Disco tent, local food trucks, and vendors. One-day and two-day tickets are available for purchase. Dust off your dancing shoes and join in on the experience.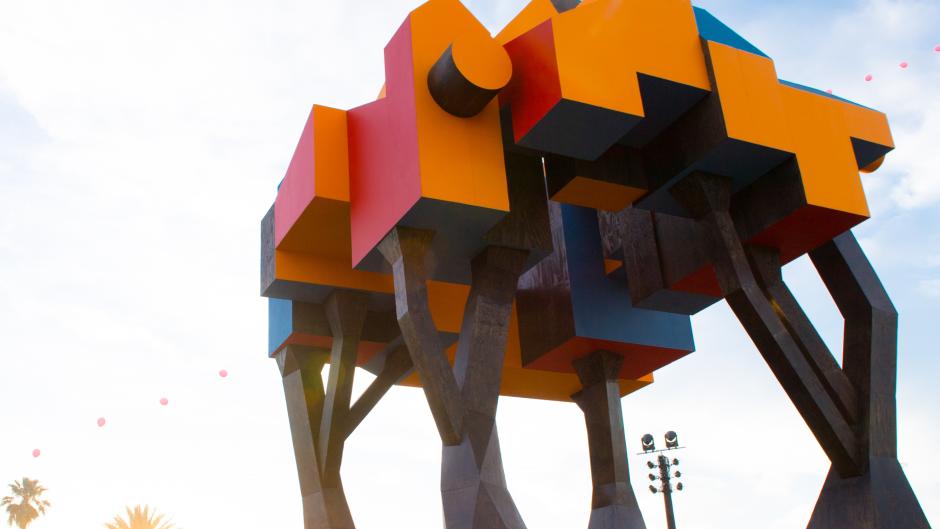 Olalekan Jeyifous is one of six artists creating large-scale works of art for Project 1. This is his piece, Crown Ether.
Photo Credit: Andrew Jorgenson, courtesy of Olalekan Jeyifous
---
Project 1: Crossed Lines by ArtPrize®
The creators of the most attended public art event on the planet are launching another art experience in Grand Rapids. Project 1, organized by ArtPrize, is the first in a series of citywide exhibitions of public art taking place in the years between the traditional ArtPrize competition. 
This year's Project 1 theme, Crossed Lines, will offer immersive art experiences in several outdoor spaces in and around Grand Rapids. These temporary large-scale pieces of public artwork take a deeper dive into the work of the five chosen artists. 
In addition to these commissioned art pieces, Project 1 will offer plenty of events and experiences for the public. More detailed information and a closer look at each of the artists can be found on the Project 1 page. 
Grand Valley American Indian Lodge Pow Wow
When: September 7 – 8
Where: Riverside Park 
Now in its 58th year, The Grand Valley American Indian Lodge Pow Wow showcases American Indian dances, crafts, music, and food. All American Indian organizations, tribal groups, and the general public are invited to participate.
The rundown of events are as follows:
Saturday, September 7:
10 AM: Craft Booths open
1 PM: Grand Entry
4 PM: Veterans Facility Presentation
5 PM: Participants Feast
6:30 PM: Grand Entry
9 PM: Auction
Sunday, September 8:
10 AM: Craft Booths open
Noon: Grand Entry
4 PM: Closing Ceremony
The pow wow is a family-friendly event with free admission and free parking. No pets are allowed.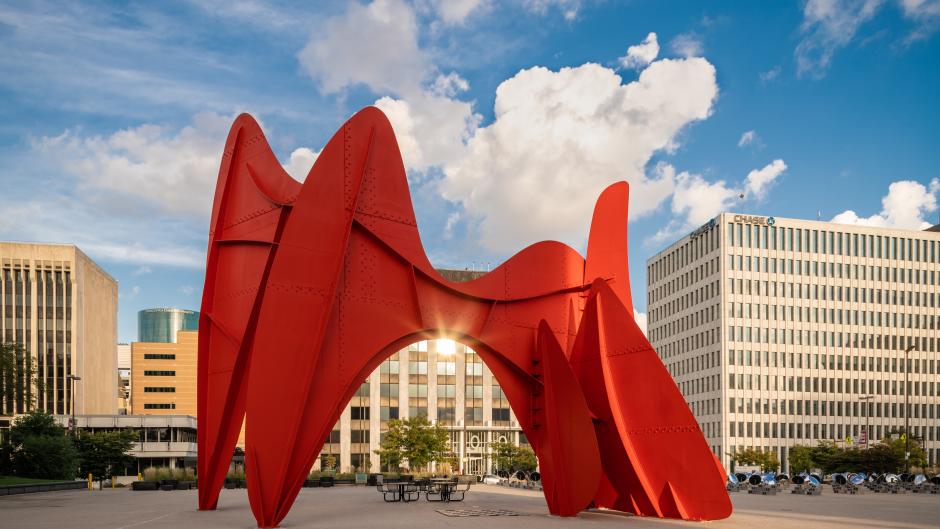 The Mexican Heritage Association Fiesta Mexicana takes place September 13 - 15 at Calder Plaza.
Photo Credit: Experience Grand Rapids; La Grande Vitesse Alexander Calder
---
Mexican Heritage Association Fiesta Mexicana
When: September 13 – 15
Where: Calder Plaza 
In 1969, a group of Mexican women had the vision of creating a festival of charity as a way of sharing their cultural heritage with West Michigan. That festival lives on, known today as Fiesta Mexicana. 
Join the Mexican Heritage Association for this free, 50th-anniversary celebration. Fiesta Mexicana is open to everyone and includes entertainment, food, artisan vendors, and family activities. 
African American Arts and Music Festival
When: September 21
Where: Martin Luther King, Jr. Park 
The African-American Arts and Music Festival explores some of the cultural heritage of Grand Rapids and West Michigan. This free, family-friendly, day-long festival celebrates the outstanding contributions of African-American artists. Various artists will immerse the community in visual and performing arts, local and national music, dance, and plenty of food, all reflecting the diversity of the African-American community in Western Michigan.
In addition, an art exhibition, Shades of Blackness: An Exhibition of African American Artists will coincide with the festival. Shades of Blackness features work from African-American Artists from across the U.S. Hosted at DeVos Place Convention Center, the exhibition will be on display from September 7 – October 4, 2019.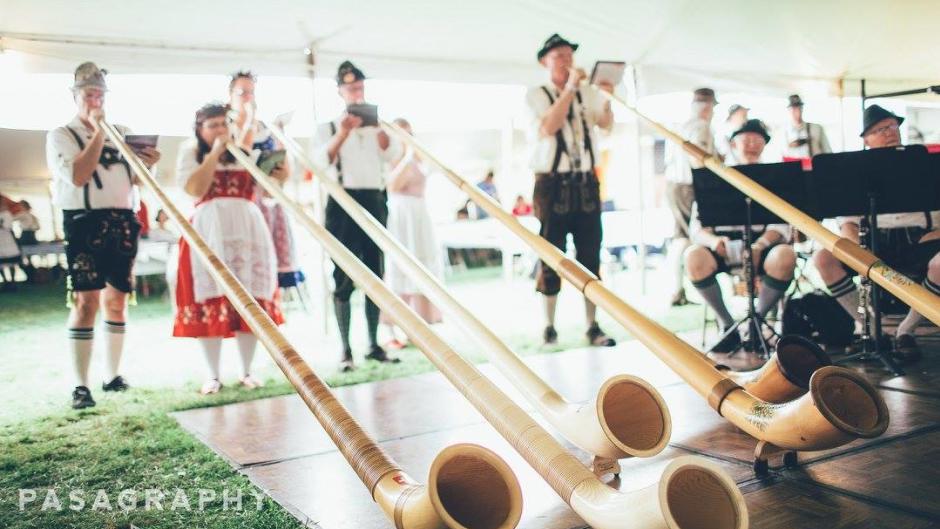 The annual Oktoberfest Grand Rapids takes place at John Ball Park.
Photo Credit: Pasagraphy, courtesy of Oktoberfest Grand Rapids
---
Oktoberfest Grand Rapids
When: September 27 - 28
For two days in late September, Southern Germany comes to Grand Rapids, dubbed "Beer City's only Bier Festival." Join the Edelweiss Club for two days of beer, food, live music, and plenty of dancing. Be there when the gates open, Friday at 5 PM and Saturday at noon, to hear alphorns announce the start of Oktoberfest. 
All proceeds from this family-friendly event benefit Kids' Food Basket, which fights childhood hunger throughout West Michigan.
Brews in the Grove
When: October 19, 1PM-5PM
The Beer City Brewers Guild is hosting their first annual Brews in the Grove which will take place at Riverside Park from 1:00pm to 5:00pm. The event will feature unique beers from the brewers of Grand Rapids as well as entries from the Pro-Am competition. Because both pair so well with beer, Brews in the Grove will also feature a DJ and food trucks. You'll need to purchase tickets to get into the festival and to sample beer. Stay tuned to the Beer City Brewers Guild Facebook page for more details.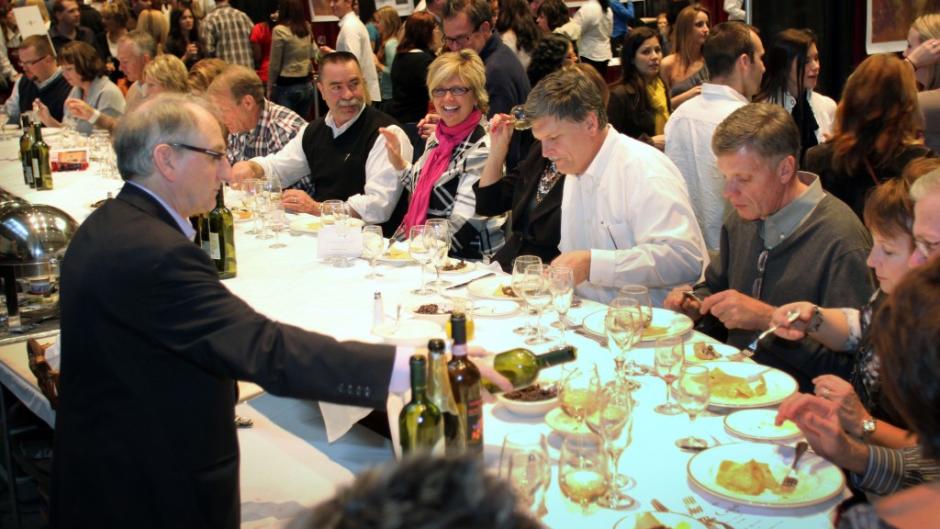 Savor local and international beverages and enjoy tasting dinners during this annual festival.
Photo Credit: ShowSpan, Inc
---
International Wine, Beer & Food Festival
When: November 21 – 23
Where: DeVos Place
Each year, Cocktail Week Grand Rapids (November 13 – 24) ends on a high note because its last weekend coincides with the International Wine, Beer & Food Festival.
In its 10th year, the International Wine, Beer & Food Festival is a celebration of all things food and beverage. Those ages 21 and older can eat and drink their way from booth to booth with a single-day ticket or a discounted three-day pass. 
West Michigan foodies can also purchase tickets for tasting dinners and classes throughout the festival. 
If none of these festivals fit into your schedule, there are plenty more events to choose from. The Experience Grand Rapids calendar has complete listings of everything going on in the greater Grand Rapids area. 
Do you have a favorite late summer or fall event? 
Let us know in the comments which upcoming festival you're planning to attend.
Don't miss a post!
Sign-up for the Insider Experience blog.