The weather is warm, the ice cream trucks are circulating, and the kids are home from school – but not for much longer! The end of summer is around the corner, and it's never too soon to look ahead at what's going on around the city. It's a time to enjoy Grand Rapids at its best, so here are some unique late summer and fall festivals to add to your autumn schedule.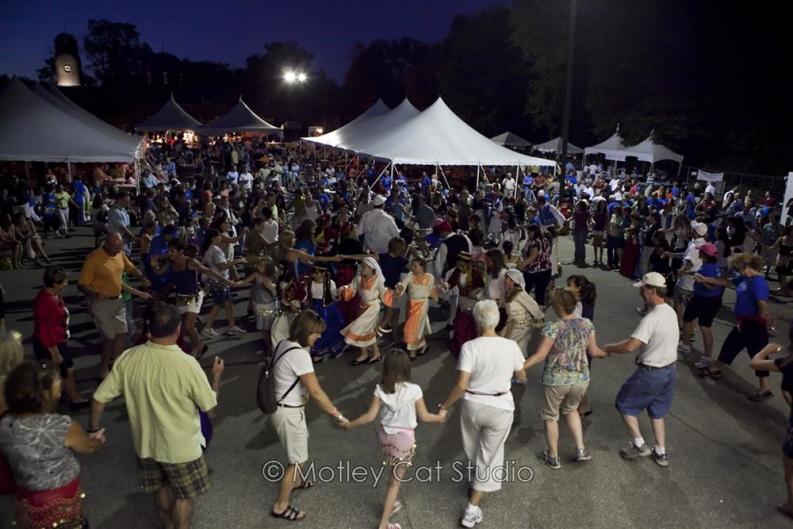 Going to Yassou! Greek Cultural Festival? Bring your dancing shoes.
Photo Credit: (c) Motely Cat Studio; courtesy of Yassou Greek Festival
---
Yassou! Grand Rapids Greek Cultural Festival
When:
August 18 - 20
Where:
Holy Trinity Greek Orthodox Church
330 Lakeside Drive NE, Grand Rapids, MI 49503
The true name of this festival is "Yassou," which means "welcome!" The Greek Orthodox Church welcomes everyone to experience the dancing, gifts, and food of traditional Greek culture with dance lessons, Greek cooking classes, live music by The Levendes, and a children's play area.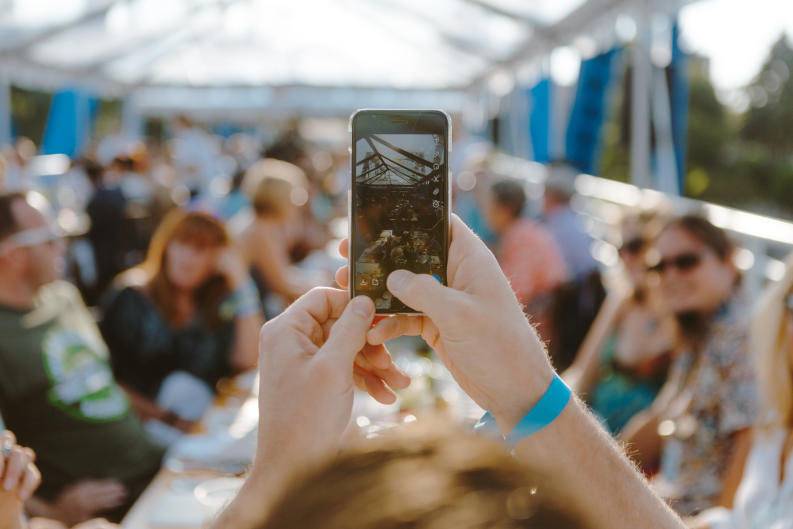 Tribute on the Grand 2017
Photo Credit: Experience Grand Rapids
---
Tribute on the Grand
When:
August 19
Where:
Ah-Nab-Awen Park
220 Front Avenue, NW, Grand Rapids, MI 49504
Founders Brewing is again hosting this year's Tribute on the Grand, an event that fills Ah-Nab-Awen Park with food, beer, and live music. Although the event is free to attend, come hungry and thirsty because proceeds from your food and beverage purchases will help support Grand Rapids Whitewater, a group working toward putting the rapids back in the Grand River.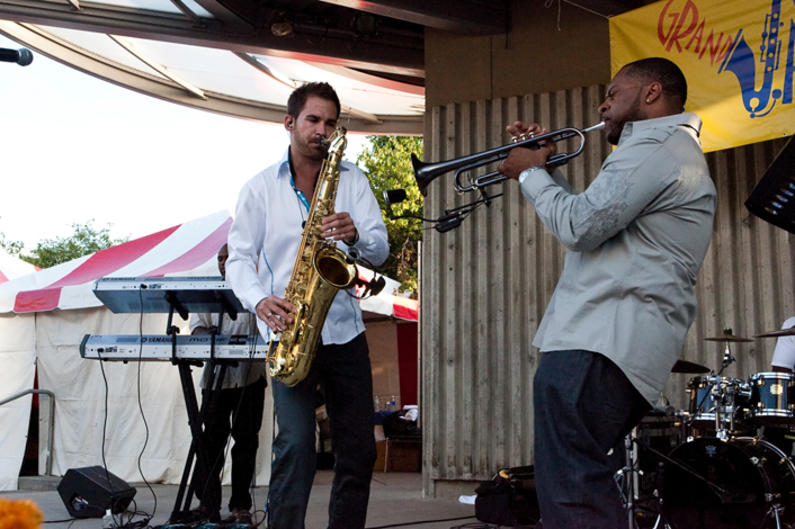 Grand Rapids Jazz Fest
Photo Credit: Experience Grand Rapids
---
GRand JazzFest
When:
August 19 - 20
Check out the performance schedule to see who's on stage.
Where:
Rosa Parks Circle, Downtown Grand Rapids
Bring a lawn chair, sunglasses, and a sweatshirt for when the sun goes down. This festival offers free jazz performances for two days straight. This will be the sixth year of excellent jazz in downtown Grand Rapids, so stop by and enjoy! You can bring your own food or patronize the surrounding restaurants near Rosa Parks Circle.
Breakaway Music Festival
When:
August 25 - 26
Where:
Belknap Park: 30 Coldbrook Street NE, Grand Rapids, MI 49503
This is a ticketed, two-day event that features two stages and welcomes all ages. You can buy tickets per day or buy for both days at a discounted rate. In addition to the main stage, there is a Silent Disco stage that recognizes local and regional DJs. This is an outdoor venue, but there are no chairs allowed, so bring your biggest blanket and enjoy the music!
Grand Rapids Polish Festival
When:
August 25 - 27
Where:
Rosa Parks Circle, Downtown Grand Rapids
The Polish Heritage Society of Grand Rapids knows how to throw a festival – traditional food prepared fresh and on-site, a Polish beer tent, polka music, cooking demonstrations, and Polish-made wares for sale. This festival is free to attend, but you'll want to bring your wallet to partake in the food, drink, and shopping. A portion of the proceeds supports Polish-descent scholarships for students attending area colleges and universities.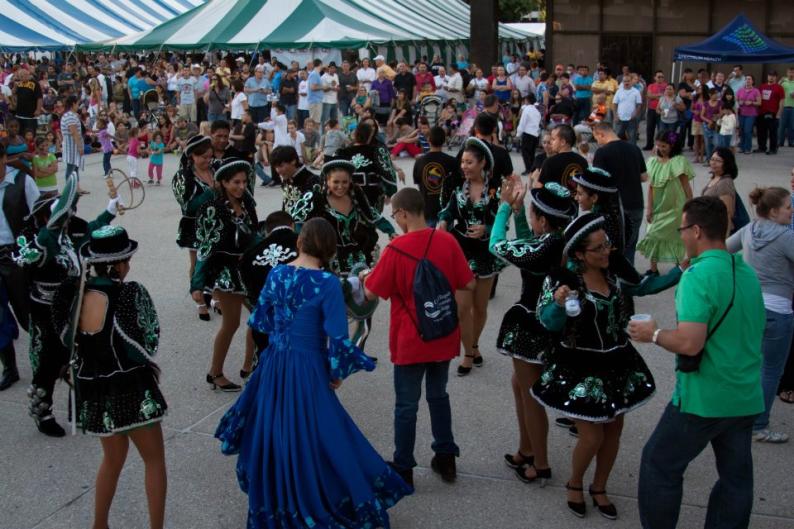 Grand Rapids Hispanic Festival
Photo Credit: Experience Grand Rapids
---
Grand Rapids Hispanic Festival
When:
August 25 - 27
Where:
Calder Plaza: 351 Ottawa Avenue NW, Grand Rapids, MI 49503
Celebrate Hispanic heritage and community in Grand Rapids! The Hispanic Center of West Michigan hosts it's 40th annual Hispanic Festival at Calder Plaza. This event is free to attend, so don't miss out on a weekend full of live music, dancing, authentic food and drink, and shopping.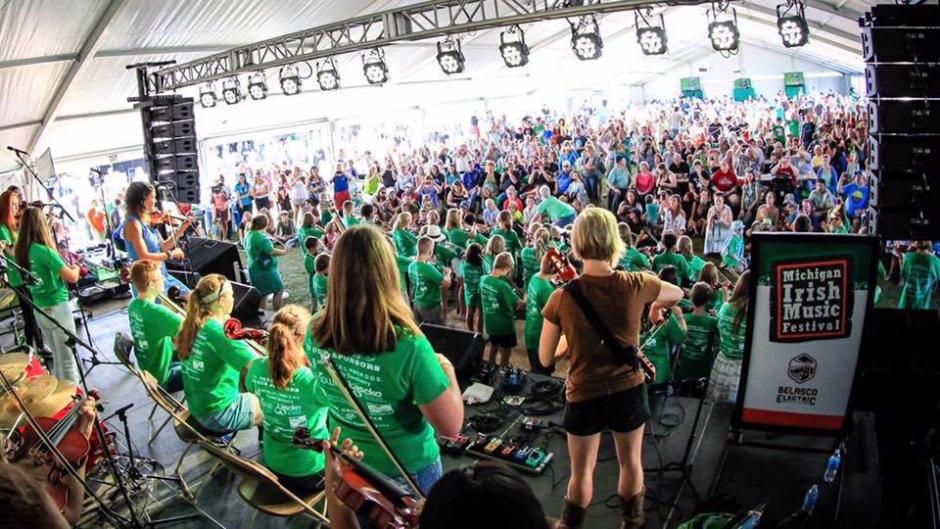 One of six stages at the Michigan Irish Music Festival: many bands come from Ireland to perform!
Photo Credit: Michigan Irish Music Festival
---
Michigan Irish Music Festival
When:
September 14 - 17
Where:
2734 Henry Street, #231 Muskegon, Michigan 49441
This is the largest Irish festival in the area, and you need more than one day to see it all. Tickets are available for individual days, or buy a four-day pass at a discounted rate. There are six stages featuring Irish music, dance, and storytelling. You'll also find Highland Games, an Irish Catholic Mass, and a traditional Irish breakfast on Sunday morning. The shopping tents are loaded with Irish whiskey and beer, and plenty of food tents form a park perimeter. Most stages are under tents, so come rain or shine to celebrate Irish heritage.
Michigan Distilled Festival
When:
September 15
Where:
Fulton Street Farmer's Market pavilion: 1147 E. Fulton Street, Grand Rapids, MI 49503
New this year, the Michigan Distilled Festival features craft spirits and cocktails made around the Mitten State. General Admission tickets are $40 and include five three-ounce batch cocktails or one quarter-ounce samples of spirits available from each distillery. Food trucks, specialty food and non-alcoholic beverage vendors, and handcrafted items will also be available. The festival will also feature a full line-up of live music to be announced soon.
Grand Haven Salmon Festival
When:
September 15 - 17
Where:
225 Franklin Avenue, Grand Haven, MI 49417
Celebrate the salmon harvest with the whole family on the beautiful Lake Michigan shoreline. This festival includes a Salmon Fun Run, a fishing contest, an art fair, beer and wine tents, and ticketed salmon tasting dinners on Friday and Saturday evening. Take the kids to the KidZone during the day, and then have adults-only time at the Michigan wine and beer tasting!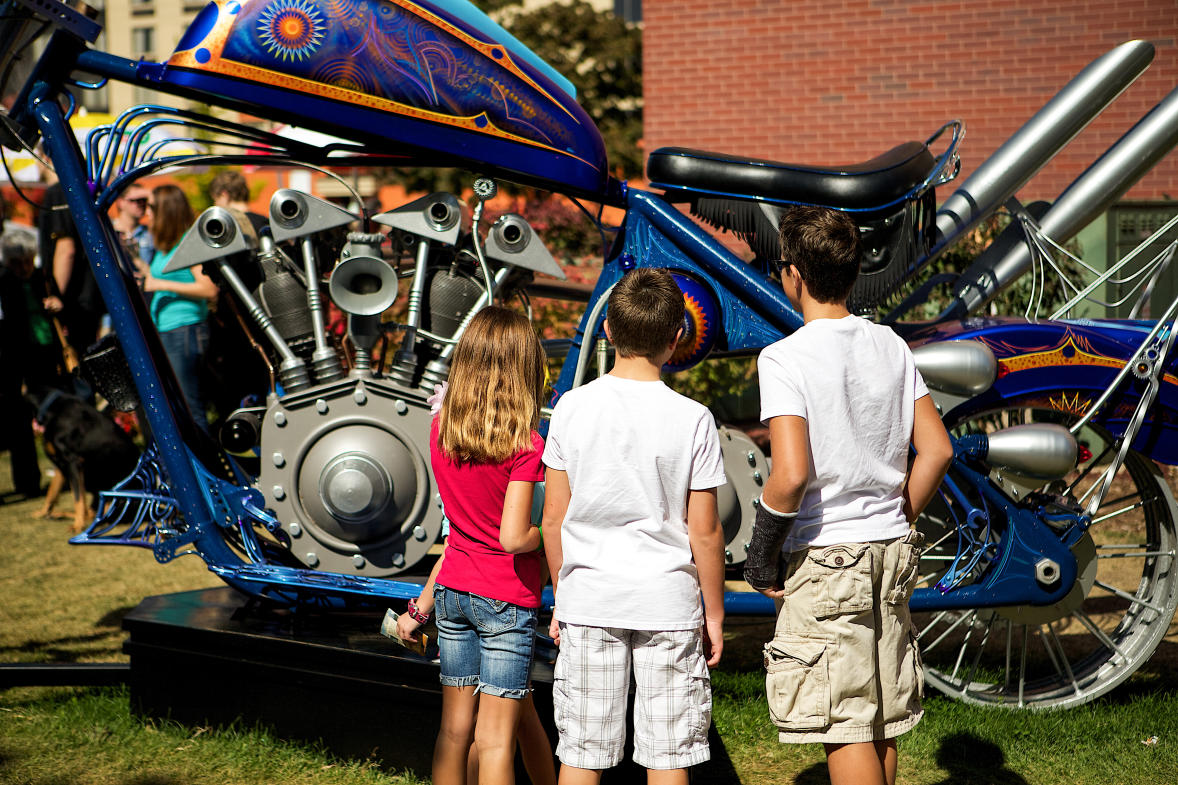 ArtPrize fills Grand Rapids with world-class art.
Photo Credit: Experience Grand Rapids
ArtPrize
When:
September 20 - October 8
Where:
All over Grand Rapids! Click here for a full list of participating venues.
ArtPrize is an open art competition that welcomes entries from any artist in any medium. Grand Rapids is excited to host the ninth annual competition and will, once again, offer over $500,000 in prizes to the winning artists. In 2016, ArtPrize showcased nearly 1,500 art entries at 173 participating venues. Wear comfortable shoes and book your hotel accommodations now –  there were over 500,000 visitors to West Michigan last year as a result of ArtPrize (luckily there's a handy thing called the ArtPrize Shuttle for guests staying in suburban hotels). If you're in town during ArtPrize's first weekend, you'll get to enjoy two festivals in one: ArtPrize and the African American Art & Music Celebration (keep checking www.ArtPrize.org for details on both festivals).
Oktoberfest West Michigan
When:
September 29 - 30
Where:
John Ball Zoo: 1300 West Fulton Street Grand Rapids, MI 49504
Sponsored by the Edelweiss Club, Oktoberfest brings Southern Germany to Grand Rapids. Have a Wienerschnitzel and a Weissbier, and enjoy live music and dancing throughout the day. All proceeds from this event are donated to Kids' Food Basket, which fights childhood hunger throughout West Michigan.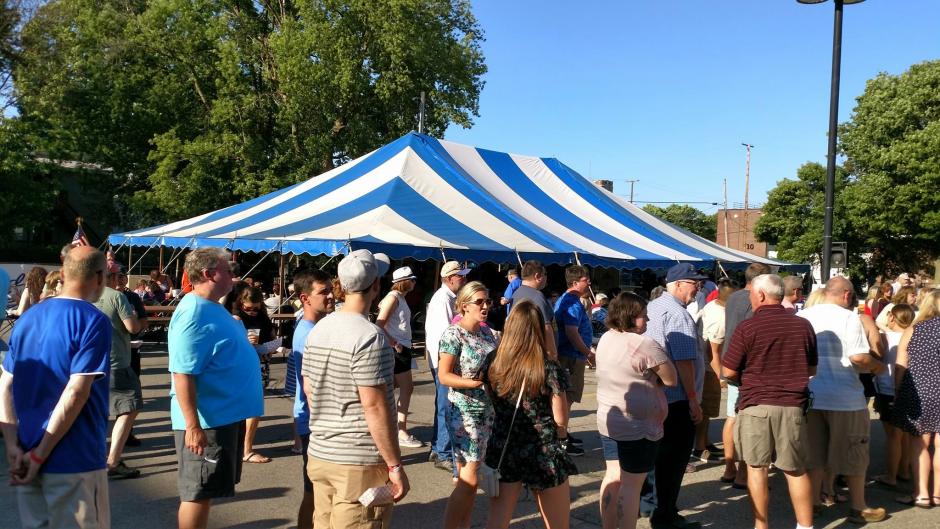 Pulaski Days Tents - waiting in line isn't bad when you're with friends!
Photo Credit: Pulaski Days GR
---
Pulaski Days
When:
October 6 - 8
Where:
Check the website for the closest hall to you.
Pulaski Days Parade: Fulton Street between Grand Valley State University's downtown campus and John Ball Zoo.
Although different from the Polish Festival, the goal of Pulaski Days is similar – to bring appreciation and awareness of Polish heritage to West Michigan. Pulaski Days began in the 70s and has gotten bigger and better every year. Kick off the weekend with the Saturday parade at 11AM, and find a hall to polka. Insider tip: wear red to blend in!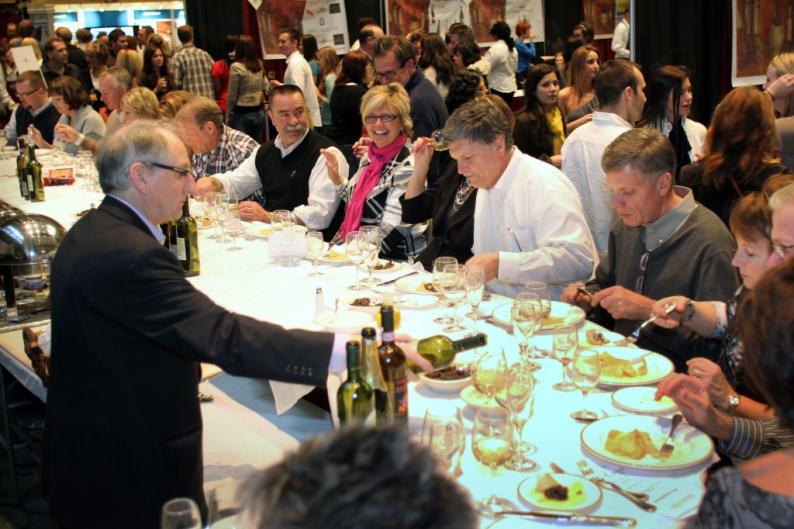 Savor local and international beverages and enjoy tasting dinners during this annual festival.
Photo Credit: ShowSpan, Inc
---
International Wine, Beer, and Food Festival
When:
November 16 - 18
Where:
DeVos Place: 303 Monroe Avenue NW Grand Rapids, MI 49503
Concluding Cocktail Week Grand Rapids, the International Wine, Beer and Food Festival will be in Grand Rapids for its tenth annual celebration of craft beverages and food. You can buy daily tickets, or you can purchase a three-day pass at a discounted price. Wander from booth to booth to taste local and international beers, wines, ciders, and meads. You can also purchase tickets for tasting dinners and attend lectures and classes throughout the festival. Attendees must be 21 or older to get into this festival.
Still looking for more fall fun? Check out the Experience Grand Rapids event calendar for more events near you.
Don't miss a post!
Sign-up for the Insider Experience blog.