As the temperatures heat up in Grand Rapids, so does the outdoor concert calendar.
Every summer, the local music community brings out its best and brightest, offering a lively and increasingly diverse schedule of shows that will keep even the most avid concert-goer busy.
From classical and jazz to rock and EDM, there's something for almost every listener, with live music taking over some of the most gorgeous locales the city has to offer.
So whether you're looking to chill with some cool vibes on a sunny afternoon, or dance your way past dusk, get out and get grooving with these summer music events.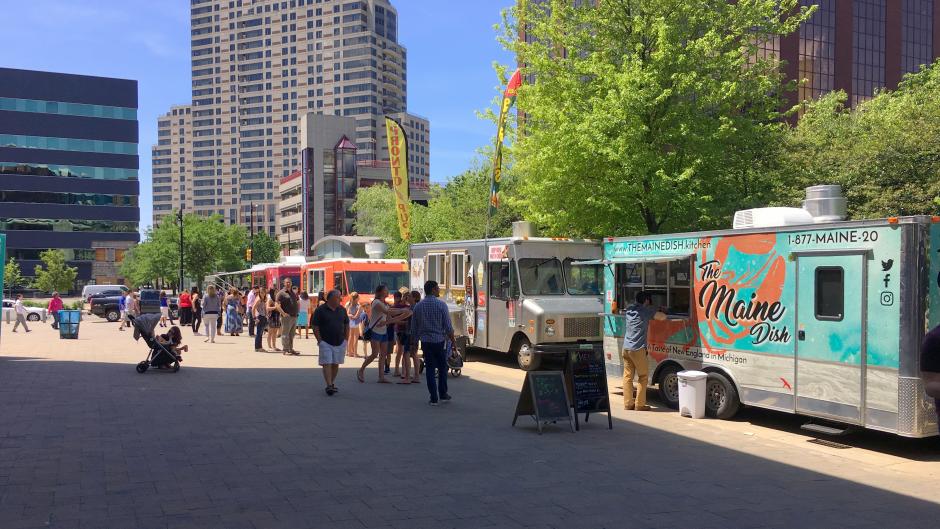 Grab your favorite food truck fare during Relax at Rosa on Thursday afternoons in the summer.
Photo Credit: Nichole Hilligoss
---
Relax at Rosa
Only have time to get a brief taste of the local music scene? Don't worry, Relax at Rosa makes it easy to grab a quick bite and bask in the sun while listening to some great tunes. Bringing together mouth-watering food truck fare with feel-good music, this lunchtime concert series offers a great afternoon break.
Families are welcome to join in on the fun on Thursday afternoons at Rosa Parks Circle, where there will also be oversize games available to enjoy.
Schedule:
July 11 – Cosmic Knot
July 18 – Hannah Rose & the GravesTones
July 25 – The Great Ones
Aug. 1 – Cabildo
Aug. 8 – Les Creatif
Aug. 15 – Political Lizard
Aug. 22 – Connla
Aug. 29 – Earth Radio
Sept. 5 – Thuderwude
Sept. 12 – Bear-A-Tones
Sept. 19 – Yolanda Lavender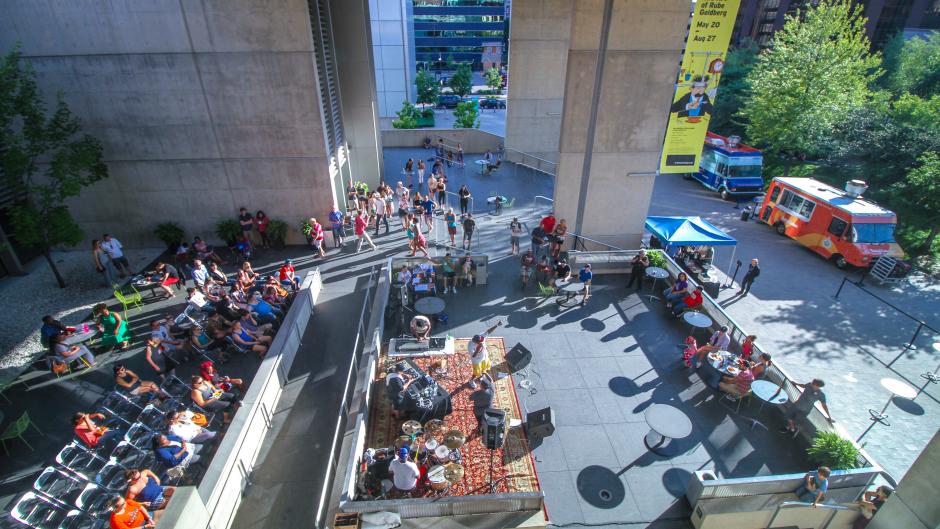 GRAM on the Green is a great way to experience local live music, art, and plentiful food options all in the heart of downtown Grand Rapids.
Photo Credit: Experience Grand Rapids; Lady Ace Boogie performing
---
GRAM on the Green
Now in its 11th year, GRAM on the Green is a free summer concert series that brings together great art and great live music. 
The series takes place on the terrace right outside the Grand Rapids Art Museum and is co-hosted by community radio station WYCE 88.1 FM. It brings an eclectic variety of musicians up close and personal with fans every Thursday evening throughout July and August.
Best of all, you can make a full night of it by sampling delicious food from the local food trucks on site, while also enjoying extended hours to explore the museum during Meijer Free Thursday Nights.
Schedule:
July 11 – Last Gasp Collective
July 18 – Lipstick Jodi with Jes Kramer
July 25 – Pink Sky with hi-ker
Aug. 1 – Molly with Blushing Monk
Aug. 8 – Hannah Rose & the GravesTones with KJ & the Goodtime Family Band
Aug. 15 – Jake Kershaw
Aug. 22 – Cameron Blake with Samuel Nalangira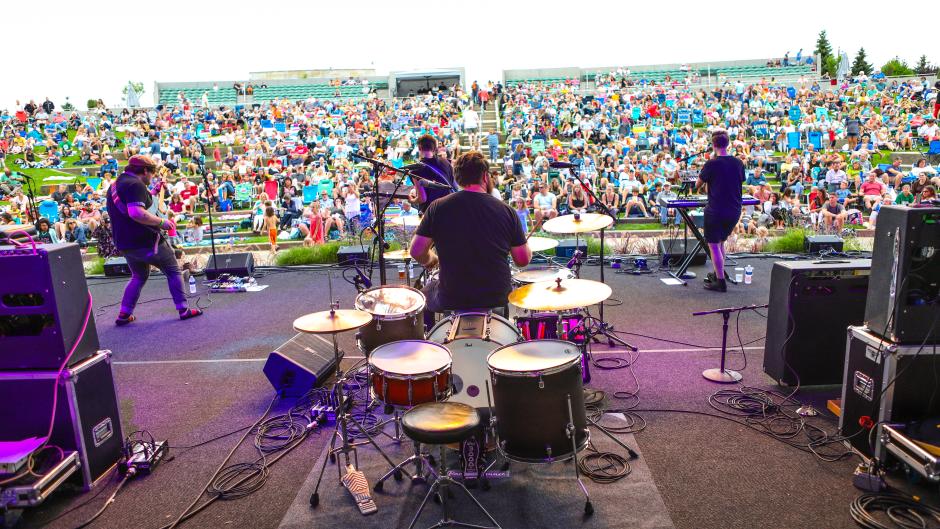 Summer concerts at Meijer Gardens showcase national acts as well as local and regional performers.
Photo Credit: Experience Grand Rapids; performance by Lipstick Jodi
---
Fifth Third Bank Summer Concerts at Meijer Gardens 
The recently-renovated Amphitheater Gardens has taken the already amazing summer music experience to a whole other level. The 1,900-capacity venue has redesigned its entry plaza for faster arrival, nearly doubled the size of its concession building, and revamped its bathrooms, all to give visitors the best outdoor concert experience possible. 
Expertly-crafted acoustics make the sound almost as pristinely perfect as the gardens that surround the terraced amphitheater. These fantastic sightlines give everyone a great seat.
It's no wonder why this series remains one of the most popular in the city and sells out more than half of its concerts instantly.
Don't miss out on some of these terrific shows with tickets still available (though not for long):
Schedule:
July 13 – Andrew Bird
July 21 – The Gipsy Kings
July 25 – The Mavericks and Los Lobos
July 26 – An Evening with Lyle Lovett & his Large Band
July 31 – Dawes and Margo Price
Aug. 14 – JJ Grey & Mofro and Johnny Lang
Aug. 15 – SiriusXM presents The Straycats 40th Anniversary Tour
Sept. 4 – Mandolin Orange
Sept. 8 – Tash Sultana
Sept. 11 – The B-52's 40th Anniversary Tour with OMD and Berlin
Sept. 18 – Calexico and Iron & Wine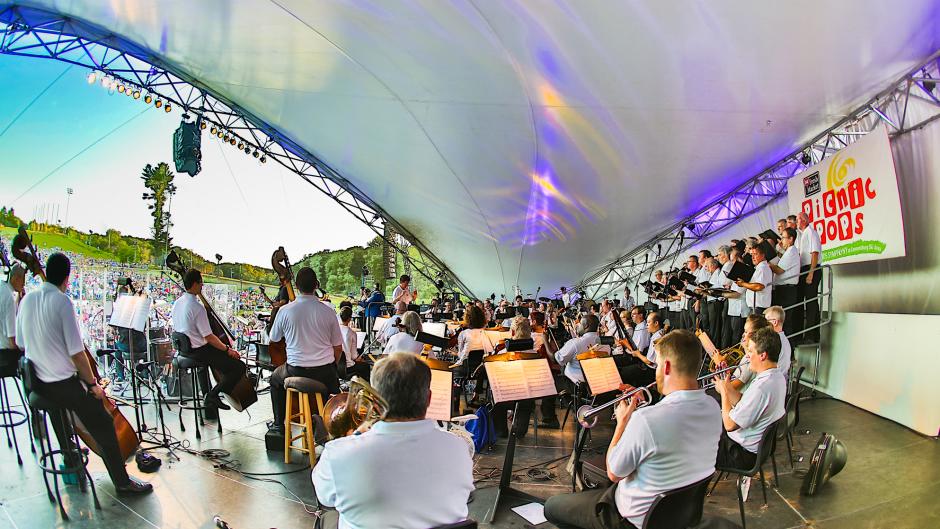 Insider Tip: Purchase 10 or more tickets to a Grand Rapids Symphony Picnic Pops performance and receive a discount!
Photo Credit: Experience Grand Rapids
---
Grand Rapids Symphony Picnic Pops 
Come on out to Cannonsburg Ski Area and prepare to get blown away by the wonder that is the Grand Rapids Symphony Picnic Pops.
Not contained by the confines of the concert hall, the world-class symphony presents its beautiful sound in the great outdoors, drawing in families and aficionados alike with its expertly-tailored mix of classic favorites and contemporary hits.
Pack a picnic and get comfortable on the hill for a magical evening of music and more!
Schedule:
July 11-12 – Classical Fireworks
July 18-19 – Classical Mystery Tour: 50 Years of The Beatles White Album
July 25-26 – Dancing in the Street: Music of Motown
Aug. 2 – Nashville: The Songwriters, The Stories, The Symphony
Breakaway Music Festival
Taking over Belknap Park with booming bass and some of the biggest dance and rap acts around, Breakaway Music Festival returns to Grand Rapids for its third year from August 23 – 24.
Headlined by chart-topping rapper Wiz Khalifa and Chicago house DJ, Kaskade, the all-ages event turns Belknap Park into one big party. It has a monstrous mainstage as well as a silent disco, where fans get down while wearing headphones. 
Local EDM stars also get a chance to shine, with area faves like DJ Jay Vee and CHOFF serving as hosts for the weekend-long rave. 
Schedule:
Aug. 23 – Kaskade, Louis The Child, Troyboi, HEROBUST, Wax Motif, Cookn, D-Wrex, Karpow B2B Super Future
Aug. 24 – Wiz Khalifa, Big Gigantic, Blackbear, Bryce Vine, Kid Quill, Merisv, Emogee, Stratz, Twinz B2B Saylin
Jazz In The Park
Every Monday night this summer, the West Michigan Jazz Society will cool things down with its live jazz series. Relocated to Millennium Park in Walker this year, Jazz in the Park will have newcomers and old cats feeling the groove in a lovely new setting perfect for stretching out – both onstage and off. 
Bring along a blanket, a beverage, and get ready to unwind. 
Schedule:
July 1 – Kat Jones and Company
July 8 – Starry Night Octet
July 15 – Evidence
July 22 – Mary Rademacher-Reed
July 29 – Gustavo Cortinas
Aug. 5 – Paul Keller
Aug. 12 – Bob Nixo GRJO
97WLAV-FM Scully's Statewide Moving Summertime Blues
Mixing classic cars and motorcycles with some deep blues, WLAV's Summertime Blues is a popular free summer concert series revving up the Deltaplex parking lot every Wednesday night this summer. 
Local and nationally touring blues players will take the stage. New this year, fans can get in on the fun by bringing their cars for the weekly classic car show judged by the performer.
Schedule:
July 10 – Altered Five Blues Band
July 17 – Scotty Bratcher
July 24 – Gary Hoey
July 31 – Nick Moss
Aug. 7 – Davy Knowles
Aug. 14 – Albert Castiglia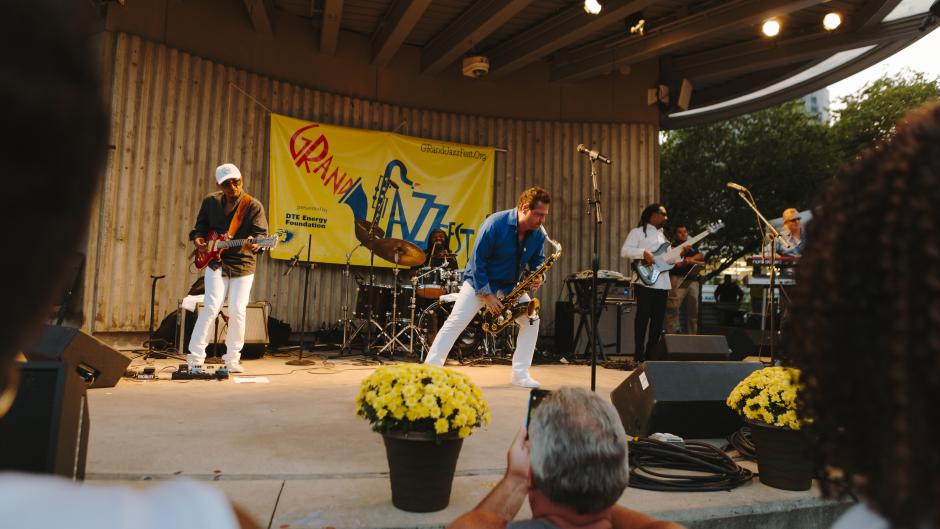 Richard Elliot & band performing at GrandJazzFest, 2017.
Photo Credit: Experience Grand Rapids; performance by Richard Elliot & Band.
---
Even More Outdoor Concerts
Can't get enough live music? Here are even more outdoor concerts to keep the beat going this summer:
Celadon Summer Concert Series
The free, all-ages Celadon Summer Concert Series brings together a variety of local music and food vendors at the Celadon Outdoor Amphitheater on Thursday evenings from 6:30 – 9:30 PM June 20 – Aug. 8.
Summer Nights at the Market
The Fulton Street Farmers Market has teamed up with popular music venue 20 Monroe Live to create a one-stop spot for live music and farm-fresh food. Showcasing two sets from local acts, Summer Nights at the Market will run from 6 – 8 PM on Tuesday nights from July 9 – Aug. 27.
GRandJazzFest
Now in its eighth year, GRandJazzFest is a free weekend favorite at Rosa Parks Circle celebrates all things jazz,  from up and coming talents to longtime jazz luminaires. Bring your own chair and sit back and relax with some great jazz on August 17 and 18.
Party In the Park
Pop radio station, 104.5 WSNX-FM, returns to Fifth Third Ballpark July 18 with a stacked lineup of stars including rapper Juice WRLD, R&B singer T-Pain, dance/pop artist MAX, and local DJ PRIM. Tickets will go fast, so grab yours, and get ready to party!
Grand Rapids Grizzly Jam
Already known for its Wednesday evening block parties, the Garage Bar ups the ante this summer with Grand Rapids Grizzly Jam. It'll include West Michigan's own Gunnar & the Grizzly Boys, returning for a special Saturday night show on July 20. The fun begins at 2 PM with several local bands, including The Legal Immigrants as the opening act.
Creston After Dark Street Party
A celebration of art, music, culture, and community, the rebranded Creston After Dark will close down Plainfield Avenue NE between Leonard and Grove on July 13 from 4 – 10 PM. With mural art on display and GR favorite AB & The Collective performing, the family-friendly event is sure to bring more attention to the great work going on in this part of the city.
Discover more live music events around Grand Rapids on Experience Grand Rapids' Music page, or take a look at this recent blog for some more affordable live music happenings around town. 
With so many opportunities to find live music outdoors around Grand Rapids, which ones are you checking out? Let us know in the comments.
Header image features a GRAM on the Green performance of the Crane Wives. 
Never miss a post!
Subscribe to the Insider Experience blog.