Winter hibernation is finally over and the best time of year has arrived for Michiganders. The hot weather pulls kids and adults alike out of hibernation and into the great outdoors, taking them anywhere from the lakeshore to open fields. There are plenty of ways to entertain yourself outside, one of the best being outdoor live music. 
While we often find ourselves looking for any excuse to get outside, the same goes for musicians, music promoters, and event organizers. Music folks have packed this summer with outdoor concerts and events that anyone will enjoy right here in our community.
Here are just a few outdoor concerts. Will you be there? I know I will.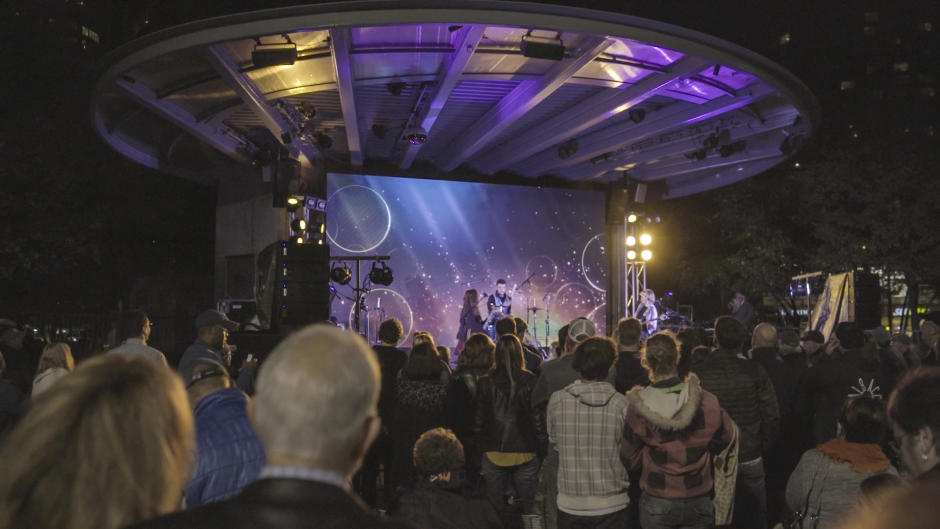 Live Music in Grand Rapids
Photo Credit: Brian Kelly
---
GRAM on the Green
The annual summer concert series, GRAM on the Green, returns with a can't-miss lineup of musicians every Thursday in July and August out on the terrace out front of the Grand Rapids Art Museum. This free event is complete with dancing, food trucks, and a cash bar. While you're there, check out the GRAM free as it stays open late for Meijer Free Thursday Nights. 
You can't go wrong with this lineup of incredible musicians, all without costing you a dime: 
July 13 – The Crane Wives
July 20 – The Great Ones
July 27 – Complete IIV, SuperDre (This concert starts at 9PM and is 21+)
Aug. 3 – The Accidentals
Aug. 10 – Walter White Trio 
Jazz in the Park 
Are you a fan of jazz? Great! Are you not sure? No problem, I understand. I often feel I have a lot to learn in the jazz world and the best way to do that is to hear it.
The West Michigan Jazz Society presents a free concert series, Jazz In The Park on Monday nights in Ah-Nab-Awen Park. Watch these musicians work and see how they communicate with each other through their instruments. Listen, learn, and enjoy! I guarantee you will come away not only as a fan of the music but a fan of this concert series.
Check out all upcoming Jazz in the Park shows here.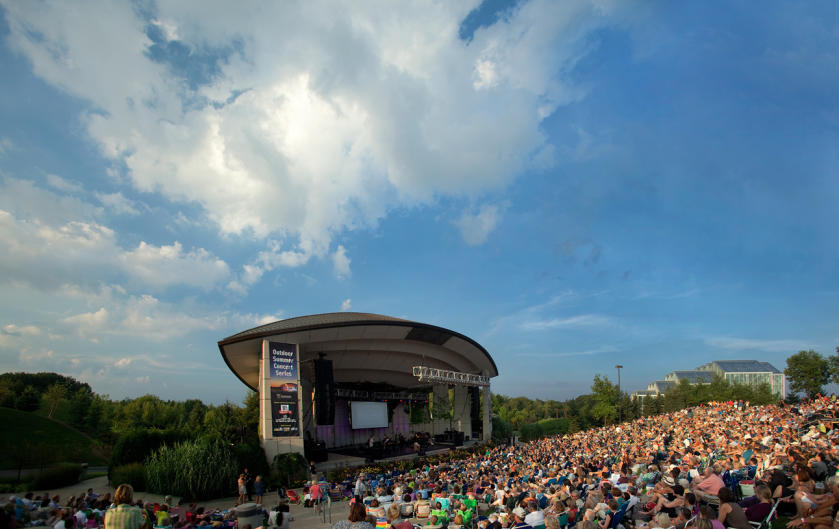 Frederik Meijer Gardens & Sculpture Park Summer Concert Series
Photo Credit: Experience Grand Rapids
---
Fifth Third Bank Summer Concerts at Meijer Gardens 
It's no secret that the Frederik Meijer Gardens & Sculpture Park is home to one of the most popular outdoor music series in Grand Rapids. Big name artists make their way to this beautiful venue, so tickets are notorious for selling out in mere seconds. 
If your favorite artist's show sold out before you could get your hands on a ticket, don't fret. You can't go wrong with seeing any of the world-class artists that are booked here. You won't find Frederik Meijer Gardens booking a bad musician, so there is no doubt you will have a great time at any show.
These few shows still have tickets available, but they won't last for long: 
July 24 – Andrew Bird with Esperanza Spalding
August 13 – Punch Brothers with I'm with Her
August 20 – John Butler Trio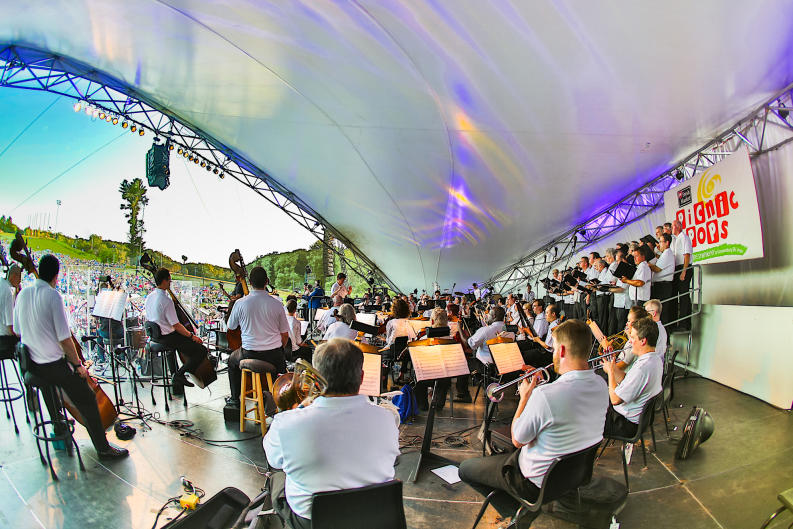 Insider Tip: Purchase 10 or more tickets to a Grand Rapids Symphony Picnic Pops performance and receive a discount!
Photo Credit: Experience Grand Rapids
---
Grand Rapids Symphony Picnic Pops 
A world-renowned music director, top-notch players, and incredible special guests -- it's no wonder we're blown away by the Grand Rapids Symphony! When you thought it couldn't get any better, but then the Grand Rapids Symphony brought its magical performances outdoors.
Make your way to Cannonsburg Ski Area and enjoy Grand Rapids Symphony Picnic Pops. This concert series is fun for the whole family or the perfect date night.
July 13-14 – Arrival from Sweden: The Music of Abba
July 20-21 – Brass Transit: The Music of Chicago
July 27-28 – Women Rock: The Music of Janis Joplin, Tina Turner, Aretha Franklin and More!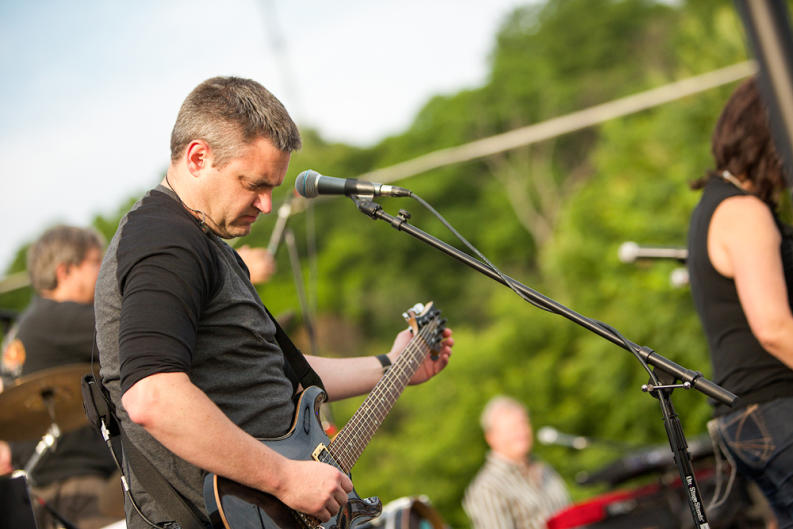 Garage Bar & Grill Block Party
Photo Credit: Experience Grand Rapids
---
Garage Bar Block Parties 
All summer long there's a block party just north of downtown that you may not know about. Garage Bar invites you to celebrate the summer in the middle of the week. Fridays and Saturdays are for what we call the "weekenders," but Wednesdays are for the true entertainment fans that don't say "I have to get up early." That's what coffee is for. 
See you at The Garage Bar & Grill on Wednesdays at 7PM this summer. This must-see lineup includes:
July 12 – Desmond Jones
July 19 – Magna Sonik
July 26 – The Hype
Aug. 2 – Guinness Brothers
Aug. 7 – Brena (Goodwill Special Block Party)
Aug. 9 – The Slick Willys
Aug. 16 – Mid-Life Crisis
Aug. 23 – The Barbarossa Brothers
Aug. 30 – TBD 
Need even more outdoor music? Check out the Experience Grand Rapids live music page for more concerts and other events coming up this summer.
Never miss a post!
Subscribe to the Insider Experience blog.