The room, a cozy Sherlock Holmes-inspired library, is filled with exactly the types of things you would expect: an old chair, a sturdy desk, and lots of tchotchkes. 
But it's also locked. With you inside. And if you can find and solve the puzzles and clues hidden throughout the room in the next hour, not only will you unlock the room, but you'll be among the approximately 48% of guests who win the Great Escape Room game.
It's not a video game, although the concept is based on popular genre of room escape video and phone games. Instead, The Great Escape Room is a real-life room, located in the Masonic Center at 233 E. Fulton Street, Suite 211 in Grand Rapids.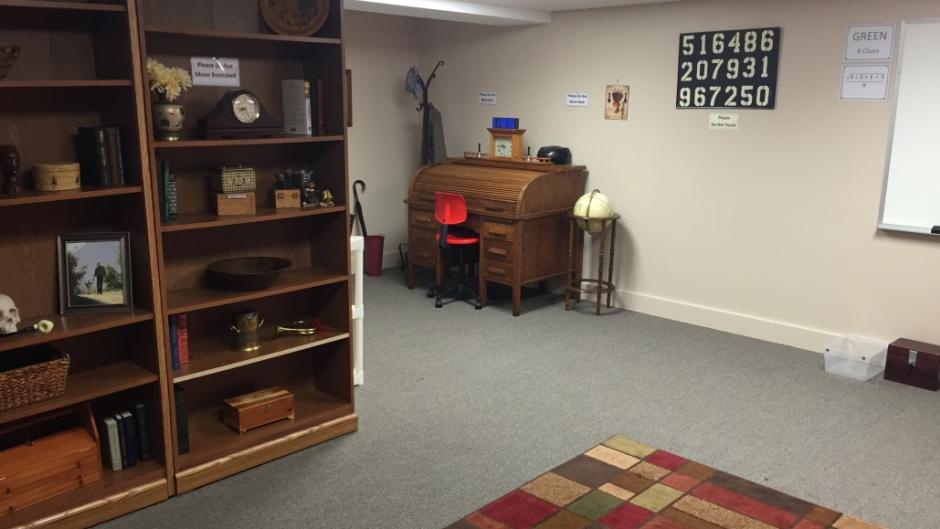 Sherlock Holmes' Library before the guests arrive.
---
The Basics
"It's a beat-the-clock game, where you have one hour to solve all the puzzles in the room in order to escape," says Paula Norder, Manager of The Great Escape Room in Grand Rapids. "It's part scavenger hunt, part puzzle solution, part team building, and a super lot of fun."
The owners, Howard and Scott Sakowitz, are a father-son team based in Florida and Michigan. "When Howard, who's always been a puzzle guy, read about the concept in the Wall Street Journal about a year ago, he thought it would be really fun to try to build one of these puzzles," explains Norder. It's been so successful that in addition to Grand Rapids, they also have locations in seven other states, with other location openings on the horizon.
If you're up for the challenge, you don't have to come with a large group. "You can buy individual tickets and we can create teams for whomever has purchased tickets for the same time," says Norder. She says that sometimes groups that don't know each other well are more successful at solving the room, because everyone is on an even playing field. "They don't have preconceived notions about how they're each going to approach things," she says.
It's also a great concept for a team-building experience for co-workers or a fun night out for a group of friends or family members.  "Families love that the cell phones are down and everybody's playing together," says Norder. "It's like card night or board game night at home, but everybody's moving around."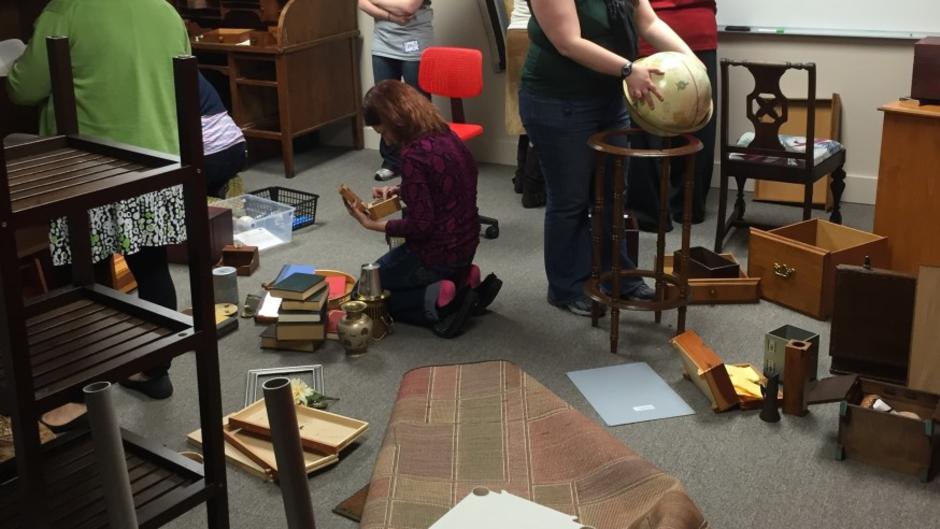 Find your way out of the library through a series of puzzles and strategy.
---
Fun for Everyone
Because guests draw on life experience, skills, and vocabulary, to solve the puzzles, Norder says they typically recommend The Great Escape Room for adults and kids 12 and older. The guidelines don't exist because of content—there's nothing inappropriate, explains Norder. Instead, she says, the guidelines exist because it's unlikely that younger children could solve the puzzle in the limited timeframe.
However, younger children can certainly participate in private events. "We had a 50th wedding anniversary where the age spread was from 6 to 85. Everyone had fun!" says Norder. "The younger kids really enjoyed the scavenger hunt part of the game. They might not be the strongest puzzle solvers, but they enjoy being part of the shared family experience."
They've had so many requests to accommodate younger children's birthday groups that they're working on a modification to the current room with clues and puzzles geared to the 8-12 age range. "They're the ones watching Scooby Doo," says Norder. "They really want to get into the fun of the puzzles!"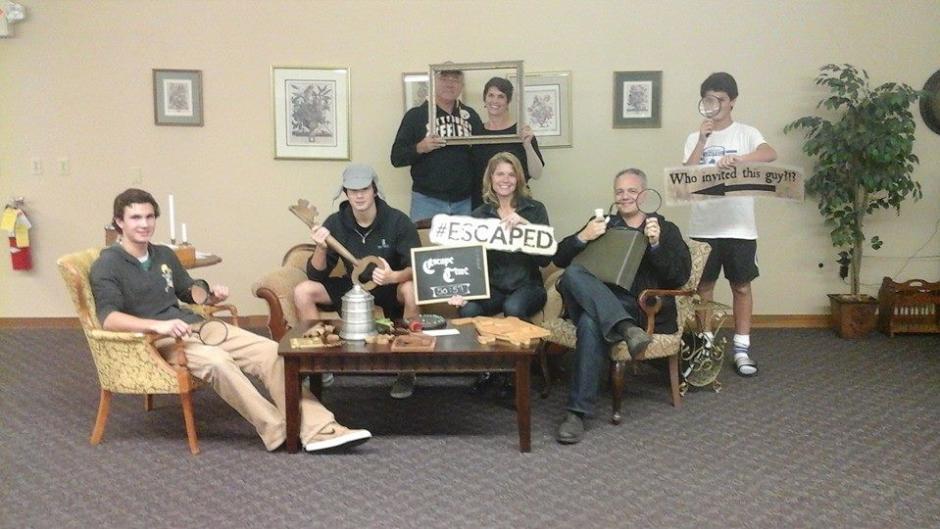 Celebrate your escape with a group picture at the end using unique props!
---
What to Expect
The Grand Rapids Escape Room currently has four rooms with different puzzles: Dr. Watson's Infirmary, Professor Moriarty's GameRoom, Sherlock Holmes' Library, and The President's Bunker. The set-up of Sherlock Holmes' Library works well for larger groups, because they can race each other to solve the room. Or, part of the group can solve the room while the other part enjoys the game/waiting room, playing foosball, bean bag toss, and doing brain teaser wooden puzzles—then the teams can switch places after the first one solves the room. 
"We've had some great offsite corporate days with employees of companies like Consumers Energy and Kellogg," says Norder. Corporate customers are surprised by how many of the skills they use to solve the puzzles are related to the work they do every day. "There's a deadline, a goal, and there are problems to solve," explains Norder. "They have to work with all of their personalities, negotiate, work through bumps and hiccups, and take into account all of the valuable knowledge people have outside of the workplace. And they have to do it all within an hour!"
"I think people find that the puzzles are harder than they expect and they find the experience to be much more fun than they expected," says Norder. "Customers say its almost like being on Amazing Race, Survivor or inside a Scooby Doo episode."
The Great Escape Room in Grand Rapids also has a portable escape room for groups of 40 or more called On the Run. This experience can be brought directly to the location of your choice. 
If you're among the 40-65% of people who don't solve the room within the hour, you'll get a debriefing at the end. "You've all been working on different parts of the puzzle," says Norder. "We show everyone what the other pieces of the puzzle were and fill them in on the details."
When groups do solve the puzzle, they always bring their own experiences to bear. "I've never seen people escape the room the same way. Ever," says Norder.
The Details
*Note: Does the idea of being locked in a room for an hour make you nervous? Not to worry – the lock is on the inside of the room, so you can easily let yourself out. There's also a game monitor in each room who—in addition to offering an occasional clue—can open the door at any time.
When: Monday to Thursday: 5 PM-9 PM; Friday: 12 PM-10 PM; Saturday: 11 AM-11 PM; Sunday: 12 PM-6 PM (Other times available by appointment)
Where: 233 E. Fulton Street #211, Grand Rapids, MI 49503, located inside the Masonic Center
Cost: Monday to Thursday: $23; Friday to Sunday: $28. Student and military discounts are offered with ID.
Discounts for groups of 10 or more as well as youth groups & school groups.
Additional Options
There are many options for puzzle solving fun in different regions of Grand Rapids. Find the one nearest you:
Never miss a post!
Subscribe to the Insider Experience blog.