If you're experiencing some frustrations because vacation plans have changed or been canceled this year, you can still keep those getaway aspirations alive by crafting a fun-filled staycation right here in Grand Rapids.
Whether you're an outdoor adventurer, avid foodie, family fun instigator, arts appreciator, or another type of vacationer, there are many popular attractions, activities, and restaurants in the Grand Rapids area that are currently open to be enjoyed safely.
As you plan your staycation, be sure to regularly check Experience Grand Rapids' travel updates for visitor tips and safety guidelines.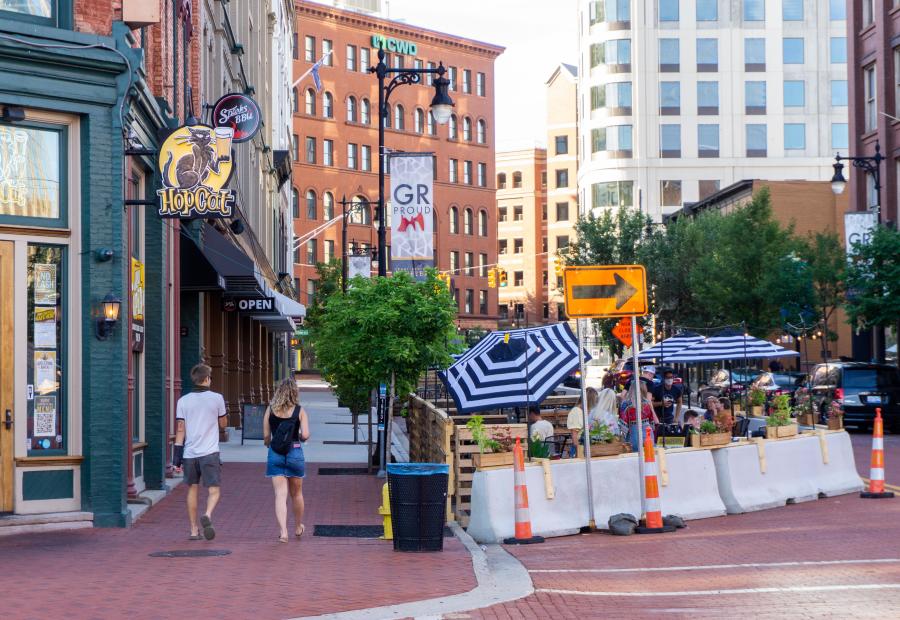 You'll find extra outdoor seating throughout Grand Rapids thanks to the new social zones.
Photo by Brian Craig for Experience Grand Rapids
Dine + Drink Safely in Outdoor Social Zones
Thanks to a variety of health precautions in place at area bars and restaurants, you can still safely enjoy all of the reasons why Grand Rapids is a true foodie destination and hailed as Beer City, USA during your staycation.

The City of Grand Rapids is working hard to support local businesses and help visitors maintain social distance. One of the ways they're accomplishing that is in partnership with Downtown Grand Rapids, Inc. through dedicated social zones that allow restaurants, breweries, and other businesses to serve customers in outdoor public spaces. Streets, sidewalks, parks, and parking lots have been transformed into open marketplaces so you can continue to safely enjoy the fruits of GR. 
All zones include tables and chairs (spaced at least six feet apart) to use while eating takeout meals or sipping a few adult beverages that have been purchased from nearby restaurants. You're allowed to consume alcohol in open containers from approved establishments within the new designated refreshment areas, located in the downtown social zones. 
When planning where you'd like to wine and dine, visit Experience Grand Rapids' social zones resource to learn more about zone locations, supported businesses, and recommendations for how to easily travel between zones.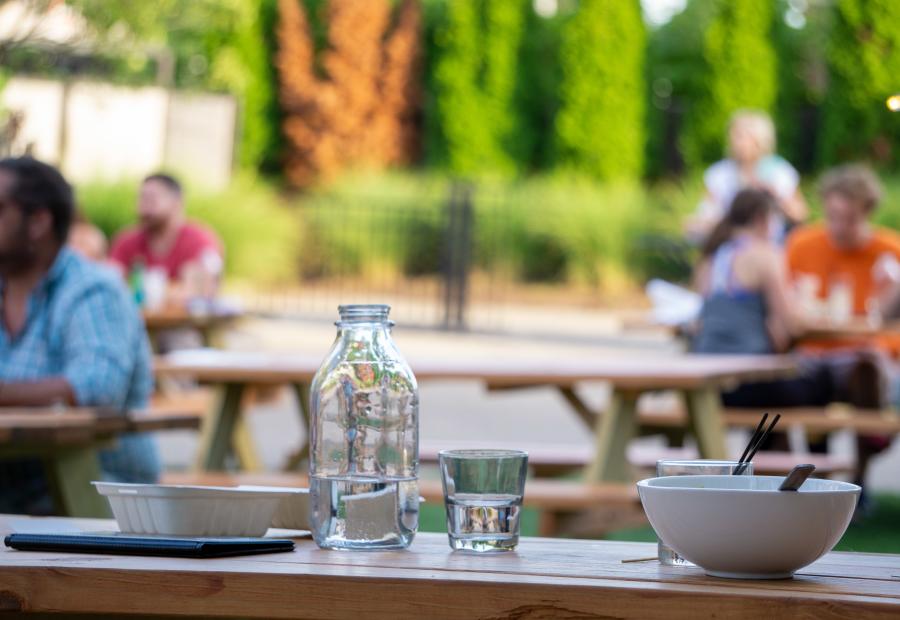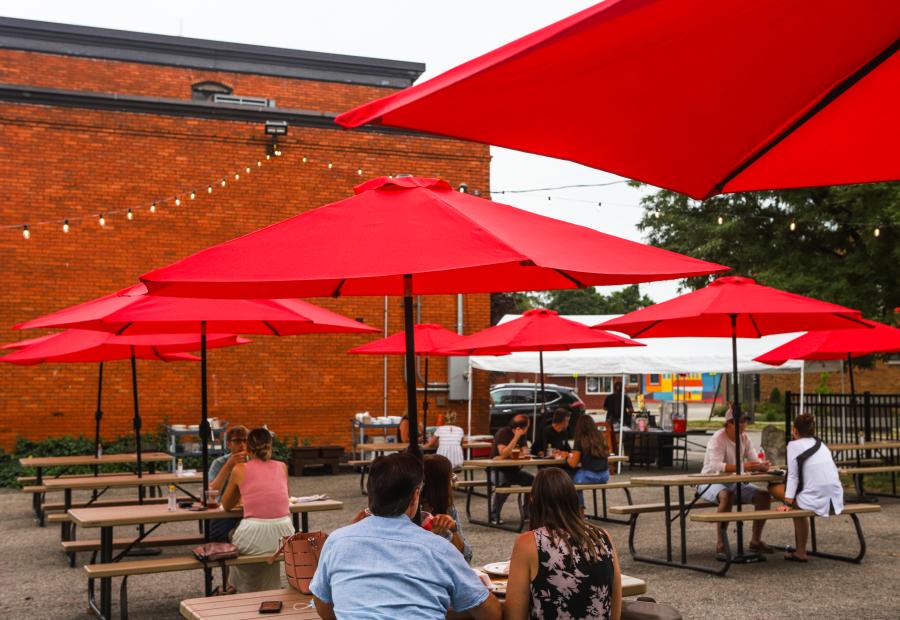 Thanks to expanded outdoor seating, you can taste your way through the city at your comfort level.
Photo by Brian Craig for Experience Grand Rapids
The Foodie 
In addition to social zones around the city, many restaurants and breweries have been expanding their own outdoor dining areas.
On the West Side of Grand Rapids, The Mitten Brewing Company offers "The Outfield" — a massive outdoor social zone with a name inspired by the brewery's vintage baseball theme — so you can enjoy their popular craft brews and pizza flights in the open air. The Winchester, located in the Eastown area, recently created a must-visit patio in its Wealthy Street parking lot complete with picnic tables, greenery, and serene nighttime lighting. 
About 15 minutes north of Grand Rapids, Chef Jenna Arcidiacono and her staff at Amore Trattoria Italiana established a spacious dining area in a portion of the award-winning restaurant's parking lot so you can comfortably sample authentic Italian cuisine. 
Third Nature Brewing Company is nestled within more than seven acres of land a little further north between the Rogue River and the White Pine Trail just outside of downtown Rockford. Third Nature, which won "Best New Brewery" in Revue Magazine's 2020 Best of the West Revue Readers Poll, has an expansive biergarten embedded in nature and filled with picnic tables, cozy fire pits, and calming patio lights. 
In the heart of downtown, you can drink in an incredible view of the city from Mertens Rooftop (which used to be called Haute) while also drinking one of the lounge's Haute Bar spritzes. You choose the base and they add champagne and fizzy water for a refreshing celebratory staycation drink.
Visit Experience Grand Rapids' Restaurants page to explore more dining options for your staycation.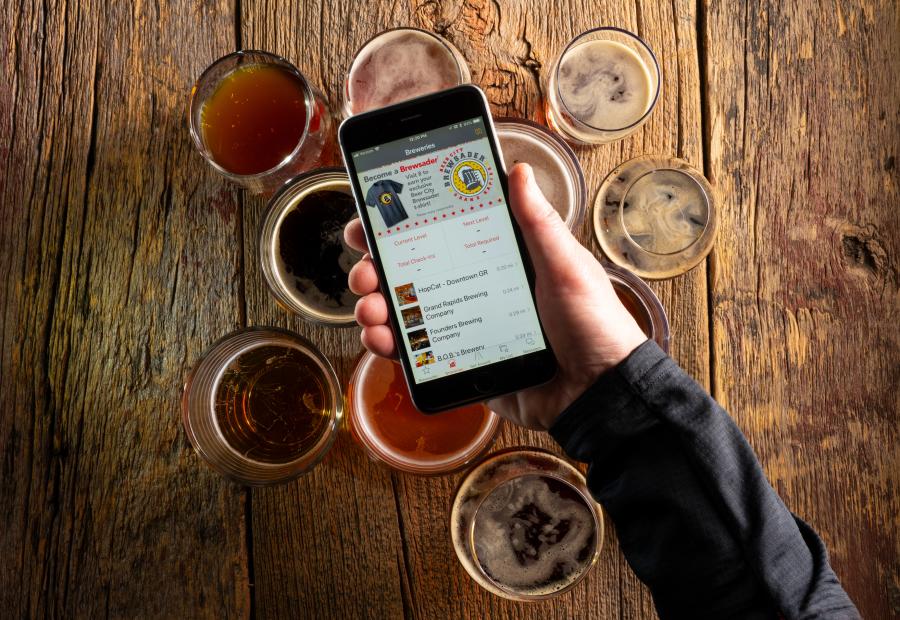 Download the Brewsader Passport mobile app to earn rewards for visiting area breweries.
Photo by Experience Grand Rapids
Become a Brewsader®
Are you a fan of epic quests? If so, we have one to add to your staycation activity list — become a Beer City Brewsader! 
To start, download the Beer City Brewsader app through the Apple App Store or Google Play and then visit one of the 40+ participating breweries to begin collecting Brewsader Passport stamps. After collecting eight digital stamps, you'll receive an exclusive Brewsader t-shirt to commemorate your adventures.  
If you collect more than 40 stamps, you'll earn the title of Ultimate Brewsader. Along with that comes a wallet card that grants you discounts around Grand Rapids and for purchases made on GrandRapidsStore.com.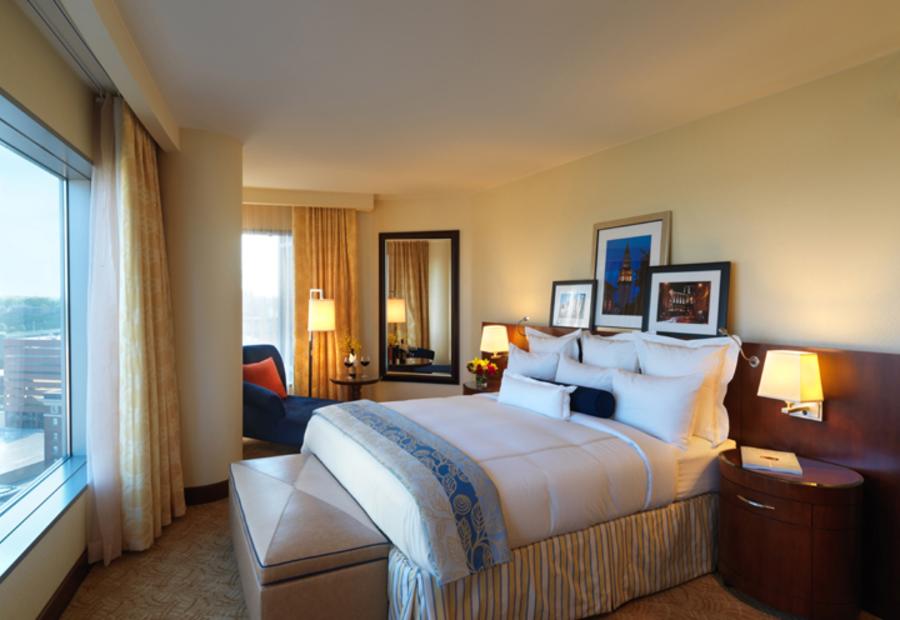 In Grand Rapids, you'll find luxury hotels, budget motels, bed-and-breakfast inns, and everything in between.
Photo by Experience Grand Rapids
Where to Stay
There are more than 70 hotels to choose from in the area if you'll need lodging during your Grand Rapids staycation. Experience Grand Rapids has compiled a comprehensive list of area hotels, and it's recommended that you call your hotel of choice in advance for details on the availability of certain amenities like exercise rooms and pools. Be sure to check out Experience Grand Rapids' hotel packages for special deals and discounts.
Have any recommendations to add when planning a Grand Rapids staycation? Let us know in the comments below!