Grand Rapids residents are proud of the national, big-name musicians the city regularly brings to our region. But summer has a sound all its own in Grand Rapids, with a plethora of outdoor concerts for residents and visitors to enjoy - many of them free.
One popular free series is Jazz at the Zoo, now in its 14th season. Throughout the summer, on Monday nights from 6:30 8:30 at John Ball Zoo, guests can kick back and relax as they listen to jazz from around the region, including bands like Blue Monk Jazz and Mary Rademacher and the Rad Pack. The season kicks off on June 9th, with the accomplished Byron Center High School Jazz Orchestra, and wraps up on August 9th with local favorite, the Grand Rapids Jazz Orchestra. (Click here for more information on dates and performers.)
Another set of free concerts for jazz fans takes place during the 3rd annual GrandJazzFest, to be held August 16 and 17, 2014, at Rosa Parks Circle. Festivities begin at 12:30 p.m. on August 16th and continue through the night, when this year's headliner, trumpeter and vocalist Rick Braun, plays from 8:00 - 9:30 p.m. Braun is a 20-year veteran who's toured with artists like Sade, Rod Stewart and Tina Turner. Earlier in the day (3:30 p.m. 4:30 p.m), you can catch the Afro-Cuban-style musical group Grupo Ay, returning after their initial performance here in 2012. On Sunday, events begin at noon with a student jam session and flutist Alexander Zonjic headlines from 6:00 7:30 pm. GRandJazzFest is a family friendly, diverse event with lots of fun, clapping, and dancing for all. (Click here for the full schedule.)
If blues is more your style, you won't want to miss the 97LAV FM Blues on the Mall series. These Wednesday night concerts draw fun crowds to Rosa Parks Circle and run from June 18 to August 20. Grab a Chicago Dog (or build your own) from the nearby Dog Pit or indulge in the awesome grilled Mahi-Mahi Tacos at Sundance Grill, then stroll over to enjoy the concert. Music starts at 6:30 p.m. All concerts take place at Rosa Parks Circle except June 25. That night you'll find the fun at Fifth Third Ballpark in support of the first annual Freedom Cruise.
Maybe Thursday nights work best for you - in that case, you're in luck! For the 6th season the GRAM is hosting GRAM on the Green, a fantastic series that includes live outdoor music AND free museum admission. Show up as early as 5:00 p.m. to peruse artwork, play games, try food from the new food trucks near the museum, and grab a drink from the cash bar. Music plays from 6:30p.m. to 8:30 p.m. on the Museum Terrace and styles range from hip-hop to pop to salsa. The series begins July 10 and runs through August 14.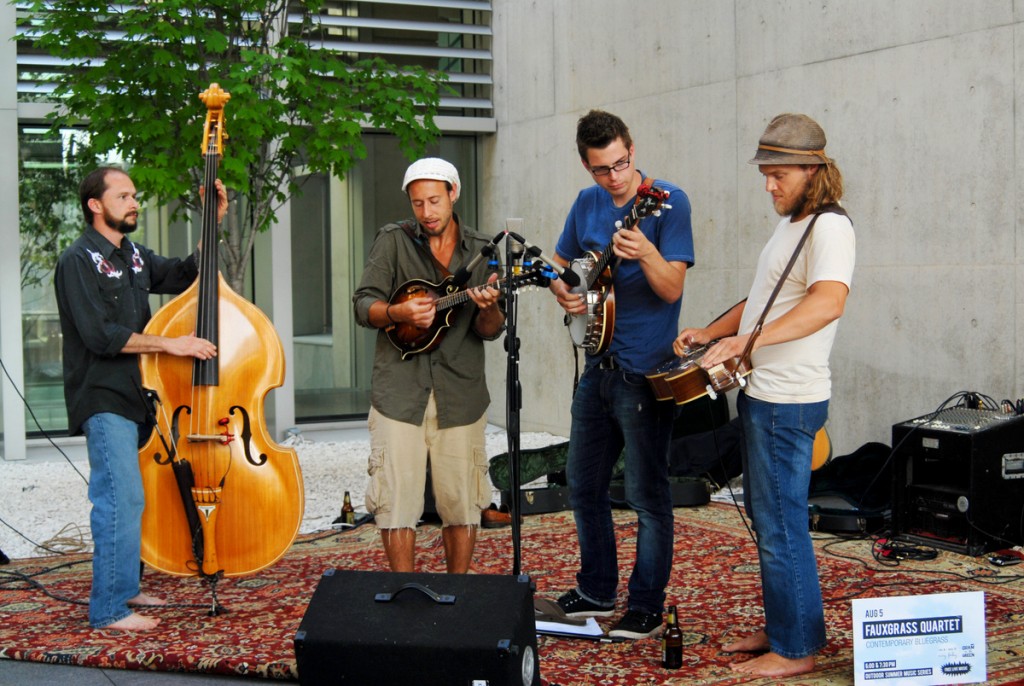 GRAM on the Green moves nights for 2014. Thursday nights are the night for live music, dancing and a cash bar in downtown GR starting July 10.
If you'd like to listen to music while sitting lakeside on your blanket, or in your favorite beach chair, in an endearingly quaint town just east of downtown, check out the United Banks Concerts in the Park at John Collins Park in East Grand Rapids. Pack a picnic basket full of goodies and revel in lakeside bliss as you take in any of the free family-friendly concerts in this series. (No grilling or alcohol allowed.) The fun runs from 7:00 p.m. 8:30 p.m. on the following Tuesdays: June 10, 17, & 24, and July 1, 8 & 15. Click here for more details.
A few more ways to experience Grand Rapids' summer music scene:
D&W Fresh Market Picnic Pops Series at Cannonsburg: Whether you reserve an entire table, a few chairs, or just bring your blanket or lawn chair, don't miss the chance to share in this enduring local favorite. Enjoying the Grand Rapids Symphony in the relaxed setting on the ski hill is an annual don't miss event for families, friends, and couples alike. Concerts take place July 10/11, 17/18, 24/25 and July 31/August 1. (July 10/11 begin at 8:00 p.m.all others begin at 7:30 p.m.)
Swing Dancing at Rosa Parks Circle: Let your inner swing dancer out on Tuesday nights from now until July 29th at Rosa Parks Circle or the GVSU downtown campus (see website for details). Lessons are from 7:00 p.m. 7:30 p.m. and the liveliness lasts until 10 p.m.
Local First Street Party: This weekend, head down to the street in front of Bistro Bella Vita and nosh on treats from local food vendors like Twisted Rooster, GoNuts and What The Truck. The 11th annual Local First Street Party is family friendly, free (to enter), and has live entertainment from 3:00 p.m. - midnight. Lively tunes from the Grand Rapids Soul Club, Root Doctor and many more will set an energetic tone and keep you moving and grooving as you celebrate all things local.
Fifth Third Bank Summer Concerts at Meijer Gardens: No list of summer concerts in Grand Rapids would be complete without a nod to one of the most looked-forward-to event series of the year. From July 1 - September 7, locals clamor to purchase tickets to beloved acts like Lyle Lovett, Ziggy Marley, John Legend and Sheryl Crow. Many of the concerts are already sold out for this summer, but not all - you've still got a chance to see a great band in a great venue, beer in hand. If you're hoping to score tickets for one of the sold-out shows, try Craigslist or, if you're the lucky type, you might show up the night of your favorite band and see if anyones selling an extra ticket or two.