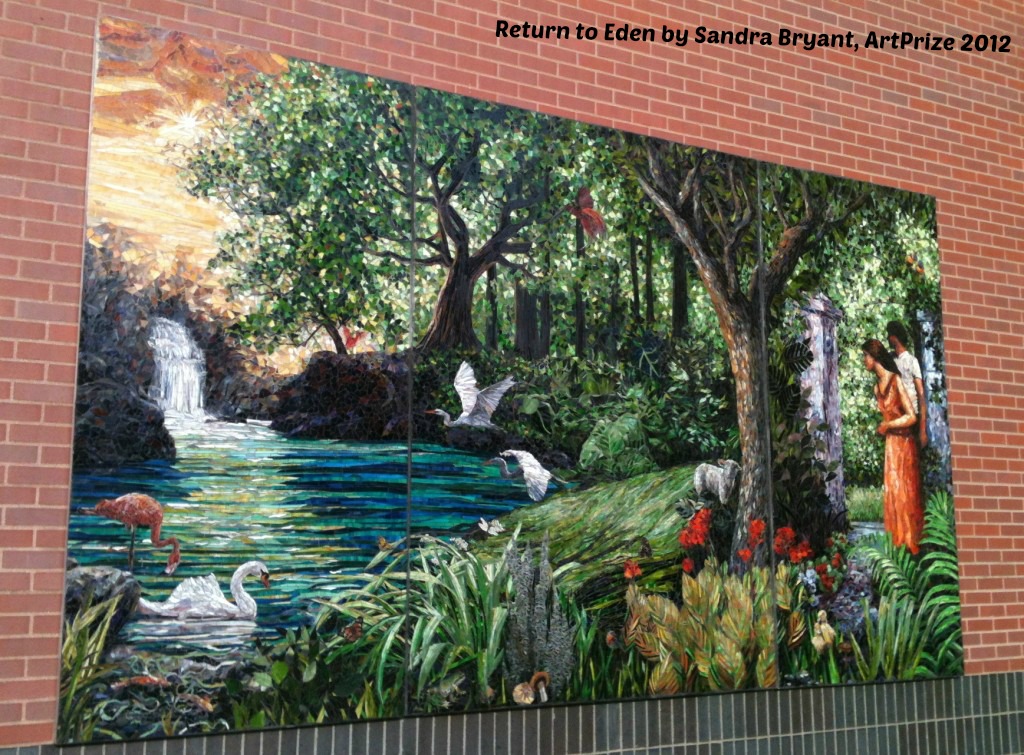 In two short months, Grand Rapids' fifth annual ArtPrize 2013 will begin. Over 1,500 entries from 47 countries will vie for $560,000 in prize money--and you, the public, have a say in who wins the big $200,000 prize!
If you're visiting ArtPrize from out of town, hopefully you've booked your hotel. (If not, see our last post for local tips on where to stay. Book soon!)
When you arrive in Grand Rapids, you'll want to do two things in short order:
1. Register to Vote! Its quick, easy, and essential to adding your voice to ArtPrize. You can register in person at the Hub@41Shedon or any of the other voting sites (you have to be at least 16 years old and need a government ID). Or, once you're within the ArtPrize boundaries, you can register to vote using the ArtPrize mobile app, which uses your geo-location to get you set up.
Currently, there are 8 voting sites:
The ArtPrize HUB @ 41 Sheldon
EXHIBITION CENTER: The Grand Rapids Art Museum
EXHIBITION CENTER: The Urban Institute for Contemporary Arts
EXHIBITION CENTER: The Gerald R. Ford Presidential Library and Museum
EXHIBITION CENTER: Kendall College of Art and Design
EXHIBITION CENTER: Frederik Meijer Gardens
SHOWCASE VENUE: Cathedral Square
SHOWCASE VENUE: Women's City Club
Voting for art you like is quick and easy you can vote through the ArtPrize website, via text message (my favorite method), or through the ArtPrize iPhone or an Android mobile app.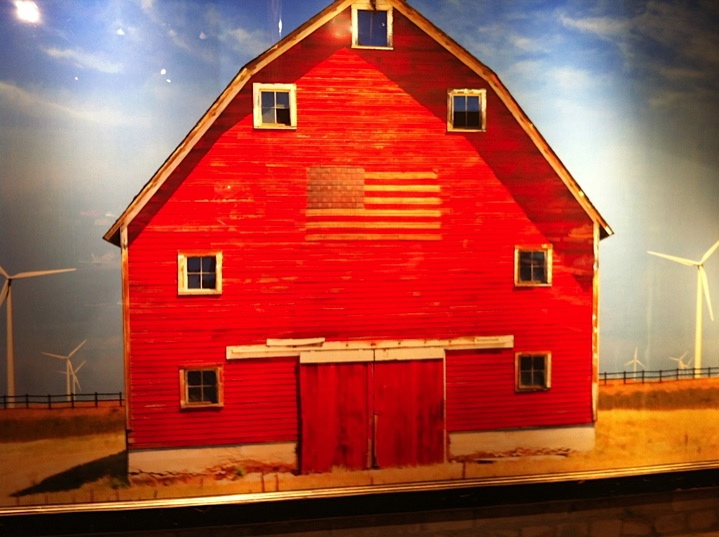 Holding Out by O'Meara, ArtPrize 2012
2. Get an ArtPrize map. They're free and available at any ArtPrize voting site.
Once you've seen the map, its time to plot your course. ArtPrize groups venues by 5 city neighborhoods: Center City, Hillside, Heartside, Westside and Monroe North/Belknap. In addition, Meijer Gardens, which is located a few miles outside of the downtown area, will host 25 entries this year. The amount of time you have, and whether you're bringing kids, will determine how much ground you cover.
If you buy an ArtPrize Event Guide ($5), it comes with a map as well as suggestions for 5 walking tours of ArtPrize. Each walk starts downtown and then guides you on a 1-2 mile tour through one of the 5 ArtPrize neighborhoods.
Last year, ArtPrize mapped out 3-, 6-, and 9-mile routes for visitors and my husband and I walked the 3-mile route, which took us almost 4 hours to complete! I highly recommend investing in the Event Guide and trying one or more of the pre-mapped routes, especially since they're shorter this year. Following the route was a fantastic way to see ArtPrize because it took us both to popular venues and to venues we may not have seen otherwise.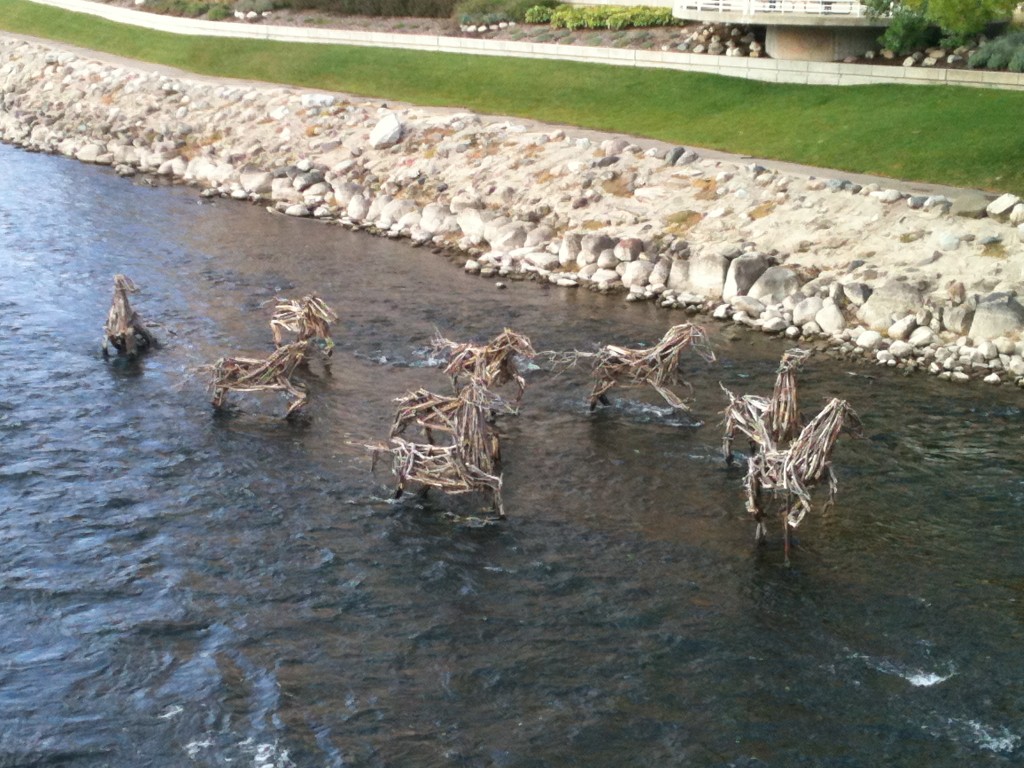 Stick-to-it-ive-ness: Unwavering pertinacity; perseverance, by Richard Morse, ArtPrize 2012
With Kids: Break it up and focus on one or two areas. To prevent a meltdown by any member of your family, keep in mind that each venue will take longer than you expect. Kids love ArtPrize as much as adults do, and having everyone explore art takes time. So keep your explorations to a reasonable time frame (and distance) and break them up throughout the day. (Click here for tips on navigating ArtPrize with kids.)
For example, you could hit the Hillside area in the morning, break for lunch (and maybe take a dip in the hotel pool), then check out the Center City that evening. Or you might want to focus on outdoor venues, like the B.O.B, Gillett Bridge, the Blue Bridge, the Gerald R. Ford Presidential Museum and Ah-Nab-Awen park. (Click here to read about my outdoor explorations during last year's ArtPrize. Although the art will be different, you could take a similar tack this year if you want to concentrate on outdoor art.)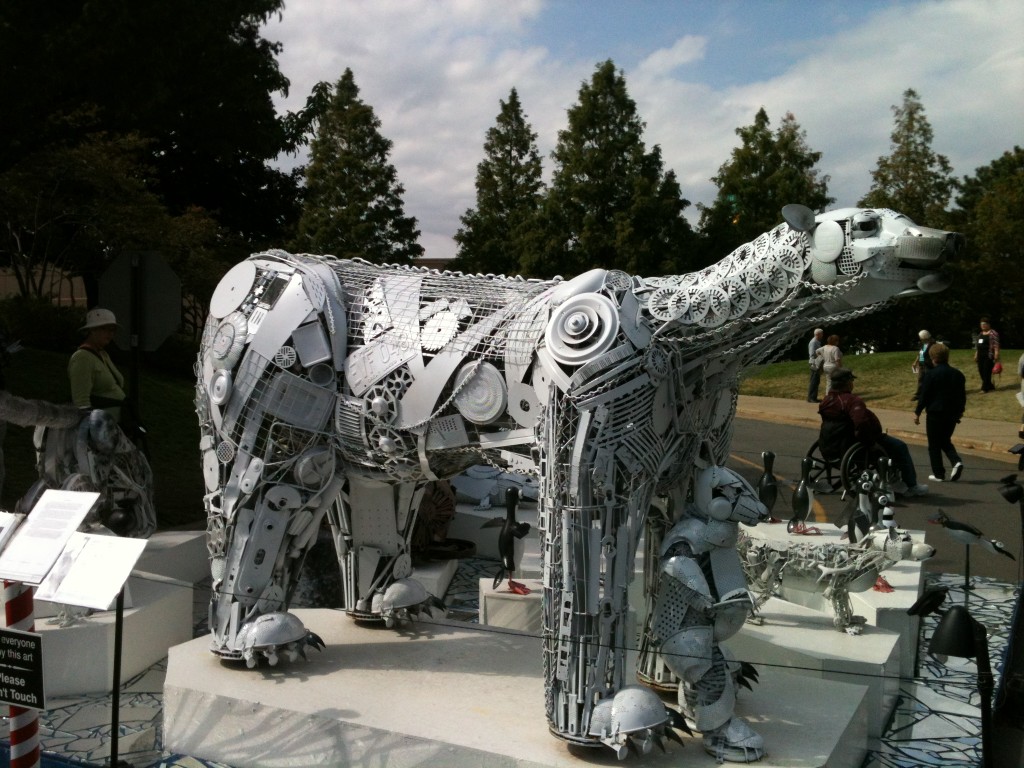 On Thin Ice by Justin La Doux, ArtPrize 2012
Without kids: It still takes time!
ArtPrize covers a lot of ground, and since you're reveling in artistic masterpieces, you'll still need to 1) allot more time than you expect and 2) plan on taking a break or two along the way.
Something else to consider: Obviously, you can see more art in one fell swoop by hitting the larger venues like the B.O.B, DeVos Place Convention Center, and Meijer Gardens. But if you only hit the big places, you'll miss the opportunity to discover beautiful art in unique settings. Whatever you do, don't miss the two exhibitions in the Grand River and try to walk across Gillett Bridge and the Blue Bridge.
Also, if you've mapped out a course, or are following an Event Guide path, and see something in the distance you want to check out: Do it! ArtPrize is all about discovery and part of the fun is finding your personal favorite--which may not be on your carefully mapped out plan. We almost always find art we like in tucked away places this year, Yoga HEAT and St. Cecilias Music Center are on my list of places to investigate art.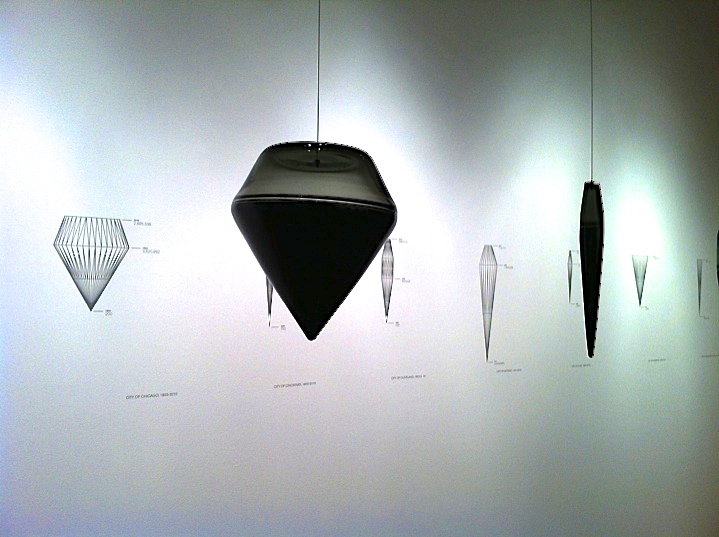 Cities Departure and Deviation by Norwood Vivano, ArtPrize 2012
After you're feeling organized and oriented, don't let yourself--or your family--go hungry!
Where to Find Food. Wherever you are in ArtPrize, food isn't far away. Restaurants are likely to be busy, though, so consider eating at slightly odd times--lunch at 11:00 or 2:00, dinner at 4:00 or 9:00 (and you may still have a wait). If you want to eat downtown, you cant miss with Sundance Grill, Bistro Bella Vita, Leos, Big Os, or HopCat.
If you have a car, consider taking a short drive to any of these delicious spots: Electric Cheetah, Cherry Street Deli, The Green Well, Grove, Brewery Vivant, Wolfgangs, or Marie Catribs.
Speaking of cars: you'll need to park yours! You have a couple of options, again, depending on your preference.
Parking and Getting Around ArtPrize
If you want to park downtown, Grand Rapids makes it easy. And compared to other cities, the prices are reasonable. Click here for a map to Grand Rapids parking garages and click here for Grand Rapids parking rates.
Once you've parked, ArtPrize has partnered with the DASH (Downtown Area Shuttle) and The Rapid (bus service) to help visitors get around during ArtPrize. You can purchase a wristband (2 for $5) and use either method of public transportation to get you closer to the art you want to see.
With your wristband, you can take unlimited rides on DASH, which will be running all venue hours (noon 8:00 p.m. Monday Saturday; noon 6:00 p.m. Sunday). The wristbands will work for unlimited rides on the Rapid from September 18 October 6.
Wristbands are also beneficial if you have a car and prefer not to park downtown. Instead, you can park for free at select Meijer grocery stores (click here for participating locations) and catch a ride downtown on the Dash (and back to your car).
Wristbands are available for purchase at any of the participating Meijer park-and-ride stores, as well as two Meijer locations that dont offer the park and ride service: Meijer store #50 at 28th Street/Cascade and Meijer store #312 on Plainfield Avenue.
So register to vote, grab your map, and get ready to help choose the ArtPrize 2013 winner!
Click here for the first post in our Get Ready for ArtPrize series.
Click here for the third, and final, post in our "Get Ready for ArtPrize" series.