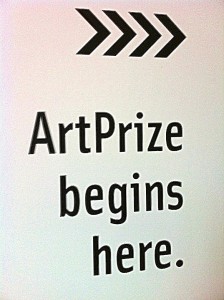 Of the 1512 entries in ArtPrize 2012, twelve are quilts.
While most of us are familiar with the type of quilt our grandmothers might have sewn--the beautiful yet functional type that keeps us warm on a cold winter night--creating quilts as art is a newer phenomenon.
Colleen Kole, the artist behind ArtPrize 2012's Rooflines 6, began as a traditional quilter, but about 5 years ago she changed courses. Kole began creating her own quilt designs based on art theory, color, value, and shape and is now an award-winning fiber artist who draws inspiration from textiles and architecture.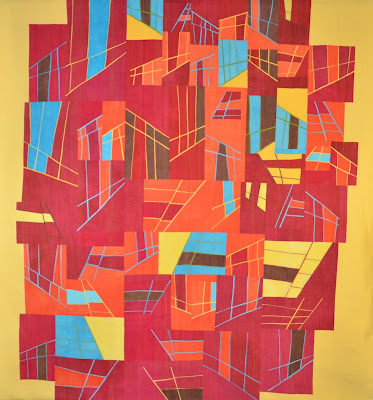 Rooflines 6, ArtPrize entry by Colleen Kole
When she began designing quilts, Kole signed up for a number of workshops.
"The craftsmanship is very important to me and there were a lot of techniques I needed to learn," says Kole. In addition to workshops, Kole says, there are YouTube videos, blogs, and online classes rife with information for beginners. Although she says it was a steep learning curve, she enjoyed that part of the process. "The hard part," she says, "was narrowing down what type of technique I wanted to include in my art."
For other quilters considering the move to fiber art, Kole offers this advice: Do it! "If you don't try, you'll never know," she says. "You'll always wonder."
In addition, Kole offers these 3 suggestions:
Set a goal. Whether it's working on a 12-inch or 6-foot piece, Kole believes that artists learn through repetition and by producing a final product. "Producing is what improves your craftsmanship," she says, "and allows you to make the kind of art you want to create."
Commit. Committing to the practice of quilting daily was key for Kole. She set up a studio in her house and established studio hours, which are sacrosanct. "I'm managing a family, as well as things I'm involved with at church and school," she says. "Carving out time to quilt is protecting the time that's mine."
Find your resources. Kole says quilters put off their dreams, in part, because of what they don't know. Rather that waiting for the next workshop, Kole suggests quilters make a list of what they want to learn and find people who can help them. For example, she says, I wasn't very good at putting the binding on my piece. So I found someone who was and asked for help."
To see Kole's Rooflines 6 in person during ArtPrize, head to Cathedral Square.
Then, check out these other ArtPrize quilts, some of which aren't made from fabric, but photographs, cut paper, or carved wood.