Cocktail Week GR is back for its fifth year of creative cocktails and fun! 
Restaurants, bars, and distilleries are showing their creativity with specially crafted Cocktail Week GR spirits, recommended food pairings, and cocktail-themed events for locals and visitors to enjoy a taste (or sip) of Grand Rapids' craft cocktail scene.
Cocktail Week GR runs from now until Sunday, November 24, giving you and your crew plenty of time to sample creative concoctions from participating locations in and around the city.
With so many options to enjoy, we have highlighted a few participants to get you started.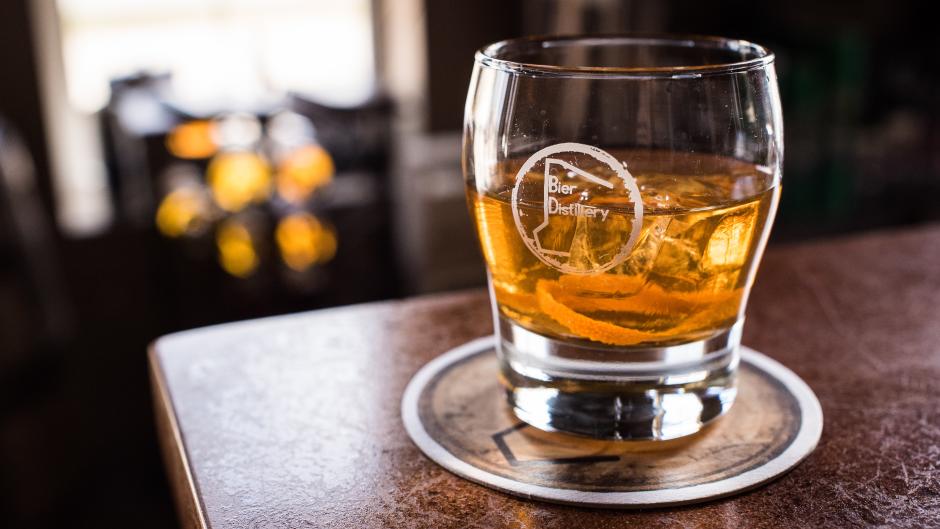 Bier Distillery has created all new cocktails for its Cocktail Week GR theme of "infusion."
Photo Credit: Experience Grand Rapids
---
Bier Distillery
"Infusion" is the cocktail theme for Cocktail Week GR at Bier Distillery this year, and all the cocktails are brand new for Cocktail Week.
The Situation features raisin-infused Sole Cry Rye Whiskey, caraway, agave, orange bitters, and Angostura bitters with a rye-soaked raisin garnish. For a tasty twist on tea, try The Bergamot, with Earl Gray tea-infused Crescent Creek Bourbon, lemon, honey, and egg white. Rounding out the new cocktail offerings is The Electric Sidecar with orange-infused Niagara Brandy, Henry's Absent Absinthe Verte, agave syrup, and lime. 
To accompany your libations, Bier Distillery is offering a Dutch Cheese Sampler with basil goat cheese, Marcona almonds, garlic, and basil-marinated garlic shrimp served with gluten-free crackers and a Blood Orange and Amaretti Trifle.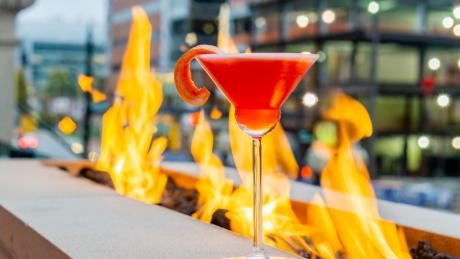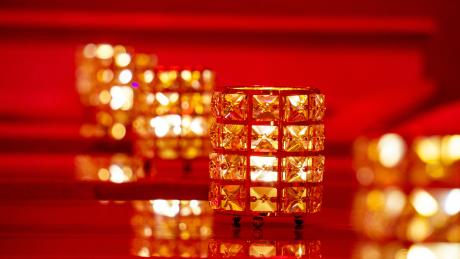 Try the Two Fish Shandy, available during Cocktail Week GR at IDC, Grand Rapids' new speakeasy.
Photo Credit: Brian Craig for Experience Grand Rapids
---
IDC
The newest "speakeasy" on the block, IDC, is looking forward to showcasing its Two Fish Shandy, created specifically for Cocktail Week GR. The whiskey-based drink with fresh raspberries, lemon, Campari, and a local IPA reduction accompanies IDC's great selection of craft cocktails available throughout the year. 
IDC, an acronym for "I Don't Care", is a speakeasy-inspired, retro-themed bar situated on the second-floor balcony of the Amway Grand Plaza's historic Pantlind Wing. IDC uses a play on words meant to elicit a recommendation to questions like "where do you want to get drinks tonight?" or "what do you want to do later?" 
Kylene Geyer, senior marketing manager for AHC+Hospitality, says the main focus for the initial menu was to give an ode to the 1970s, and the food and drinks have many inspirations: seasons, music, local items, books, special ingredients, and more. 
"Anything can spark our creativity," Geyer says. "The sky's the limit and we are always working on the next great cocktail."    
Guests can access the funky 70's themed speakeasy by signing up to receive a rotating monthly passcode at its website.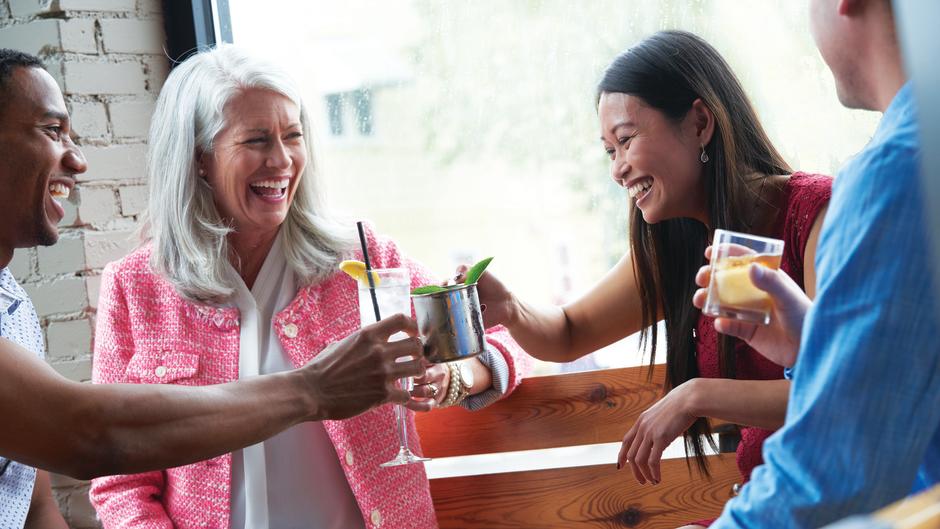 With limited time offerings for Cocktail Week, Long Road Distillers has many events to celebrate the cocktail.
Photo Credit: Experience Grand Rapids
---
Long Road Distillers
Named the Best Craft Specialty Spirits Distillery for three years running, as well as the Best Craft Vodka and Best Brandy Distillery by USA Today readers, Long Road Distillers has created limited-time offerings exclusively for Cocktail Week GR.
Kyle VanStrien, co-owner and co-founder of Long Road Distillers, says that seasonal ingredients inspired the cocktails and recent limited-release spirits made on-site. 
"Our team works in a collaborative way to create all of our food and drink offerings from scratch, in-house, using only the finest locally sourced ingredients," VanStrien adds. 
The Gallagher cocktail features world-famous Long Road Barrel Reserve MICHIGIN, Long Road Raspberry Liqueur, blackberry, banana, allspice, lime, and a bay leaf for a uniquely Long Road taste. Rum lovers should plan to try the Neverland, made with Long Road Rum, Long Road Grand Absinthe, strawberry, black cardamom, pineapple sour, orange, and lemon. 
Grab a friend or two, and dive into the Sous Squared punch bowl created with Long Road Wheat Whiskey, coconut, pickled ginger, lychee, Thai basil, and citrus jam. The delicious tropical flavors will make you feel like you're in paradise. 
Don't forget to accompany your beverage with one of the tasty Cocktail Week GR food pairings as well. Leave room to try the homemade Smoked Fish Dip, Smoked Pork Tartine, or Mocha Doughnut only available during Cocktail Week GR.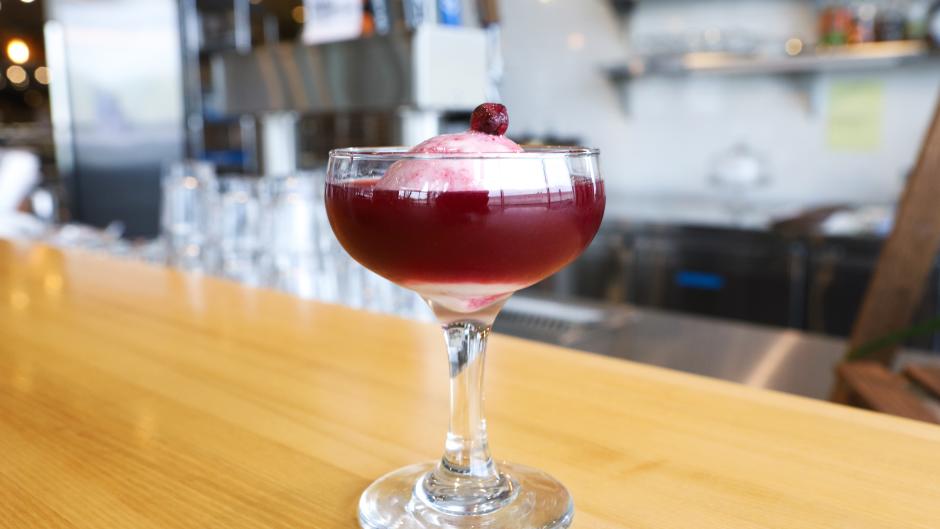 Enjoy an ice cream cocktail at Love's during Cocktail Week. The Mixed Berry Collins (alcoholic) is sweet, delicious and vegan!
Photo Credit: Experience Grand Rapids
---
Love's Ice Cream and Chocolate
Your favorite childhood indulgence gets an adult twist at Love's Ice Cream and Chocolate.
Chris McKellar, founder and owner of Love's, says their Cocktail Week GR feature drink is an Irish Cream Ice Cream Cocktail, featuring Vanilla Bean ice cream and a house-made Irish Cream liqueur.
"We make an Irish Cream in-house with Irish whiskey, cream, chocolate, and a touch of coffee. Then we add a scoop of Vanilla Bean ice cream to it and garnish with chocolate shavings. It's smooth, classic, and very delicious," McKellar says.
Love's offers ice cream cocktails year-round, including a Mixed Berry Collins Float, White Russian, and Piña Colada.
"We also serve a Spiced Cider Float year-round since it is so popular," McKellar says. The float starts with Vanilla Bean ice cream followed by salted caramel sauce. It's topped off with Farmhaus's Brunch Cider, and a sprinkle of chai spice over top served in a tulip glass. "It looks as good as it tastes," McKellar says.  
While these delicious delights are for those over the age of 21, Love's Ice Cream and Chocolate has plenty of non-alcoholic creations for the whole family.
International Wine, Beer, and Food Festival
Wrapping up Cocktail Week GR is the International Wine, Beer, and Food Festival taking place at the DeVos Place Convention Center. November 21-23. 
Guests can sample and purchase their choice of more than 1,500 wine, beer, cider, and spirit options from around the world, along with delicious food options. 
The International Wine, Beer, and Food Festival will feature expert mixologists and distillers who will share not just their spirits, but also garnishes and mixtures to accompany them. Attendees can also use some of their tasting tickets to participate in the event's beverage workshops. There are a few workshops per day to choose from. 
Enjoy Responsibly!
Please enjoy Cocktail Week GR responsibly. If you're looking for a ride home or to your hotel, Grand Rapids offers a wide variety of transportation services. Check out the Experience Grand Rapids Transportation Services page to help you get around town without having to get behind the wheel.
Cocktail Week GR is the perfect mix of libations and learning. What spirit are you most excited to try during this year's festivities?
For a full list of events, offerings, and participants visit the Cocktail Week GR page, or check out a previous blog post to learn more about Grand Rapids' cocktail bars.
Cheers!
Never miss a post!
Subscribe to the Insider Experience Blog