Bicyclers rejoice: the springtime thaw is at finally hand. Although some hardy souls have already hit the road, for many of us now's the time to get our bikes tuned up (or purchase new equipment) for the season.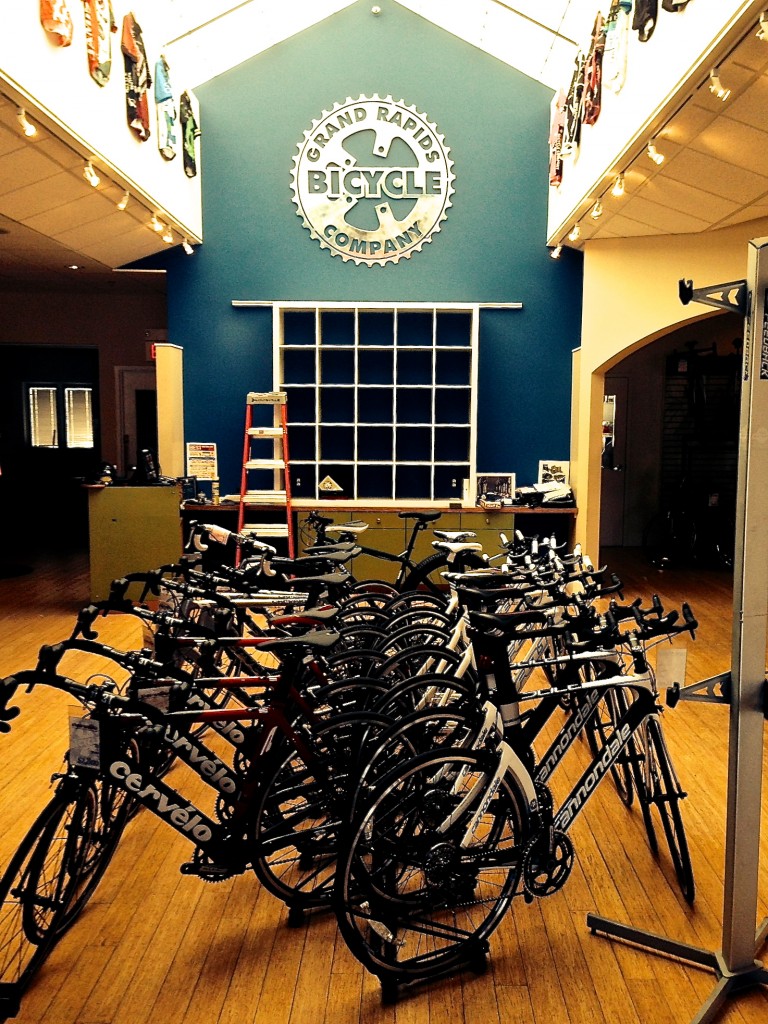 Grand Rapids Bicycle Shop
There's no shortage of awesome bike shops in Grand Rapids to help you do just that. If you're in the market for new gear for you or your bike, or are ready for an annual tune-up, check out any of these local shops:
Alger Bikes (28th St in Alger Heights), Central District Cyclery (Monroe Center), Freewheeler Bike Shop (Leonard St.), Grand Rapids Bicycle Company (East Paris; also owns Ada Bike Shop) Speed Merchant Bike Shop (Rockford) Terra Trike (40th St, for 3-wheel bikes) Village Bike (Plainfield, Kalamazoo Ave, Thornapple River Drive and Jenison) West Michigan Bike and Fitness
All of these outfits provide excellent customer service and can help you determine which bike or gear is most appropriate for you. If you visit the Grand Rapids Bicycle Company be sure to go at breakfast or lunchtime and try Trailhead Caf, adjacent to the store. I love the western scramble for breakfast and the Southwest Chicken and Cilantro salad for lunch. (My husband prefers the Trailhead Spinach salad with salmon. They're both delicious!)
Once you're ready to go, there are hundreds of miles of West Michigan trails to explore, from a scenic path through Forest Hills that includes almost 50 miles of paved pedestrian paths, boardwalks and covered bridges, to White Pine Trail, which stretches 93.5 miles, beginning just north of downtown Grand Rapids, and follows an old Penn Central railroad line north. Most of the White Pine Trail is paved and trails supporters hope to see the entire trail paved in the next few years (the sections from Sand Lake to Big Rapids 24 miles and Reed City to LeRoy 20 miles are currently unpaved).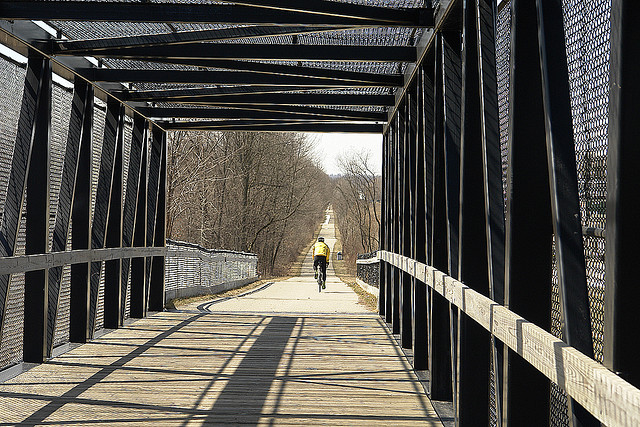 Biking White Pine Trail; photo by Roger
Those trails are just a fraction of the trails West Michigan has to offer, which is part of the reason the League of American Bicyclists has named Grand Rapids a top Bicycle-Friendly Community since 2009. Grand Rapids was also named the Best Town for Mountain Biking by Outside magazine in 2010.
Of course, you won't want to miss riding along our beautiful lakeshore, which helped Grand Rapids secure the #1 spot on Lonely Planets list of Top 10 US Travel Destinations for 2014.
From the picturesque state park in Grand Haven you can bicycle along the 20-mile paved Lakeshore Trail until you reach another of our gems along the lake, the Holland State Park. Along your way, you'll travel through Rosy Mound Natural Area, Kirk Park, and Tunnel Park, the latter of which has been one of my family's favorites since we moved to Grand Rapids fifteen years ago. If you have time, take a break and walk through the tunnel. When you exit, draw a deep breath and enjoy the magnificent view of the shoreline from the top of the dunes. Then, if you're up for it, jog down-kids of all ages love to run and tumble their way down the dune to the lake.
If you prefer to bike in a more woodsy area, West Michigan delivers plenty of options. The Bowman Lake Trailhead of the rugged North Country National Scenic Trail, which spans 7 states from New York to North Dakota and passes through 10 national parks, is just over an hour north of Grand Rapids. The trail, which is hilly at times, winds you through the Huron-Manistee National Forest, another of West Michigan's natural wonders.
For a more family-friendly bike ride, try Reeds Lake Trail in East Grand Rapids. This 4.2 mile trail winds you around Reeds Lake and is the perfect way to spend some weekend family time. Go early and treat the kids to lunch on the deck at Roses restaurant, where they can watch sunfish sailboats tool around the lake. If you're feeling especially generous, bike over to Jersey Junction afterwards and let the kids choose their favorite penny candy or get a scoop of ice cream.
In addition to the many mountain bike trails, West Michigan offers plenty of routes and races for road bikers, too. The Greater Grand Rapids Bicycle Coalition publishes road maps for Greater Grand rapids and Kent County-click here to download one or to see where you can pick up a copy.
Another great resource for West Michigan bicycle enthusiasts is Michigan Trails Magazine. It provides the most up-to-date information available and includes detailed maps of non-motorized, multi-use trails throughout the state. Although pre-orders ended March 31, the 2014 issue will be published in late April and should be available at most of the bike stores listed at the top of this page.